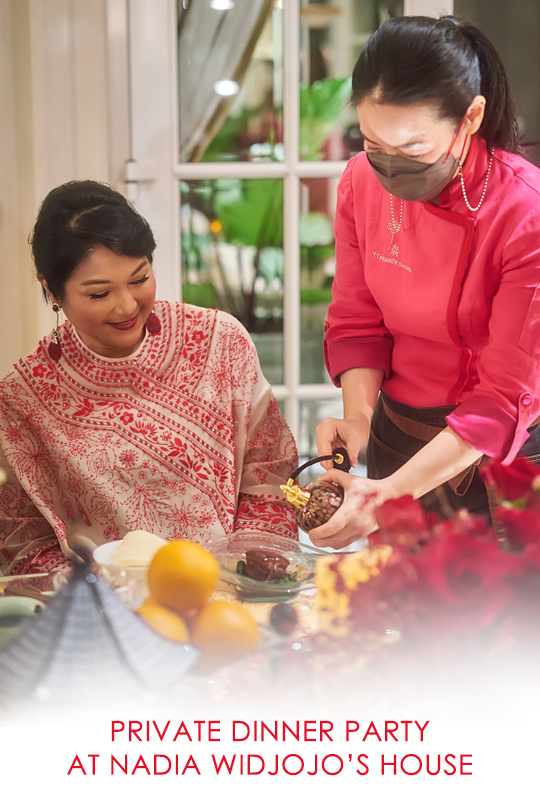 presented by
PRIVATE DINNER PARTY AT NADIA WIDJOJO'S HOUSE
Published by Sugar & Cream, Monday 28 February 2022
Photography by Wahyudi Tan
Fabulous Meals by Chef Yvonne Yuen
There is nothing more authentic than enjoying the good company of close friends over a meal at home. That's precisely what Nadia Widjojo, owner and founder of Conchita Home & Conchita Patisserie had in mind for an intimate and semi-casual gathering with a surprise birthday celebration last February. Private chef Yvonne Yuen renowned for her authentic Chinese cuisine (Shanghai) was invited to prepare 11 exquisite course meals. Not only meals became the centre attention during the fabulous dinner party. Meticulous attention to detail of the table setting was created by Dina Touwani, founder of Flora Lines and renowned wedding decorator based in Jakarta. For this ultimate table party, Dina Touwani has selected an unconventional long table: a long S-shape mirror table.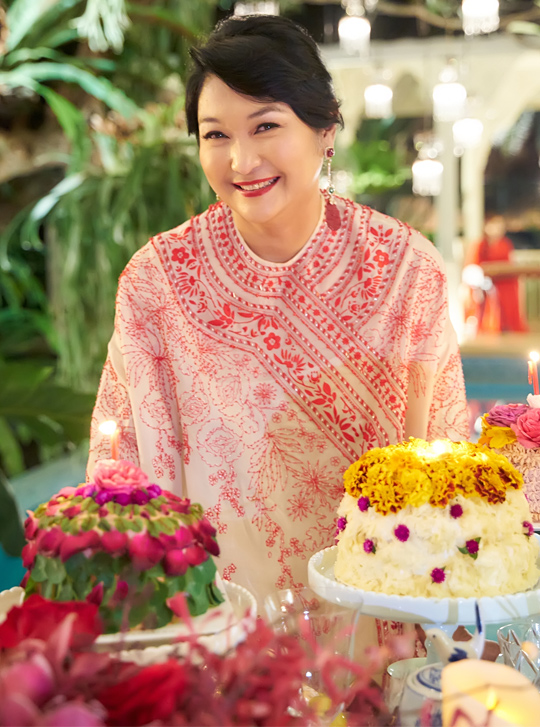 Nadia Widjojo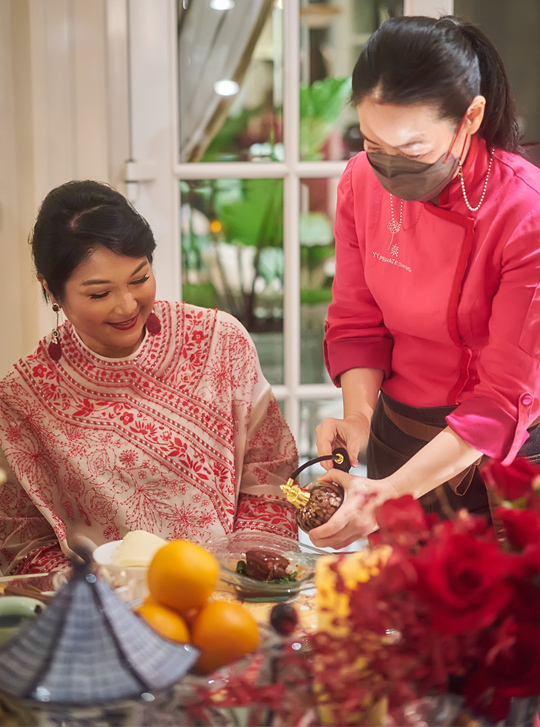 Nadia Widjojo & Chef Yvonne Yuen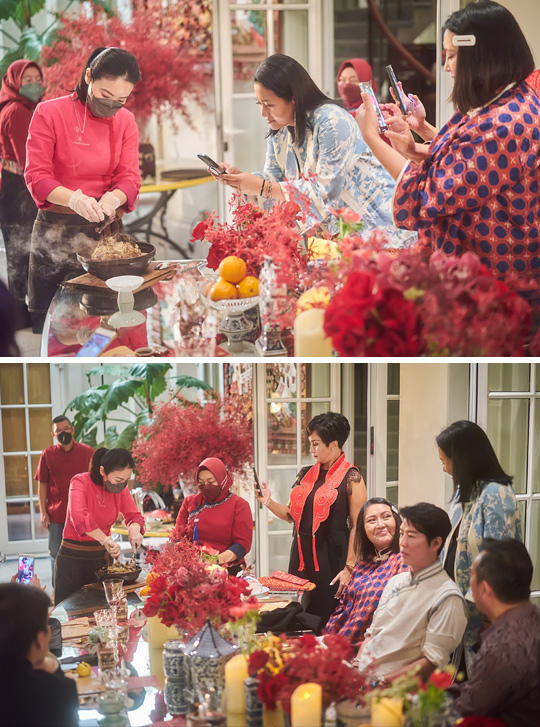 Top: Yvonne Yuen, Amalia Wirjono & Vivianne Faye
Bottom: Yvonne Yuen, Amalya Hasibuan, Vivianne Faye, Sebastian Gunawan, Amalia Wirjono, Roland Adam
As William Shakespeare wrote "If music be the food of love, play on", while enjoying artful meal presentation by Yvonne Yuen for each course, the happy guests were entertained with traditionally rich music from Gunzheng instruments played by two young woman musicians at the gazebo.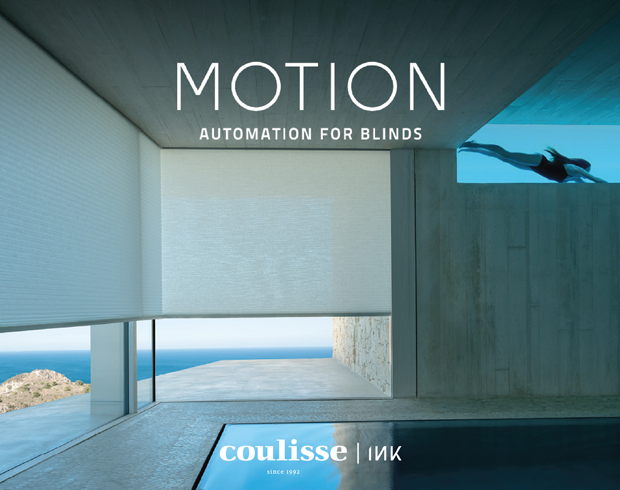 Presented by Coulisse | INK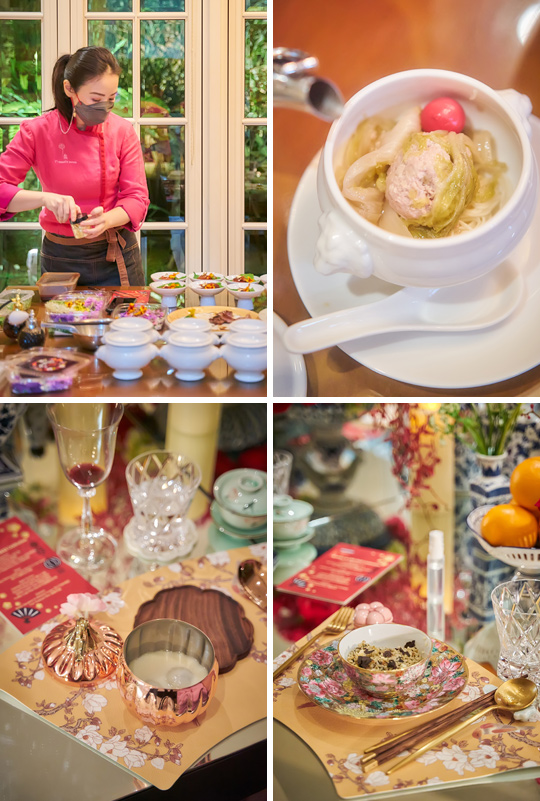 Chef Yvonne Yuen preparing the meals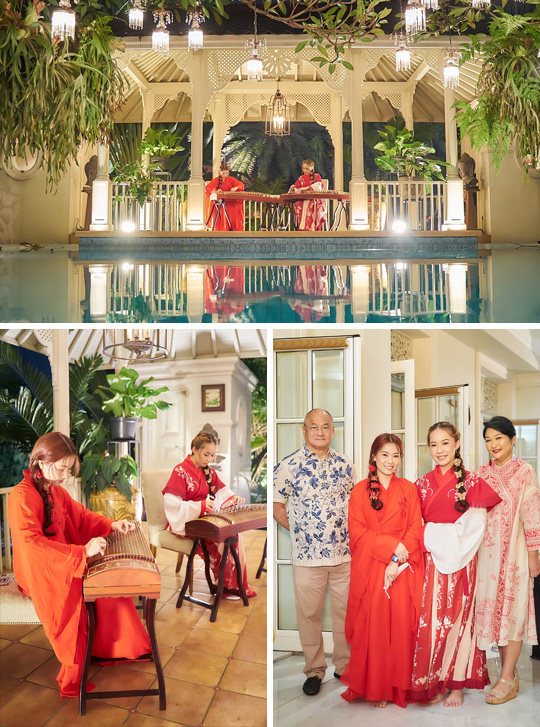 Boetje Widjojo, Marcella Chandra, Natashia, Nadia Widjojo
Last but not least, in the end of the dinner, all guests received a surprised gift to take home: a pouch of chocolates from FrischSchoggi, Läderach. The unforgettable dinner party by Nadia Widjojo and her husband Boetje Widjojo was enjoyed by their special guests.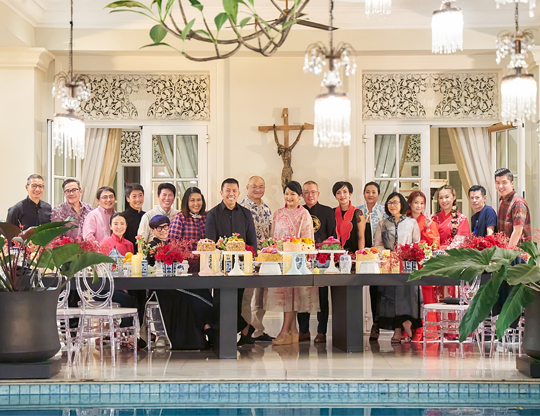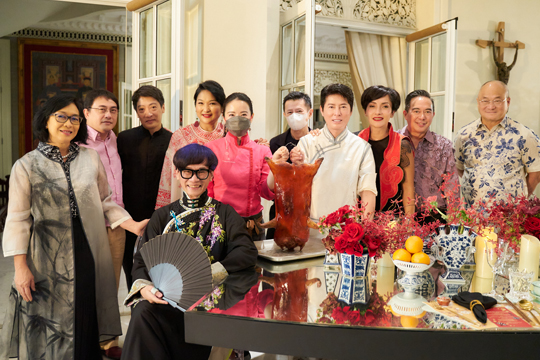 Dina Touwani, Henry Chandra, Prasetyo Budhi, Didi Budiardjo, Nadia Widjojo, Yvonne Yuen, Janto Wihardja, Sebastian Gunawan, Amalya Hasibuan, Roland Adam, Boetje Widjojo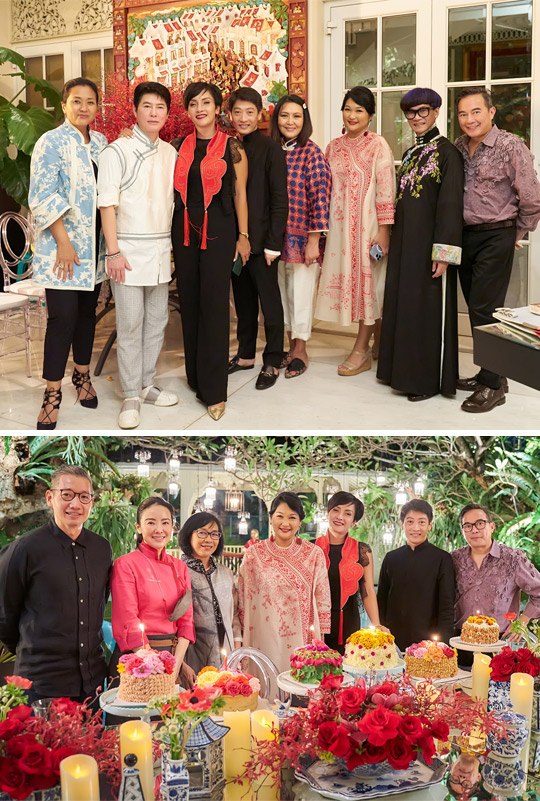 Merwin Adenan, Yvonne Yuen, Dina Touwani, Nadia Widjojo, Amalya Hasibuan, Prastyo Budhi, Roland Adam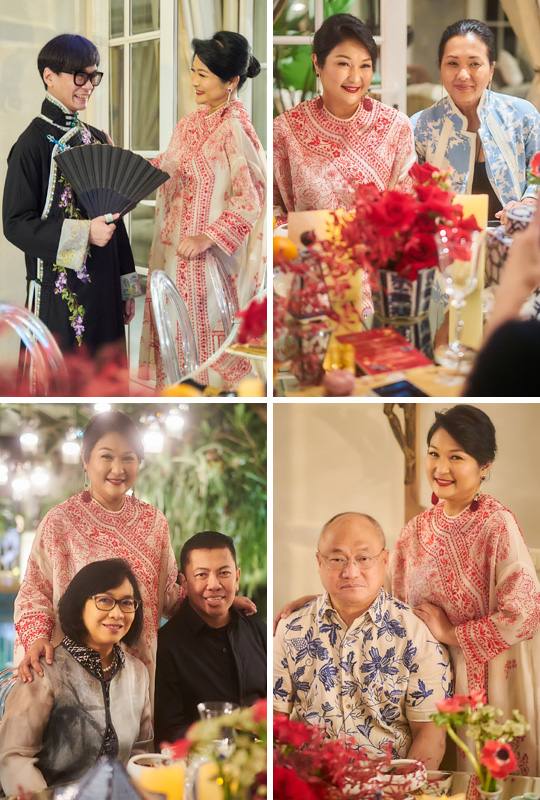 Top: Didi Budiardjo & Nadia Widjojo; Nadia Widjojo & Amalia Wirjono
Bottom: Dina Touwani, Nadia Widjojo, Agam Riadi; Boetje & Nadia Widjojo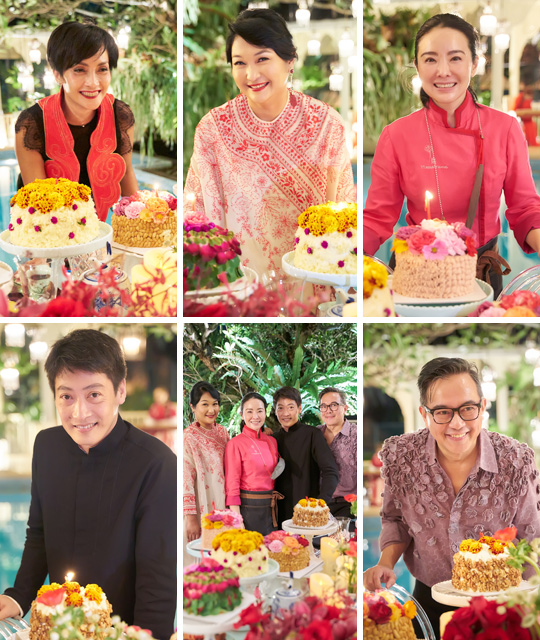 Top: Amalya Hasibuan; Nadia Widjojo; Yvonne Yuen
Bottom: Prasetyo Budhi; Nadia Widjojo, Yvonne Yuen, Prasetyo Budhi, Roland Adam;  Roland Adam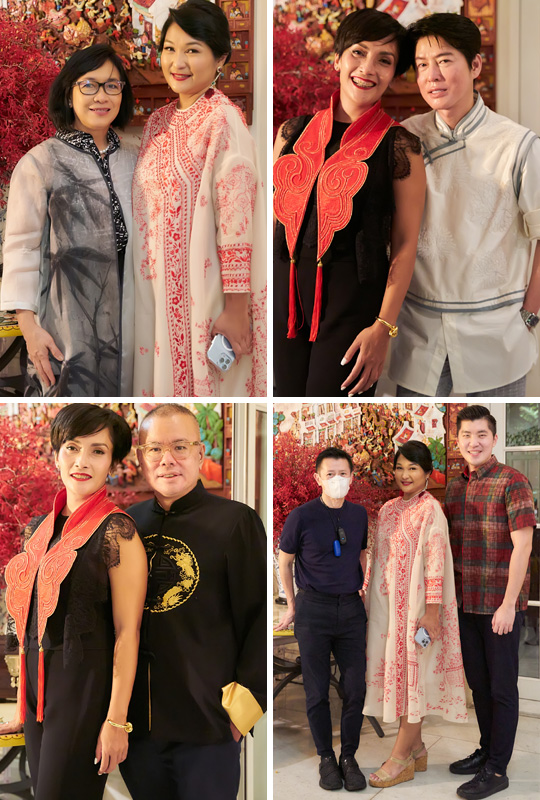 Top: Dina Touwani & Nadia Widjojo; Amalya Hasibuan & Sebastian Gunawan
Bottom: Amalya & Bara Hasibuan; Janto Wihardja, Nadia Widjojo, Steven Oen