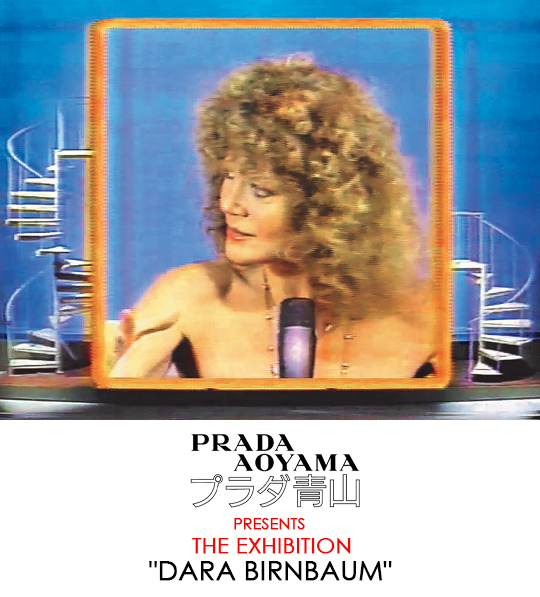 presented by

PRADA AOYAMA PRESENTS THE EXHIBITION "DARA BIRNBAUM"
Published by Sugar & Cream, Friday 16 June 2023
Images courtesy of PRADA
Tokyo: 1 June –  28 August 2023
Prada presents the exhibition "Dara Birnbaum" organized with the support of Fondazione Prada, at Prada Aoyama Tokyo from 1 June to 28 August 2023. The fifth floor of the building designed by Herzog & de Meuron will host a solo show dedicated to the work of Dara Birnbaum in conjunction with her extensive exhibition on view at Osservatorio Fondazione Prada in Milan until 25 September 2023.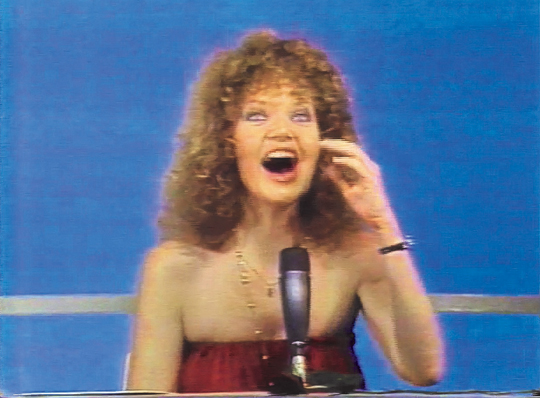 Prada Aoyama – Dara Birnbaum – Kiss The Girl
Curated by Barbara London, with Valentino Catricalà and Eva Fabbris, the Tokyo exhibition will gather a total of four works realized from 1979 to 2011. Prominent will be the video installations Kiss the Girls: Make Them Cry and Arabesque. Specially orchestrated sound works by Birnbaum, in collaboration with contemporary musicians and composers, are accompanied by still video imagery newly created for this exhibition. These works, Bruckner: Symphony No. 5 in B-Flat dur and New Music Shorts, will be shown separately in the two isolated seating areas adjoining the rest of the exhibition.


Prada Aoyama – Dara Birnbaum – Kiss The Girl
Connected by strong audio and musical components, these works reveal Birnbaum's interests in both classically based and pop contemporary music. In addition, the works highlight her critical stance not only in relation to television and YouTube imagery, but also the varied interpretations by distinct conductors of historically important classical music compositions, along with penetrating insight into the representation of women in both high and low culture.


Prada Aoyama – Dara Birnbaum – Kiss The Girl
Throughout her distinguished career, Dara Birnbaum (New York, 1946) has consistently challenged the precepts of art and mass media by deeply exploring the cultural intersections of video art, television, music, and ever expanding communication technologies. As stated by Barbara London, "Dara Birnbaum is an inspiring innovator, whose work retains its currency. Today she continues to collaborate with talented editors and composers, as she refines the process of her masterful practice. As an artist who has laid the groundwork for emerging media art that will appear around the corner, Birnbaum continues to stay several steps ahead."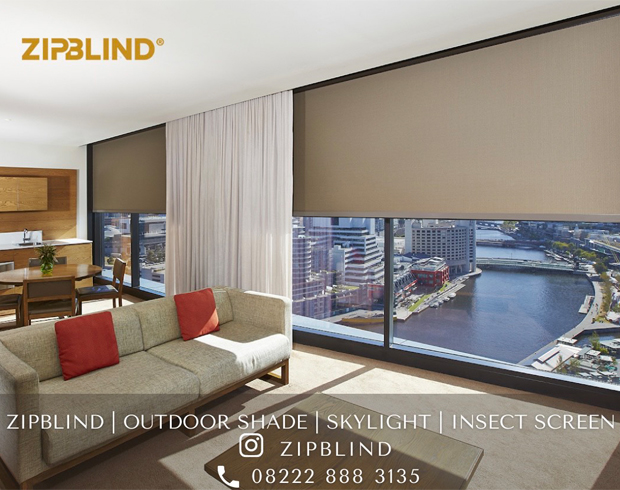 Presented by Zipblind
For the two-channel video installation Kiss the Girls: Make Them Cry (1979), Birnbaum edited selected imagery taken from the once highly popular and longest-running daytime American TV game show "Hollywood Squares", which featured American celebrities of that period (1965-1980). She mainly emphasized several actresses' stereotypical gestures and expressions by taking them out of their TV context, while also associating the images of this mainstream program with the most successful and concurrent number one disco hits at that time, Toto's Georgy Porgy (1978),  and Ashford & Simpson's Found a Cure (1979).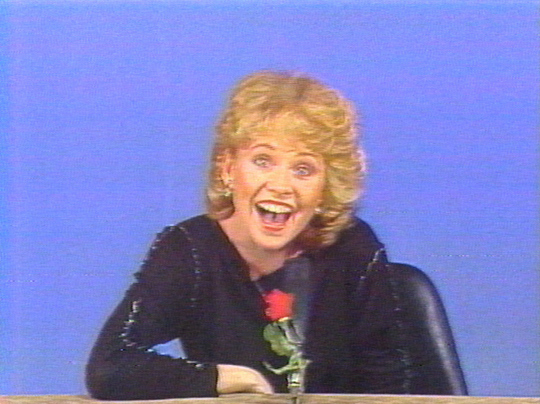 Prada Aoyama – Dara Birnbaum – Kiss The Girl
The four-channel video installation Arabesque (2011) explores the intertwined careers and divergent legacies of Romantic composers Clara Wieck Schumann and Robert Schumann. The artist selected film stills from Song of Love, a 1947 biopic starring Katharine Hepburn and Paul Henreid, directed by Clarence Brown, which romanticized the couple's life. Contrapuntally, Birnbaum sampled clips available on YouTube of female musicians' interpretations of Robert Schumann's 1839 composition, Arabesque, Op. 18 in C major, dedicated to his wife. The various versions of Robert Schumann's Arabesque alternate with a scarce YouTube video of a woman performer playing Clara Schumann's Romanze 1, Op. 11 (1839), which Clara had dedicated to her husband. By also revealing excerpts from Clara Schumann's diary, the work highlights the social, family, and cultural dynamics, which many times can subject female artists not to receive the recognition they deserve in life and art, in addition to often being excluded from historical canons.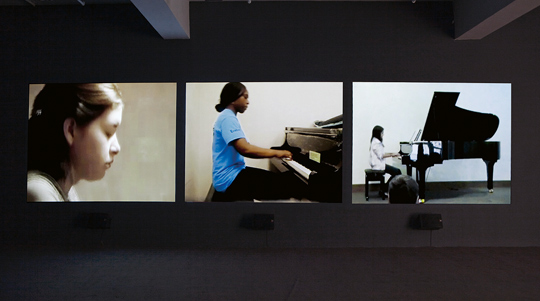 Prada Aoyama – Dara Birnbaum – Arabesque
The first sound installation presented, Bruckner: Symphony No. 5 in B-Flat dur (1995), demonstrates how Dara Birnbaum is deeply interested in topics of interpretation and translation. In collaboration with the sound composer and designer Andy Milburn (tomandandy), the artist took specific selections from two different interpretations given to Bruckner's orchestral composition by the conductors Otto Klemperer and Wilhelm Furtwängler. Anton Bruckner's 19th-century music had at one time been co-opted by the Third Reich, as it was seen as expressing the zeitgeist of the German volk and, therefore, rarely played outside of Germany post World War II. For this exhibition, Birnbaum has specially designed a new version of this installation which represents a testament to the ingenuity and skill of this remarkable artist.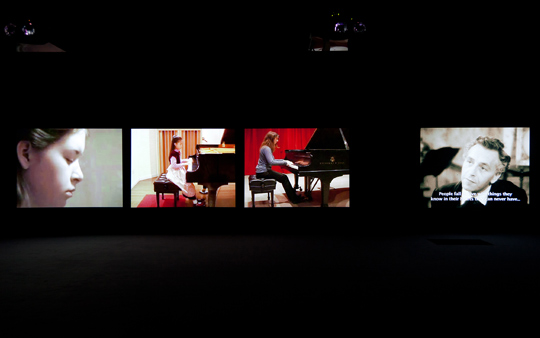 Prada Aoyama – Dara Birnbaum – Arabesque
Birnbaum's early analogue video work New Music Shorts features selected footage from two different downtown live music performances in New York City, which then typified the "No Wave" scene, which left a decisive mark on the post-Punk movement. Radio Fire Fight (Jules Baptiste and Lefferts Brown) are seen performing at the Mudd Club (a well-known setting for underground music and counter cultural events.) The second part of New Music Shorts reveals excerpts from an evening at the Performing Garage of Glenn Branca's Symphony No. 1 (Tonal Plexus)—considered a behemoth of guitars, noise, and alternative tuning. The raw intensity of both musical compositions, edited by Birnbaum with "window" inserts as a special effect, alternates with close-ups of the audience and even a concurrent lightning storm that emerged outside during Branca's performance.


Prada Aoyama – Dara Birnbaum- New Music Shorts