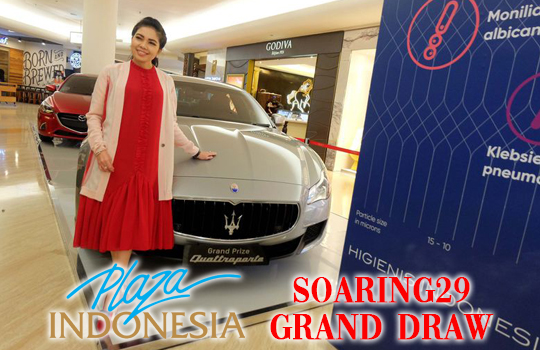 presented by

Plaza Indonesia: Soaring29 Grand Draw
Published by Sugar & Cream, Monday 16 March 2020
Text by Farida Esti, Image courtesy of Plaza Indonesia
And the Winner goes to…
Time to celebrate and congratulation to the lucky winners! Hadiah undian 1 unit Maserati Quattroporte S dan 1 unit Mazda 2 dari Plaza Indonesia sudah menemukan pemenangnya. Undian ini merupakan program belanja Soaring 29 Grand Draw yang diselenggarakan Plaza Indonesia pada hari jadinya yang ke-29 tepatnya tahun lalu. Acara ini diikuti oleh 5000 peserta pemegang Plaza Indonesia Privilege Card dengan jumlah pembelanjaan terbesar dalam periode tertentu. Akhirnya pada 3 Maret 2020 kecerian pengundian dilakukan di La Moda, Plaza Indonesia, disaksikan oleh lautan para undangan dan pengunjung.  Dan pemenang hadiah utama Erika Santoso membawa pulang sebuah Maserati Quattroporte S serta Noni muncul sebagai pemenang Mazda 2.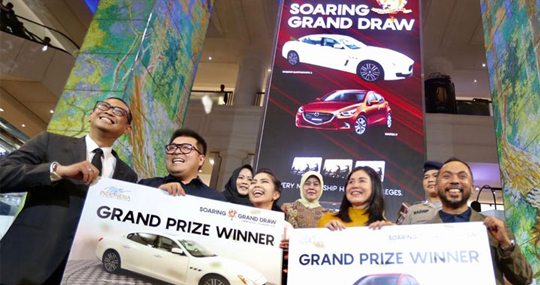 Selain hadiah utama di atas, Plaza Indonesia juga memberikan 22 hadiah menarik lainnya untuk pelanggan setia yang beruntung. Deretan jenama seperti The Time Place, Higienis, Mondial, Club Med Indonesia, Versace, Daniel Wellington, Olivia Burton, serta Adelle Jewelery memberikan hadiah menarik. "Saya berharap dengan adanya acara ini, kami dapat selalu dekat dengan para customer khususnya pada pelanggan setia yang telah menjadikan Plaza Indonesia menjadi destinasi utama dalam berbelanja dan berkumpul bersama kerabat dekat", ucap Zamri Mamat, General Manager Marketing Plaza Indonesia.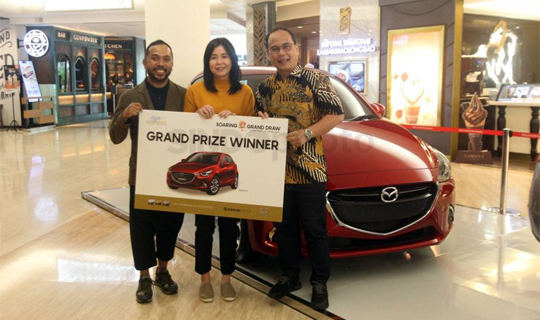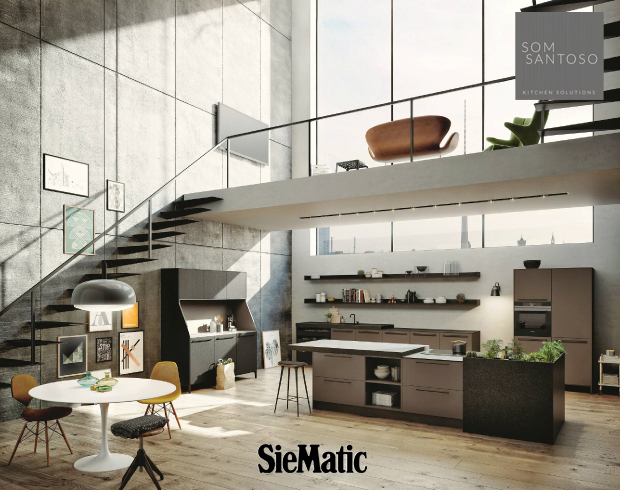 Presented by Som Santoso
Bagi Anda yang belum beruntung pada Soaring 29 Grand Draw, jangan berkecil hati, karena dalam rangka anniversary ke-30, Plaza Indonesia kembali melanjutkan program reward berjudul Amazing 30 Lucky Draw untuk periode 1 Maret 2020 hingga 31 Januari 2021. Kali ini, pelanggan yang beruntung akan mendapatkan hadiah utama dua buah mobil listrik Tesla Model 3.
Come shopping as much as possible using the Plaza Indonesia's Privilege Card, maybe you could be the next winner in the prize draw!