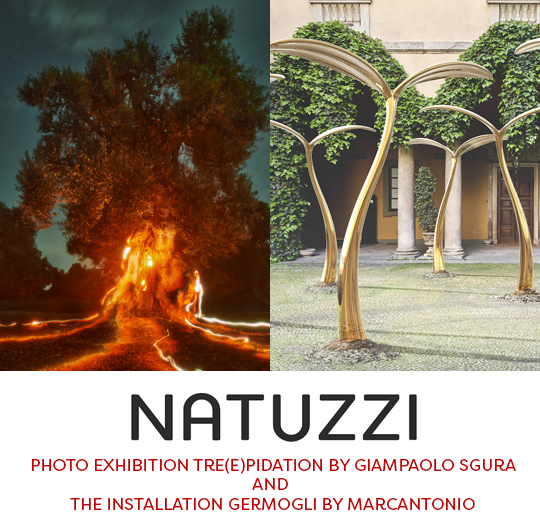 presented by

PHOTO EXHIBITION TRE(E)PIDATION BY GIAMPAOLO SGURA AND THE INSTALLATION GERMOGLI BY MARCANTONIO
Published by Sugar & Cream, Tuesday 21 June 2022
Images courtesy of Natuzzi Italia
The Circle of Harmony –  Second Life (Part 2): Support Save The Olives
Dalam ajang Milan Design Week 2022, Natuzzi Italia menyoroti tema yang terkait erat dengan tanah airnya, Apulia, dan masih sedikit diketahui baik di Italia maupun di luar negeri: epidemi Xylella yang dramatis yang  memengaruhi kebun zaitun di wilayah tersebut – menderita kekeringan yang cepat –  dan berisiko menjadi momok nyata bagi seluruh wilayah Mediterania.
Jenama memutuskan untuk meningkatkan kesadaran akan pekan desain Milan melalui dua proyek khusus: Photographic Exhibition TRE(E)PIDATION by Giampaolo Sgura di showroom Natuzzi Italia baru di via Durini yang didesain ulang oleh Fabio Novembre dan Installation GERMOGLI by Marcantonio di halaman Palazzo Durini Caproni di Taliedo bersebelahan dengan flagship store.
Natuzzi Italia secara nyata mendukung Save the Olives, LSM pertama yang mengaktifkan proyek kesadaran dan penggalangan dana untuk mendukung penelitian ilmiah melawan Xylella: mulai 6 Juni  2022 yang akan dimungkinkan untuk membeli tiga foto Giampaolo Sgura melalui situs  savetheolives.com dan hasilnya akan disumbangkan ke asosiasi.
Komitmen ini menjadi bagian dari konsep The Circle of Harmony – Second Life, di mana koleksi baru jenama dikembangkan dan mencerminkan tema keberlanjutan dengan cara yang semakin koheren dan konkret, baik melalui produk maupun melalui perhatian. isu-isu sensitif tentang hubungan antara alam, wilayah dan masyarakat.
Photographic Exhibition TRE(E)PIDATION by Giampaolo Sgura
Giampaolo Sgura, salah satu fotografer fesyen paling terkenal dan berbakat di kancah internasional, telah diminta oleh Natuzzi Italia untuk menghasilkan 3 gambar ikonis dari gambar zaitun untuk merayakan keindahan, kekuatan, dan energi pohon zaitun kuno Apulian yang membekas dalam memori lanskap yang berisiko menghilang selamanya dan menjadi bagian dari sejarah dan budaya Mediterania.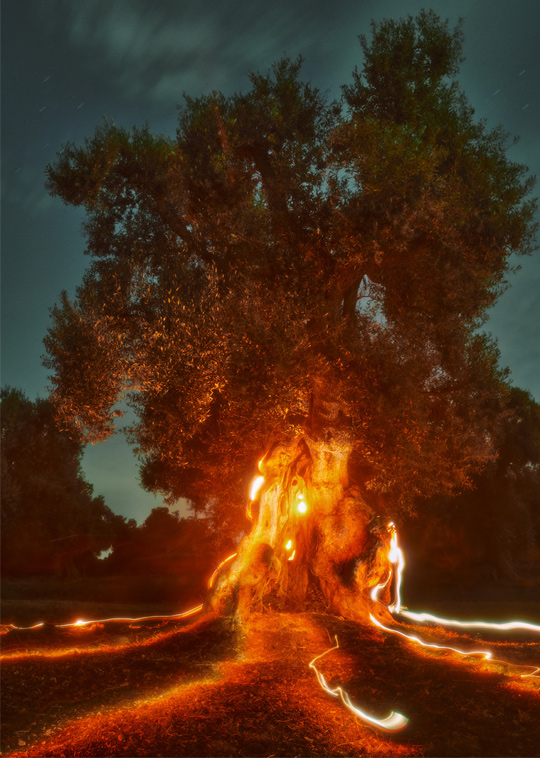 Photographic Exhibition TRE(E)PIDATION by Giampaolo Sgura
Menjadi Apulian seperti Natuzzi, Sgura secara khusus terkait dengan wilayah tersebut dan memutuskan untuk menetapkan proyeknya di Piana degli Ulivi, antara Ostuni dan Monopoli, hutan zaitun terakhir di Puglia dan satu-satunya area di dunia dengan kepadatan tertinggi zaitun purba. Pohon yang terancam punah oleh Xylella selama beberapa tahun terakhir.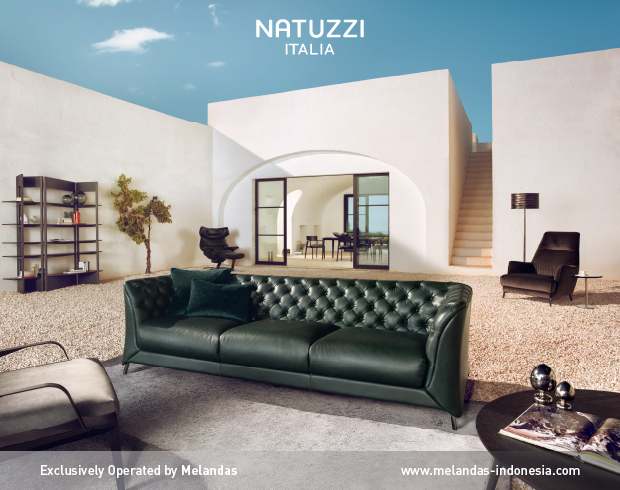 Presented by Melandas Indonesia
"I enthusiastically accepted Pasquale Junior Natuzzi's invitation to collaborate on this project. The love for our land, Apulia, unites us and it is imperative for us to support activism in safeguarding a natural heritage that is unique in the world" – Giampaolo Sgura –
Installation GERMOGLI by Marcantonio
Untuk merayakan konsep The Circle of Harmony – Second Life, Natuzzi Italia mempercayakan seniman dan desainer Marcantonio dengan instalasi yang menggugah dan indah di halaman Palazzo Durini Caproni di Taliedo, yang merupakan showroom jenama di Milan. Tujuannya untuk menyebarkan semangat Circle of Harmony kepada para pengunjung, yang menggambarkan kolaborasi  persimpangan pengalaman, pengaruh, dan perpaduan kreatif.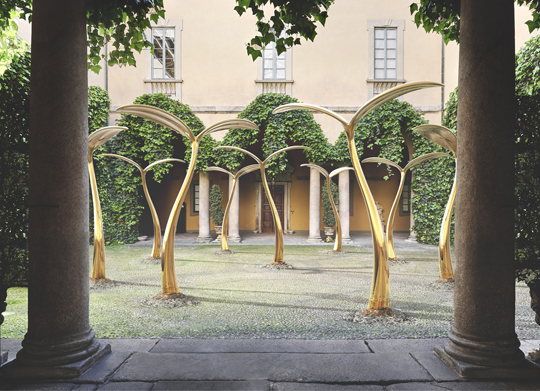 Installation GERMOGLI by Marcantonio
Terinspirasi gagasan kelahiran kembali dan bertujuan untuk menekankan hubungan sempit yang menghubungkan kita dengan alam dan lingkungan saat ini lebih dari sebelumnya, Marcantonio memutuskan untuk mengubah salah satu halaman paling penting di pusat kota Milan menjadi dunia seperti dongeng di mana kecambah (sprouts) raksasa menembak dari tanah, atau lebih baik dikatakan, dari bumi. Ditutupi dengan permukaan emas reflektif, kecambah (sprouts) raksasa – hampir 4m tinggi –  memantulkan sinar matahari, meniru alam di satu sisi, dan di sisi lain dekorasi klasik dan Renaisans di mana elemen tanaman mewakili kehidupan dan kelahiran kembali. (DB)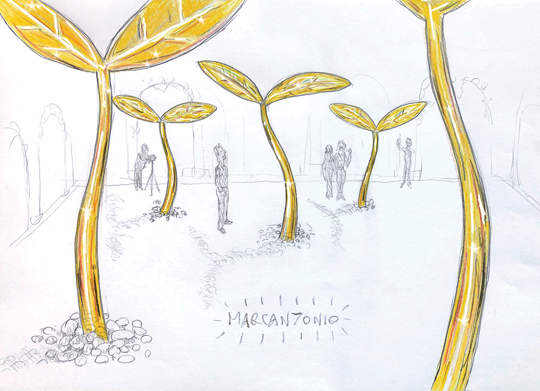 "Germogli represent a tribute to the union between man and nature and, at the same time, focus the spotlight on an urgent problem facing olive groves in Puglia which requires incisive action: Xylella. This pesty bacteria causes substantial problems in olive groves and risks compromising crops across Europe. The sprout is quite perfect, representing the birth of something new and serving as a symbol of positivity. I imagined gigantic sprouts, beyond scale, to remind us of the power of nature, in the face of which we are mere ants. The sprouts I have represented are the olive, the symbolic tree of Puglia. Its wood is precious, it is strong, its fruit is an emblem of fertility and memory for all towns dotted across the Mediterranean, and it provides a unique cultural connection between them."– Marcantonio –
PHOTOGRAPHIC EXHIBITION TRE(E)PIDATION BY GIAMPAOLO SGURA
Natuzzi Italia Showroom  – via Durini 24, Milan
6 Juni 2022 –  press day, 10.00 am – 8.00 pm
7 Juni 2022, 10.00 am – 5.30 pm
8 – 12 Juni 2022, 10.00 am – 8.30 pm
INSTALLATION GERMOGLI
Natuzzi Italia Showroom – Palazzo Durini Caproni di Taliedo Courtyard – via Durini 24, Milan
8 – 9 Juni 2022, 10.00 am – 10.00 pm