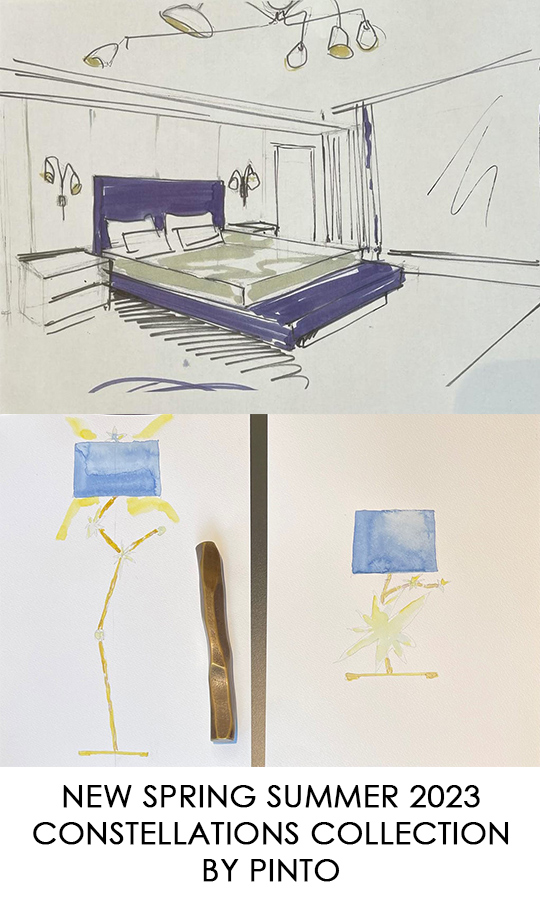 presented by
NEW SPRING SUMMER 2023 CONSTELLATIONS COLLECTION BY PINTO
Published by Sugar & Cream, Monday 06 February 2023
Images courtesy of PINTO DESIGN 
Inspired by the Night Sky
Faithful to the house's codes yet revisited with a romantic and contemporary spirit, Fahad Hariri and Pietro Scaglione have been developing the furniture and tableware collections for PINTO since 2020.
Sesuai dengan kode studio desain ini  ditinjau kembali dengan passion akan romantisme dan kontemporer, Fahad Hariri dan Pietro Scaglione telah mengembangkan koleksi furnitur dan peralatan makan untuk PINTO sejak 2020.
Dan, untuk pertama kalinya, terinspirasi oleh bintang-bintang di malam hari, PINTO 'menjerumuskan' kita ke alam kamar tidur yang nyaman dan hangat dengan menciptakan koleksi "Constellation (Rasi Bintang)", terdiri dari tempat tidur hasil kolaborasi dengan Le Lit National yang tampak melayang tanpa beban, dua lampu perunggu yang dihiasi dengan porselen dan bintang kristal dan rangkaian terbatas yang terdiri dari dua belas permadani, masing-masing bertuliskan konstelasi Zodiak yang berbeda. Moon dan Eclipse Coffee Table melengkapi koleksi Constellation Collection dari PINTO kali ini. Terbuat dari perunggu dengan tabletop  marmer, desainnya seakan memberi penghormatan pada fase bulan.
CONSTELLATIONS BED – PINTO X LE LIT NATIONAL
PINTO memperkenalkan Constellations Bed. Kini  pertama kali  bekerja sama dengan Le Lit National; dengan desain airy dan jaminan relaksasi mutlak.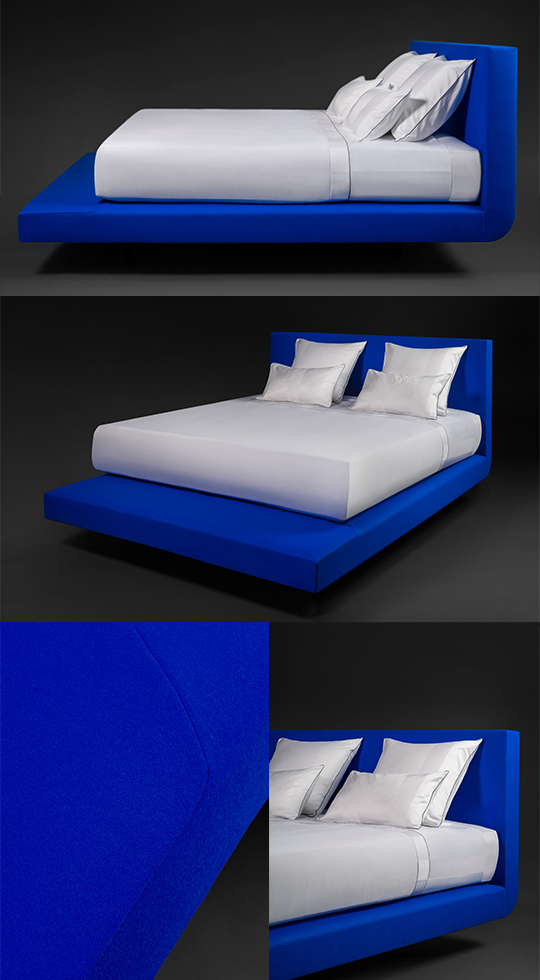 Referensi Prancis dalam tempat tidur berkualitas tinggi sejak 1909 bersama EPV (Entreprise du Patrimoine Vivant) – perusahaan mengabadikan dengan penuh semangat tradisi – dengan craftsmanship berkualitas serta penggunaan bahan alami terbaik yang menjamin kenyamanan optimal. Diminta oleh klien dan setia dari generasi ke generasi ke toko bersejarah di Place du Trocadéro ini, juga menawarkan layanan desain khusus kepada firma arsitektur paling bergengsi dan memberi akses khusus ke ruang pamer bersama dengan workshop khusus di pabrik yang berlokasi di pinggiran kota Paris.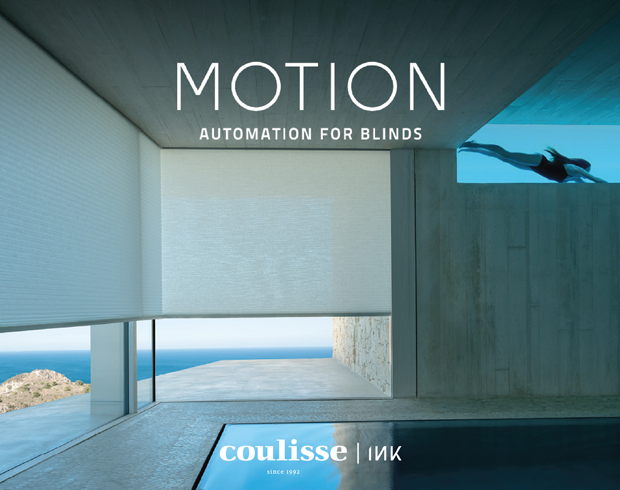 Presented by Coulisse | Ink
Constellations Bed sendiri terdiri dari bed base berpalang poplar berlapis kain – dilapisi dengan rel samping beech – dan dilengkapi dengan bilah beech yang diikat. Itu dilapis dengan kain wol murni terbaru yang direkatkan ke bed base dan dijahit ke sandaran. Dilengkapi matress yang dihadirkan oleh Le Lit National berisi kantong pegas, dilapisi dengan lapisan 100% lateks alami, wol domba Texel murni, lapisan kasmir di sisi musim dingin, serta lapisan sutra di sisi musim panas.
Bed Constellations PINTO X Le Lit National
Rangka Poplar yang dilapisi Qvadrat Divina 3 fabric (W. 190 x D. 255 x H. 120 cm)
Mattress (tidak termasuk): 180×200×25 cm
CONSTELLATIONS RUGS
PINTO juga menghadirkan limited – edition dengan hand-tufted  dari wol dan sutra, yang hadir dalam 12 model mewakili satu untuk setiap tanda zodiak. Kali ini hanya menampilkan dua versi yaitu Pisces dan Scorpio.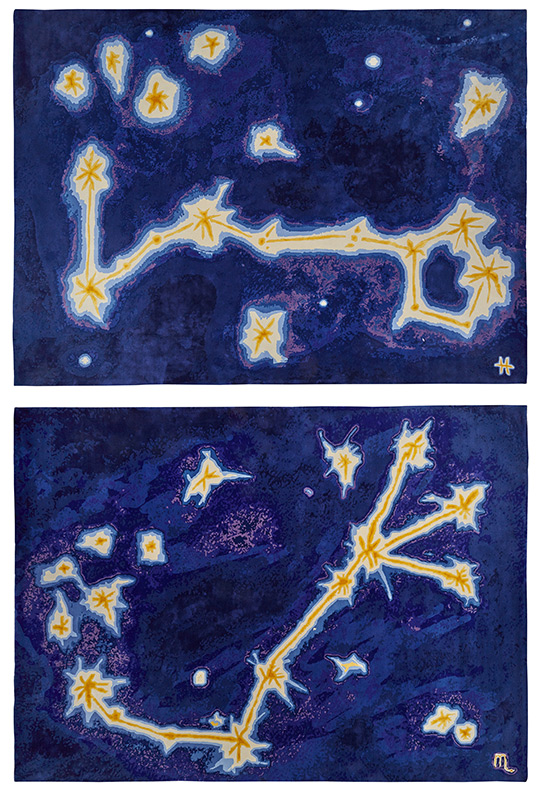 Rug Constellations
Wol dan sutra, hand-tufted
Tersedia dalam  12 desain – 1 per tanda zodiak (400×300 cm atau custom)
CONSTELLATIONS LAMPS
Constellations Lamps terbaru yang dirancang oleh PINTO dibedakan oleh pengetahuan teknisnya dan keindahan materialnya seperti perunggu, porselen, dan kaca.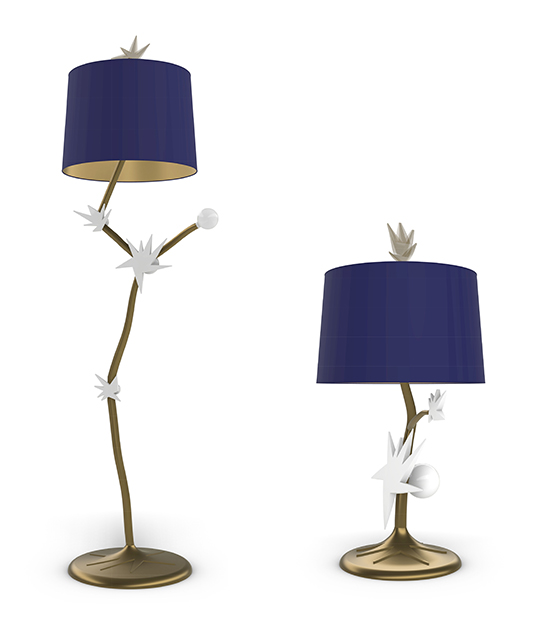 Orion Floor Lamp
Perunggu, porselen dan kaca, kap lampu kain, polifan berlapis emas, lyre mount  (W. 59.4 x D. 50 x H. 197.5 cm)
Venus lamp
Perunggu, porselen dan kaca, kap lampu kain, polifan berlapis emas, lyre mount (W. 35 x D. 35 x H. 72,5 cm)
MOON & ECLIPSE TABLES
Sebuah persembahan yang menggambarkan malam dan bintang dengan Moon dan Eclipse Coffee Tables,  secara puitis mengingatkan kita pada berbagai fase bulan.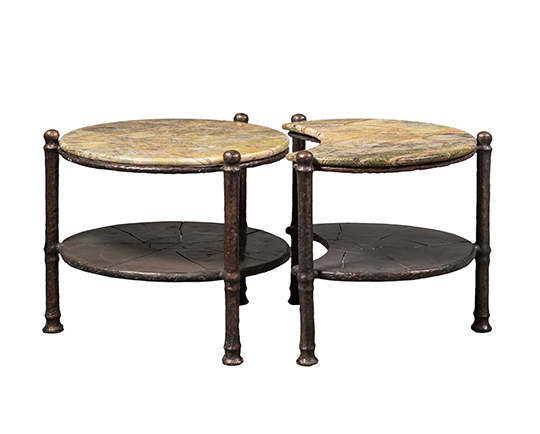 Moon coffee table
Perunggu dengan patina, tabletop marmer Green Forest, polesan akhir (D. 63 x H. 52 cm)
Eclipse coffee table
Perunggu dengan patina, tabletop marmer Green Forest, polesan akhir (W. 60 x D. 50 H. 52 cm)