presented by

NEW DECORATIONS FOR FORNASETTI HOME FRAGRANCES
Published by Sugar & Cream, Tuesday 10 October 2023
Images courtesy of Fornasetti
The Milanese Atelier Enriches its lLne of Home Fragrances with Three New Decorations from the Historical Archive
Fornasetti enriches its line of home fragrances with three new decorations from the Atelier's historical archive, which harmonise with the designs and scents to create unique sensory experiences. Anthropomorphic suns, fantastical landscapes and one of the infinite variations of the iconic face of Lina Cavalieri embellish the various forms of these creations, complementing the exclusive fragrances that enhance the decorations' artistic messages with their unmistakable notes.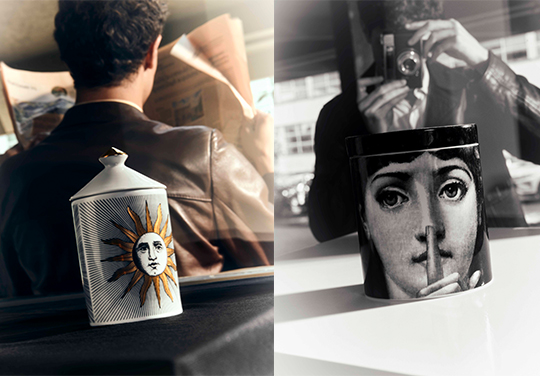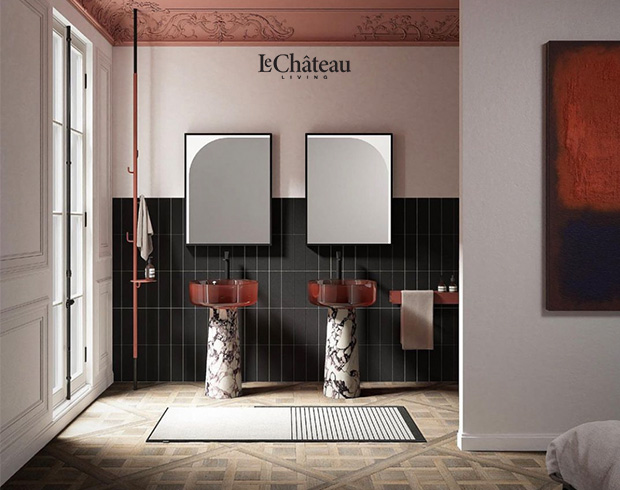 Presented by LeChateau Living
Fine craftsmanship and sustainable production remain the hallmarks of Fornasetti's home fragrances line, made with wax from 100% natural origins that burns in way that benefits both users and the environment.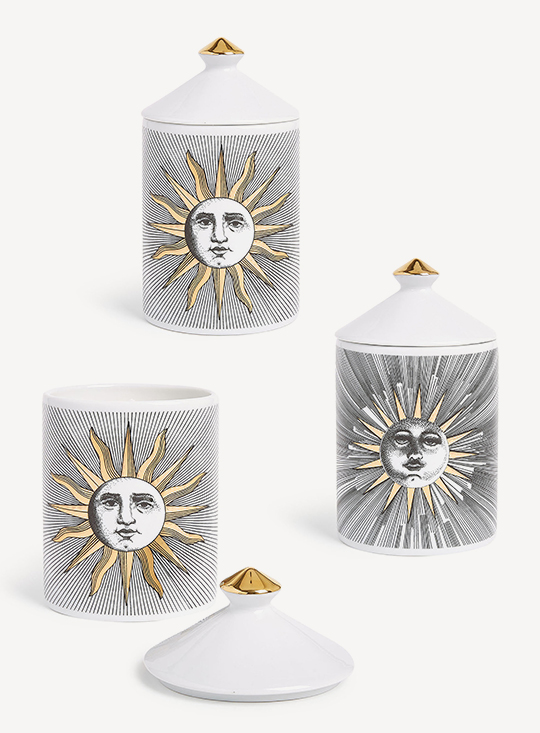 The fusion of decoration, design and fragrance, combined with high quality ingredients, transforms the acts of lighting and burning the candles into moments of well-being: quality time, suspended, to reclaim for oneself or share with others.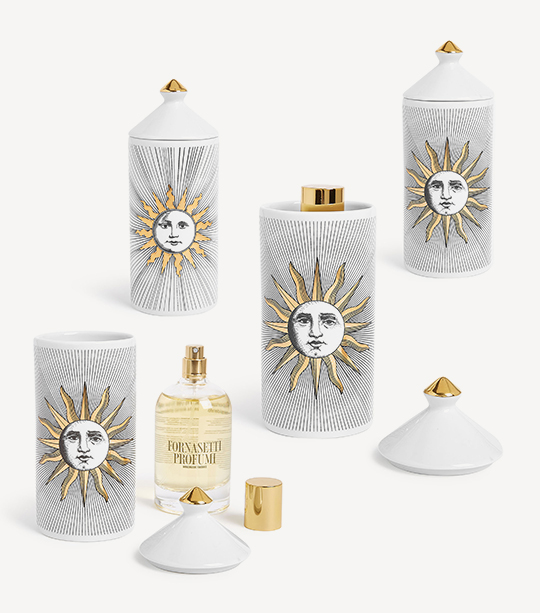 Fornasetti's scented candles feature three different decorations, whose evocative potency is heightened by three different fragrances.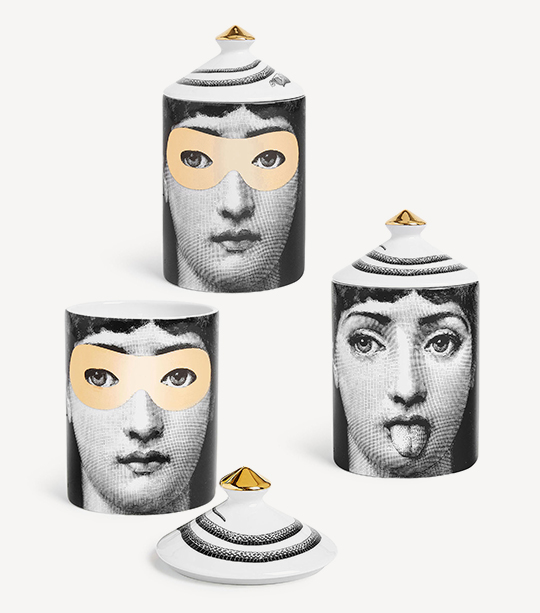 The Soli decoration appears on three creations ranging from the porcelain triptych –  a set of modular candles featuring three different shapes –  to the individual scented candle, also in porcelain and, lastly, the room spray. The anthropomorphic suns that radiate from the surfaces of these creations are among the themes from the world of nature so dear to Fornasetti, rendered even more bewitching in this version by the presence of gold that accentuates the plays of light. The heat of their rays is conveyed throughout the room by means of the sensual woody and aromatic notes of the Immaginazione fragrance.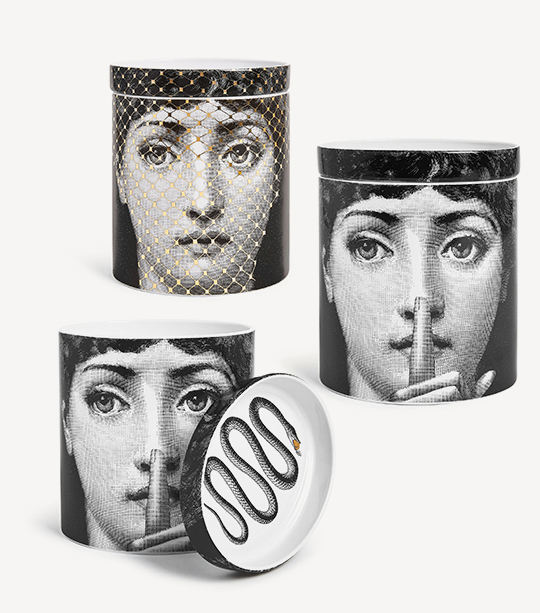 Mascherina is the decoration featuring the Atelier's iconic female star, the opera singer Lina Cavalieri, portrayed in this variation with her face partially concealed behind a gold mask. Applied on porcelain-scented candles of two different sizes and on a spray, Lina's enigmatic face is juxtaposed with another recurring image from Fornasetti's visual language, the snake, hinting at temptation and all that is forbidden, also evoked by the seductive citrusy notes of the fragrance, Frutto Proibito.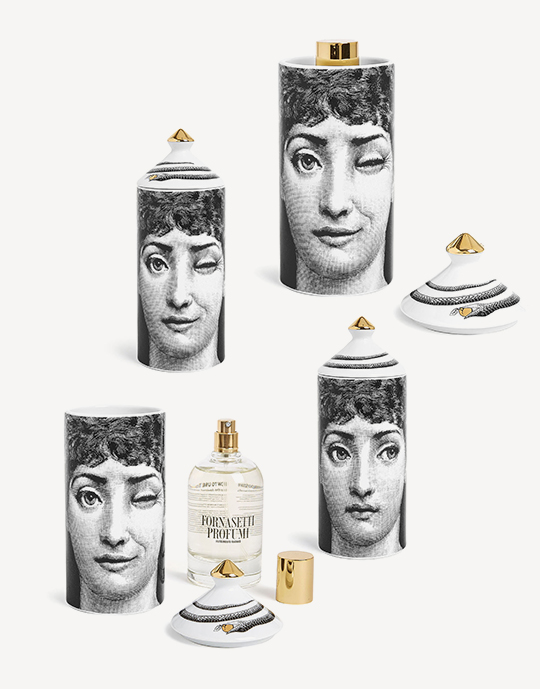 With Giardino Settecentesco one is drawn into a dreamlike atmosphere, where natural features and buildings with a neoclassical flavour exist side by side, creating a romantic landscape. This range consists of a triptych, scented candle and room spray, all made with fine porcelain. The allure of the decoration is matched by the notes of the Giardino Segreto fragrance, with its complex bouquet of woodland flowers and berries, encapsulating the scents of a mysterious Italian garden.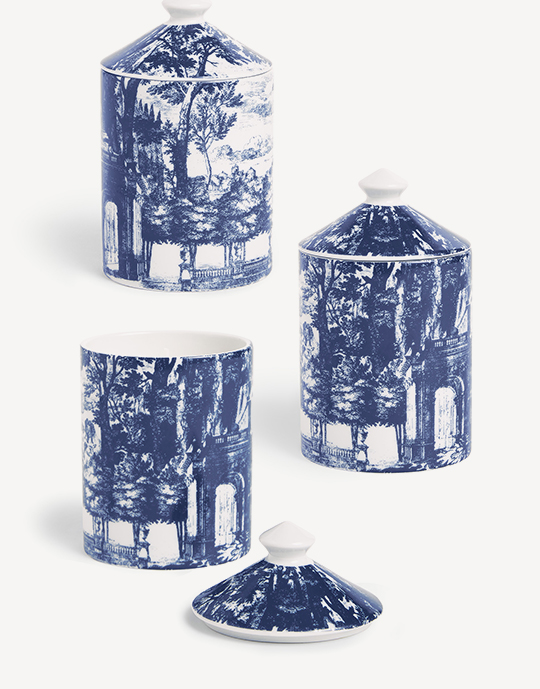 Like all of the Atelier's creations, Fornasetti candles are timeless, designed to live multiple lives, and invite their owners to light them and unleash their imagination. Whether used as lights, fragrances or containers once the wax is consumed, these new creations will imbue any space with a sophisticated beauty.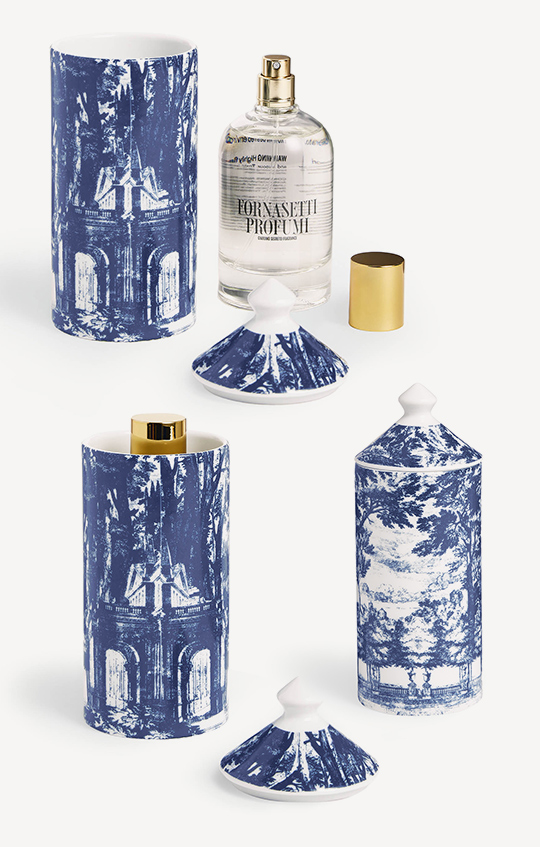 The Fornasetti scented candles are available in the Fornasetti stores in Milan and London, from Harrods, and on the website www.fornasetti.com.