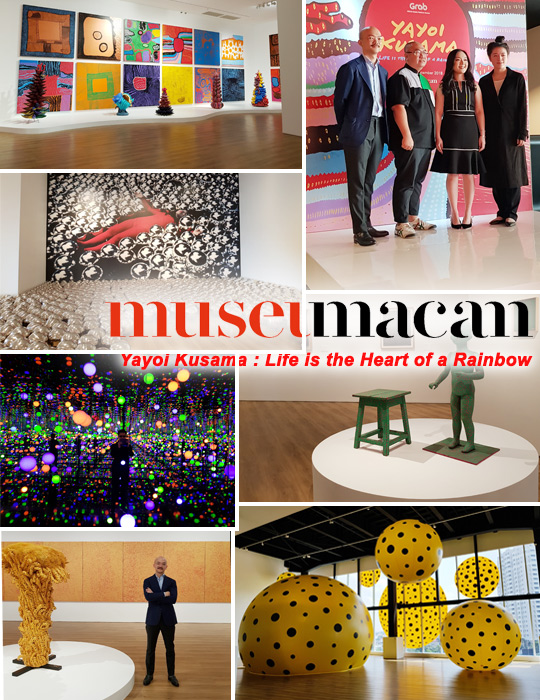 Museum MACAN – 'Yayoi Kusama : Life is the Heart of a Rainbow'
Published by Sugar & Cream, Friday 11 May 2018
Text by S&C, Images courtesy of S&C and Museum MACAN
Exhibition :  12 May – 9 September 2018
A Spectacular and A Must See Exhibition in Jakarta
Apa yang spektakular dengan Museum MACAN di Jakarta saat ini? Tidak lain adalah pameran berskala internasional yang bukan hanya sekadar bergengsi namun sangat wajib dikunjungi dan dicermati. Pameran dari seniman ternama dunia Yayoi Kusama menampilkan pilihan karya lebih dari 130 buah (termasuk 5 instalasi penting) mewakili 70 tahun perjalanan artistik  sang seniman. Resmi dibuka dihadapan undangan khusus pada malam tanggal 9 May tadi. Pameran dibuka untuk umum berlangsung 12 May – 9 September 2018.
Simak juga article sebelumnya mengenai Yayoi Kusama di Museum MACAN di sini.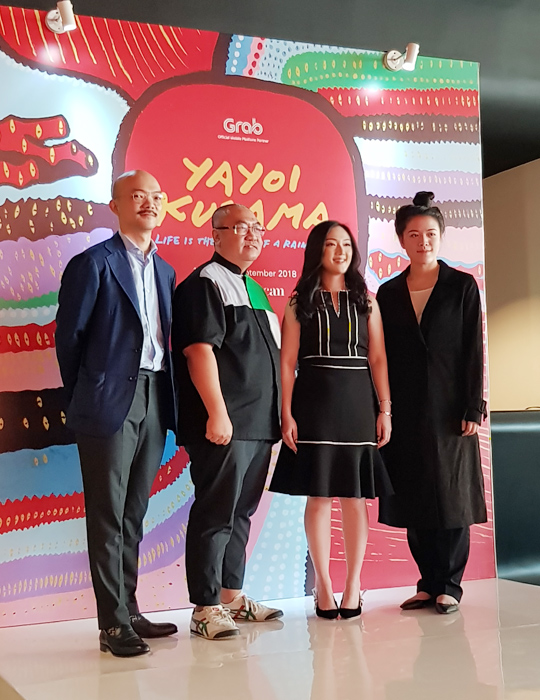 Aaron Seeto, Mediko Azwar, Fenessa Adikoesoemo
Jakarta layak berbangga diri. Ditengah hiruk-pikuk kemacetan dan sedikit melemahnya perekonomian (mata uang rupiah yang kian melemah), malam pembukaannya tumpah riah dihadiri oleh para tamunya. Antrian panjang tak terelakan telihat hingga melewati jam 11 malam untuk memasuki ruang museum. Ada batasan jumlah pengujung dalam ruang museum sebagai kelayakan standar sebuah museum yang harus dipenuhi. Kecerian tidak kalah menarik terjadi juga di The Obliteration Room di ruang atas terpisah dari ruang museum utama. Disini pengunjung diberikan sticker polka dots berwarna dan diberi kebebasan menempelkan dalam ruang yang serba putih. The Obliteration Room adalah sebuah ruang interaksi instalasi yang diciptakan oleh sang seniman  dan telah dipamerkan lebih dari 20 kali di 15 negara.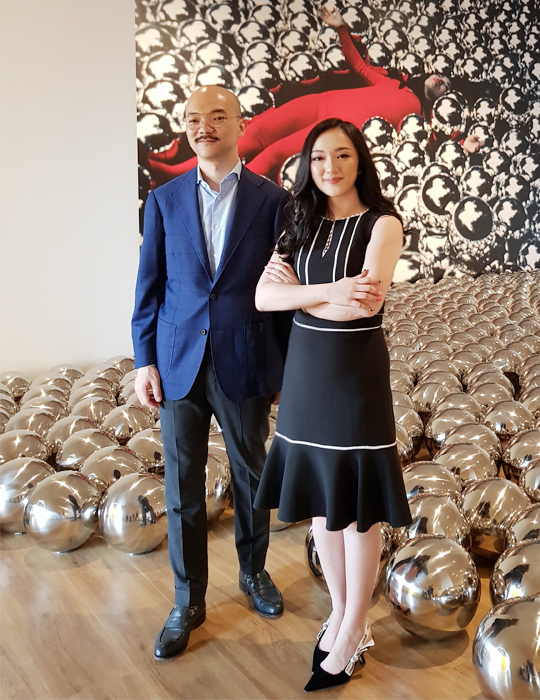 Aaren Seto & Fenessa Adikoesoemo
Seperti yang diungkapkan oleh Aaron Seeto, Director of Museum MACAN dan Fenessa Adikoesoemo, Chairwoman Yayasan Museum MACAN bahwa ekshibisi ini termasuk yang paling kompleks pernah dilaksanakan. Sangat beralasan karena terdapat 5 instalasi yang cukup rumit dan beberapa karya membutuhkan ruang cukup besar. Kehadiran pameran bergengsi berskala internasional ini di Museum MACAN menjadikan kota Jakarta kembali masuk dalam pentas seni kontemporer dunia.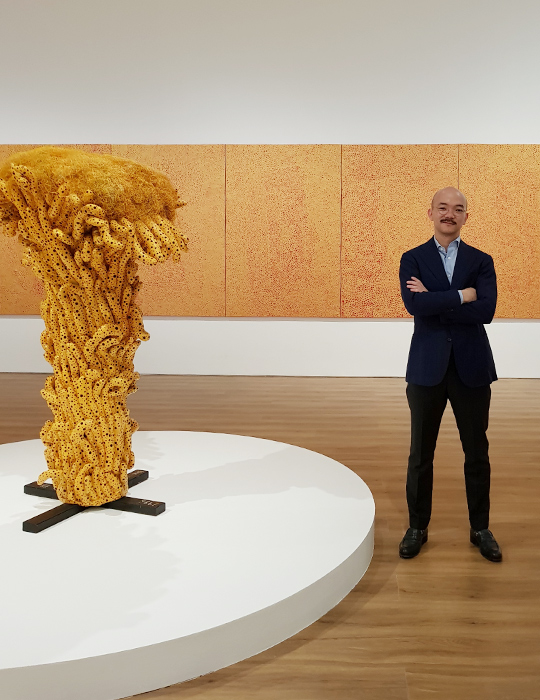 Aaron Seto, Director of Museum MACAN
Detil karya yang tidak boleh terlewatkan :
1. Karya Bola Pumpkin dimana terdapat sebuah lubang kecil. Melalui lubang tersebut terlihat ribuan pantulan bola-bola berwarna kuning dengan dot berwarna hitam. Lokasi sebelah kanan dari pintu masuk museum.
2. Karya 'Flower' (1953) berukuran mungil koleksi Museum MACAN. Salah satu karya awal yang dianggap penting dalam perjalangan artistik seniman Yayoi mulai melukis abstrak dan meninggalkan gaya realisnya.
3. Potrait Marilyn Monroe (1970) koleksi Chiba City Museum of Art. Karya ini sama sekali tidak menampilkan wajah asli Marilyn. Melainkan sebuah wajah fantasi penuh dengan titik dilukis diatas kanvas dengan jala kawat (wire netting). Selamat mencari.
4. The Obliteration Room (2002-ongoing). Sebuah ruang dilantai atas, terpisah dari ruang utama museum. Anda bebas menempatkan sticker dot berwarna dalam ruang putih yang tersedia.
Tips Mengunjungi pameran Museum MACAN  – 'Yayoi Kusama : Life is the Heart of a Rainbow"
1. Pastikan beli tiket melalui online untuk menghidar antrian panjang
2. Datang lebih awal sebelum museum dibuka
3. Simak dan baca riwayat seniman Yayoi Kusama untuk bisa menikmati dan menghayati karya-karyanya
4. Unduh aplikasi Grab dan nikmati penawaran-penawaran istimewa dari Grab. Grab bekerja sama dengan Museum MACAN sebagai 'the official mobile platform Partner of Museum MACAN 2018'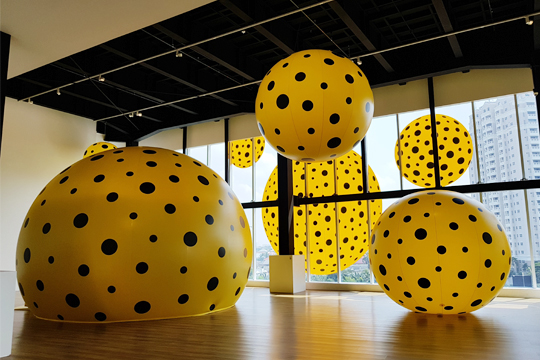 Jakarta merupakan destinasi final atau terakhir dari ekshibisi bergengsi 'Yayoi Kusama : Life is the Heart of a Rainbow". Sebelumnya pameran perdana di The Queensland Art Gallery/Gallery of Modern Art(QAGOMA) kemudian berlanjut di National Gallery Singapore (NGS).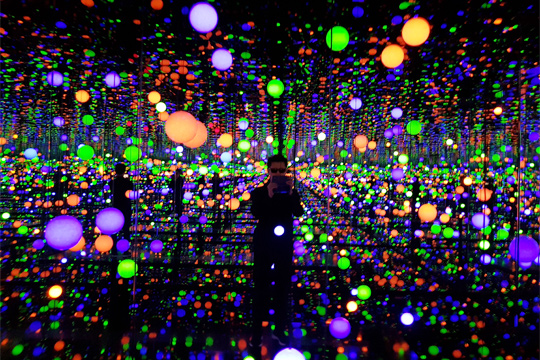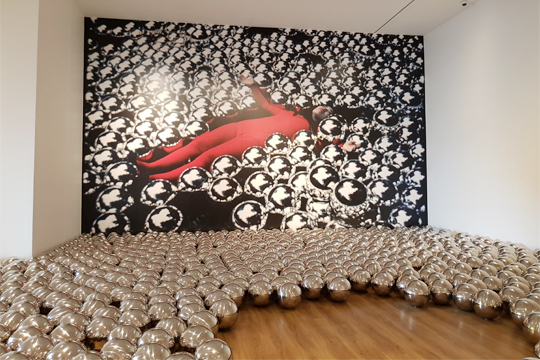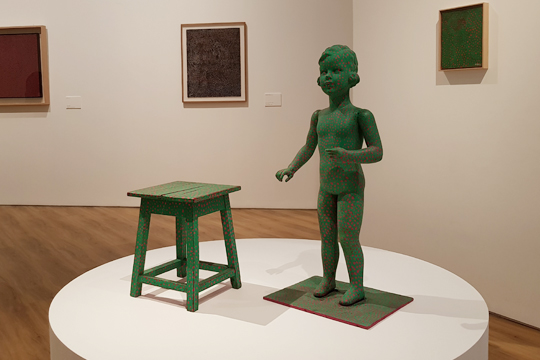 Untitled (Child Mannequin) koleksi Museum MACAN