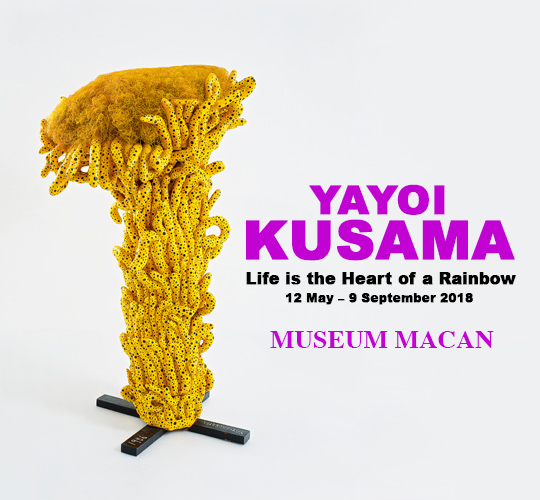 First Major Yayoi Kusama Exhibition at Museum MACAN
Published by Sugar & Cream, Monday 07 May 2018
Text by Astrid L, images courtesy of MACAN 
First Publication on March 15, 2018
"Yayoi Kusama: Life is the Heart of a Rainbow",  12 May – 9 September 2018 
Ini mungkin salah satu berita yang paling ditunggu-tunggu oleh segenap pencinta seni di Indonesia. Eksibisi Yayoi Kusama akan menampilkan lebih dari 130 karyanya selama 70 tahun, dimulai sejak tahun 1950-an. Dan kini eksibisi legendaris ini akan diselenggarakan untuk pertama kalinya di Indonesia di Museum MACAN, yang sekaligus juga akan menjadi tempat singgah terakhir pameran tersebut, mulai tanggal 12 Mei – 9 September 2018.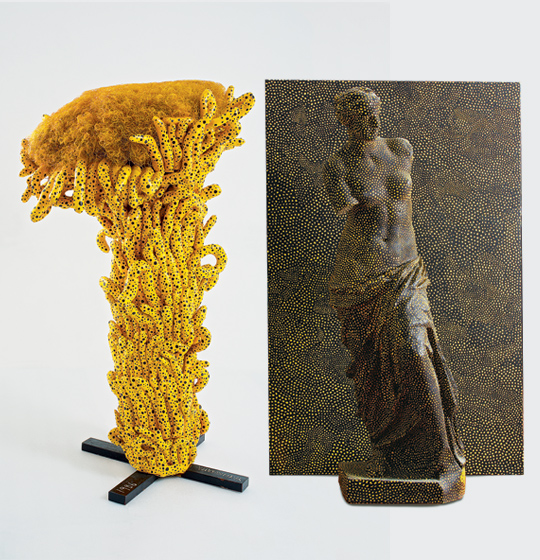 Pollen (1986) & Statue of Venus Obliterated by Infinity Nets No. 2 (1998)
"Yayoi Kusama: Life is the Heart of a Rainbow" menampilkan 70 tahun karya sang seniman. Setelah tampil di National Gallery Singapore dan Queensland Art Gallery | Gallery of Modern Art di Australia, akhirnya eksibisi ini akan mampir untuk pertama kalinya di Indonesia, dengan Museum MACAN sebagai hostnya.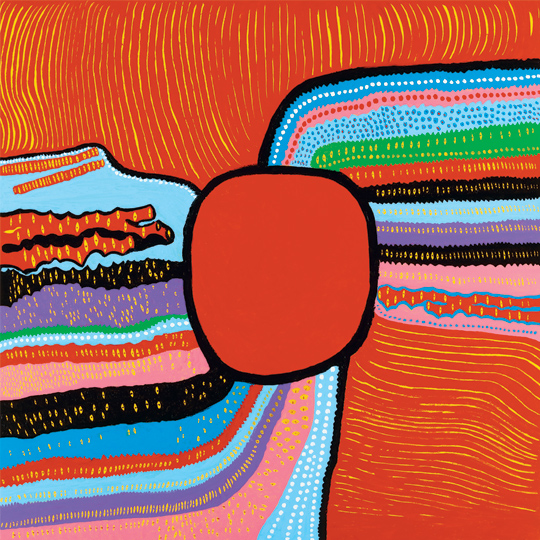 Life is the Heart of a Rainbow (2017)
Sejak November 2017, MACAN sudah mempersembahkan karya ikonik Kusama Infinity Mirrored Room – Brilliance of the Souls (2014) di Museum's Sculpture Garden, yang juga akan menjadi bagian dari eksibisi besar Kusama yang sudah dinanti-nanti ini. Selain Infinity Mirrored Room, eksibisi ini juga akan menampilkan berbagai lukisan, patung dan karya di atas kertas, serta lima instalasi, termasuk yang baru saja dibeli oleh Museum MACAN: I Want to Love of the Festival Night (2017), serta beberapa karya yang belum pernah ditampilkan sebelumnya, seperti Flower (1953) dan Untitled (Child Mannequin) (1966).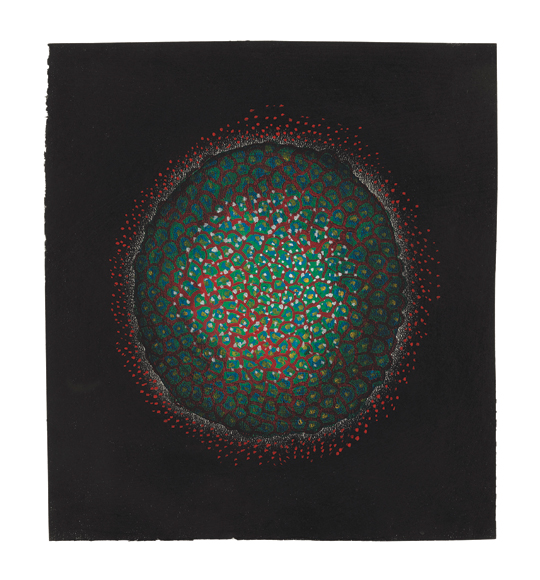 Flower (1953)
Menurut Direktur Museum MACAN, Aaron Seeto, eksibisi Kusama ini merupakan kesempatan besar bagi para pencinta seni Indonesia untuk ikut menikmati dan mengalami sendiri karya seniman legendaris tersebut secara dekat, dan merupakan kebanggaan besar bagi MACAN untuk ikut ambil bagian dalam peristiwa bersejarah ini.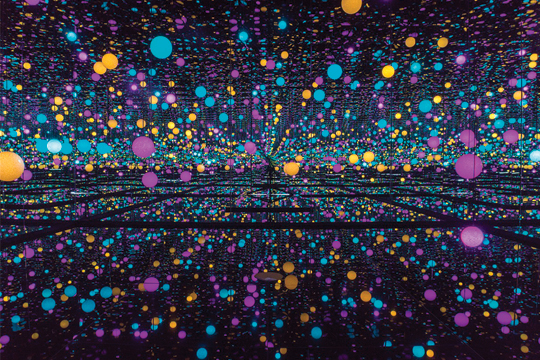 Infinity Mirrored Room – Brilliance of the Souls (2014)
"Life is the Heart of a Rainbow" mengeksplorasi perkembangan karya Yayoi Kusama sepanjang kariernya, termasuk penggunaan ciri khas elemen titik, jaring, serta labu sejak ia berkarya tahun 1950an hingga sekarang, juga pendekatannya terhadap ruang melalui instalasi berukuran raksasa. Eksibisi ini juga akan menampilkan My Eternal Soul, seri lukisan yang dimulai tahun 2009 dan masih berlangsung hingga sekarang, terdiri dari 500 lukisan, yang 24 di antaranya akan tampil juga di sini. Beberapa karya lain yang patut ditengok adalah Dots Obsession (2013/2016), Narcissus Garden (1966/2018), THE SPIRITS OF THE PUMPKINS DESCENDED INTO THE HEAVENS (2015) dan The Obliteration Room (2002- sekarang), yang merupakan instalasi interaktif yang sudah tur ke lebih dari 20 venue di 15 negara dan dikunjungi oleh 5 juta orang.
Jadi, jangan sampai terlewat – catat tanggalnya sekarang juga dan masukkan dalam kalender Anda. See you there! (AL)