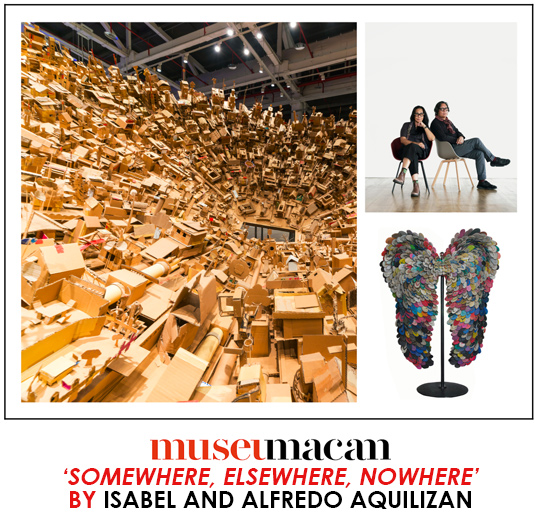 presented by
MUSEUM MACAN – 'Somewhere, Elsewhere, Nowhere' BY ISABEL AND ALFREDO AQUILIZAN
Published by Sugar & Cream, Friday 02 June 2023
Images courtesy of Museum Macan
Museum Macan: 24 June – 8 October 2023
Museum Macan is thrilled to present a major survey exhibition by Isabel and Alfredo Aquilizan, featuring large scale installations, sculptures, and drawings created over more than 20 years of their collaborative practice.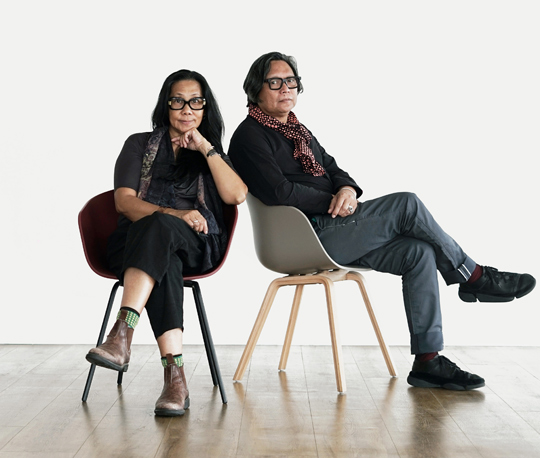 Isabel and Alfredo Aquilizan
The exhibition will be on view from 24 June until 8 October 2023. The tickets are available at www.museummacan.org/tickets and through the museum's ticketing partners: GoTix, Tiket.com, and Traveloka.
Isabel and Alfredo Aquilizan are a husband and wife artistic partnership, who have exhibited extensively in major exhibitions and biennales around the world. They are renowned for their unique perspective which often revolves around spheres of home and family, incorporating found materials into their artworks, and a consideration of the ways in which identities and histories are formed through travel and migration. They emerged as artists in the Philippines in the late 1990s and early 2000s, which was a time when interests in contemporary art practice from Southeast Asia began to emerge.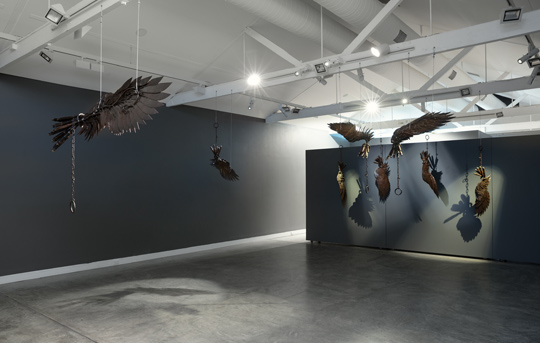 'Somewhere, Elsewhere, Nowhere' includes large-scale, expansive, and interactive artworks that will stimulate visitors' curiosity. Their work uses a vast variety of humble, everyday materials, including cardboard, flip flops, toothbrushes, and even blankets. These are items which suggest mundane human activities and are also things that we travel with, which become symbols of human movement as well as displacement. For the artists, these are simple materials that evoke ideas of individual identity, histories, journeys, and migration.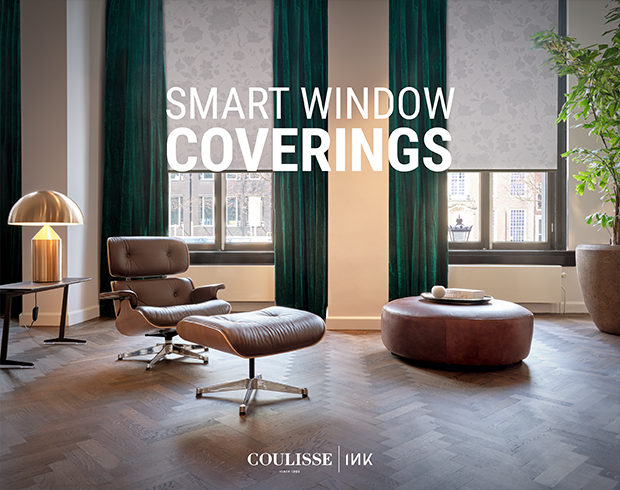 Presented by Coulisse | INK
Many of the works in the exhibition relate to the handmade—either created through processes of workshopping or crafted through the hands of artisans. For example, the metal knives found in Belok Kiri Jalan Terus (2017–2018) have been made by blacksmiths in Yogyakarta and the Philippines; as well as the piña cloth in See/Through (Series 1) (2019–2023). Piña cloth is a textile woven from pineapple plant fiber. Pineapple itself was introduced by the Spanish during the conquest of the Philippines and was later transplanted across Southeast Asia and the Pacific. Piña also directly links to colonization, the establishment of landlordism and laborers that creates slavery among other agrarian issues. These works illustrate the artists' deep commitment to the work, history, and knowledge that can be found in the hands of artisans, and reflect upon histories of conquest, colonization, labor, and human bondage, which link materials and people to place. Museum Macan will also commission a new work by the artists; a life size airplane wing consisting of 92 birdcages put together like a puzzle.

Isabel and Alfredo Aquilizan, said, "We're excited to share the works of our 20 years of collaborative practice at Museum Macan in Jakarta. Our story mostly has been inspired by experiences working in so many places, with different and diverse community backgrounds all over the world, including Indonesia. They were all part of our history and became an inspiration and a major influence in the development of our practice. Since 'Somewhere, Elsewhere, Nowhere' is all about the idea of engagement, we would love to see the meaning of each work evolve and multiply through the way the audience experiences and interacts with the works."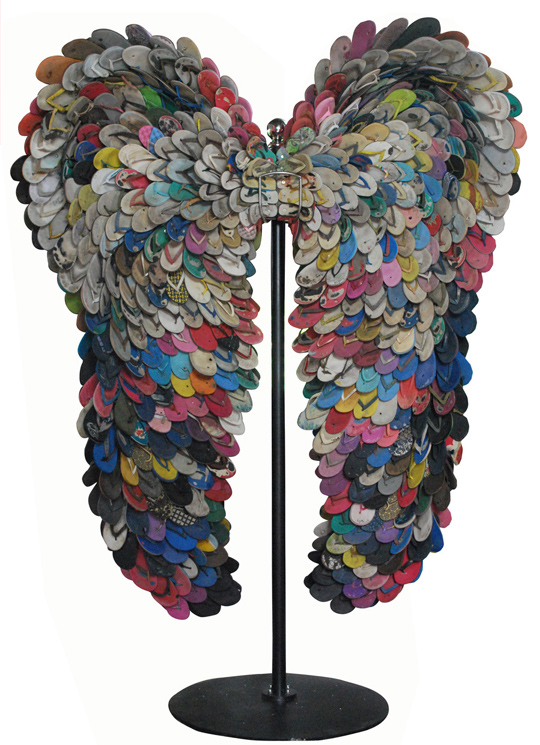 Aaron Seeto, Director, Museum Macan, said, "Indonesia is of particular importance to Isabel and Alfredo Aquilizan. They have forged strong relationships with many of the artists and the artistic scene in Yogyakarta, over many years. We are proud to be able to embark on such a large exhibition of their work, and to share it with the Indonesian public. We are also proud to be able to commission and present a new work from Belok Kiri Jalan Terus series, a life size airplane wing consisting of 92 birdcages put together like a puzzle. The idea of this work came to the artists on a previous visit to Yogyakarta, and we are extremely happy to be able to bring this idea to life."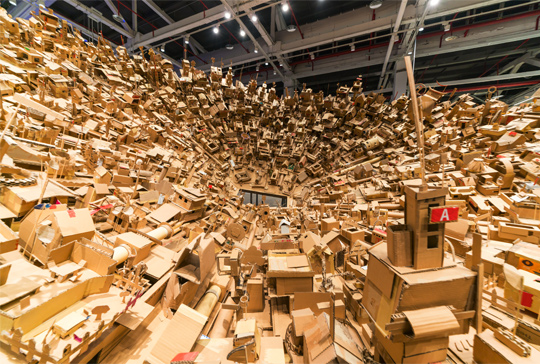 Coinciding with the exhibition, the artists have created a new project for children and their families in Museum Macan's Children's Art Space. Titled Kisah Kotak Sepatu (translated as Shoebox Story), the area responds to ideas of home, migration, personal histories, and the ways human relationships are forged through shared experiences. As well as activities on site, workshop sessions with schools, and online tutorials and activities will extend Kisah Kotak Sepatu to schools across the country. Projects in the Children's Art Space are designed to engage children and their families in the ideas and concepts presented within the exhibition, and is an important part of Museum Macan's ongoing emphasis on art education.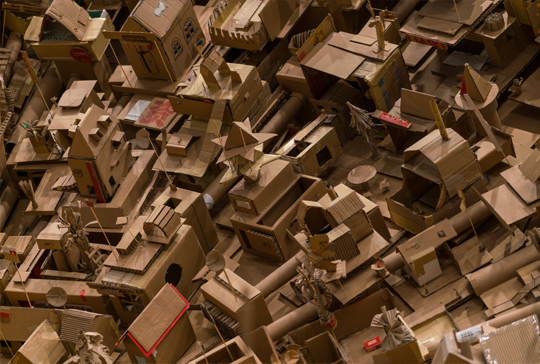 The Museum's gift shop will also present exclusive merchandise for the exhibition. Visitors are able to purchase the merchandise in the museum or online via shop.museummacan.org and www.tokopedia.com/shopatmacan .
'Somewhere, Elsewhere, Nowhere' is assisted by the Australian Government through the Australia Council, its arts funding, and advisory body.