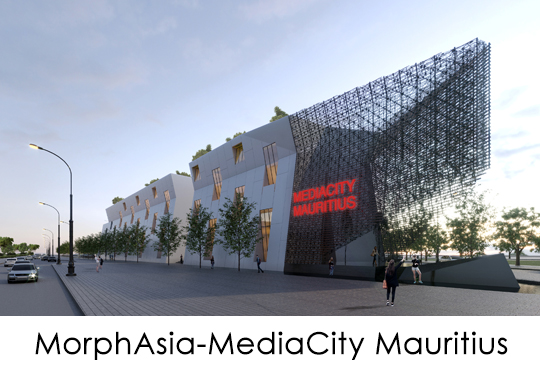 presented by

MorphAsia-MediaCity Mauritius
Published by Sugar & Cream, Friday 28 May 2021
Text by Sunthy Sunowo, images courtesy of Mediacity Mauritius
Indonesia Architect Firm, Morphasia is awarded with a commission of the prestigious Mediacity Mauritius facility, a global hub for media and creative industry in Africa
Covid-19 hits the world and become a catalyst for growth of demand in digital platform and content Africa is one of the continent with a fast-growing media and creative industry. The development of MediaCity Mauritius that was launched in early April 2021 is a direct respond to this growing situation.
The development consists of some facilities to accelerate the digital progress in Africa and is supported by the giant broadcasting partner, BCE (Broadcast Center Europe) BCE as its technical partner, Nova Terra; the leading Mauritian real estate developer, and the Mauritius Government and Economic Development Board. Meanwhile, the design of this prestigious building is commissioned to Indonesia Architect Firm, MorphAsia.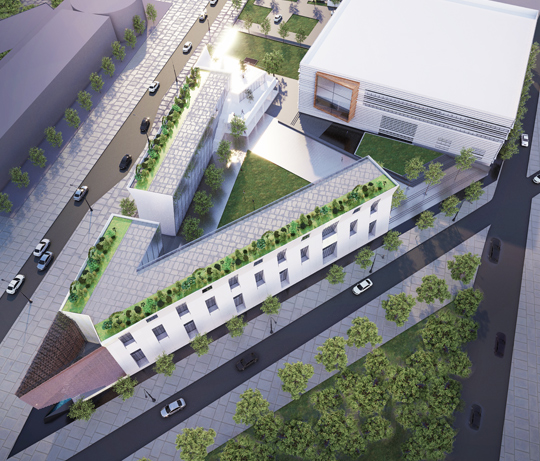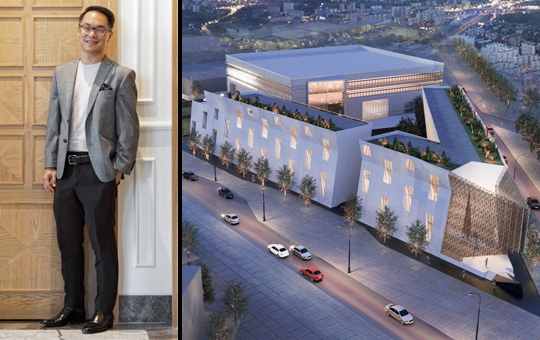 Glenn Hartanto, Principal MorphAsia
MorphAsia is a Jakarta, Indonesia based architect firm and very well-known for their big scale and iconic projects. Among others are The Airport City (next to Soekarno Hatta International Airport of Jakarta, Cengkareng, Indonesia), Bukit Intan Lestari in Kupang – Nusa Tenggara Timur, Pamulang MXD (mixed-use superblock), and Aston Luwuk (hospitality). By using a thorough research on context, culture, and climate, MorphAsia gains sensitivity to design and give the best solution on each project.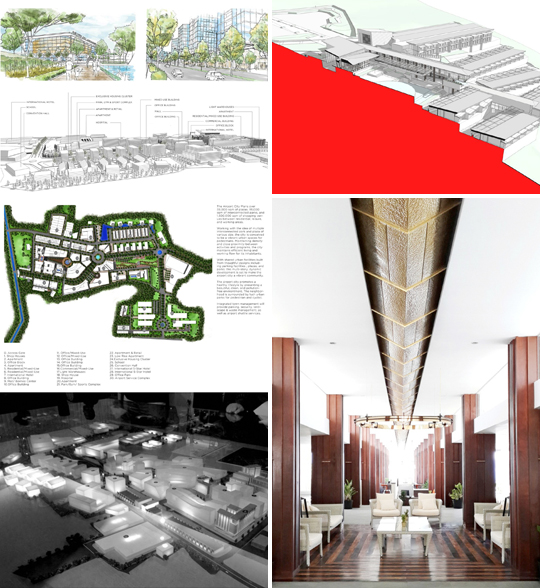 MorphAsia Project,  The Airport City (left) | Aston Luwuk (right)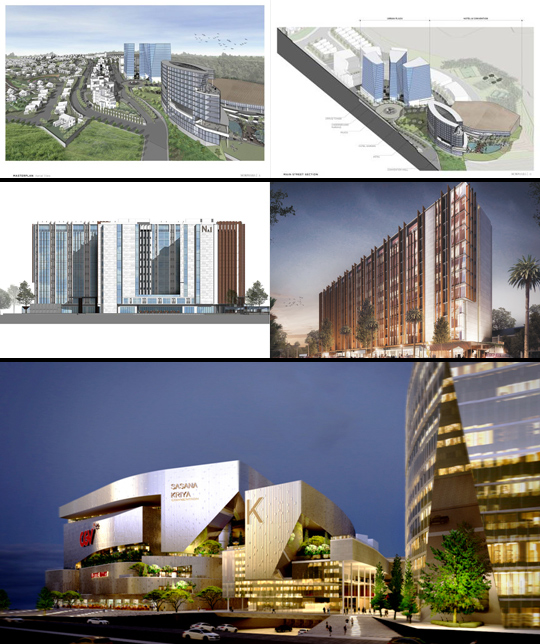 MorphAsia Project, Bukit Intan Lestari (above) | Narita (in the middle) | Pamulang MXD (below)
Mr. Najib Gouiaa, The Founder and General Manager of MediaCity Mauritius believes in smart development and sustainability. Therefore, MorphAsia design thinking is in line with his brief and focuses on creating impressive and iconic building that represent the vision of MediaCIty Mauritius on the design proposal.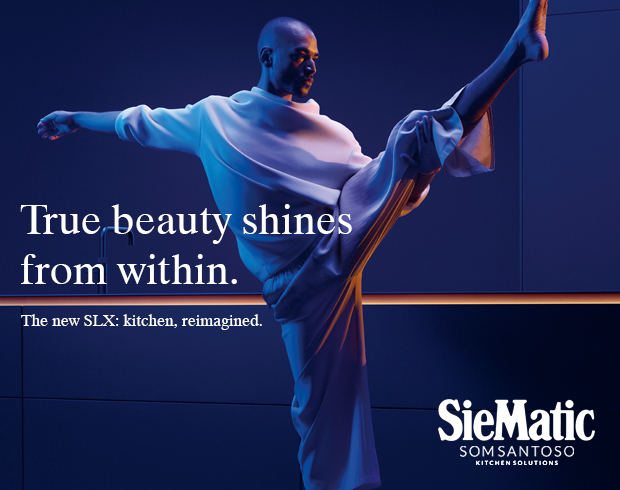 Presented by Som Santoso
As part of BeauPlan Smart City master plan, MediaCity Mauritius location inspire the design to have a courtyard garden among the building's masses and become an integral part of the concept to merge tropical architecture values and iconic modern design. This courtyard garden also seemingly imitates the iconic botanical garden across the location.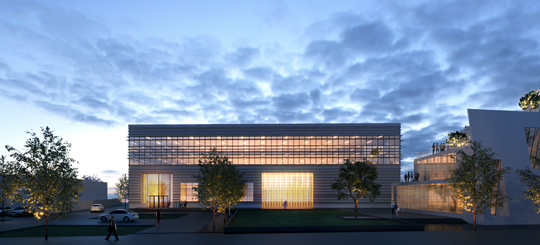 "In the beginning, we create modern design with thin and long building to create working area with ample daylingt and intense connection with outdoor green space. Hence, the cross ventilation in the working space works very well and promote the minimum use of air conditioning in most of the days in a year." Glenn Hartanto, the design principal of MorphAsia, adds regarding the details on their design for Mediacity Mauritius.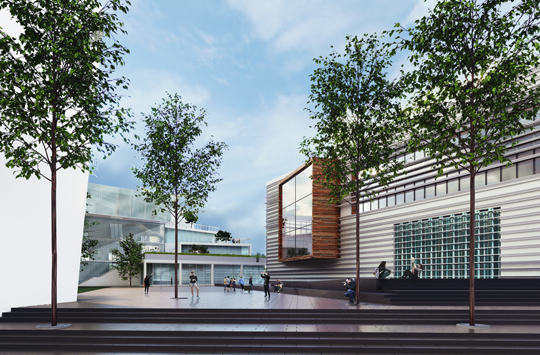 The thin and long building masses are designed to have a slightly slanted façade on one side and cascade façade on the other side. These details build up a strong character and iconic design. They also create a strong spatial connection between indoor and outdoor. Visual orientation on the inside os toward the trees on the courtyard, and let the foliage of the building reflected by the material on the façade.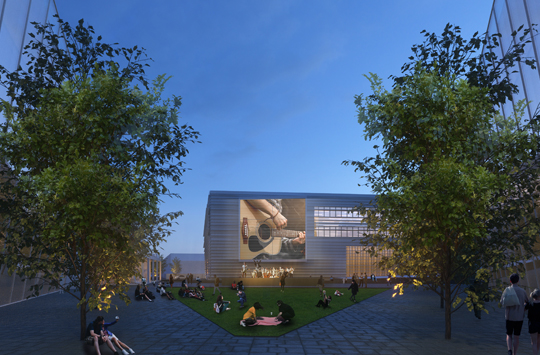 MediaCIty Mauritius is a building with many facilities to comply with the demand of digital creation and online innovation that vastly growing in Africa. The design of this building serve the function as well as the a strong and iconic presence. A successful approach to live up the vision and create a sensitive respond to context, culture, and climate, while allowing MediaCIty Mauritius to be prestigious with timeless design.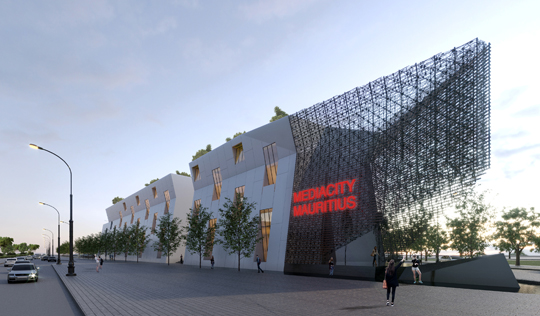 The Iconic Facade as the entrance to Mediacity Mauritius.
Text by Sunthy Sunowo, images courtesy of Mediacity Mauritius
Morphasia Merancang Proyek Bergengsi Mediacity Mauritius: Global Hub Untuk Industri Media Dan Kreatif Di Afrika
Pandemi Covid-19 yang dialami oleh seluruh dunia menjadi katalisator dari tumbuhnya kebutuhan masa kini akan konten dan platform digital. Tidak terkecuali dengan Afrika yang mengalami peningkatan kebutuhan dan kemajuan online dalam industri media dan kreatif. Merespon hal ini, sebuah pengembangan diluncurkan pada awal April 2021 yaitu MediaCity Mauritius.
Pengembangan yang terdiri dari beberapa fasilitas yang mendukung akselerasi digital di Afrika ini didukung oleh beberapa partner, yaitu broadcasting besar Broadcast Center Europe (BCE) sebagai partner teknis, Novaterra (Pengembang real estate terdepan di Mauritius), serta Pemerintah dan Dewan Pengembangan Ekonomi Mauritius. Sementara itu, salah satu firma ternama di Indonesia, MorphAsia dipercaya untuk merancang pengembangan dan desain arsitektur dari MediaCity Mauritius ini.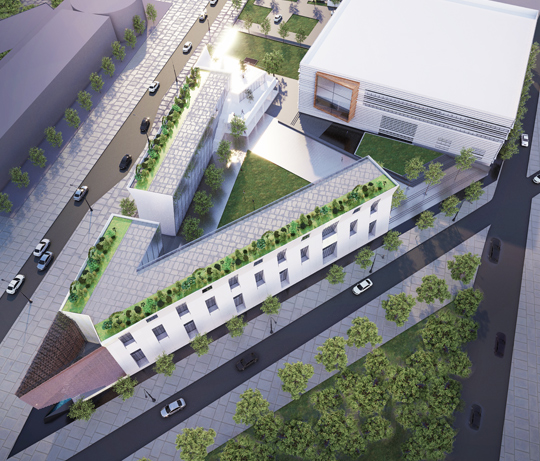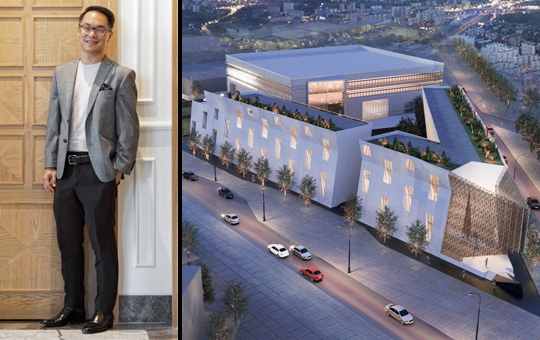 Glenn Hartanto, Principal MorphAsia
MorphAsia adalah firma arsitek di Jakarta, Indonesia yang telah begitu dikenal melalui karyanya berskala besar dan ikonik. Beberapa di antaranya adalah The Airport City (di dekat Bandara Internasional Soekarno Hatta, Cengkareng), Bukit Intan Lestari di Kupang, Nusa Tenggara Timur, Pamulang MXD (mixed-use superblock), dan Aston Luwuk (hotel). Dengan kepekaan yang didukung oleh pendalaman konteks, kultur, dan iklim dalam risetnya, MorphAsia selalu berhasil memberikan solusi dan formula desain terbaik di setiap proyek.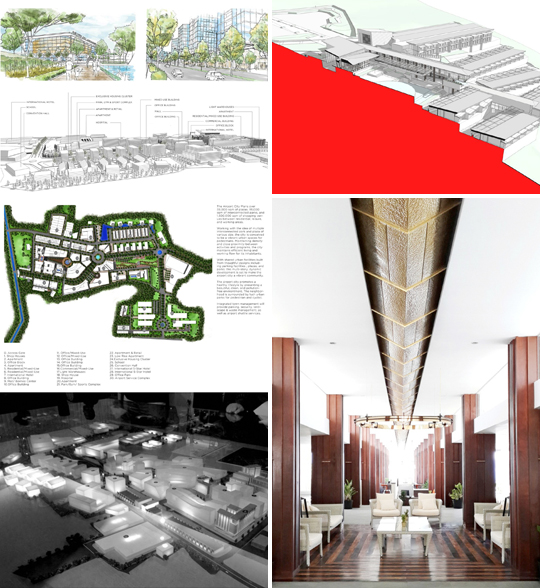 MorphAsia Project,  The Airport City (kiri) | Aston Luwuk (kanan)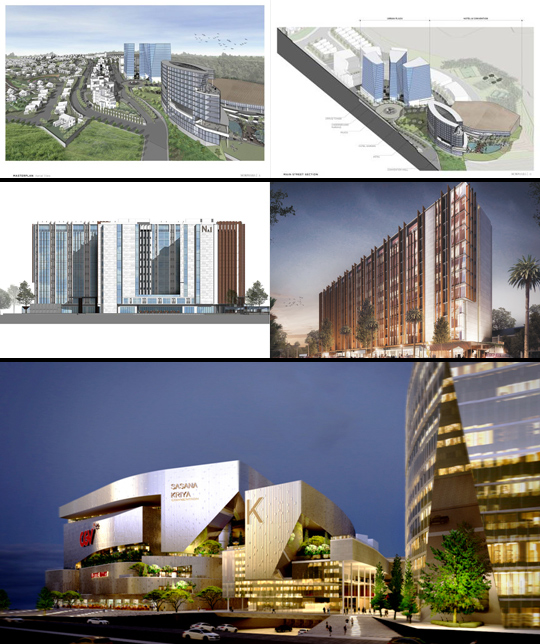 MorphAsia Projects: Bukit Intan Lestari (atas) | Narita (tengah) | Pamulang MXD (bawah)
Hal ini selaras dengan keinginan Mr. Najib Gouiaa, Pendiri dan General Manager MediaCity Mauritius yang sangat percaya terhadap pengembangan yang cerdas dan berkelanjutan. Tuntutan untuk desain "bangunan impresif dan ikonis sebagai representasi dari visinya" menjadi fokus utama MorphAsia dalam merancang proposal desain untuk proyek ini.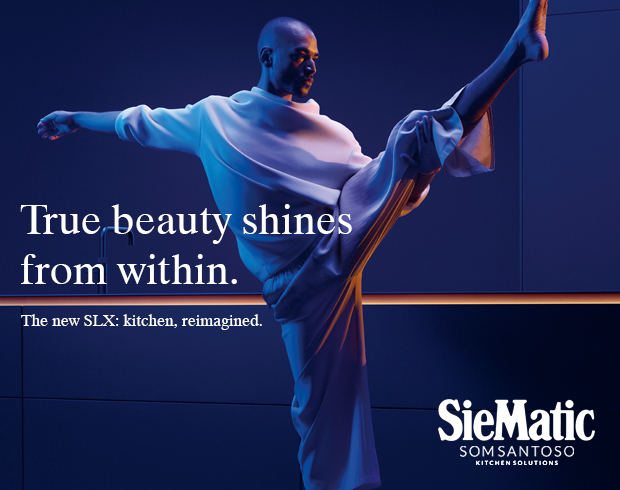 Presented by Som Santoso
Letak MediaCity yang berada di dalam master plan BeauPlan Smart City menginspirasi MorphAsia untuk menghadirkan courtyard garden di tengah bangunan dan menjadi bagian integral dari keseluruhan konsep yang memperhatikan kaidah arsitektur tropis dalam desain modern yang ikonis. Kehadiran courtyard garden ini seakan meniru botanical garden yang terletak di seberang lokasi MediaCity Mauritius.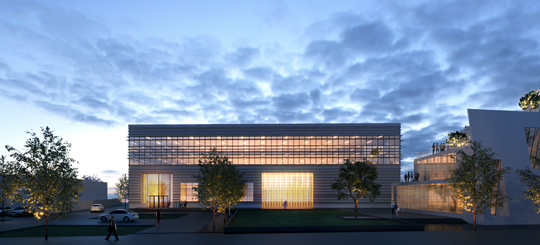 "Pada awalnya kami membuat bangunan modern yang tipis dan panjang agar bisa menciptakan area kerja yang mendapat banyak cahaya di siang hari dan memiliki keterhubungan yang kuat dengan area hijau di luar. Dengan begitu, ventilasi silang di area kerja mampu secara optimal terwujud, sehingga meminimalkan penggunakan mesin pengondisian udara dalam setahun." Glenn Hartanto, Principal MorphAsia menjelaskan detail dari desain untuk MediaCity Mauritius.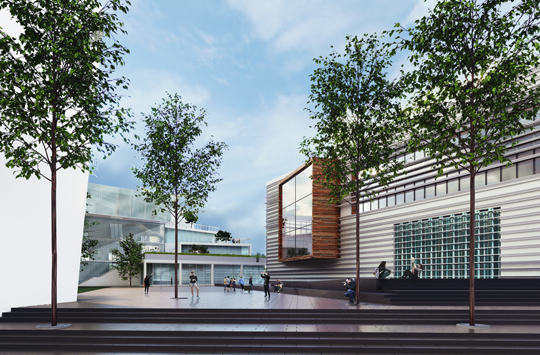 Massa bangunan yang tipis dan panjang kemudian dirancang memiliki façade sedikit condong keluar di satu sisi dan berjenjang di sisi lain. Selain membangun karakter yang kuat dan juga ikonis, desain ini juga membangun hubungan spasial yang kuat antara ruang dalam dan luar. Orientasi visual dari dalam bangunan mengarah ke pepohonan di luar dan material kaca reflektif pada façade mencerminkan ekspresi dedaunan dari pohon di courtyard.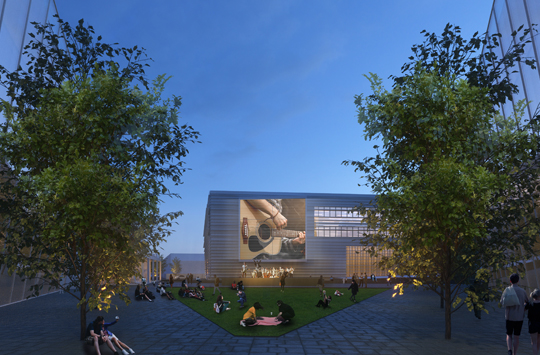 Bangunan yang mewadahi banyak fasilitas untuk menjawab tuntutan kreasi digital dan inovasi online yang berkembang pesat di Afrika ini berhasil dirancang memenuhi kebutuhan fungsi dan memiliki karakter kuat dan ikonis. Sebuah keberhasilan mewujudkan visi dan kepekaan merespon konteks, budaya, dan iklim menjadikan bangunan MediaCity Mauritius sangat bergengsi dengan desain yang "sepanjang masa".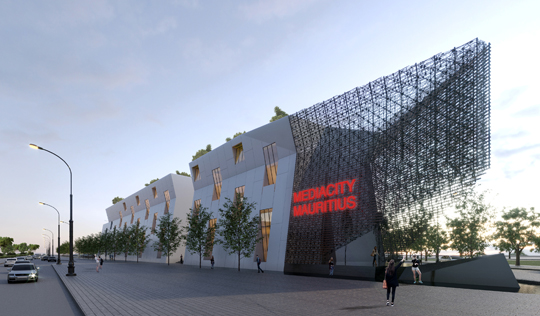 The Iconic Facade as the entrance to Mediacity Mauritius.