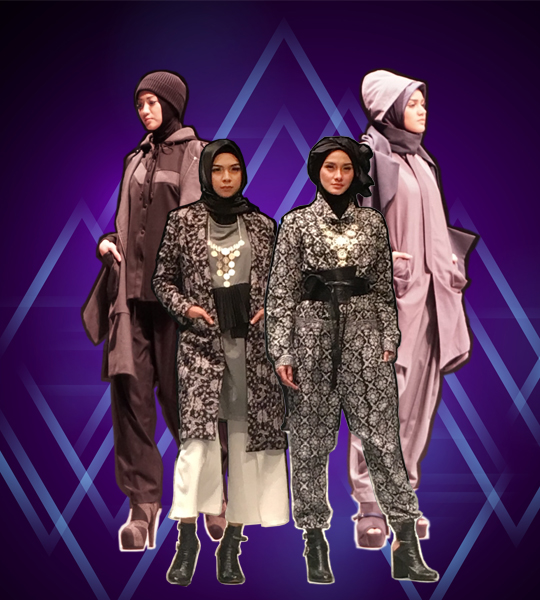 Modest in Intention, Chic in Fashion
Published by Sugar & Cream, Tuesday 25 April 2017
Text by Lynda Ibrahim, Images courtesy of Lynda Ibrahim and Sofie
Muslim Fashion Festival II – 2017
In the past several years the interest to wear hijab has spiked among female Muslim Indonesians. The local fashion scene and clothing business have responded quite swiftly with myriad of options. For years there was Indonesia Islamic Fashion Festival ran in Jakarta by one of the designer associations, and for the past two years the same group of designers, now united under Indonesian Fashion Chamber (IFC), have organized Muslim Fashion Festival (Muffest).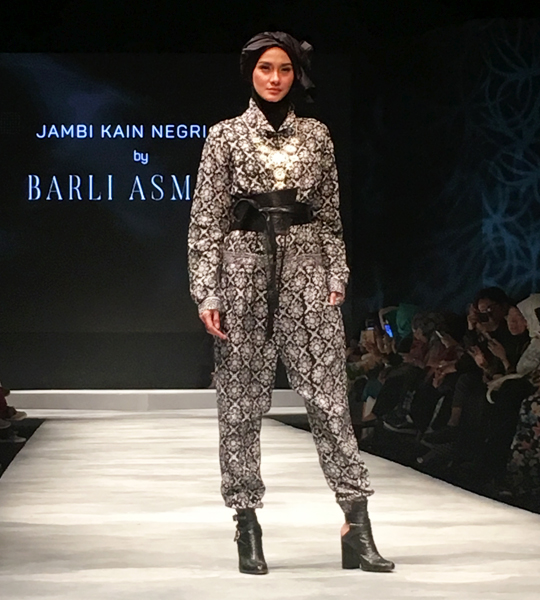 Fashion by Barli Asmara
Held this year almost two months before Ramadan even started, the Muffest was larger than its inaugural year and, as the saying goes, saved the best for last—namely, Barli Asmara and Sofie on closing show.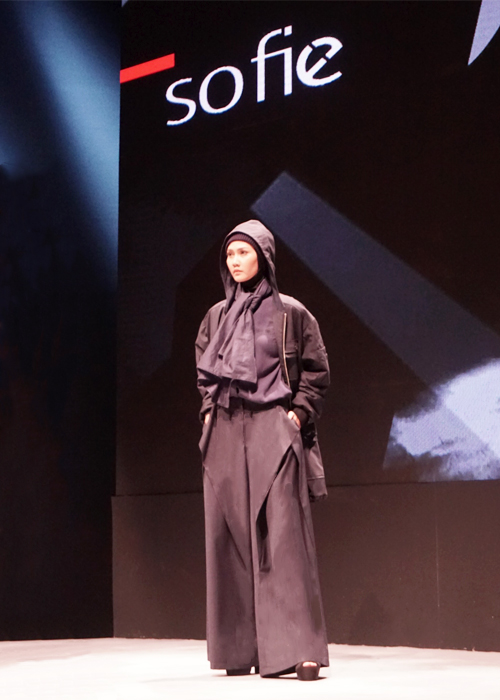 Fashion by Sofie
Rebranding the label Be to White by BA, Barli Asmara dedicates this label to the modest fashion genre. Asked how he defined it, Barli explained that he categorized it as modern clothing in loose silhouettes open for customers to restyle it less or more covered as they'd see fit.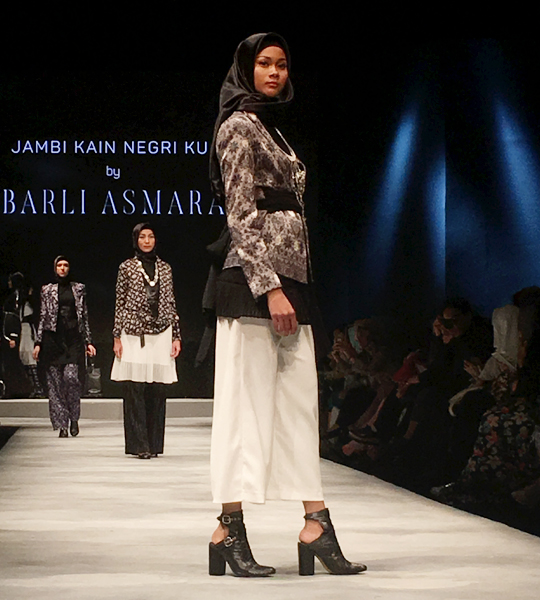 Fashion by Barli Asmara
For the 15-piece collection to close Muffest, Barli chose to borrow from his long-running heritage textile program "Kain Negeriku", selecting heritage handwoven fabrics of Jambi as the focal point. The black-and-white Jambi elements added classic print and a modern twist of headscarf, the obi held the look stylishly, while the overall silhouette remained modest without becoming entirely shapeless. I could see the collection as a whole easily finding market among fashionable hijab-wearing Indonesians, while a few pieces could attract corporate executives—a growing group of style-conscious, high-spending, urban professional women that Indonesian designers often overlook.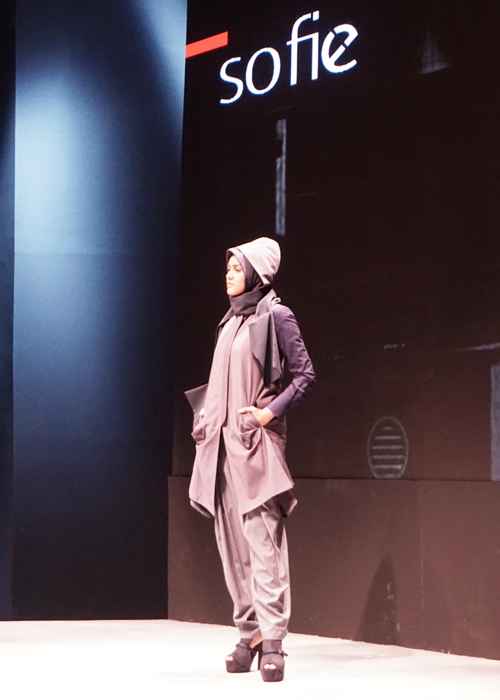 Fashion by Sofie
Known for his high-street urban look, Sofie stayed true to his brand DNA while designing for hijab-wearing women. Naming his collection "Revolution", Sofie revisited his past collections as inspirations—tweaking previous styles and leftover fabrics. The result was a strong statement on style.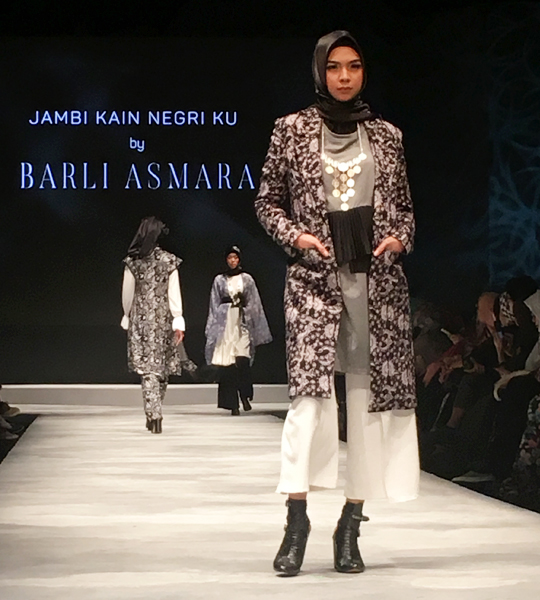 Fashion by Barli Asmara
The silhouettes were sharp—clear definitions of pants, chemises, tunics, vests or jackets. For modest factor Sofie chose adjustable layers instead of wishy-washy, tent-like, blobs of fabric that made wearers lost behind clothing. Presented in what seemed like fifty-shades of black, as a whole the collection came out so chicly urbane they belonged to the cool streets of London and Tokyo. Sofie's sample sizes from the collection he showed for the Opening were reportedly sold out immediately after the show; I won't be surprised if his collection for the Closing show would fly off the rack just as fast.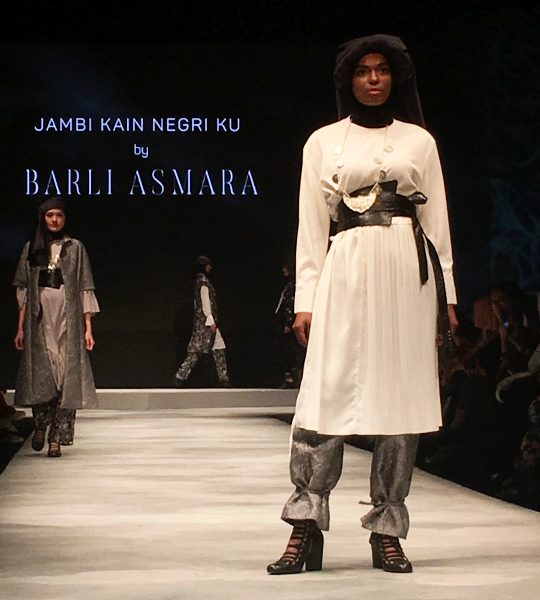 Fashion by Barli Asmara
Being the country with the largest Muslim population, Indonesia does possess the largest potential for hijab fashion. In the market that can grow that sizable, it's important to keep the business interests by featuring varieties. And in this case, White by BA and Sofie did a god job in offering clothing that were modest in intention while remaining chic and true to fashion.