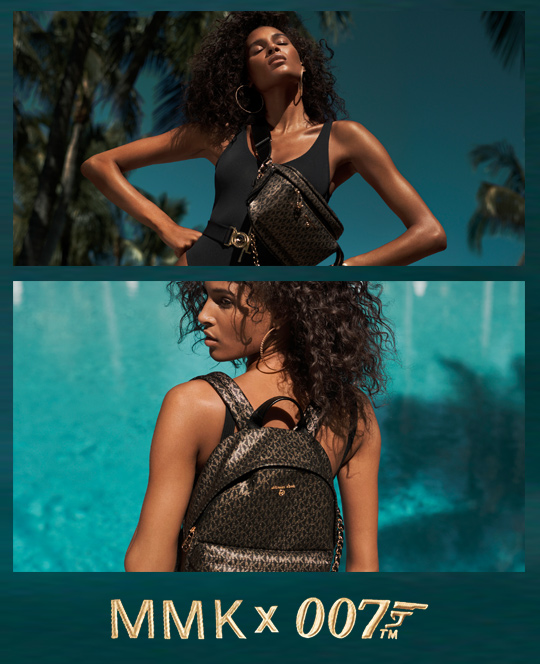 presented by
MICHAEL KORS INTRODUCING THE MMK X OO7 CAPSULE
Published by Sugar & Cream, Thursday 16 December 2021
Text by Dira Rohmatun, images courtesy of Michael Kors
Feels Like 007 Universe
Aksi seru dan daya tarik film 007 menjadi kolaborasi terbaru dari Michael Kors. Mengangkat keseteruan dan kemewahan film 007 terakhr 'No Time To Die' 2021, butik Michael Kors di Senayan City melansir koleksi kolaborasi teranyar MMK x 007 capsule pada tanggal 18 November 2021 lalu.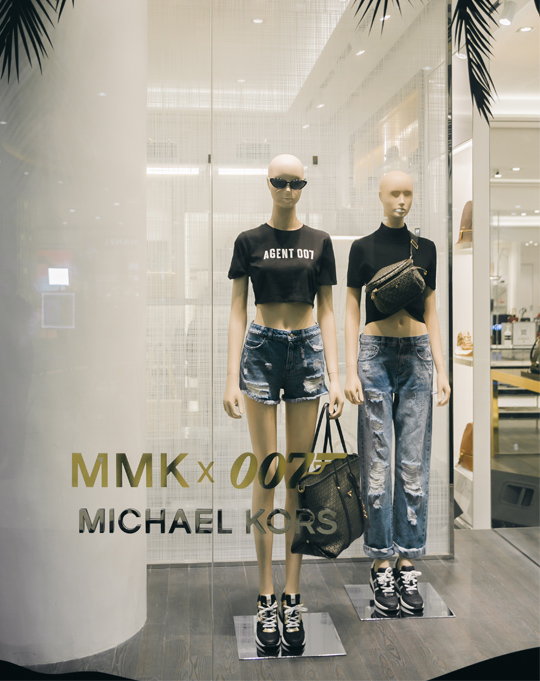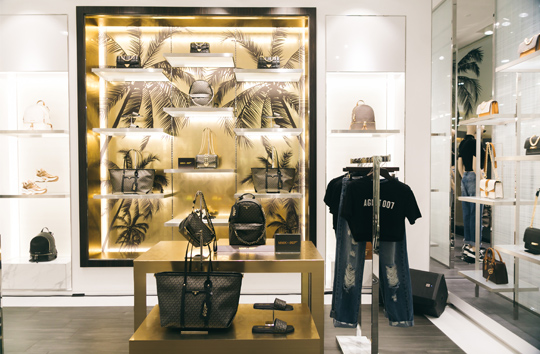 Koleksi kapsul ini menghadirkan kemewahan dan petualangan yang identik dengan dunia James Bond dan Michael Kors. Menampilkan kemewahan signature print Michael Kors terbaru dalam warna black & gold yang merepresentasikan suasana dan daya tarik pada film James Bond.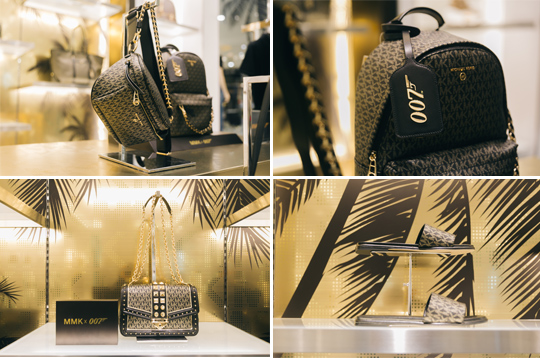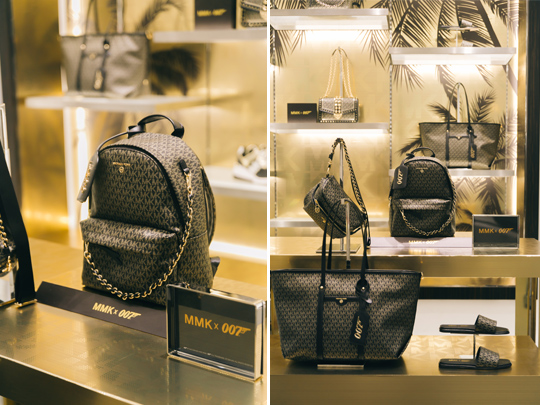 11 produk terbaru bernuansa black & gold yang mewah ditampilkan dalam sisi kanan interior butik. Mulai dari sepasang sandal, sneakers, beragam tas hingga pilihan baju yang elok ditampilkan kepada pengunjung termasuk media, influencer, dan socialitas dalam acara yang berlangsung selama dua hari tersebut.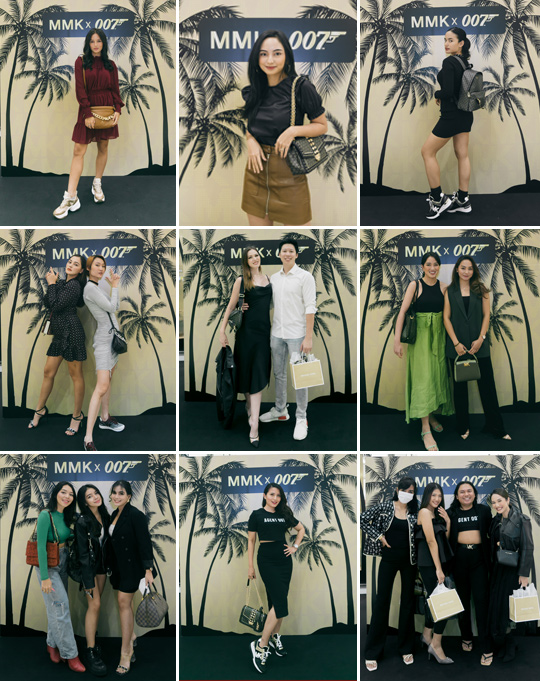 VIP Guests
Selain bernuansa mewah, yang menjadi ciri khas kolaborasi ini adalah tampilan logo 007 yang mencuri perhatian. Khusus kolaborasi ini MK memilih top model Bela Hadid dan Cindy Bruna menjadi bintang dalam video campaign yang berlokasi di pembuatan film 007 'Casino Royale', tepatnya di The Ocean Club. Dalam pakaian hingga aksesori yang elegan, video campaign ini memunculkan intrik dan daya tarik yang mencerminkan dunia James Bond yang tak lekang oleh waktu.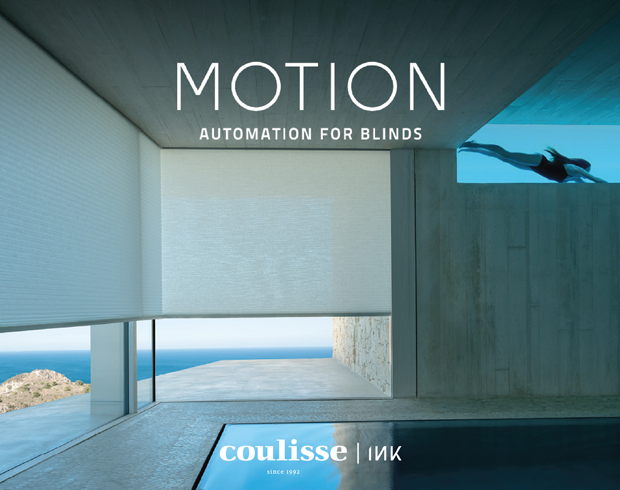 Presented by Coulisse | INK
"I love the independence and the multifaceted character of each different Bond girl. She can be ANYTHING and everything. Anywhere and nowhere. Classic, cool and independent."
‍BELLA HADID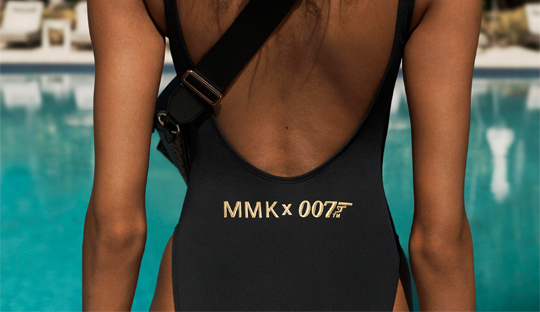 Kolaborasi film dan fashion bukanlah hal yang baru, tetapi 007 menawarakan sudut pandang glamour yang berbeda bagi MK. Lihat saja pakaian renang Belted Long-Sleeve Suit dan One-Piece Suit yang eksotis. Ada juga T-Shirt Cropped Grafis dengan tulisan Agen 007 yang anggun untuk Anda kenakan kapan saja dan di mana saja. Dan kehadiran Signature Print Sadler Slide yang dapat melengkapi tampilan Anda dari ujung kepala hingga ujung kaki.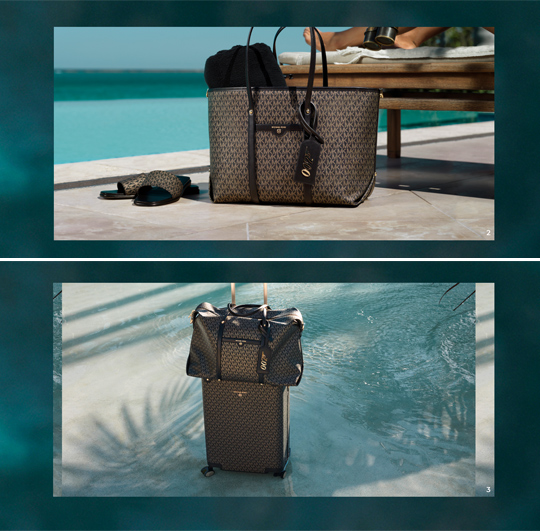 Bagi para penggemar aksesoris dan tas, Anda dapat memiliki Signature Print Suitcase, Beck Weekender Bag, Signature Print Beck Tote, Slater Backpack, Soho Shoulder Bag, dan Slater Crossbody yang siap menampilkan sisi kemewahan sehari-hari Anda. Selain itu, terdapat juga 007 Tag Luggage dengan tampilan yang lebih glamour ini dapat menjadi salah satu tas favorit high-class Anda yang memesona.