presented by

MFK Paris – L'Homme À la rose
Published by Sugar & Cream, Wednesday 23 September 2020
Text by S&C, images courtesy of Maison Francis Kurkdjian
A Rose for Men (A Rose-Scented Fragrance for Men)
Pada akhirnya bunga mawar yang khas dan identik dengan gender kaum hawa mendapatkan tempat layak dan terhormat bagi pria. Dobrakan yang berani dan tidak canggung, apalagi diracik  teristimewa oleh perfumer ternama dunia Francis Kurkdjian.
"With l'Homme À la rose, today I'm giving men the power to wear a rose-scented fragrance", Francis Kurkdjian

Parfum l'Homme À la rose tersedia di The Papilion Duo Pacific Place atau The Papilion Kemang, Jakarta.
Ketika perihal gender kian mencair, Francis Kurkdjian justru mempersembahkan parfum terbaru yang sangat spesial bagi kaum pria : l'Homme À la rose, sebuah wewangian bunga mawar yang segar dan radian dengan sifat difusi yang kuat. Sebuah kreasi wewangian yang mengguncang pakem aturan, norma kebiasaan dan konvesi kuno. Kebebasan berinovasi inilah yang menjadi ciri khas yang kuat dari Francis Kurkdjian pendiri Francis Kurkdjian Maison yang mendunia.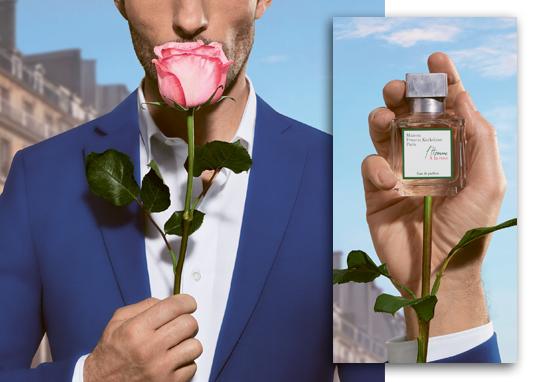 Eau de Parfum l'Homme À la rose diluncurkan secara daring pada tanggal 9 September 2020 lalu dimeriahkan oleh sejumlah jurnalis dari berbagai negara termasuk S&C bersama jurnalis dari Indonesia.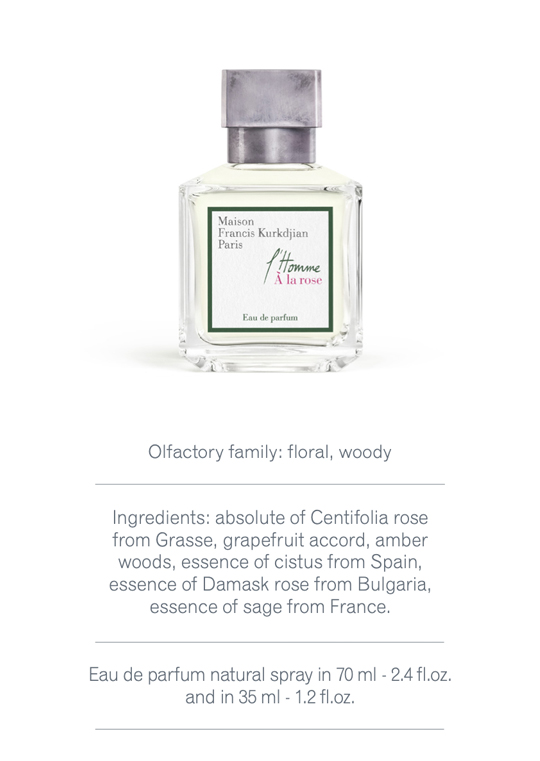 Lalu bagaimana seorang perfumer ternama ini mendefinisikan ulang secara inovatif agar wewangian mawar perdana ini memasuki tingkat baru bagi kaum pria?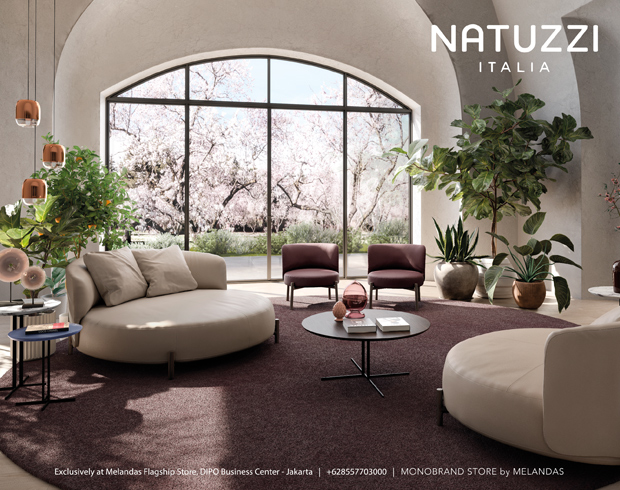 Presented by Melandas Indonesia
Misteri parfum terbaru ini sudah dipastikan terbebaskan dari pakem-pakem mewangian mawar umum (bagi kaum hawa) dikenal hingga saat ini.
'L'Homme À la rose is my free interpretation of a rose for me", Francis Kurkdjian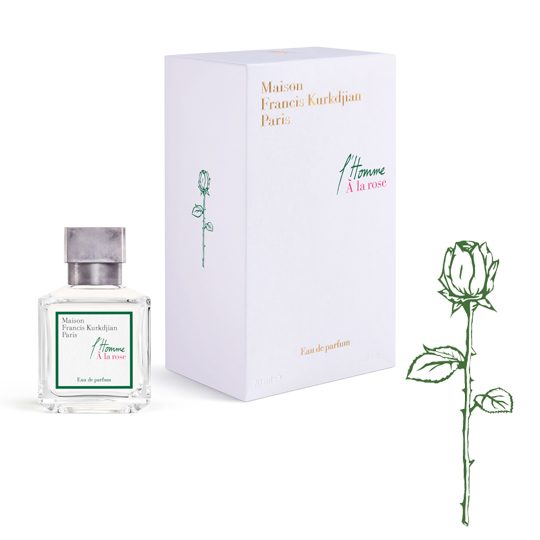 l'Homme À la rose, dibalik sebuah nama berkesan sangat sederhana dan terdengar romantis namun menyimpan kompleksitas yang berlapis-lapis. Andalan sensori harum utama dari eau de parfum l'Homme À la rose tidak lain woody floral. Pada beberapa detik pertama, alunan nada yang sangat segar, hijau meresapi sensori penciuman awal dengan kombinasi esensi mawar Damask dari Bulgaria dan jeruk bali. Nada awal ini menciptakan sensasi vitalitas alami. Berlanjut ke nada tengah mengalir dengan harum bunga mawar berkombinasi dengan kayu yang kuat. Nada tengah ini menguatkan sensasi wewangian ini. Kemudian berlanjut secara bertahap tercium nada dasar woody amber menyebar dan meninggalkan efek sensualitas pada pemakainya.