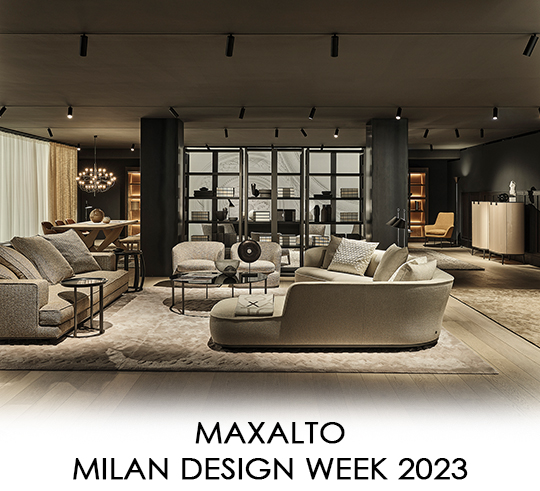 presented by

MAXALTO @ MILAN DESIGN WEEK 2023
Published by Sugar & Cream, Friday 02 June 2023
Images and Text Courtesy of Maxalto
Designed and Coordinated by Antonio Citterio
Ce n'est pas une collection. After last January's preview at Maison et Objet in Paris, Maxalto continues to unveil the new pages in its story at the Salone del Mobile in Milan, scheduled from 18 to 23 April.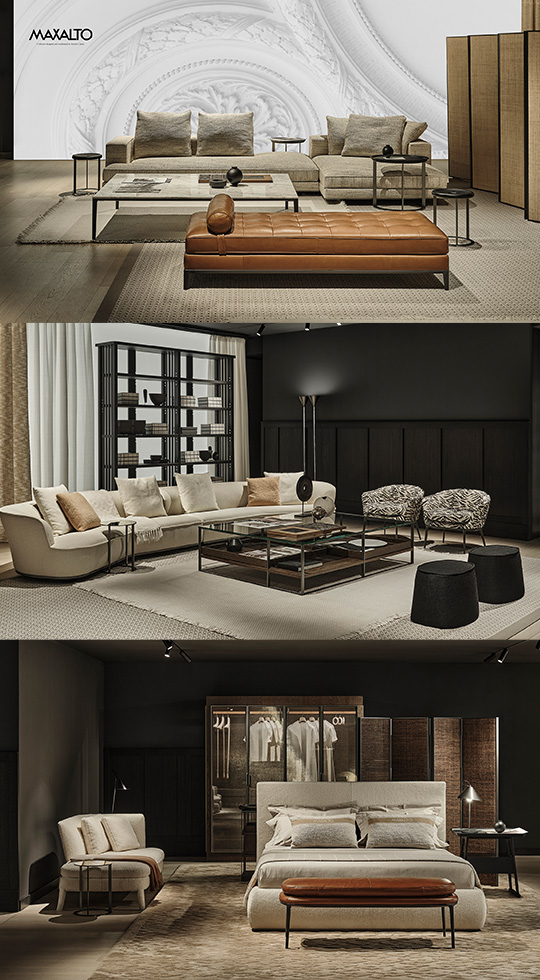 For almost half a century now, the Maxalto story has told of timeless bourgeois elegance that, despite having definite echoes of Parisian moods from the years between the two wars. The brand, first and foremost, reflects a certain lifestyle that embraces hospitality, sobriety, substance.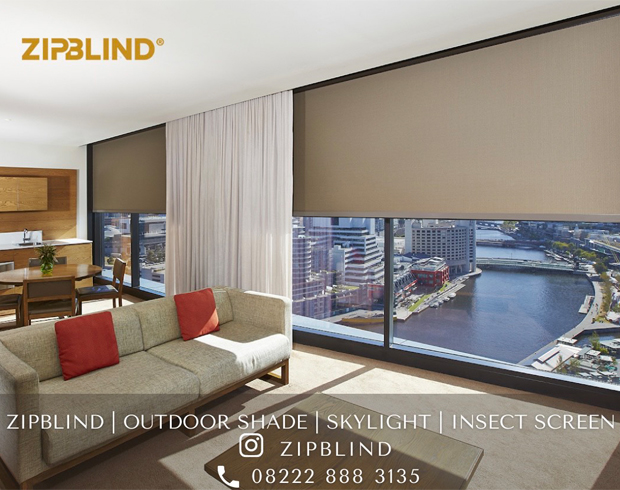 Presented by Zipblind
This is precisely the feel of the stand at the Salone, conceived as a gallery by art director Antonio Citterio with a series of separate rooms, made extraordinary by high luminous walls of rice paper, in which the brand's most iconic products dialogue with fine objects and works of art.
The new pieces designed by art director Antonio Citterio, presented in 2023, are therefore not a "collection", because they fit seamlessly into the catalogue, dialoguing with its elements, often in a surprising assonance of opposites thanks to unprecedented forms of organic inspiration that contrast with the more formal ones of the Déco aesthetic. A new chapter that does not distort, but if anything, reinforces a stylistic signature that does not mimic the manners of but rather, one that lives and evolves together with the society it represents.
An evolution that, looking straight into the future, also manages to draw on inspiration from the past: this year sees Maxalto relaunch the original logo of the 70s, reaffirming and enhancing its identity and confirming the independence of a brand born to stand out, unmistakable yet without any clamour. Originally elaborated as a jigsaw puzzle in different kinds of wood, the logo thus returns to stand out on a deliberately restricted selection of textile and non-textile products (upholstery, carpets, plaids and Tesaurus storage units) all set to become icons of an ageless style.
Each new piece enriches and completes an environment that is more conceptual than domestic,where nothing is dictated by chance, ostentation or commercial convenience, but rather fits into a precise horizon of meaning.
There are new profiles and sizes, innovative materials and updated colours, not to mention re-issues of historical elements, revised to be more solid and functional. There is, above all, a blend of culture and territory, of creativity and of practice, that even in the industrial paradigm, remains craftsmanship. It seeks artistic solutions where aesthetics and elegance are values that are as practical as they are philosophical, and that continue to be, in the globalized world, the most authentic representation of Made in Italy.
An identity that has remained relevant by renewing itself for centuries and one that Maxalto practices by combining the results achieved by the Medieval workshops with polytechnic knowledge that has since become technological know-how. By continuing to pursue an ideal aesthetic capable of surviving all trends and all times, as Oscar Wilde teaches, beauty is forever useful.
ARBITER
Arbiter is a modular seating system with extra-large measurements and oversized cushions, ideal for large spaces, that completes the brand's range of sofas. It is the key piece in the new collection-non-collection, created with the ambition of renewing and reinterpreting the tradition of the sofas made by master upholsterers and of interior design icons. The abundance of material is counterbalanced by the stylistic essentiality of the precise, almost archetypal lines, designed to lighten its impact in the home environment. The production technique is one typical of Maxalto: a steel frame and cold-foamed polyurethane structure. It comes in two depths (105 and 115 cm) in various configurations with or without a chaise-longue. There is also a version with Citterio's beloved discontinuous backrest, which is designed to create seating that looks in the opposite direction, for example facing the bookcase behind the sofa.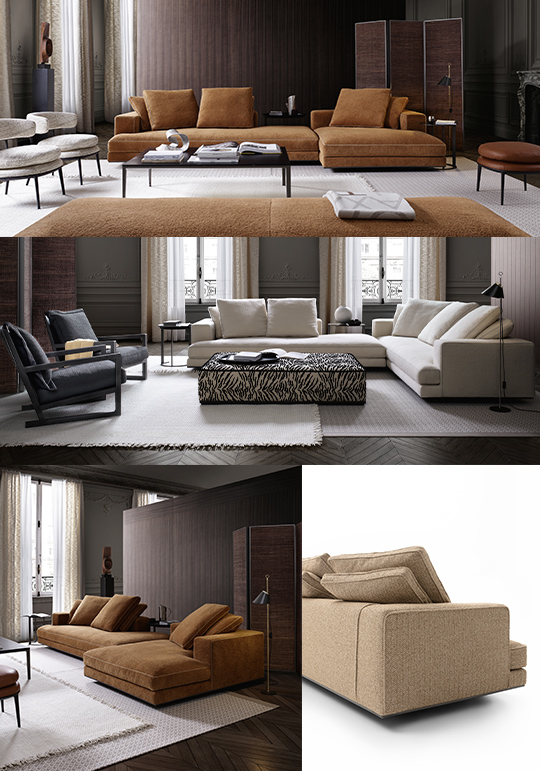 Arbiter
The range of materials introduces new options with refined, distinctly woolly and richly textured fabrics. The cushions present a surprising solution: in each pair, the small one sits behind the larger one, which thus becomes a kind of additional backrest that wraps around the sitter's shoulders.
LILUM
Characterised by the sinuous, organic-inspired lines typical of the post World War II period, Lilum is designed specifically for convivial and intimate solutions, and therefore to exist within the same environment together with more formal sofas. This is the only sofa in the Maxalto range with a direct seating frame. It is available in various more or less compact shapes.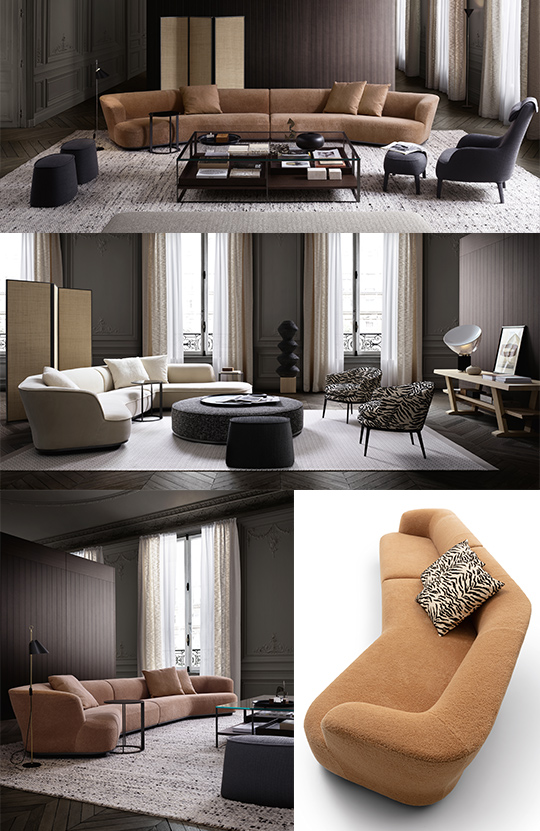 Lilum
The construction technique is mixed: the backrest is moulded using in-house technology that ensures maximum precision of each profile, while the base is made using the classic technique for quality with multilayer glued laminated wood, without nails or glue. The aluminium profile in various finishes, that perfectly follow its geometry that defines the contour with a touch of understated refinement, while the accentuated edge separating the base from the seating, is a reminder of traditional handcrafted sofas.
ELIOS
The new addition to the series of Elios small tables, with circular base and vertical steel uprights in different finishes, is designed specifically to be placed in front of the sofa or right at the break in the sofa backrest. Ideal for resting your tablet, diary or cocktail on. It is available in either an oval or round shape, with or without the removable tray in oak or with shellac-effect finish.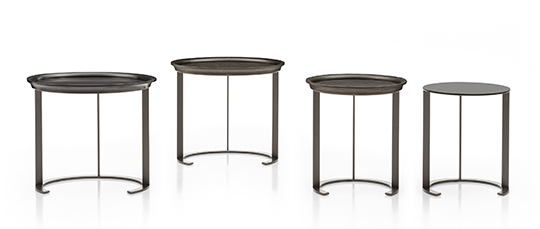 Elios
SILEO
A model that lies somewhere between proposals, with a refined style and the simple, almost hotel-inspired sommiers, Sileo completes the Maxalto range of beds. The shapes are slightly rounded without being cumbersome; the frame can accommodate different mesh systems and either a semi-recessed or flush mattress. Minimal in style, the headboard is very high, designed to define the space but also to accommodate the occupants' heads and shoulders while reading, even with high, flush-fitting mattresses. Characterized by an aluminium profile, it is available in different sizes with fabric or leather covers.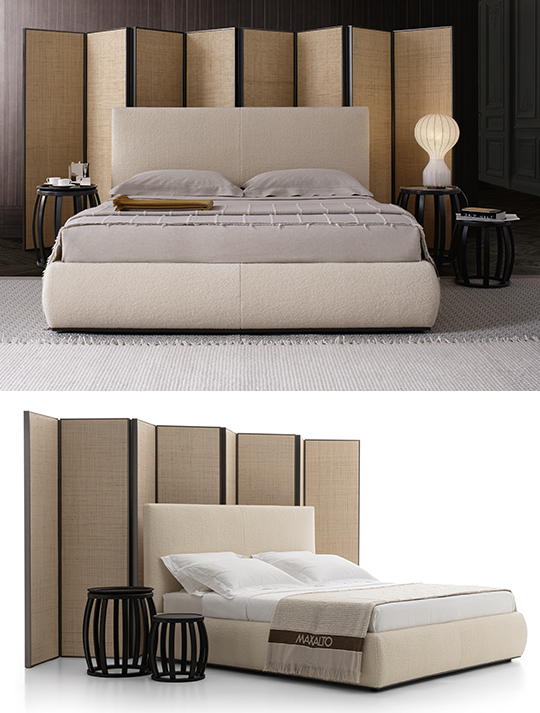 Sileo, Privatus, Loto
PRIVATUS
Only a complementary piece in appearance, the Privatus windscreen responds to the need to define the spaces in large rooms of stately homes; for example this can be used between reception and dining areas, or behind the headboard of the bed to outline the sleeping area. The panels are covered with a handmade fabric, composed of 50% raffia and 50% banana leaf, and fixed on a support for greater stability. The panel is thus slightly sound-absorbing and endowed with a tangible materiality without being intrusive. The profile is made of bronzed nickel and painted aluminium. It consists of three, four or eight panels.
DESPINA AND CLEIDE
These are the re-edition and modernisation of two chairs designed by Antonio Citterio at the dawn of Maxalto's trajectory, updated in terms of their materials, production technique and sizes to adapt to the evolution of the living spaces. Both have frames in grey, brushed light and brushed black oak variants and seat covers in fabric or leather.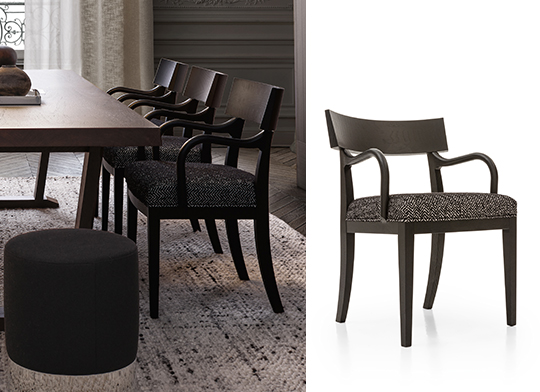 Despina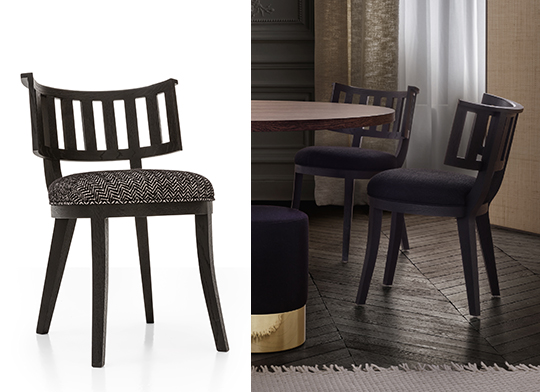 Cleide
CARATOS
One of the most important additions in 2023 is this family of seating with its characteristic die-cast aluminium structure. There are three new elements that stand out thanks to their backrest: rectangular, shield- and bean-shaped. The extension of the Caratos line is the result of Antonio Citterio's original design, which already envisaged the possibility of producing a lower trestle combined with a correspondingly higher upholstery and backrest. In particular, the version with the bean-shaped back is designed specifically for restaurants and hôtellerie, to place for example in front of a dressing-table or desk.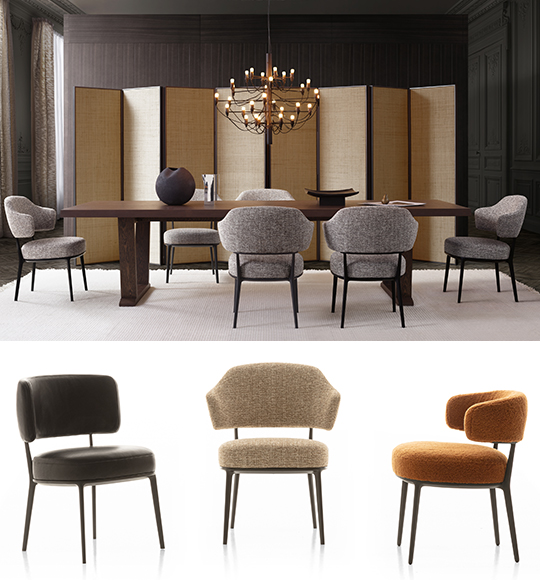 Caratos
ERACLE
For years the star of the Maxalto range for the bedroom, the wardrobe is now presented in a new "display" version with glass doors and sides, making it a real showcase for clothing. The inside is embellished with a raffia back panel, a style choice also designed to lend more solidity to the interiors.
TESAURUS
The Tesaurus family of high cabinetry storage units introduces a new variant for the 90 cm wide element. Inspired by traditional large travel trunks, it takes the original Maxalto logo of the 70s and uses it as a pattern, repeated across the entire surface and finished with a glossy polyester varnish. The result is an iconic and highly refined piece.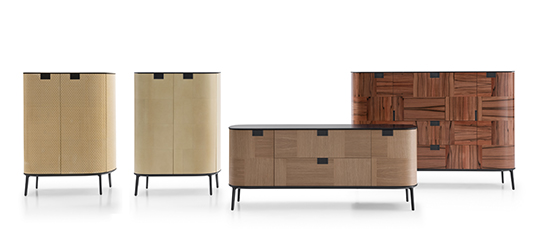 Tesaurus
RECIPIO '14
The eclectic night/small table is now even more functional thanks to a half-height drawer that is particularly handy next to a bed, for storing magazines, books and other small items that accompany sleeping and reading.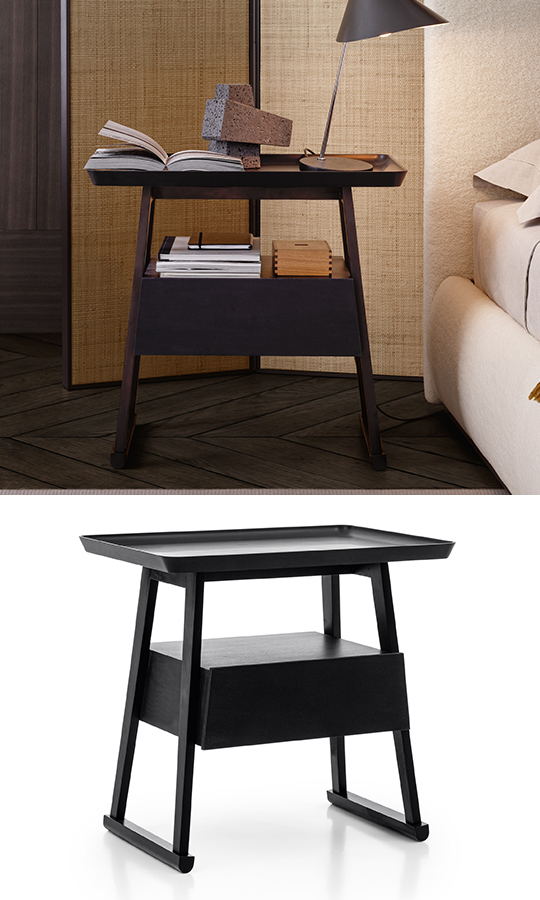 Recipio '14
LOTO
The Loto range of oriental-inspired small/night tables is enriched with a new, taller size, designed to accompany a high mattress. The latest addition retains the distinctive feature of the curved staves that lighten its frame, but also presents a new characteristic: it can be combined with a tray that fits perfectly on the table top, ideal for serving breakfast in bed or a cocktail on the sofa. All the pieces in the Loto range are made of solid wood and are available in various finishes or painted with a shellac effect. The tray is available in grey, brushed light and brushed black oak variants or shellac.
2023 TEXTTILE COLLECTION
Maxalto is also Introducing a new range of fabrics that expands the line created in 2020. The new materials aim to give upholstered furniture an even more sophisticated look, with special decorations and finishes and the characteristic tactile consistency of velvet, jacquard, and bouclé. 33 fabrics will be presented in Milan, which, together with 15 that were introduced in Paris, will bring the total to more than 100 solutions. The colour palette is still based on the neutral and warm tones that Maxalto favours, featuring beige, ecru, camel, and tobacco, with a touch of black. However, 2023 will also see the introduction of slightly lighter shades, like yellow, pea green, and brick, all available in a slightly "dusty" hue. The range of textiles also includes throw blankets, bed runners, and decorative pillows, all branded Maxalto and produced with techniques that ensure maximum softness. The throw blankets and pillows are made from Merino wool, virgin wool, and cashmere, while the bed runners are pure cashmere.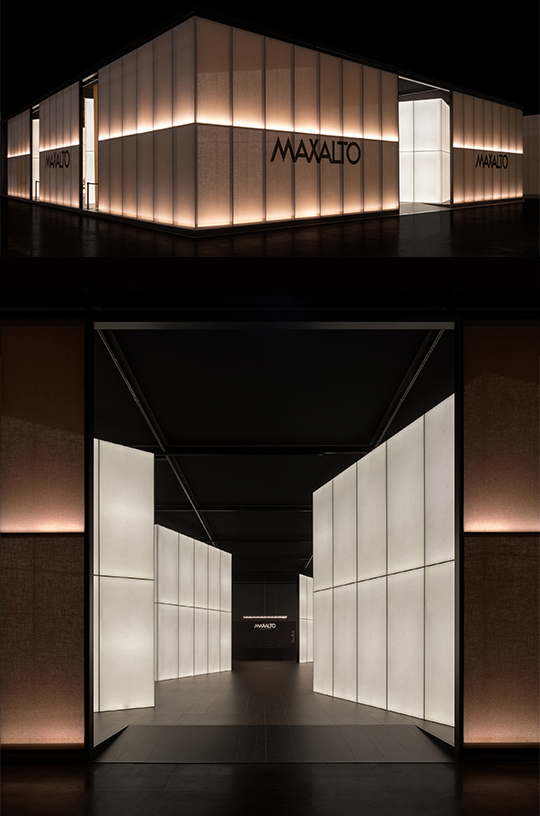 MABOM
Made from 100% Merino wool, this blanket has a strong tactile quality. Decorated with the embossed Maxalto logo repeated over the entire standard size of 140 × 180 cm, it is specifically designed for a sofa or armchair.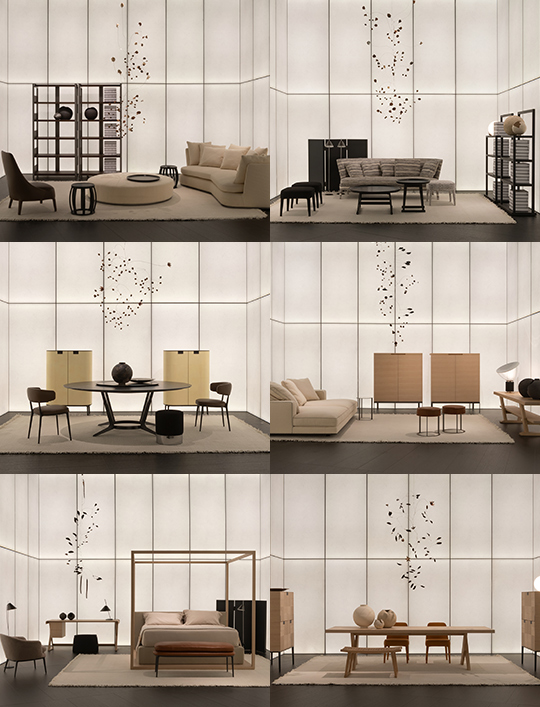 DIAKOS
Pure wool rug featuring the historic Maxalto logo repeated as a decorative pattern over the entire surface. It is available in three color variants and three rectangular sizes.
SIGLUM
Hand-tufted mohair rug in three color variants – ecru, tobacco and beige – with ton sur ton Maxalto logo in relief. The range includes a rectangular version in three sizes and a round version in one size. It can also be made to measure.