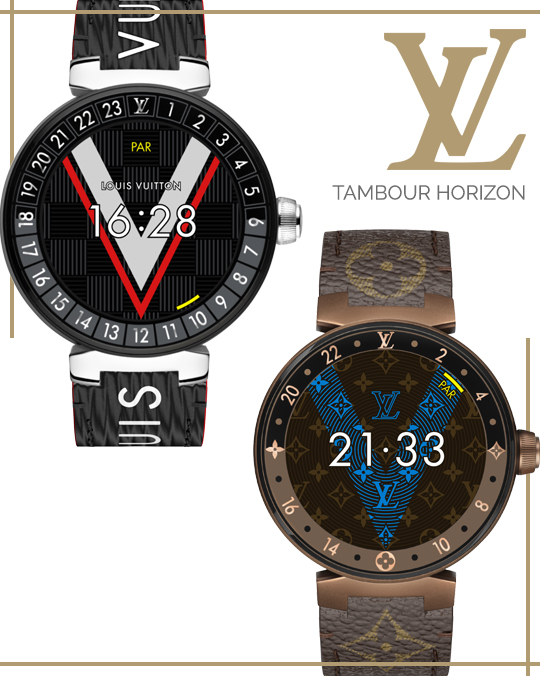 New – Louis Vuitton Tambour Horizon
Published by Sugar & Cream, Thursday 14 February 2019
Text by Sunthy Sunowo, Images courtesy of Louis Vuitton
THE SPIRIT OF LV TRAVEL, CRAFTMANSHIP, AND CREATIVE VALUES
Louis Vuitton has been the brand that brought unique designs to the world by combining innovation, style, and finest quality. "The Art of Travel" is a genuine invention that remains faithful to the spirit, history, and heritage of Louis Vuitton. This notion has opened LV doors to architects, artist, and designers to develop other disciplines such as ready to wear, shoes, accessories, watches, jewelry, and fragrance.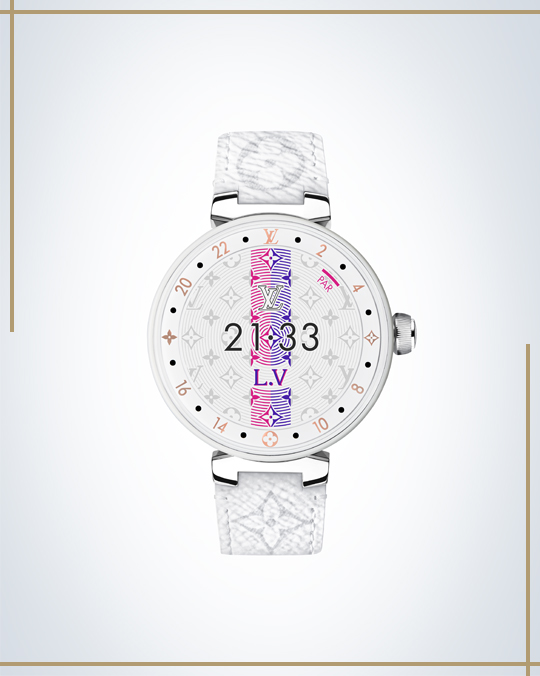 Tambour Horizon Pure White
Like this LV Tambour Horizon new collection, a watch as an embodiment of technology, user experience, and LV visual identity that incorporated a new element design, new material, new colors, function, and technical innovation further than ever before. The Tambour Horizon watch is dedicated to enrich "My Travel" experience by grouping all of your travel information together in one place.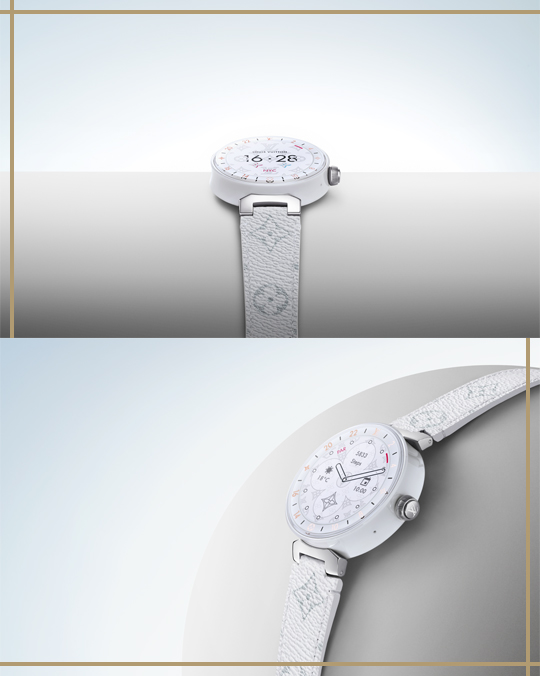 Tambour Horizon Pure White
While the unisex case retains the emblematic Tambour Horizon shape and inverted curved case, the watch is now available in polished white ceramic. In addition to new versions in polished steel, matte black PVD, white ceramic and white ceramic with gem-set horns, there is also a matte brown PVD model. Complementing Louis Vuitton's style interchangeable straps are available in new versions with unique patterns, colors and materials.
The watch has some new exclusive options that allow personalizing the dial to a desired face. In the spirit of connected technology, time display is essentially digital. The digital mode is embellished with emblematic motifs – Monogram, Damier, or even with the V for Gaston–Louis Vuitton. These have all been entirely reworked, deconstructed, and broken down to create transparent effects and contrasts with the Monogram Flowers.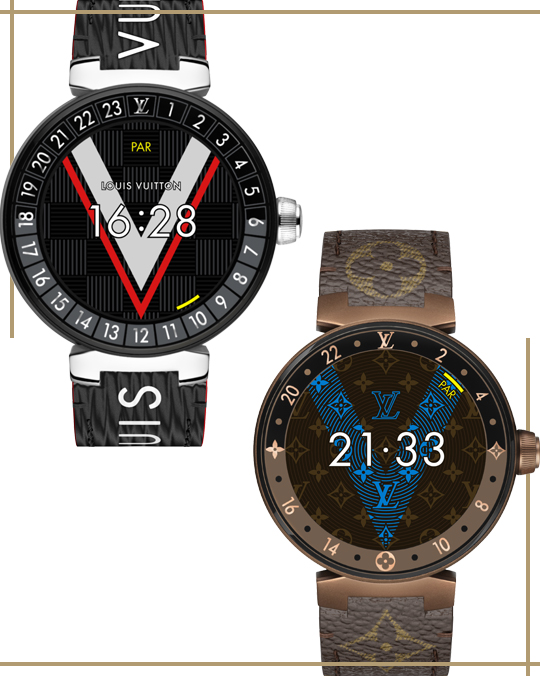 Tambour Horizon Matte Black & Monogram Brown
The new color palette, the contrasting bands and the option of adding your initials mean that an almost infinite number of aesthetic combinations are possible all in the image of the House. Special watch faces have been added to the existing collection, featuring the same strong design aesthetic typical of a Louis Vuitton runway show.
The faces sync with hotel, flight or train bookings, as well as the departure
and arrival times. Before, during, and at the end of the journey, all of the essential travel information is displayed so that the user has it constantly on hand. With the exclusive City Guide function, featuring 30 international destinations, the user can find the address of a hotel, restaurant or tourist site that has never been so easy. All of the new functions and quality of the watch face are devoted to guarantee perfect readability and clarity.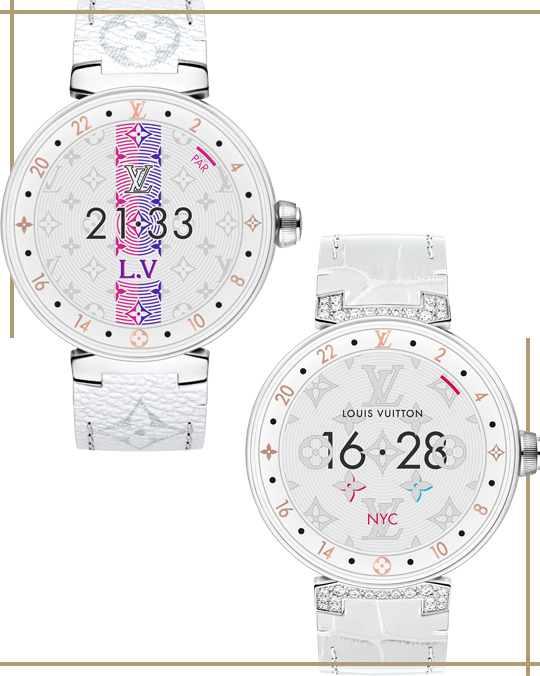 Tambour Horizon Pure White & Pure White with Diamonds
A new 24-hour ring with day/night indicator that visible when the watch is in ambient mode makes it easy for user to view all data at a glance. The "Agenda" function separates meeting times from free time with distinctive colored segments and its own watch face.
The "Step counter" function lets travelers record the distance trekked and the most intensive periods of movement. The "Pollution" function displays the air quality index on the watch face in real time.
 Weather and temperature forecasts put the finishing touches to the Tambour Horizon's functions.
The various functions are now accessed quickly and easily with a rotating crown that can be turned with a single finger. With the new Qualcomm® Snapdragon Wear™ 3100 Platform, the watch has an extended battery life of one full day and up to 5 additional days in watch mode (time display only). It also has an improved screen with excellent definition.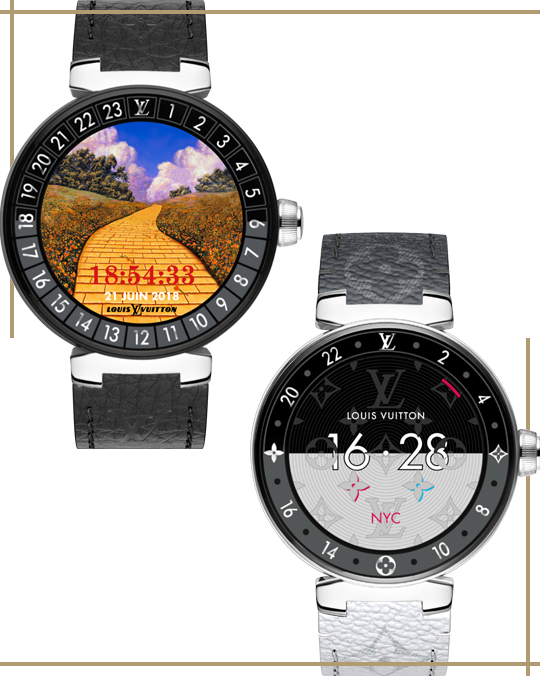 Tambour Horizon Matte Black with Wizard Of Oz WF & Monogram Eclipse
With the Wear OS by Google™ operating system, Tambour Horizon users enjoy a simple and improved navigation experience that gives them access to their information faster. The Tambour Horizon watch is a smart way to get in tune with daily routine and make the traveling more spirited. It is not only an accessory but a testament to personality, taste, and lifestyle.