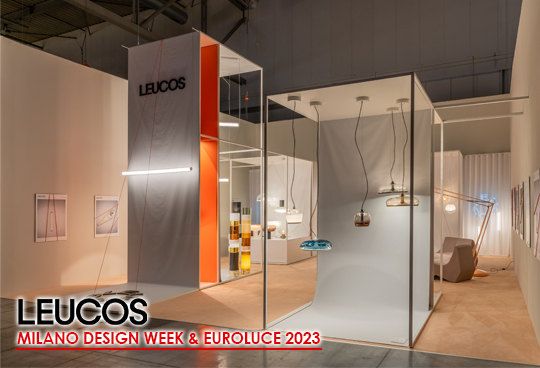 presented by

LEUCOS –  MILANO DESIGN WEEK & EUROLUCE 2023
Published by Sugar & Cream, Friday 19 May 2023
Images courtesy of Leucos
Leucos– Between Salone and Fuorisalone
Leucos at Euroluce revealed new products created in collaboration with important designers such as David Rockwell and Patrick Jouin and at Archiproducts Milano in Via Tortona 31 with some iconic pieces chosen by Studiopepe. for the immersive TERRA installation.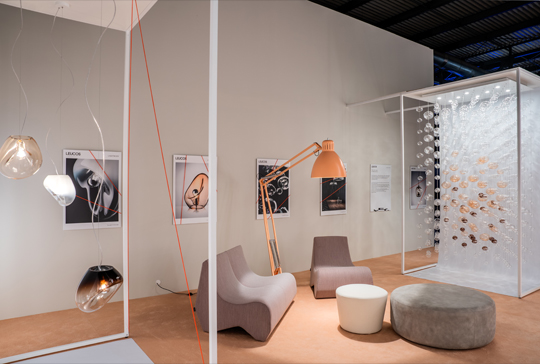 With over sixty years of history, Leucos has come back to the forefront of decorative lighting, thanks to Abramo Manfrotto, who has revolutionized the company's image and catalog. "I always knew one day I would get into lighting, because from an early age I have been immersed in light: balanced, sublime, high-end professional photographic light – its ability to evoke emotions and shape moods captivated me," explain the owner of LEUCOS srl, a company with headquarters in Bassano del Grappa, Vicenza, purchased at the end of March 2019.
The entrepreneurial history of the Manfrotto family begins in the world of photography: Lino, Abramo's father, is the founder of Manfrotto –  now part of the British Vitec group –  famous worldwide for its wide range of camera and lighting support equipment for the professional photographic, film, theater, live entertainment and video markets.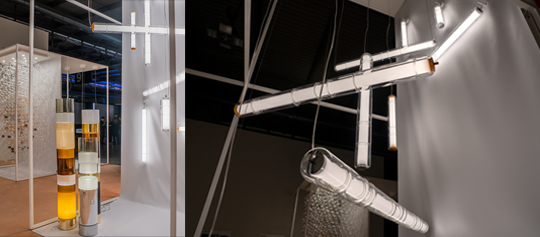 From a great intuition related to the telescopic pole for photographic studios "Autopole", which is now part of the permanent design collection of MoMA, was born the brand ALU, which today represents a flagship of Made in Italy with international experience in the design and development of modular retail display systems. With the acquisition of Leucos, Manfrotto embarks on a new course for the company. The result of the contamination of different worlds and experiences, and its products will have a timeless style that will not be influenced by fashions, where glass will remain a defining material, but new materials and production techniques will be experimented with and become equally distinctive.
LEUCOS AT EUROLUCE
Hand-blown glass represents local tradition for Leucos,, but every new lighting project is guided by a global vision. It also applies to the new lamps unveiled in April 2023 at EUROLUCE in Milan: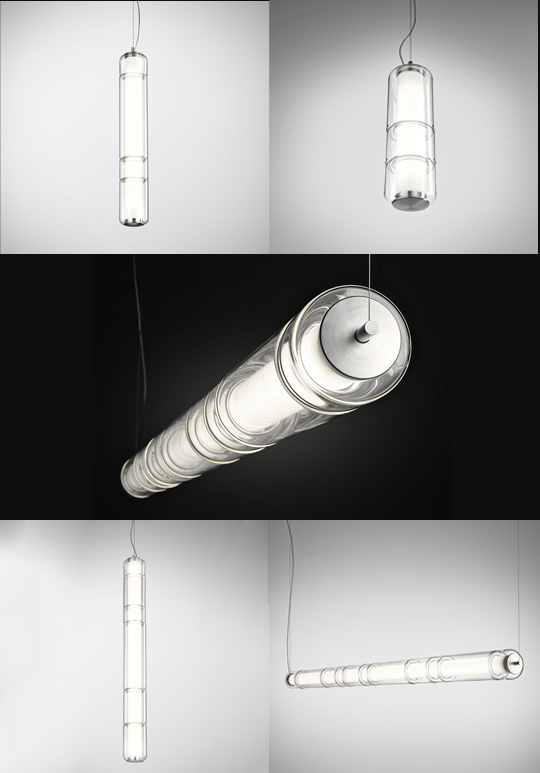 STACKING Collection
• The iconic STACKING Collection, designed by David Rockwell  –  Rockwell Group consisting of three floor lamps, is enhanced with new models and colors: a set of horizontal pendant lights in two sizes and three vertical pendant lights with the option for a wall application. Contemporary techniques made it possible to create modular glass cylinders slightly narrower than the original collection, for a more delicate and refined look. The clear glass version is available with elements in colored metallic finishes, creating a graphic dynamism.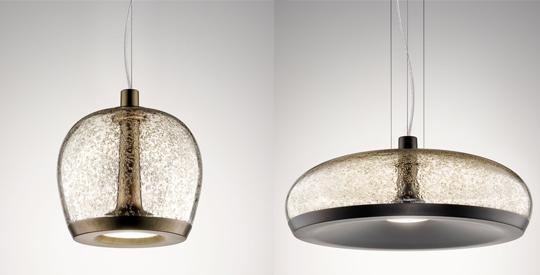 AURELIA
• Upgraded versions of AURELIA, designed by Patrick Jouin with is now available with a single switch for both direct and indirect light sources, plus new color finishes such as shaded white, shaded burgundy, transparent water effect, blue water effect, transparent pulegoso with metal powder inclusion for the diffuser, and matte white, vintage brass, matte gunmetal for the metal.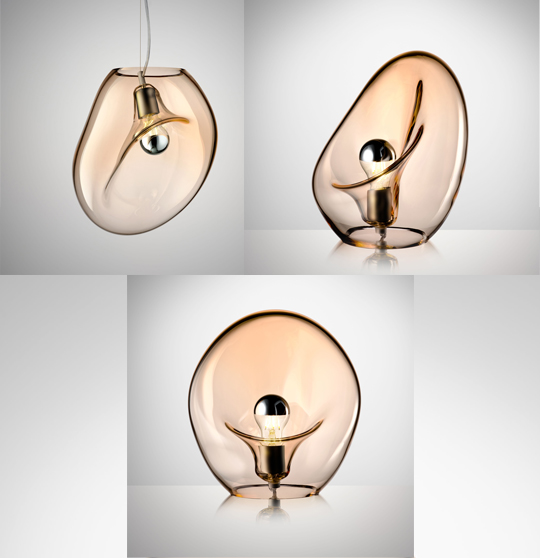 LIGHTBODY
• LIGHTBODY, designed by Jörg Hugo, stand out. Unveiled in 2021 with a clear glass diffuser, today is available with new finishes: transparent with white satin, shaded burgundy, shaded white, shaded pink.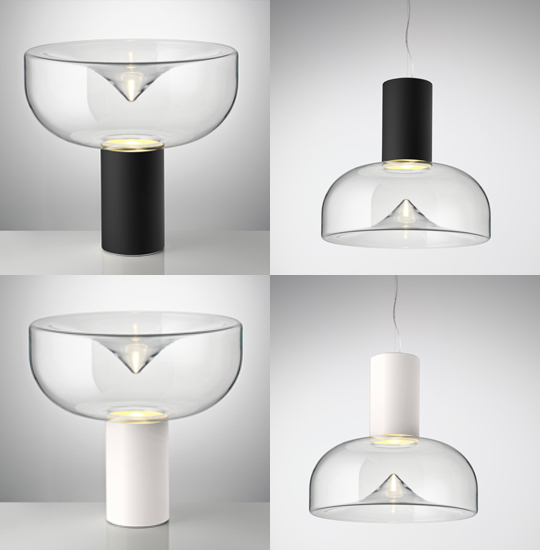 AELLA
• The timeless icon of LEUCOS, AELLA, with the dynamic movement captured in its handblown glass diffuser forms an evanescent and evocative light cone, a source of sinuous patterns and harmonic reflections. Designed in 1968 by Toso&Massari, the collection consists of pendant and table lamps that the essential and timeless design principles, characteristic of LEUCOS' products. This year it is presented in a new size making it, along with the existing versions, LEUCOS' most assorted collection.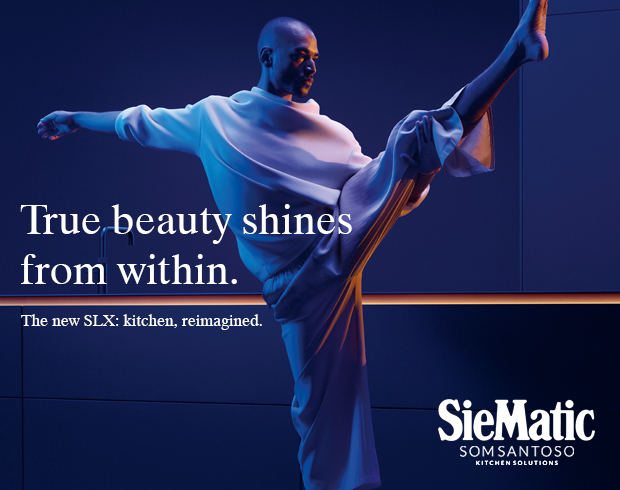 Presented by Som Santoso
LEUCOS IN THE IMMERSIVE INSTALLATION BY STUDIOPEPE FOR ARCHIPRODUCTS MILAN
Archiproducts Milano is the Milanese Design Center of Archiproducts, created to welcome architects and interior designers looking for inspiration and new solutions for projects. The space hosts presentations of new products, temporary showrooms, pop-up shops, press conferences, installations, workshops, exhibitions and meetings.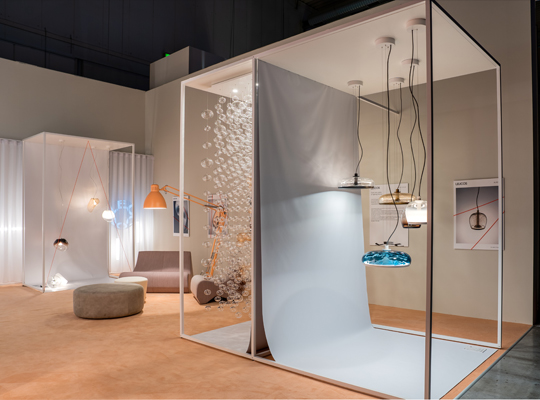 For the Milan Design Week 2023, from the 18th to 23rd of April, in via Tortona 31, Studiopepe has designed the immersive installation "EARTH". Warm lights, natural and experimental materials accompanied visitors on a path of "connection with the earth" that generated a sense of comfort, environmental, visual and tactile, and relaxation.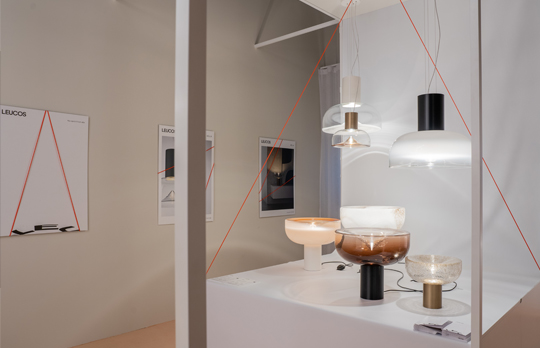 LEUCOS was among the selected lighting brands and presented floor lamps from the Stacking collection, designed by David Rockwell, and the new suspension version that exhibited exclusively: with a length of 180 cm, Stacking S 180 is made of 11 transparent borosilicate glasses of different sizes and two end caps in anodized aluminum. The dimmable LED offer the possibility to create a soft light, depending on your preferences.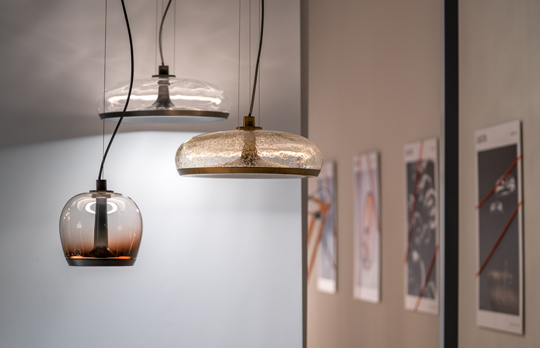 Together with the exclusive Stacking S 180, there were also exposed two versions of Aella Mini (Toso&Massari), two Keyra Appliques (Roberto Paoli), the Sphera Table Lamp in blown glass (Matteo Thun), and the JJ MID floor lamp  – Floor with Rust Brown finish, a color chosen in relation to the theme of the exhibition which refers to the colors of the earth.
LEUCOS Lamps helped to create a space where nature is the inspiration for the choice of colors and materials, in a design approach based on awareness.