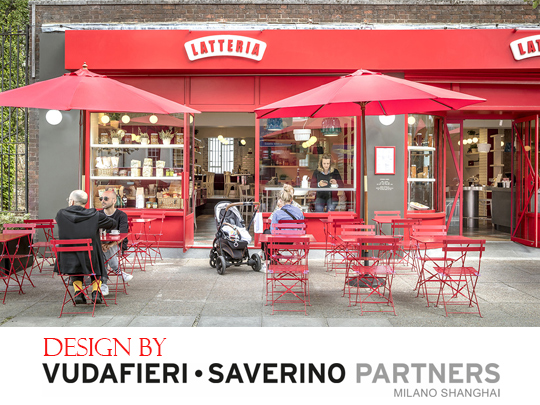 presented by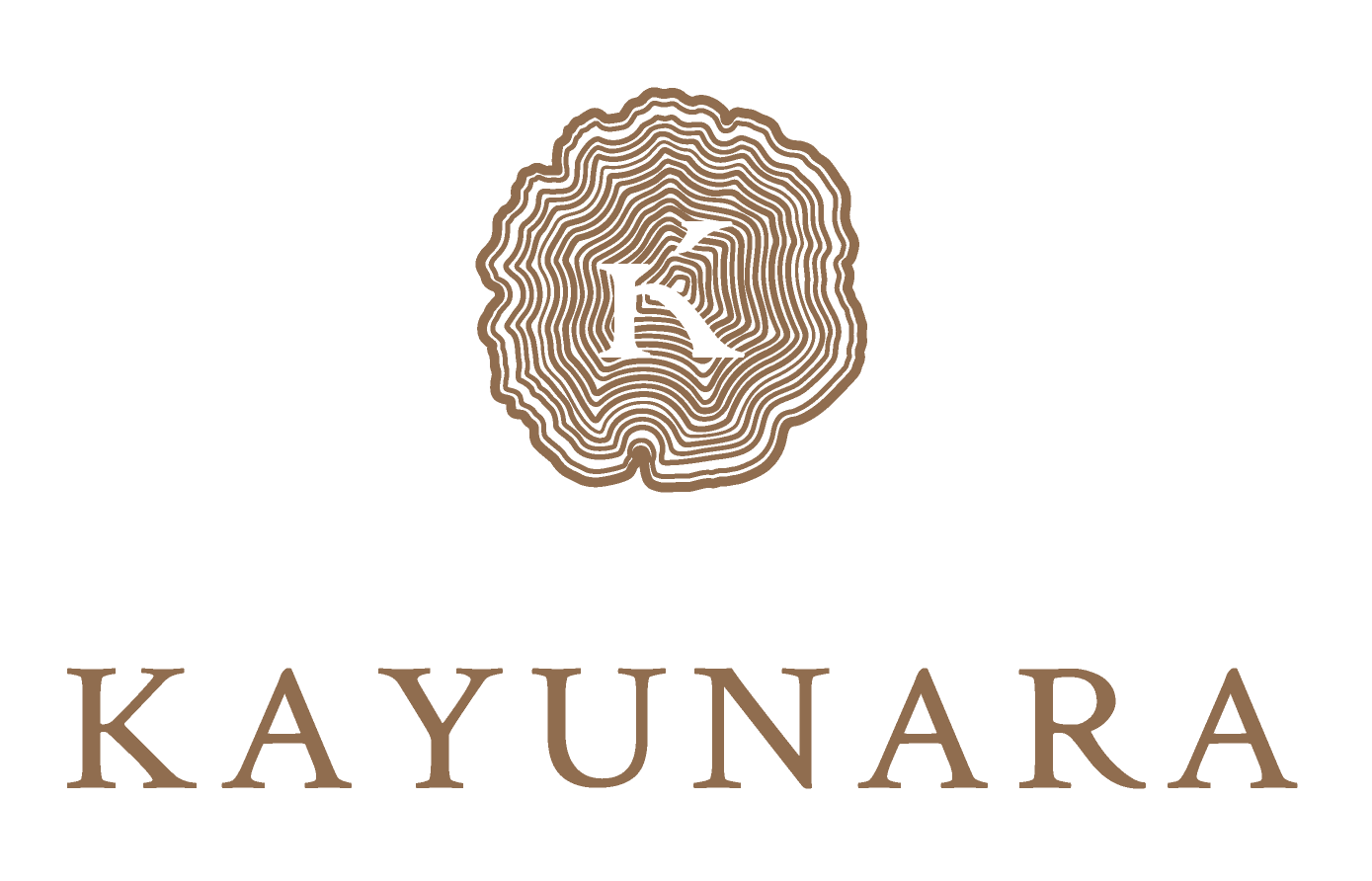 Latteria: A New Restaurant in London, Design by Italian Studio Vudafieri-Saverino Partners
Published by Sugar & Cream, Friday 29 November 2019
Text by Dira Rohmatun, images courtesy of Vudafieri-Saverino Partners
Inspired by the Milan of the '50s
Berkunjung ke Kota London, tak ada salahnya jika Anda berhenti sejenak di Latteria untuk menikmati suasana Kota Milan di tahun 50-an. Salah satu restoran terbaru di sudut distrik Islington dengan sentuhan kontemporer dan eklektik yang sangat mencuri perhatian dengan arsitektur mewah bergaya Italia. Bagaimana tidak? Setiap inci ruangananya didesain secara apik oleh Studio Italia ternama Vudafieri-Saverino Partners yang telah merancang beberapa restoran paling trendi di Milan.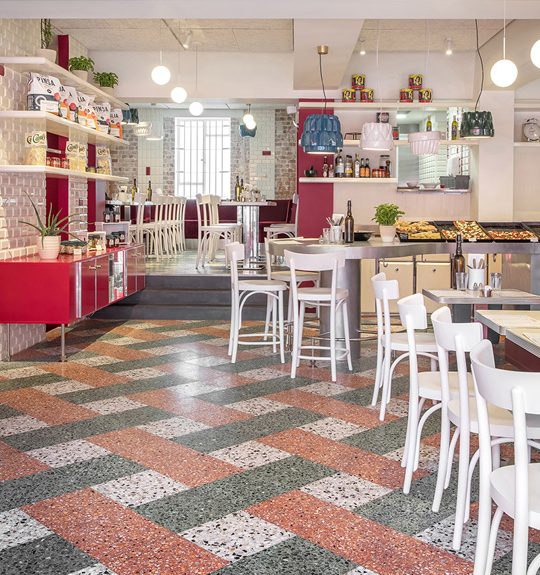 Latteria photo by Moon Ray Studio
Terinspirasi dari culture and style Milan, Vudafieri-Saverino Partners membangun suasana Latteria yang mengingatkan kita pada "dairy store" tradisional di Milan – memancarkan pesona kontemporer yang autentik. Hasilnya adalah suasana yang eklektik bergaya tahun 1950-an bernuansa  hangat dan informal – yang menyajikan santapan sehat seperti homemade pasta, risottos and pizza, hingga sandwiches dan salads, yang dibuat dengan keahlian kuliner khas Italia.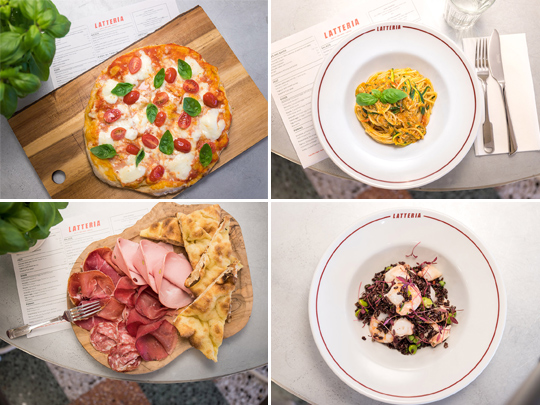 The Interior Project
Memiliki dua tingkat di Essex Road, Vudafieri-Saverino Partners mendesain dua lantai dengan layout dan suasana berbeda di antaranya yaitu, lantai dasar dengan suasana yang lebih semarak, dan lantai bawah menawarkan ruangan lebih intim yang nyaman dan jauh dari keramaian.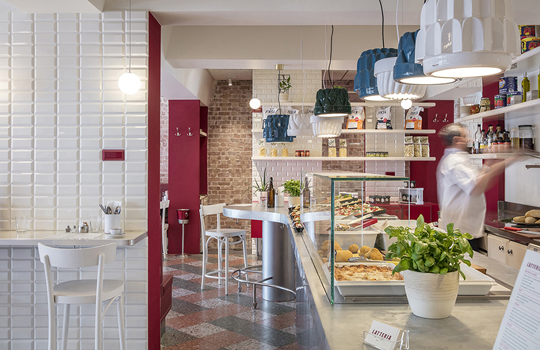 Latteria photo by Moon Ray Studio
Sang arsitek merancang restoran ini dengan visual yang lebih kuat dengan warna putih hangat dan merah yang menjadi trademark dalam interior restoran ini. Di mana warna putih hangat mengingatkan pada warna susu dan merah merupakan warna yang mencirikan eksterior façade.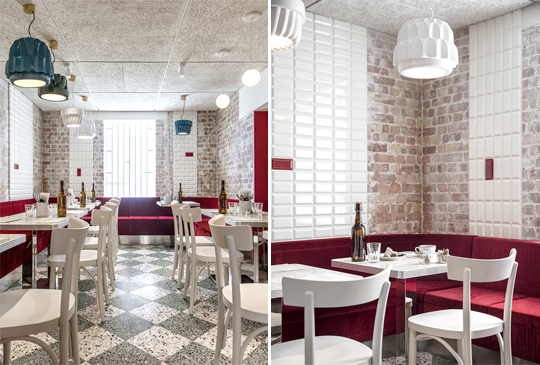 Latteria photo by Moon Ray Studio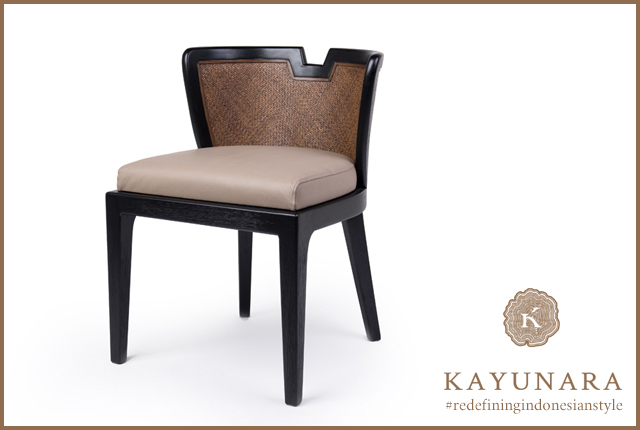 Presented by Kayunara
Pemilihan furnitur khas Milan di tahun 50-an juga menjadi magnet tersendiri dalam restoran ini. Seperti, meja-meja Formica dengan kerangka aluminium, lantai seminato, diamond tiles, batu bata terbuka, dan lampu gantung berbentuk seperti dessert moulds – menampilkan elemen sempurna yang memikat.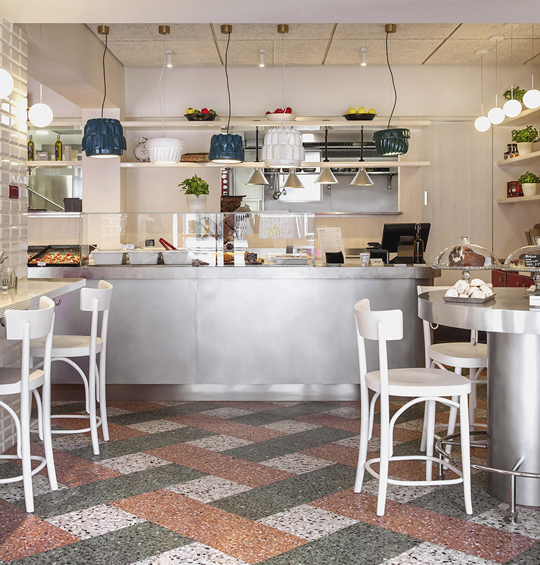 Latteria photo by Moon Ray Studio
The Façade
Area luar restoran memiliki keunikan terpancar pada jendela besar alumunium bergaya khas tahun 1950-an yang dilapisi dengan warna merah terang. Dilengkapi dengan lampu gantung kecil nan unik, jendela ini memiliki daya tarik tersendiri bagi siapa pun yang melewatinya.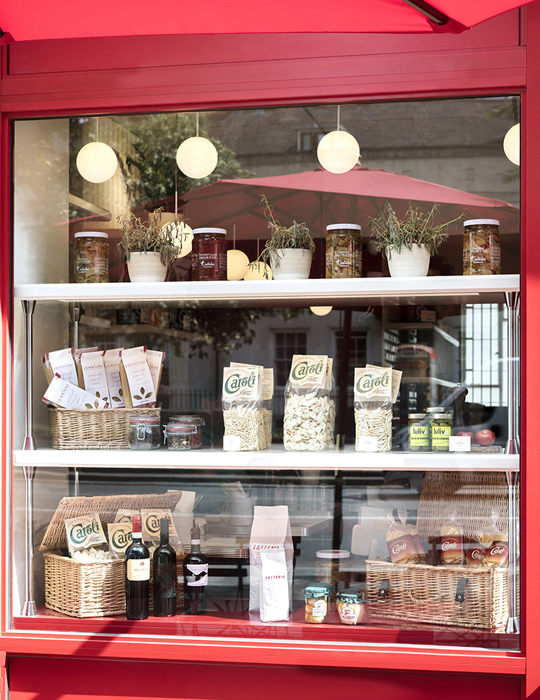 Latteria photo by Moon Ray Studio
The Entrance
Saat memasuki restoran ini, Anda akan disambut oleh dua dinding melengkung di dekat kaca dengan tirai setengah lingkaran yang minimalis. Di bagian sebelah kanan tampak konter bar yang berlapis seng, di mana para barista membuat kopi sesuai dengan tradisi di Italia. Melangkah ke area dalam, hamparan dinding dihiasi oleh corak yang menawan hingga aksesori interior sempurna yang melengkapi keindahan di sepanjang area masuk restoran ini.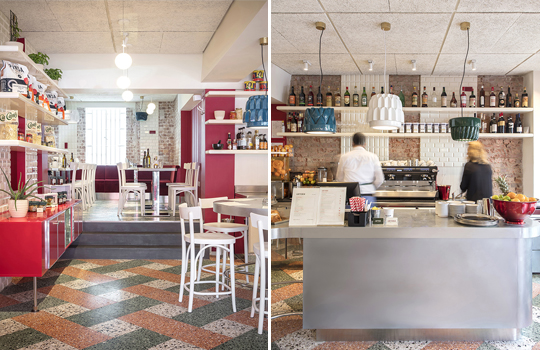 Latteria photo by Moon Ray Studio
The Restaurant
Masih kental dengan nuansa Kota Milan di tahun 50-an, Latteria memiliki tiga ruang yang memancarkan keunikannya masing-masing. Di beberapa sudut nampak rak dan lemari bergaya dairy di tahun 50-an yang dirancang untuk menempatkan beberapa bahan masakan seperti pasta, acar, anggur, dan masih banyak lagi.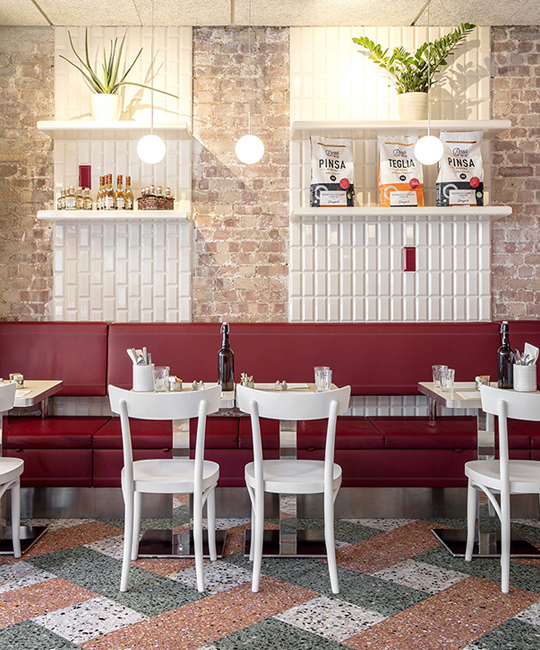 Latteria photo by Moon Ray Studio
Di lantai yang sama dari pintu masuk, kehangatan Kota Milan pada tahun 50-an tercermin pada sebuah bangku kulit ramah khas di masa itu. Beberapa langkah mengarah ke area lounge, nampak bangku beludru besar yang mengelilingi ruangan – memberikan suasana ramah untuk sekedar berbincang bersama kerabat.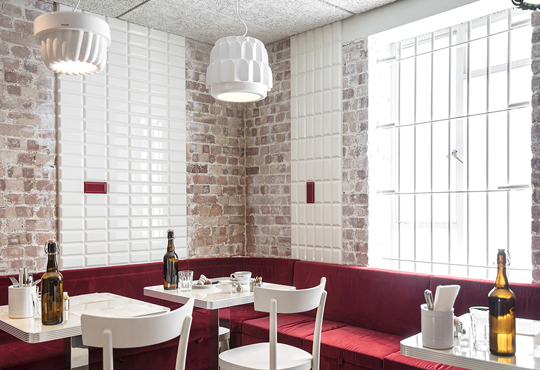 Latteria photo by Moon Ray Studio
Lain lagi di lantai bawah, pengunjung diajak menelurusi ruangan yang diselimuti dengan wallpaper vinil berwarna merah yang memberikan kesan teduh dan intimate. Adanya dua etalase di antara dinding yang bercahaya, juga penambahan elemen lampu gantung berbentuk bulat – memancarkan kesejahteraan yang harmoni di dalam restoran ini.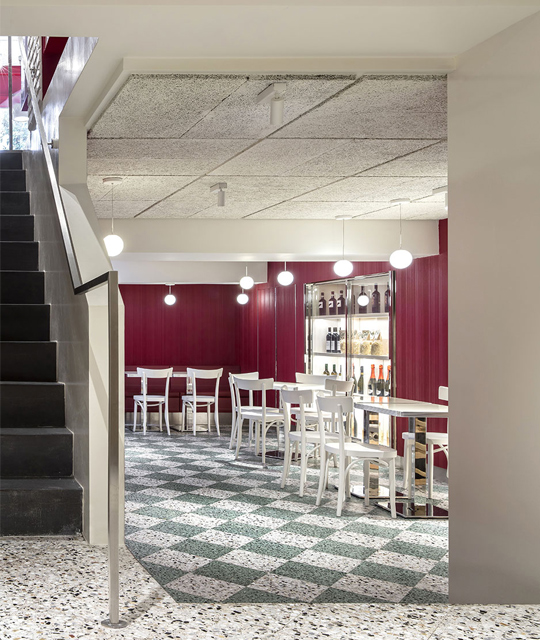 Latteria photo by Moon Ray Studio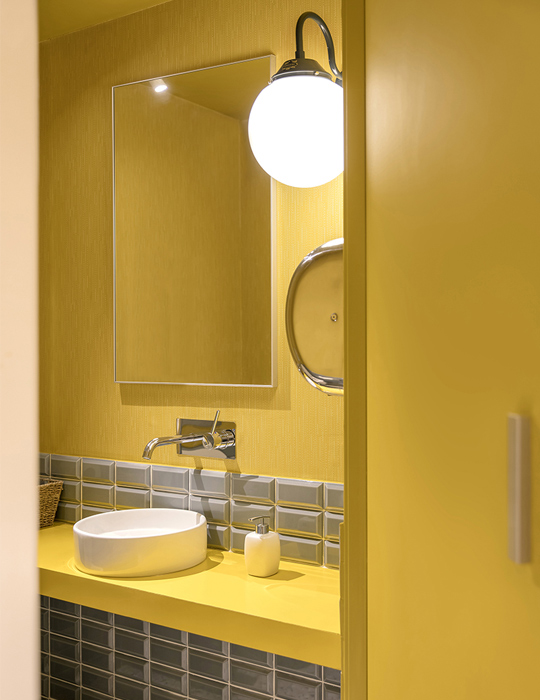 Latteria photo by Moon Ray Studio
Facts and Figures:
Latteria
Essex Road 56/58, Londra
Project by: Vudafieri-Saverino Partners, Tiziano Vudafieri e Claudio Saverino
Design team: Anna Petrara, Federico Peri, Thomas Pedrazzini
Total area: 240 sqm
Tailor-made furnishings: 2square
Seats: ColicoDesign
Textiles: Dedar, Majilite
Decorative Lamps: Torremato, Fabbian, Bolichwerke
Laminates: Arpa (tables) and Abet (bathroom surfaces)
Wallpaper: VESCOM and Maharam
Tiles: Attica and San Giorgi