Kartell by Laufen – A Unique Language of Wellness
Published by Sugar & Cream, Friday 10 August 2018
Text by Hermawan K, images courtesy of Kartell by Laufen
Play With The Colours
Kartell by Laufen mendapat lampu sorot tersendiri dalam perhelatan Salone del Mobile dan Milan Design Week tahun ini melalui koleksi yang lebih hidup dan sarat warna.
Perjalanan Kartell by Laufen dimulai 8 tahun silam sebagai hasil interaksi antara Kartell dan Laufen yang ditopang oleh talenta unik Ludovica dan Roberto Palomba. Sejak kemunculan pertamanya pada April 2013, Kartell by Laufen senantiasa menyajikan nilai dan karakteristik berupa inovasi, kualitas, fungsionalitas, dan wellness untuk pengalaman paripurna di kamar mandi.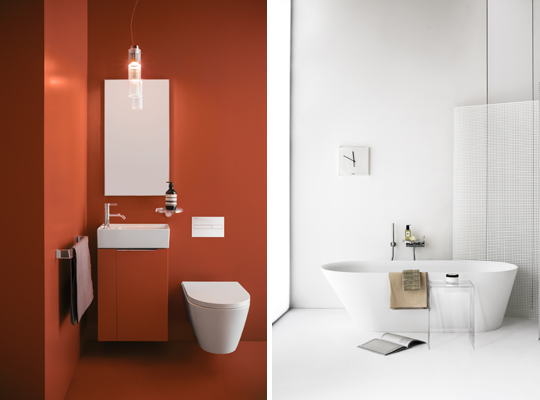 Elemen warna yang selalu menjadi fitur penting dalam koleksi Kartell by Laufen, kini tidak hanya diaplikasikan pada plastik, namun dieksplorasi ke ragam finish baru untuk material keramik dan keran. Keramik tampil dalam nuansa segar, mulai dari glossy and matte white hingga glossy black and matte gray. Sementara keran hadir dengan finish krom, antrasit, emas, dan tembaga.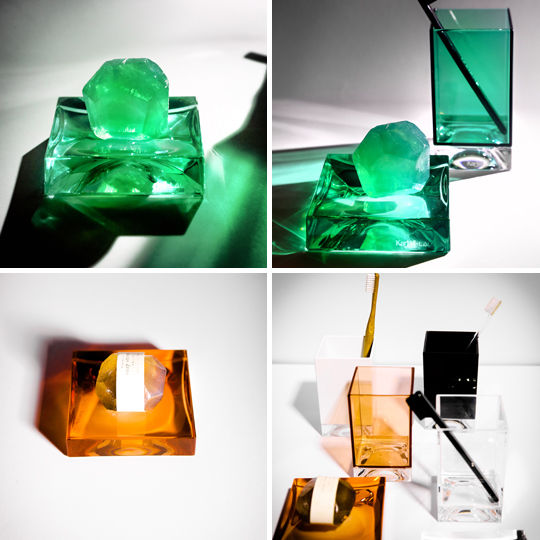 Kreasi keramik terbuat dari Saphir keramik, sebuah material ramah lingkungan berperforma tinggi, yang dirancang dengan garis-garis desain bersahaja yang menyandang minimalisme elegan. Bahan Saphir keramik mampu membuat wastafel dan sebagainya dirancang lebih tipis dari bahan keramik biasa dan lebih kuat.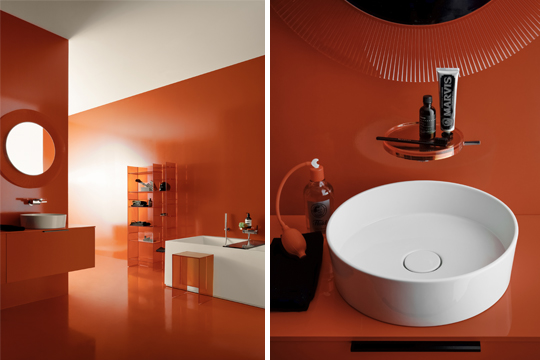 Di ajang Milan Design Week, Kartell by Laufen mencuri perhatian dengan sebuah instalasi artistik layaknya museum di jantung Brera Design District, tepatnya di flagship store Kartell by Laufen di Via Pontaccio. Untuk pertama kalinya, Kartell by Laufen mempresentasikan upaya konseptual dan eksplorasi atas wastafel yang mengombinasikan desain dan riset.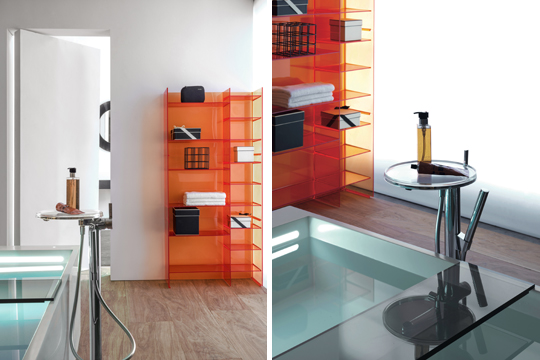 Aura Timur dan Barat bertemu dalam sebuah atmosfer pemantik emosi. Tampak dinding dengan nuansa jingga dari palet Le Corbusier, sebagai bentuk tribut untuk corak warna yang merepresentasikan kelahiran Kartell by Laufen. Display dengan meja di bagian tengah menonjolkan bentuk tradisional dan siluet memikat. Dinding-dinding showroom seakan membentuk backdrop bagi karya-karya fotografi yang mengilustrasikan eksperimentasi dari korelasi antara makanan dan kamar mandi.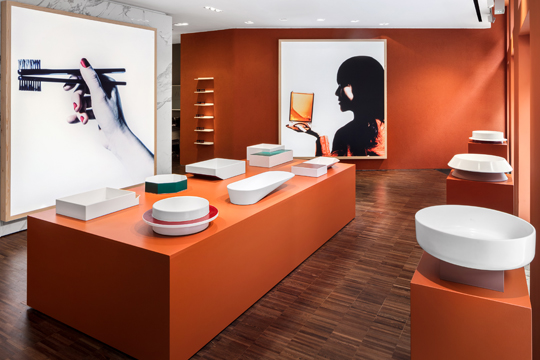 Melalui koleksi dan instalasinya, Kartell by Laufen menampilkan sebuah pertunjukan imajinatif dengan segala keunikan ekspresi yang menyodorkan interpretasi baru terhadap kebutuhan kehidupan modern.