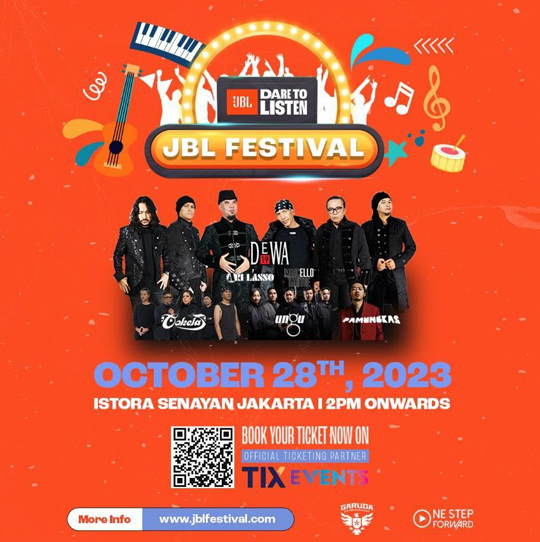 presented by

JBL FESTIVAL "DARE TO LISTEN"
Published by Sugar & Cream, Friday 15 September 2023
Images courtesy of JBL
Pertama Kalinya di Jakarta Pada Sabtu, 28 Oktober 2023
JBL FESTIVAL "DARE TO LISTEN" merupakan konser festival pertama yang diadakan oleh JBL di Jakarta, pada tanggal 28 Oktober 2023. JBL FESTIVAL "DARE TO LISTEN" bermitra dengan One Step Forward sebagai promotor untuk event ini. Dengan mengusung konsep konser musik yang megah, nyaman, serta festival yang menampilkan berbagai lini produk dari JBL yang juga mendukung konser yang dihadiri oleh para musisi dan selebritis papan atas Indonesia – menjadikan acara ini yang sangat dinanti-nantikan oleh para penggemar musik dan teknologi audio. JBL FESTIVAL "DARE TO LISTEN" akan menghadirkan berbagai lini produk JBL yang dapat diuji coba secara eksklusif di Istora Senayan Jakarta pada tanggal 28 Oktober 2023.
JBL FESTIVAL "DARE TO LISTEN" menghadirkan sebuah pengalaman musik luar biasa dengan pertunjukan musik sensasional dan tampilan produk JBL eksklusif. JBL FESTIVAL "DARE TO LISTEN" pertama ini menghadirkan beragam musisi legendaris Indonesia yang dinamis dari lintas generasi, mulai dari Pamungkas, Ungu, Cokelat, hingga Dewa 19 Feat Ari Lasso dan Marcello Tahitoe, semuanya akan mengisi panggung dengan suara berkualitas tinggi oleh teknologi JBL Sound. Pengunjung tidak hanya dapat menikmati konser-konser yang memukau, tetapi juga memiliki kesempatan untuk berbelanja produk-produk JBL favorit mereka dan menikmati beragam produk JBL "DARE TO LISTEN" yang seru di lokasi acara nanti.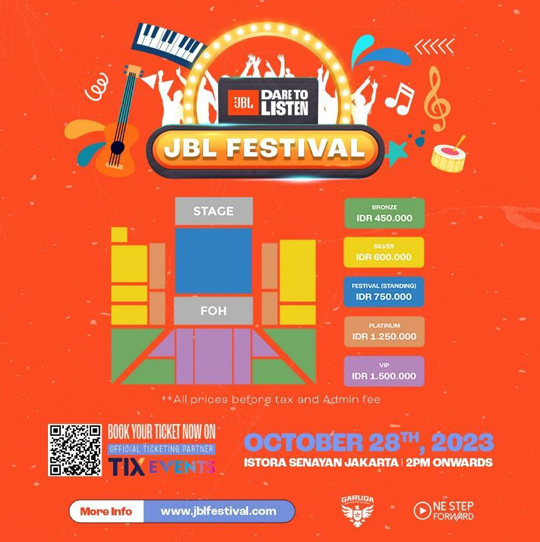 Tiket terbagi per kategori yaitu VIP, PLATINUM, FESTIVAL(Standing), SILVER, DAN BRONZE.
Tiket Pre-sale untuk JBL FESTIVAL "DARE TO LISTEN" akan dimulai dari kategori BRONZE seharga Rp350.000, kategori SILVER seharga Rp500.000, kategori Festival seharga Rp650.000, dan kategori Platinum seharga Rp1.150.000 (harga tiket belum termasuk PPN dan biaya administrasi).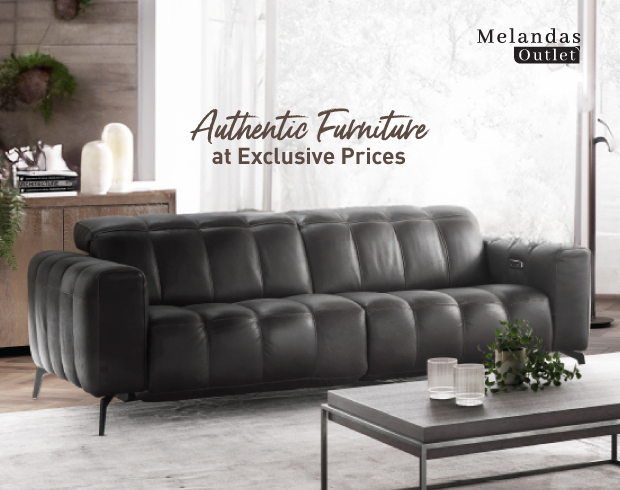 Presented by Melandas Indonesia
Sedangkan untuk kategori dengan harga normal:
● VIP (Rp1.500.000)
● PLATINUM (Rp1.250.000)
● FESTIVAL-Standing (Rp750.000)
● SILVER (Rp600.000)
● BRONZE (Rp450.000).
Anda dapat membeli tiket Pre-sale mulai dari hari Selasa, 12 September 2023, pukul 14:00 WIB. Untuk harga tiket normal akan mulai pada hari Kamis, 14 September 2023, pukul 10:00 WIB. Pembelian tiket dapat dilakukan secara online melalui Official Ticketing Partner JBL di https://event.tix.id/event/JBLfestival atau melalui Official Website resmi JBLFestival.com dan onestepforward.id. Untuk informasi lebih lanjut, silakan kunjungi Instagram resmi @JBLfestival dan @onestepforward.id.