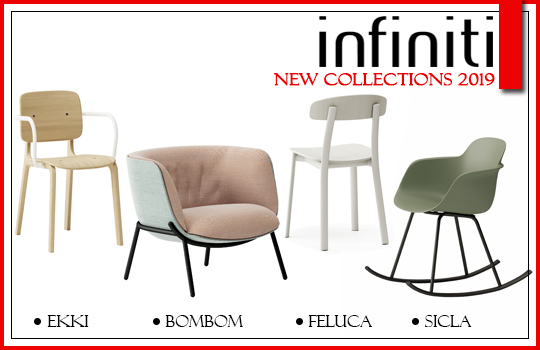 presented by

Infiniti : The Perfect New Chairs for Every Setting
Published by Sugar & Cream, Thursday 05 September 2019
Text by Dira Rohmatun, images courtesy of infiniti
Salone del Mobile.Milano 2019: New boundaries of design, technology, and eco-sustainability
Label desain asal Italia, infiniti, turut menyemarakkan ajang pesta akbar Salone del Mobile.Milano 2019 pada April lalu dengan menghadirkan empat kursi terbaru yang saling menandai sejarah desain dari waktu ke waktu, dan mampu mengekspresikan gaya baru dalam keindahan estetikanya. Bertujuan untuk mengeksplorasi batas-batas baru pada desain, teknologi, dan terpenting ialah mengedepankan eco-sustainability. Simak koleksi terbarunya di bawah ini:
EKKI by mC.dsg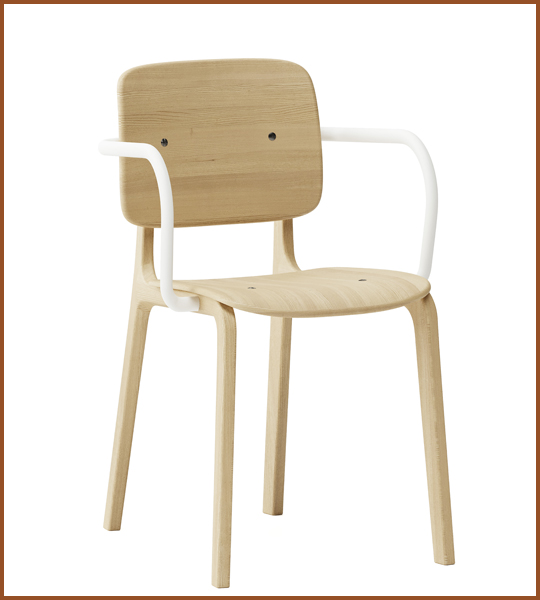 EKKI

Kursi minimalis dengan sentuhan kontemporer ini dirancang oleh mC.dsg sebagai bentuk penghormatan bagi para desainer awal abad ke-20 dengan bentuk pengerjaan ulang yang memesona. Terbuat dari kayu ek yang dilapisi dengan powered coating metal, EKKI menampilkan keistimewaan pada setiap lekukannya yang sederhana namun menawan dengan komponen rakitannya yang terlihat. Koleksi kursi EKKI ini tersedia dalam empat lapisan warna berbeda yang dapat dipilih dengan atau tanpa sandaran tangan, sesuai dengan kebutuhan Anda.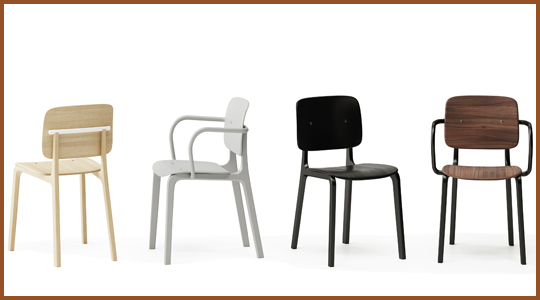 EKKI
BOMBOM by Favaretto & Partners


BOMBOM
Kelembutan dan kehalusan adalah sensasi yang mungkin diinginkan bagi setiap orang ketika ingin bersantai di armchair. BOMBOM, berbentuk bulat, disertai sandaran dan dudukan kursi  terbuat dari busa dingin dengan lapisan kain lembut yang dapat dilepas ini mendefinisikan kenyamanan abadi yang siap mengundang siapapun untuk bersantai di atasnya. Dengan bentuknya yang menggelembung, kursi lengan ini mampu memberikan sensasi kenyamanan seakan dipeluk oleh bagian belakangnya yang empuk. Diselimuti oleh kulit polyurethane yang kuat di atas tabung baja hitam, BOMBOM tersedia dalam pilihan varnished, chromed ataupun anodized finishes – menonjolkan perbedaan anatara dua elemen dengan bentuknya sempurna.
FELUCA by Brogliato Traverso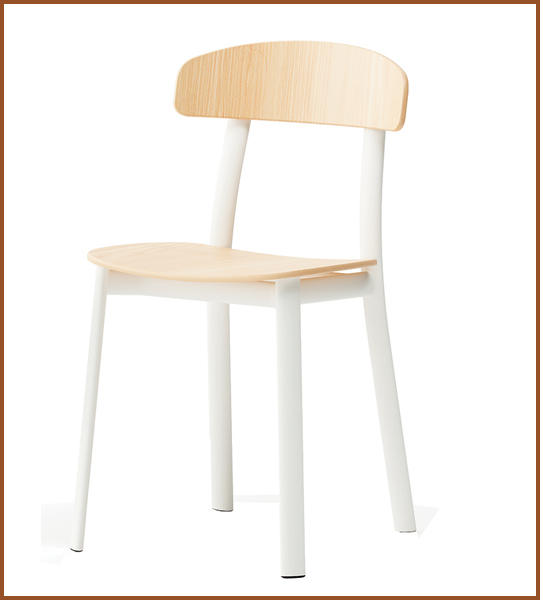 Feluca
Feluca, nama yang dipilih oleh Brogliato Traverso pada kursi terbarunya ini terinspirasi dari nama topi kuno feluca atau becorn di abad ke-18 dengan desain tepi topi membentuk dua ekstremitas kelengkungan yang menjadi ciri khasnya. Sesuai dengan topi feluca, kursi Feluca ini memiliki bentuk sandaran kursi yang secara khusus menampilkan kelengkungan yang menawan. Kepiawaian Brogliato Traverso dalam merancang kursi yang memiliki nama dalam sejarah mode ini, mampu menciptakan sebuah gaya baru yang mengingatkan kita akan gaya kuno di abad 18-an dengan memberikan sentuhan keharmonian dan kehalusan paripurna. Ditambah kesederhanaan pada kakinya yang membentuk elips dengan bentuk suspender pada bagian sisi belakangnya ini, memperkuat identitas Feluca dengan tampilan estetika yang minimalis.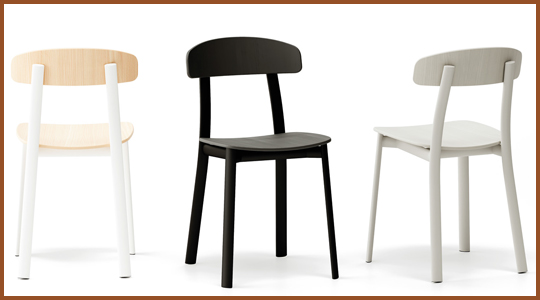 Feluca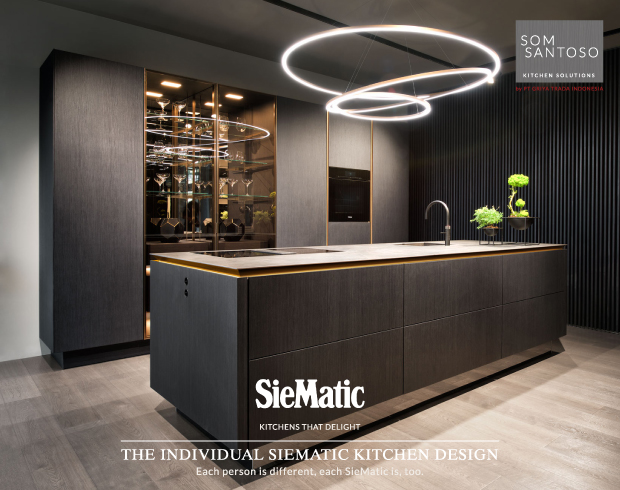 Presented by Som Santoso
SICLA by Claus Breinholt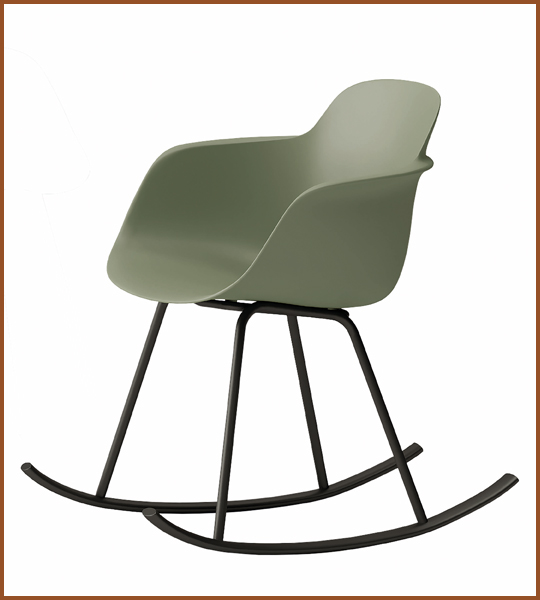 Sicla
Thin and lightweight, itulah kesan pertama yang akan Anda dapatkan saat menyentuh Sicla yang terlihat kaku ini. Sebuah kursi "bucket" rancangan Claus Breinholt terbuat dari cangkang ringan dan tipis yang akan memberikan Anda kenyamanan. Kerangka yang melengkung pada setiap cangkang dan di bagian belakang kursi ini memberikan kesan yang ramping namun memiliki kekuatan dan stabilitas yang menjadi rahasia dalam kestabilan di setiap elemen kursinya. Dilapisi dengan kulit polypropylene, Sicla tersedia pilihan upholstered dengan bagian belakang dan kursi atau kursi saja, dan dalam 4-legs aluminum version, 4-star aluminum base, dan sled and rocking.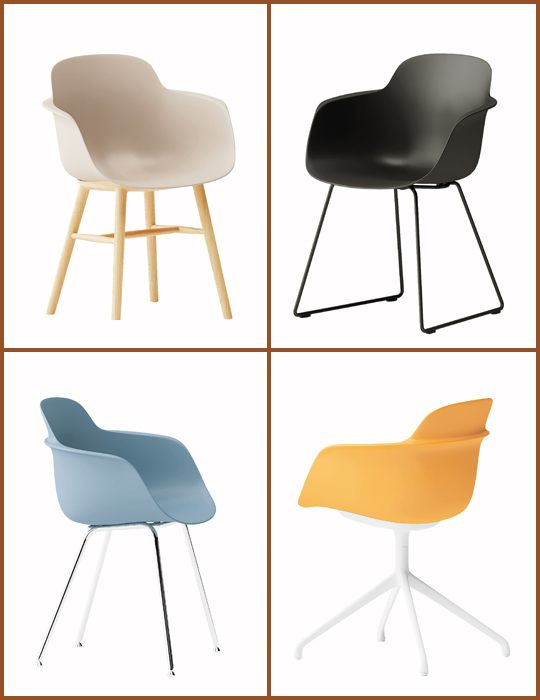 Sicla