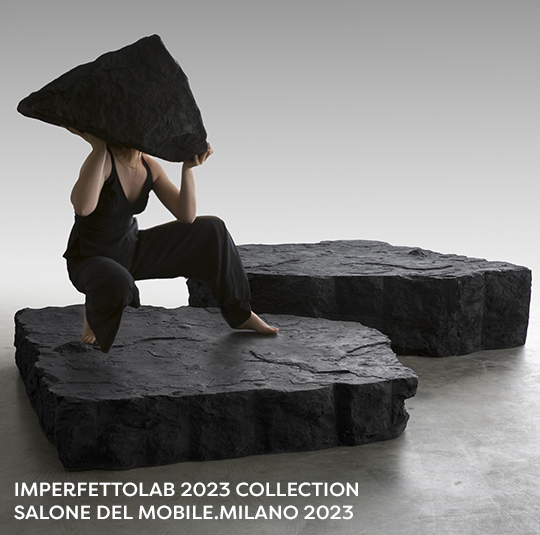 presented by
IMPERFETTOLAB 2023 COLLECTION – SALONE DEL MOBILE.MILANO 2023
Published by Sugar & Cream, Wednesday 12 July 2023
Images and Text Courtesy of Imperfettolab
Arenaria, Ciottolo, Flow, Nok, Òn, Nur
This year at Salone del Mobile.Milano 2023, Imperfettolab unveils their 2023 collection. The collection consists of Arenaria, Ciottolo, Flow, Nok, Òn and Nur.
Beauty is everywhere and our eyes are accustomed to seeing it in the whole as well as in the detail, to recognising it at first glance as well as finding it in the most hidden corners. Imperfettolab reveals beauty in a personal, unique and unmistakable way. Through imperfections that are none other than fine work on the material, skilfully sanded allowing it to release its natural charm. This pure splendour is also revealed intact in the new creations, where the texture of the material and the art of the hand that moulds and sculpts it are once again the focus. But the new collection, this time, takes us down an unexpected road of research, deconstruction and re-elaboration, ultimately always leading there, to beauty.
Existing forms are rethought, reshaped, and transformed into new elements. The new forms dare to reveal sharp cuts, never before experimented with, but which continue to give sinuous roundness, thanks to the incredible craftsmanship that softens the material. The object is deconstructed, allowing it to be reborn to a new life, with a new spirit. The dimensions change, overscale and imposing or more compact and unexpected, but always in light fibreglass, in a show of contrasts that continues to surprise. Furniture is transformed into artworks and everything evokes a prelude to new, sculptural wonders.
Arenaria limited edition  
seat/coffee table/sculptural element  2014/2023 
design verter turroni
Like in a mosaic, new elements enrich the ARENARIA collection. The dimensions change, different heights, depths and widths. But the allure that surrounds this sculptural collection  does not change. Multiple, multifaceted and versatile forms that can be used as seats or side tables. Elements that lead the eye into an illusory world, where the majestic hides the secret of light fibreglass.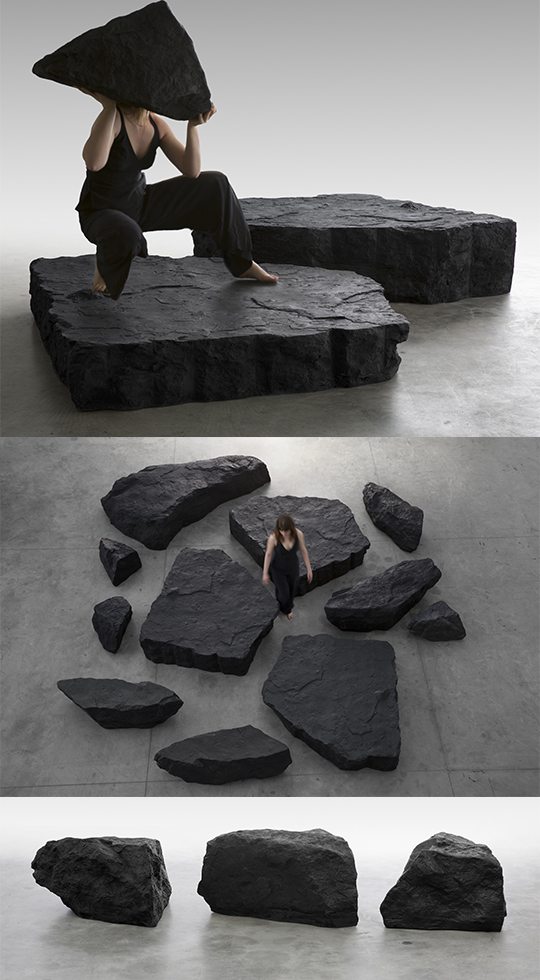 Arenaria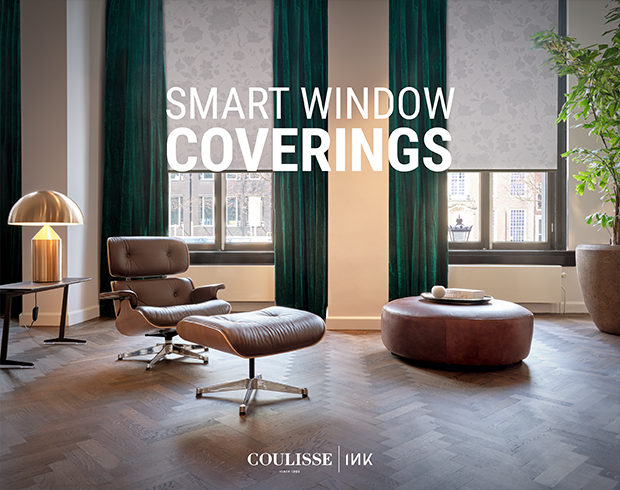 Presented by Coulisse | INK
Flow  
seat 2023 
design verter turroni
These creations speak of wonder. Of solid, cosy seats that seem to float. Of a sharp and precise cut from which rounded corners  and sinuous lines emerge. The wonder of offering the eye a different shape, a continuous inspiration, a new and unexpected image, depending on the point of view. Sculptural elements that tell a story of inspiration and fascination.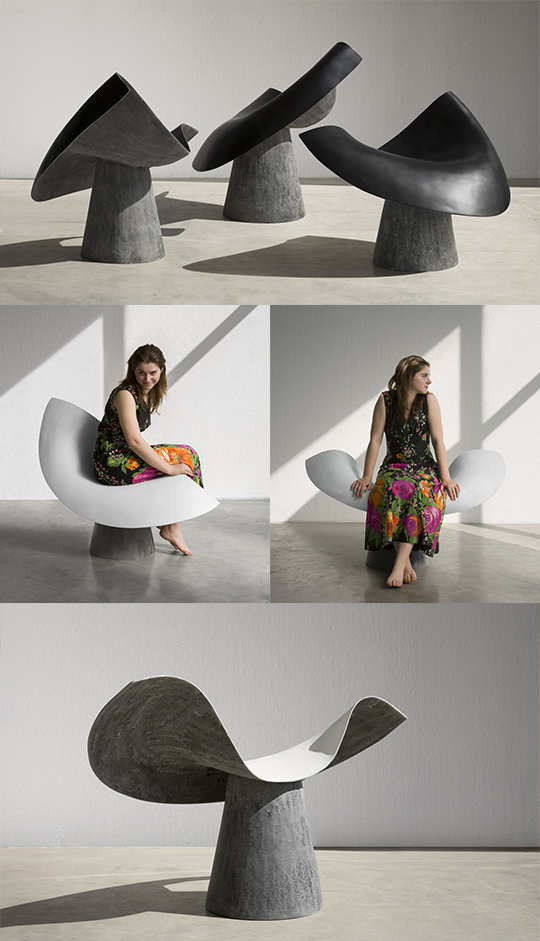 Flow
Nok  
vase/sculptural element 2023 
design verter turroni
A collection of ornamental vases of enigmatic charm. Different geometric shapes that follow each other, as in  an imaginary climb to the sky. A combination of juxtapositions and contrasts on significant heights which gives the eye a feeling of perfect and  solid balance. Arranged side by side, these elements enrich the environment with ancestral magic. They are reminiscent of rows of ancient warriors lining  up, calm and fearless, preparing for the dance that preludes battle.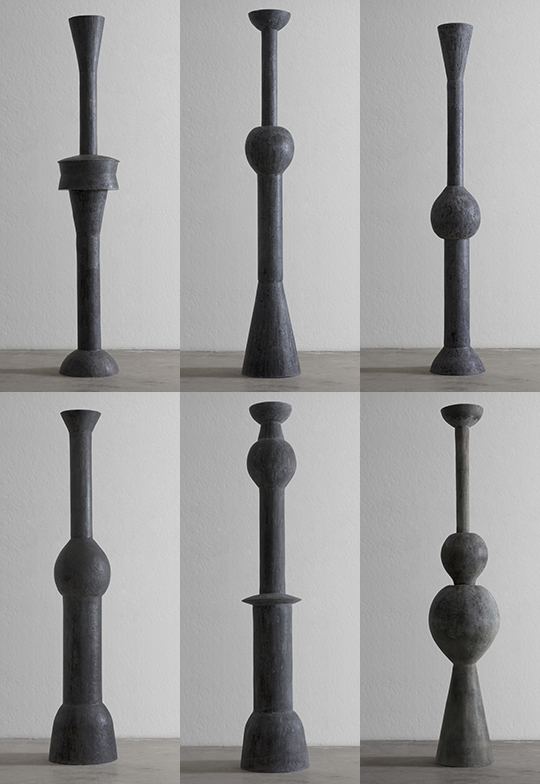 Nok  
Ciottolo #1
seat 2017/2023
design verter turroni
CIOTTOLO, A familiar shape which continues to inspire  new shapes, appearing like stones, smoothened by wind  and water. Like stones they emanate a pure and untouched beauty in their naturalness. In its latest interpretation the lines take on different curves, the dimensions grow.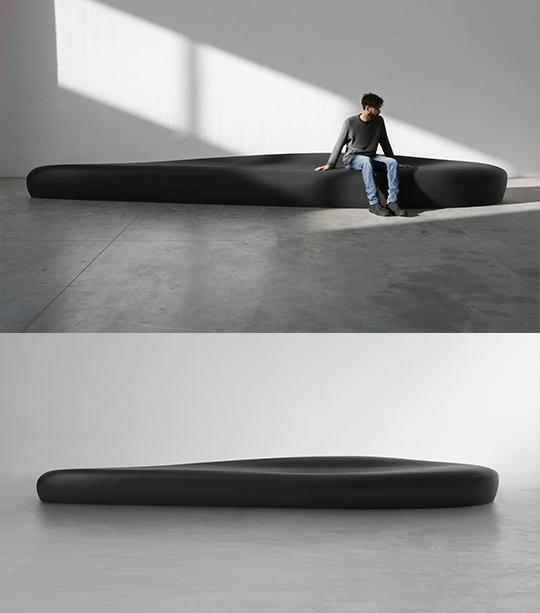 Ciottolo #1
Ón
coffee table 2023
design verter turroni
The pure geometry of these creations appears as if su spended in an imaginary time and place. Small tables whose essential lines give life to familiar, con temporary shapes. The top, which can be natural, lacquered or made of thin ceramic, gives a touch of modern splendour while the refined sanding with which the surface is treated, confers a  primitive and mysterious aura. Furnishing elements that bring beauty back to the principles of metaphysics, where what matters is the authentic, the fundamental, therefore the unavoidable.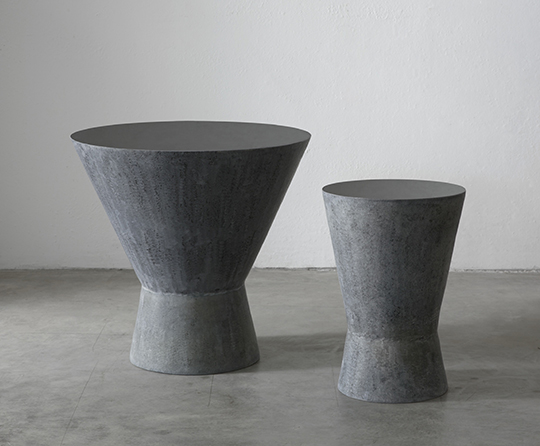 Ón
Nur
suspension lamp 2023
design verter turroni
A metal stem suspends this lamp, separating its imposing  silhouette from the ceiling and letting it dominate the  space that it inhabits. The shape of NUR, in all its variations, is composed of geometric elements that seem to have the task of collecting  all the rays of the sun and then filtering just the warmest  and brightest downwards. In fact, it does not emit a bright glare, but an intimate and  embracing light, confined to the corner it is meant to illuminate. (AP)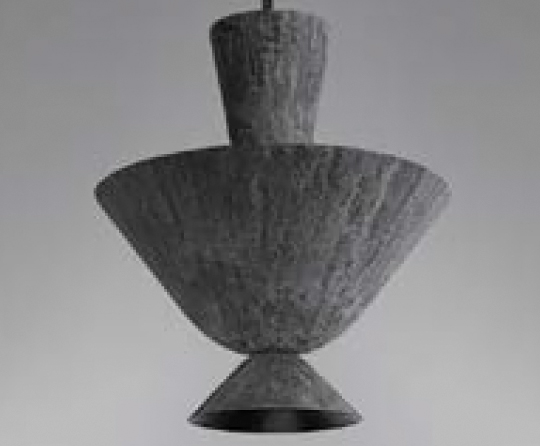 Nur