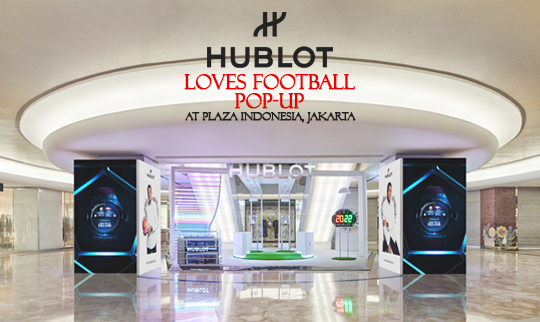 presented by

"HUBLOT LOVES FOOTBALL" POP-UP AT PLAZA INDONESIA, JAKARTA
Published by Sugar & Cream, Monday 28 November 2022
Text and images courtesy of Hublot Indonesia
Celebrating the FIFA World Cup Qatar 2022TM, Hublot Indonesia is delighted to unveil the first HUBLOT LOVES FOOTBALL pop-up in the south atrium of Plaza Indonesia, the most luxurious shopping destination in Jakarta. Open to the public, the Hublot Loves Football pop-up runs from 14th – 27th November 2022.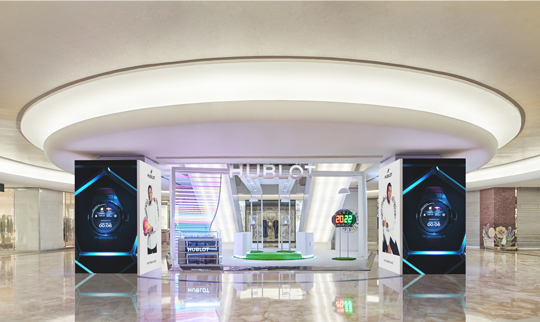 The pop-up installation is distinguished by bright colors, a joyful and fun area which reflects the dynamic energy of the "Hublot Loves Football" campaign that brims with optimism. Beating the rhythms of football, customers are welcomed by two LEDs of the Hublot Loves Football campaign video.
From 2006, Hublot has been the first Fine Watchmaking brand to join with the sport. This long-time appreciation for the beautiful game is implied, from the vibrant neon lights to the FIFA World Cup Qatar 2022TM referee sign board at the entrance of the pop-up.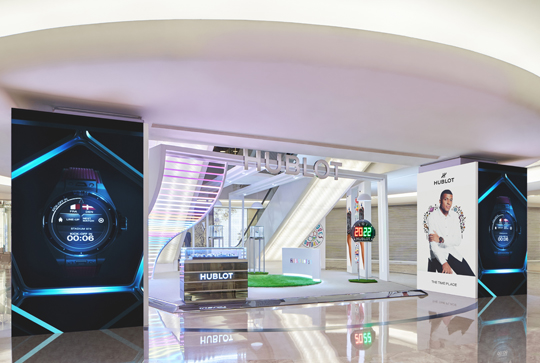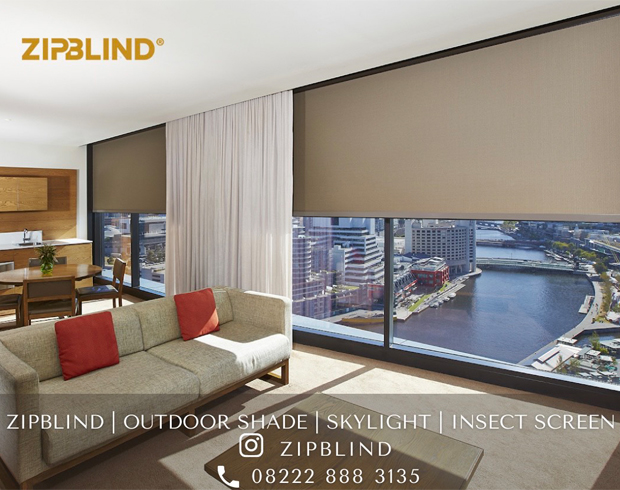 Presented by Zipblind
The H-shaped arches on the left and the unique football display created by football ambassadors and friends of the brand in collaboration with Paris-raised designer, Mira Mikati. Her hand-drawn and painted design captures a youthful, hopeful enthusiasm and communicates a spirit of unity.
Surrounded by a white setup with visuals of Hublot's football brand ambassadors, and grass carpet that evoke the ambience of the football pitch, is a VR technology experience which allows visitors to be virtually transported to the "Hublot Loves Football Metaverse Stadium". Partnering with acclaimed stadium architects, MEIS, and pioneering metaverse builders, Spatial, the Hublot Loves Football Metaverse Stadium is designed to showcase Hublot's love for football, design, and community.

Marking its fourth season as the Official Timekeeper of the FIFA World Cup Qatar 2022TM, Hublot has created the watch that all football and Hublot fans have been waiting for, the Big Bang e FIFA World Cup Qatar 2022TM. This Gen 3 connected watch, the highest performing and exciting Big Bang e to date will be worn by official referees for all 64 games, including the final in the Lusail Stadium in Doha on 18 December. Those lucky enough to get their hands on one of the 1,000-piece limited-edition watches will enjoy an extra-large high- definition screen, the better to view team line-ups, and player profiles, and engaging in "match mode" to catch live highlights of the matches that will be watched by over a billion people worldwide.
The watchmaker once again demonstrated its capacity to make a success of every opportunity. A victory at every level is a reward for ongoing commitment.