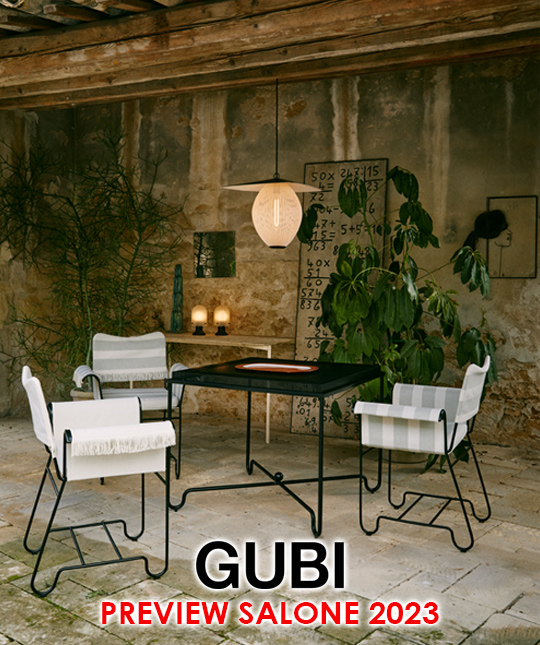 GUBI – PREVIEW SALONE 2023
Published by Sugar & Cream, Wednesday 19 April 2023
Images courtesy of GUBI
Spring/Summer Collection 2023
GUBI's SS23 Collection showcases lightweight outdoor furniture and lighting that let you easily take advantage of the changing light and shade through the day, into the night, and across the season: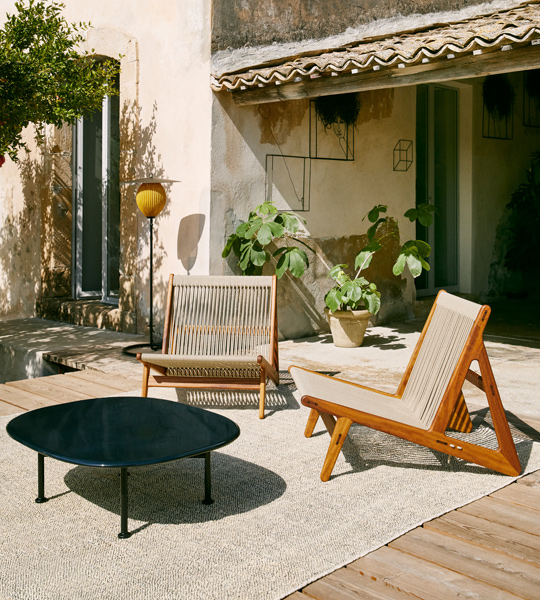 Carmel Collection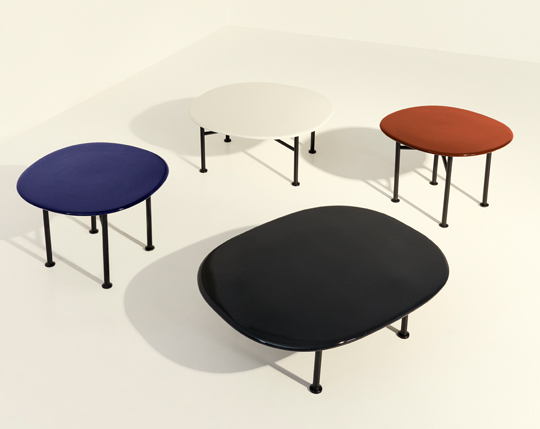 Carmel Collection
Under the Sun – overall theme
Carmel Collection by OEO Studio
Satellite Outdoor Collection by Mathieu Matégot
MR01 Outdoor Lounge Chair by Mathias Steen Rasmussen
Seine Portable by Space Copenhagen
Tropique by Mathieu Matégot in new fabrics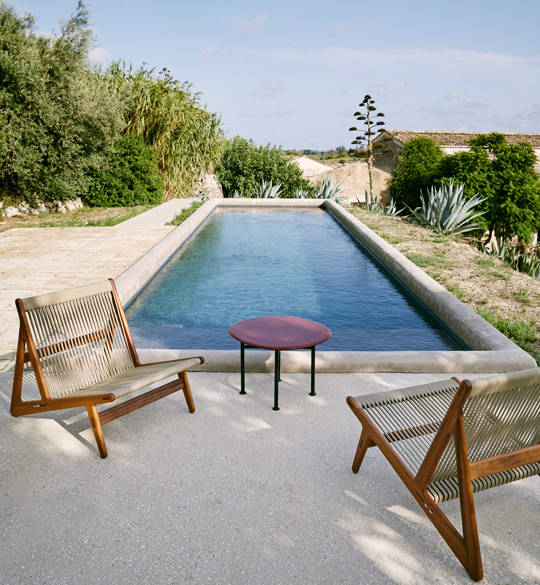 MR01 Outdoor Lounge Chair
• GUBI takes over a Milan landmark, the spectacular Bagni Misteriosi
• One-of-a-kind exhibition TEN celebrates a decade of the Beetle Chair by GramFratesi,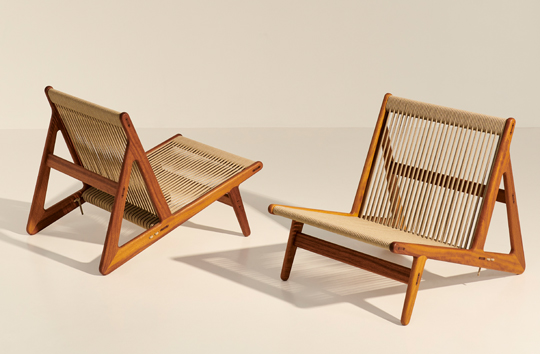 MR01 Outdoor Lounge Chair

with 10 original artistic responses to the design by diverse global creatives.
• 'Under the Sun' presents GUBI's expansive vision of alfresco living – indoors, outdoors, and in the spaces between.
• New designs include pioneering contemporary outdoor furniture, plus a sneak preview of lighting masterpieces by Paavo Tynell and Gianfranco Frattini.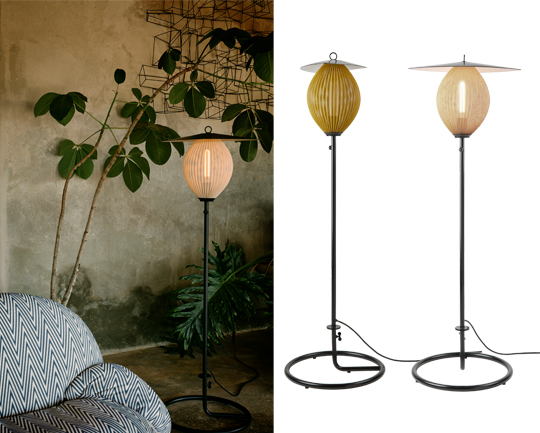 Satellite Outdoor Collection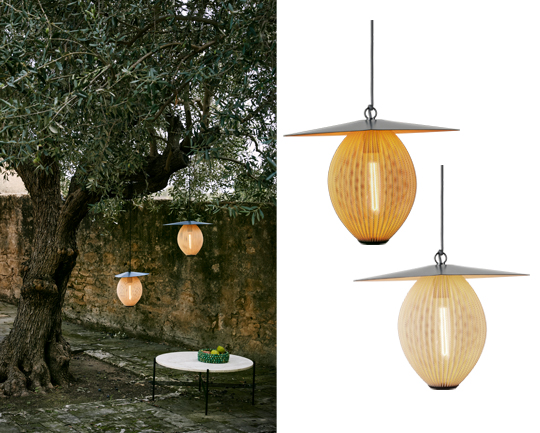 Satellite Outdoor Collection
MAKING A SPLASH AT BAGNI MISTERIOS
GUBI Salone 2023
For Milan Design Week 2023, GUBI takes over the city's iconic Bagni Misteriosi to stage an immersive sensory spectacle. In the heart of Porto Romana, GUBI SALONE 2023 brings together cutting-edge contemporary creativity with timeless icons of 20th-century design. Unfolding in one of Milan's most magical places, GUBI's 2023 spectacle will mark "the Mysterious Baths'' debut as a design venue, sending visitors on a flowing, multi-layered, and mystery-filled journey of discovery.
One of the brand's grandest Milan events to date, GUBI's Salone showcase brings together multiple design stories under one vast roof – and beyond it. As well as presenting GUBI's expanding alfresco universe of furniture and lighting through the indoor/outdoor theme 'Under the Sun', Bagni Misteriosi also play host to TEN: Beyond the Beetle, a special exhibition curated by Marco Sammicheli that pays creative tribute to an iconic GUBI piece, unveiling 10 multi-disciplinary artistic responses to the Beetle Chair by GamFratesi.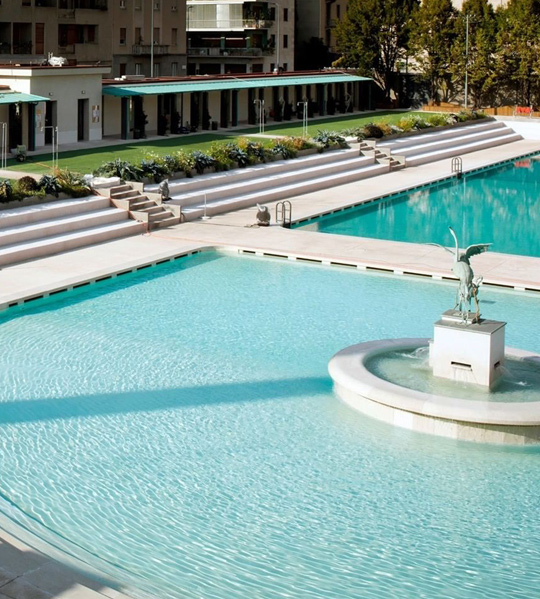 "GUBI SALONE 2023 will invite visitors to embark on a multi-layered sensory journey through our evolving lifestyle vision. Here in one of Milan's most extraordinary, atmospheric, and magical venues, our showcase will unfold and expand upon GUBI's alfresco design universe and celebrate the iconic Beetle while evoking a sense of magic and mystery." – Marie Kristine Schmidt, Chief Brand Officer, GUBI –
Alongside exciting new launches from contemporary design studios, GUBI SALONE 23 will also mark the official return to production of masterpieces from two of the luminaries of 20th-century lighting design: virtuoso Italian designer Gianfranco Frattini, and 'the man who illuminated Finland', Paavo Tynell.
UNDER THE SUN
With their expansive poolside space and sunny terraces, the baths are the beating heart of Milan's summertime culture – and the best possible place for GUBI to celebrate the life alfresco. Building on the success of GUBI's outdoor debut last year, the 'Under the Sun' theme takes GUBI further alfresco to new levels of luxury and leisure.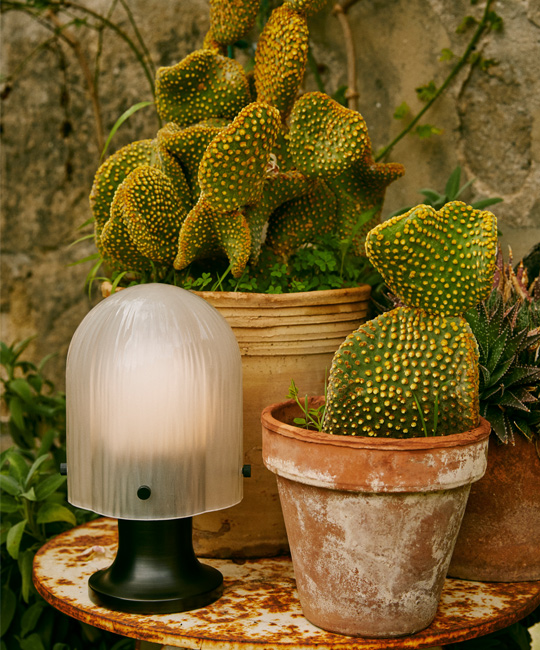 Seine Portable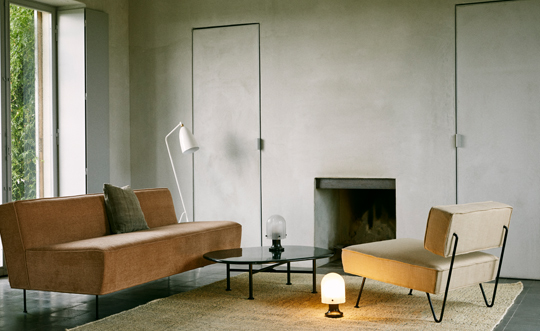 Seine Portable
The breakthrough collection of works by the likes of Gabriella Crespi, Joe Colombo, and Pierre Paulin is enriched and expanded with vivid new designs, alfresco reinventions of GUBI favorites, and portable and outdoor lighting, offering everything needed to shape one's space for the summer. With their beautifully glazed, organically shaped ceramic tabletops, OEO Studio's new Carmel Tables bring a colorful energy into both interior and exterior spaces.


Presented by Interni Cipta Selaras
Alongside, Mathias Steen Rasmussen's breakthrough design, the MR01 Initial Lounge Chair makes its alfresco debut at Salone with a specially developed outdoor variant in iroko wood – perfect for the poolside. In addition, GUBI's relaunch of Mathieu Matégot's Tropique Collection of dining chairs gets a material makeover with Riviera-chic new fabrics and nautically inspired stripes. Another Matégot classic of the 1950s, the Satellite Lamp,  steps out into the open air with GUBI's first ever outdoor –  specific lighting collection, comprising both a pendant and floor lamp. Joining the Satellite, a new, portable edition of Space Copenhagen's atmospheric Seine lantern allows summer lovers to bring long-lasting light wherever it's wanted – indoors, outdoors, and everywhere in between.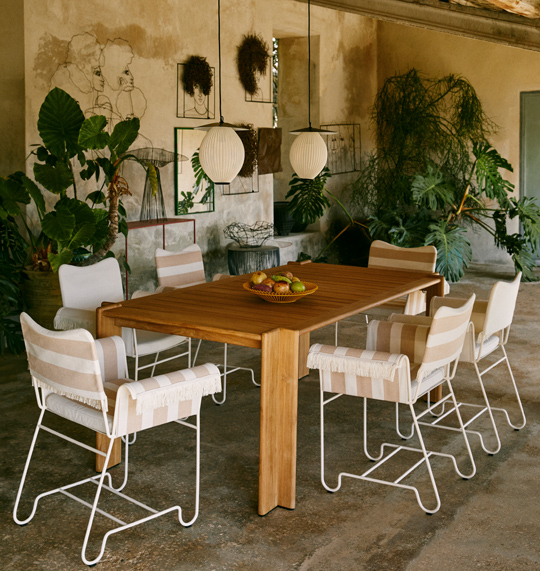 Tropique Collection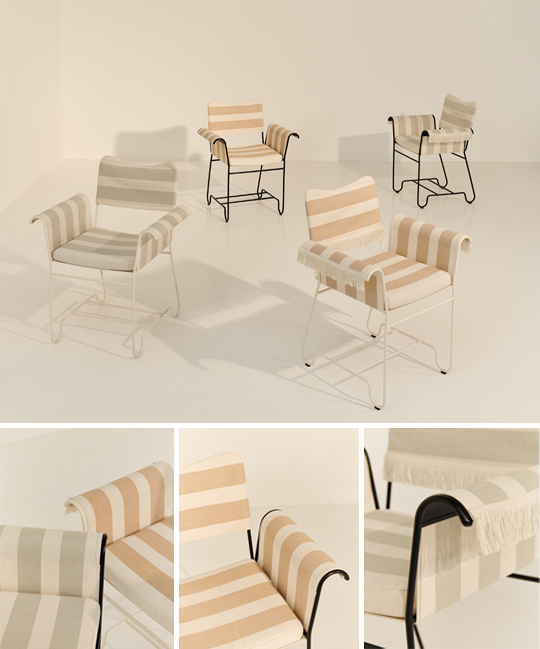 Tropique Collection
TEN: BEYOND THE BEETLE
GUBI SALONE 2023's landmark exhibition showcases 10 creative responses to a modern design icon
Ten years ago, young design studio GamFratesi unveiled a creative experiment at Salone, and – unknowingly at the time – secured a place in design history. Now, a decade on, GUBI celebrates GamFratesi's Beetle Chair with a one-of-a-kind exhibition.  Showing only at GUBI SALONE 2023, TEN hands GamFratesi's pioneering design concept over to ten global creatives and invites them to run wild with it.
"Taking place within Milan's beloved Bagni Misteriosi, the TEN exhibition is a celebration of the Beetle and a showcase of creativity, curiosity, and courage – the values that GUBI was founded on, and which shaped GamFratesi's creation of the Beetle 10 years ago. Together with curator Marco Sammicheli, we have conceived a cultural project that will go beyond the surface – beyond even the chair itself – to bring the Beetle's story to life, across a decade and more." – Marie Kristine Schmidt, Chief Brand Officer, GUBI –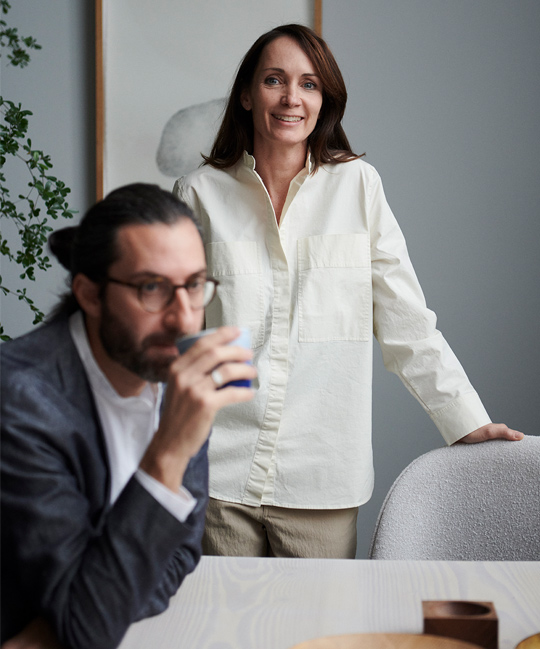 GamFratesi

When it made its first appearance in Milan as a prototype, the Beetle was never intended to be a commercial product but, discovered by GUBI and developed for production, it proved a phenomenal success, and has evolved to become a modern design classic. Design aficionados around the world have fallen in love with the insect-inspired chair's organic curves, refined silhouette, exceptional versatility and ergonomic comfort. Today, the category-defying piece is one of the most important, influential, and successful designs for both GamFratesi and GUBI, and an inspiration for countless creatives worldwide.
"One of the most significant pieces in the history of our practice, the Beetle has shaped both our careers and our design language." – Stine Gam and Enrico Fratesi of GamFratesi –
An icon unleashed
On 18–22 April, in Milan's iconic Bagni Misteriosi, GUBI celebrates the Beetle Chair's first decade with a series of ten original artistic responses to the chair's groundbreaking design. Conceived with curator and design critic Marco Sammicheli, TEN brings together creative minds from all over the world, and gives them free rein to unleash their imaginations on the Beetle.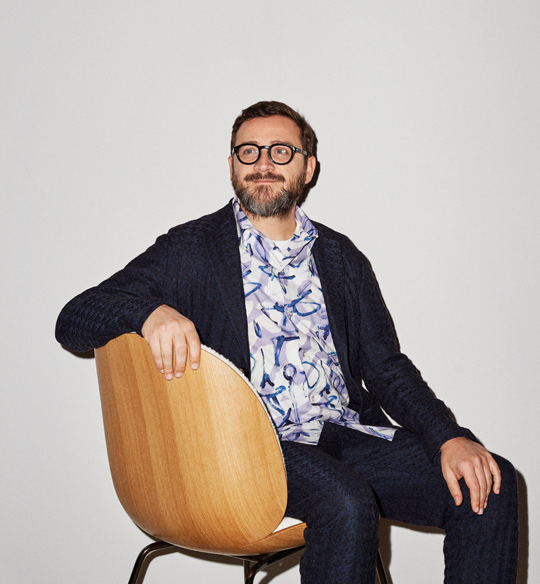 Marco Sammicheli
"In the TEN exhibition, a selected group of creatives pays homage to a chair that has cemented itself in our collective imagination. Going back to the Beetle's origins as a creative experiment rather than a commercial product, these artists, architects, fashion designers, and musicians take an element, a detail, or a quality, and transform it into a story in the form of a soundscape, an installation, a typological alteration, or a narrative transposition. Key to the project is the absolute expressive freedom, playful use of scale and the range of creative languages and media chosen by each of the contributors." – Marco Sammicheli, curator, TEN: Beyond the Beetle –
Ten years, ten creatives, ten stories
Based all over the world, each of the ten participating personalities has let their creativity run wild with the Beetle's unique, nature-inspired form, extraordinary versatility, and pioneering spirit. Spanning multiple disciplines, from sculpture and ceramics, to installation and illustration, to lighting and sound design, this extraordinary collection offers a breadth of perspectives on every aspect of the Beetle's design identity.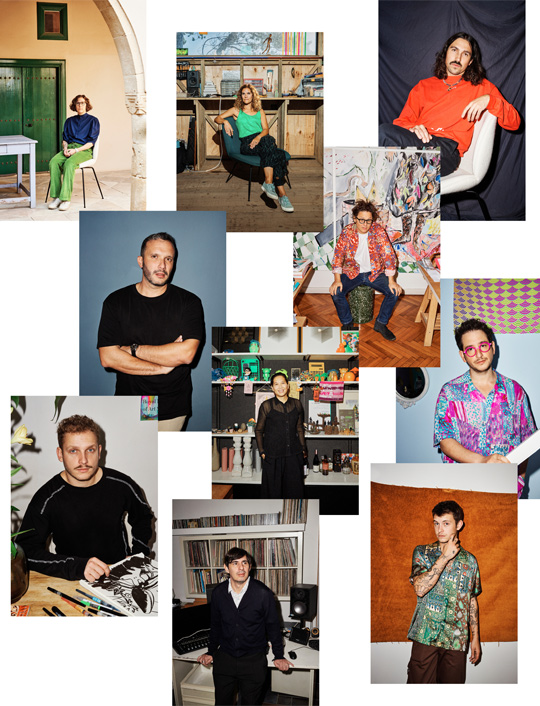 • In 'Scarabesque', artist and designer Adam Nathaniel Furman has accentuated the form of the Beetle and used color and pattern to transform the chair into a fabulous throne, suggesting new contexts for the design, from the club to a fairy-tale musical. A fiberglass shell coated in pearlescent paint is fixed to a powder-coated tubular steel base, elevating the artwork to over two meters in height.
• In the 'Oca Chair', fashion designer Arthur Arbesser pays homage to the late master of Italian design, Enzo Mari. Arbesser has transformed the seat and backrest of the Beetle into the snapping bill of a goose, while the base references Mari's cement panettone dispersed all over the Milan cityscape. In collaboration with Italian artisan Alan Zinchi, Arbesser has crafted the Oca in solid wood, with an original Beetle seat upholstered in bright orange fabric.
• 'Freshening Up the Palace' by visual artist and ceramicist Daphne Christoforou is a hand-crafted amphora decorated with underglaze, decals, overglaze and gold luster. Inspired by Ancient Greek pottery, the vessel depicts a mythical scene in which GamFratesi introduces the Beetle to the gods of Olympus.
• In 'Real Beetle in Epoxy', artist Frank Maria re-interprets the Beetle as an archaeological sculpture encrusted with mineral sediments and adorned with original tattoo designs and micro-landscapes. The Beetle's exoskeleton is constructed from wood and paper, with an acrylic paint coating, held within a 120×120 cm casing in wood and plexiglass.
• 'A Brief History of Seating' is a series of ten original ink drawings by graphic designer and illustrator Martin Groch, composing a narrative that positions the Beetle in the context of its most illustrious predecessors, icons of international design.
• Creative director Matthew Demarco has produced the exhibition signage to commemorate the Beetle's anniversary. Created with a reverse glass-gilding technique and several layers of gold leaf, 'TEN' is a square, framed 85×85 cm sign referencing the traditional Maltese typography and signage seen in the city of Valletta.
• In 'Metamorfosi' sound designer Painé Cuadrelli has created an immersive audiovisual installation that turns human soundbites, hard percussion, and natural sounds into a melodic composition that depicts the birth and evolution of the Beetle, from pupa to beautifully developed creature.
• Architect Rachaporn Choochuey's installation 'Flying Beetles' combines market culture and open-air seating with a reference to the winged insects found in Thailand's national parks. Suspended like swings from a structure of locally woven threads, nets, and fabric, an array of Beetle Chair shells create a playground for interaction, characterized by flexibility, relaxation, and fun.
• Fashion designer Simon Wick offers up a '(di)ssected Beetle'. The deconstructed seat is reassembled with layers of GUBI's surplus textiles and upholstery off cuts, as well as packaging materials such as cardboard and plastic. Taken as a whole, the piece gives form to the complexity of the production process behind such a seemingly simple and compact object as the Beetle Chair.
• In the installation 'Living the Horizon', lighting designer Ximena Muñoz combines moving images with suspended neon-LED lighting. Interpreting the meeting of the Beetle's seat and the backrest as the line of the horizon, a four-meter video projection shows the changing horizon in the Pacific Ocean over a period from March to November 2022, while curved light interacts with the projection and introduces a note of intimacy to the experience.
"The works in TEN are a counter melody, an exaggeration, a joke, a vision, an extension, and finally an escape. They all take the Beetle Chair beyond the limits of function, into the far-off lands of the poetic. Each interpretation exalts the comfort, solidity, quality, and balance of an object that began as mere furniture but became so much more." – Marco Sammicheli, curator, TEN: Beyond the Beetle –
The Beetle in the Baths
The TEN exhibition takes place exclusively at GUBI SALONE 23, the design brand's spectacular Milan showcase at the city's landmark Bagni Misteriosi – the 'Mysterious Baths' at the heart of Porta Romana. Unfolding in the baths' atmospheric Sala Mosaico, the exhibition will stand distinct from GUBI's wider showcase, presenting the architecturally striking space as a 'laboratory of design'.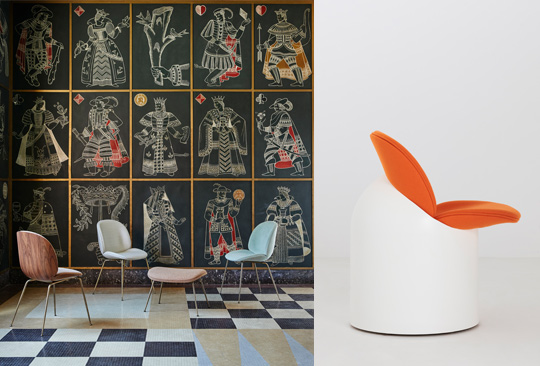 Supplementing the room's raw industrial looks, silver curtains, aluminum podiums and dividers, and cool lighting create the atmosphere of a factory space – an ironic contrast to the color and creativity of the artworks on show. The Sala Mosaico's existing openings and doorways serve as 'frames' for each artwork, with fabric drapes both revealing and concealing them as the visitor passes through, contributing a sense of intrigue. Alongside the new re-imaginings, the Beetle itself will stepinto the spotlight with a dedicated display – now back in Milan, not just as a single eye-catching design concept, but as an extensive furniture family, suited to every setting.
"The Beetle made its first appearance at Salone a decade ago, so it only feels right to bring it back to Milan to celebrateits first decade with a dedicated exhibition in one of the most extraordinary venues in the city." – Marie Kristine Schmidt, Chief Brand Officer, GUBI –
 LIGHTING MASTERPIECES BY PAAVO TYNELL
Sneak peek
In Bagni Misteriosi's atmospheric orangery, GUBI presents a series of exclusive re-introductions from a giants of mid- century lighting design: Paavo Tynell, aka 'the man who illuminated Finland'. Making their global debut at Salone, these additions expand GUBI's existing Tynell Collection with a selection of hand-crafted mid-century masterpieces from the height of his career.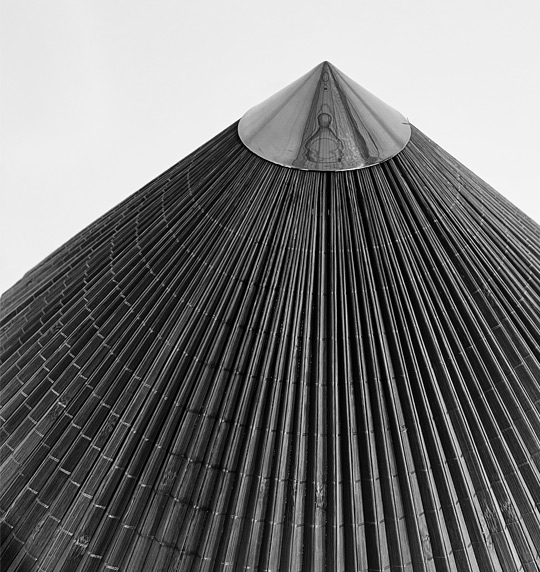 Originally dating variously from the 1940s and 1950s, the Tynell lamps have been meticulously recreated by GUBI in close collaboration with the Tynell family. Working with archival drawings and historic examples, GUBI has brought the warmth, nuanced glamor, and classic looks of these pendant, floor and table lamps back into production using Tynell's signature material, brass, updated with bamboo shade options – bringing a calming connection to nature into interior spaces. Tynell's 9602 Floor Lamp will also be presented in an exclusive special edition in collaboration with renowned fabric produces Maison Pierre Frey. The new Tynell lamps officially launch in autumn 2023.
CAREER-MAKING LIGHTING BY GIANFRANCO FRATTINI
Sneak peek
GUBI SALONE 2023 also sees the induction of modernist Italian design polymath Gianfranco Frattini to GUBI's roster of designers, with the return to production of two of his game-changing lamp designs. In the Bagni Misteriosi's Sala Zenitale, visitors will be able to preview Frattini's landmark Model 597 Floor Lamp, and his extraordinary Aspide Table Lamp.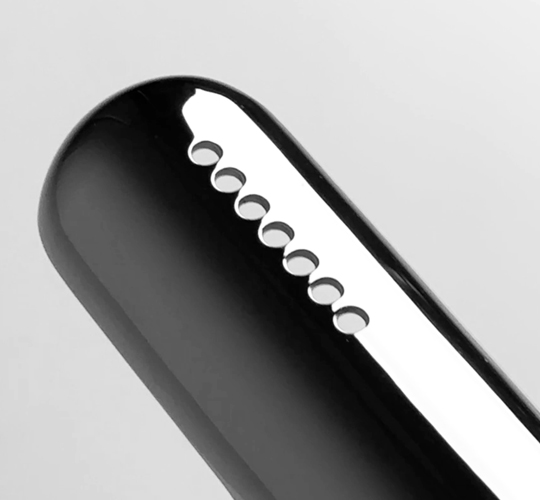 Serpentine in shape, beautifully balanced and gleaming like a jewel, the Aspide Lamp is both a brilliantly practical piece of industrial design and an irresistibly playful design statement in gleaming chrome. First developed in 1970, the highly adjustable desk lamp is named after the Italian word for 'asp', referencing its sinuous form.
Back in production six decades after it was first launched, the Model 597 Floor Lamp helped secure Frattini's international reputation as a lighting designer. Combining practical versatility with head-turning whimsy, it comprises a lightweight aluminum diabolo body, encircled by fringes that modulate the light, creating warmth, texture, and nuance within the space. GUBI has also introduced a scaled-down version – the Model 597 Table Lamp. Both Frattini lamps officially launch in autumn 2023.
A JOURNEY INTO THE UNCONVENTIONAL
From outdoor terraces overlooking the epic poolside, to atmospheric interiors, via canvas-covered spaces in between, GUBI unveils a playful and daring vision of elegantly laid-back summer living, seamlessly flowing from inside to out, and back again.
GUBI SALONE 2023 is far from a conventional design showcase; this is not somewhere to 'look and leave', but a series of spaces in which to linger and enjoy. Entering Bagni Misteriosi, visitors will be lured through a network of indoor spaces and pool-view terraces, following the path through the complex. The set design juxtaposes the raw and rugged textures and concrete finishes of the Bagni Misteriosi's interiors with soft drapes, tented canvas ceilings, and translucent fabric partitions. This gives the experience of the exhibition the feel of fluidity and the sense of a gradual unveiling, as though GUBI's designs are being revealed one by one, like secrets – a fitting homage to the atmosphere of the mystery that gives the baths their name.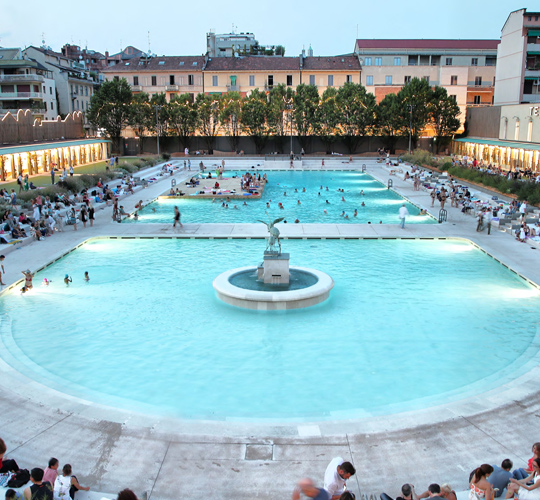 Across the diverse settings of the baths – from indoor chambers to orangery to poolside terrace – different zones tell distinctive style stories. One space evokes the low-slung, leisure-loving 1970s, another the safari sophistication of luxury life under canvas, and a third the leafy eclecticism of a bohemian sunroom. Visitors are invited to explore, soak up the atmosphere, and take a moment to slow down and lose themselves in the beauty of their surroundings.
Just as the Bagni Misteriosi offer the Milanese somewhere to escape to during the summer, GUBI SALONE 2023 provides a welcome respite from the bustle of Design Week, offering festival goers a hub to meet, work, play and pause for food and drink. An invitation to discover, and an excuse to relax.