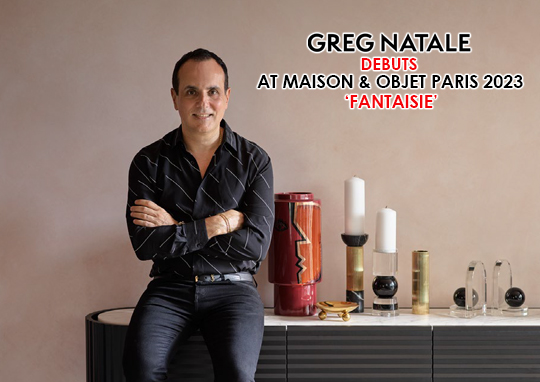 presented by
GREG NATALE DEBUTS AT MAISON & OBJET PARIS 2023: 'FANTAISIE'
Published by Sugar & Cream, Tuesday 10 January 2023
Text and images courtesy of Greg Natale
Maison & Objet, Paris, 19-23 January 2023
Greg Natale, the acclaimed Australian designer presents his latest collections for the home alongside a selection of his signature pieces with a major exhibition, Fantaisie, at international design fair Maison&Objet.

Award-winning Australian designer Greg Natale is celebrated for his curated mix of pattern, colour and richly textured materials, conjuring maximalist spaces and exquisite objects for the home that exude elegance, verve and a flair for layering. Channelling influences from the worlds of art, fashion, architecture and music, Greg's lifestyle collection encompasses tabletop, accessories, homewares and objets d'art with expressive forms and an array of luxurious finishes.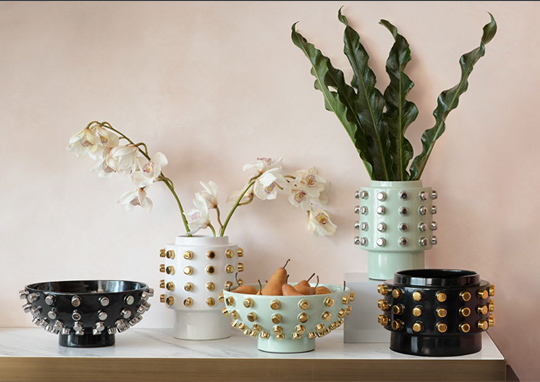 In January 2023, Greg will unveil Fantaisie, his first exhibition at international design fair Maison&Objet Paris. Fantaisie brings together three new ceramics collections—Debbie, Visage and Billy—as well as the designer's latest series of sculptural stone pieces, Onda. The show also introduces stylish additions to Greg's brass accessories and crystal glassware collections, including the Aristotle candle holder, Blitz bookends and Boule bowl, alongside other highlights from his existing range.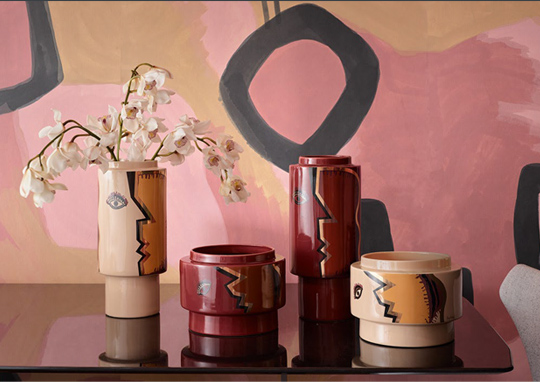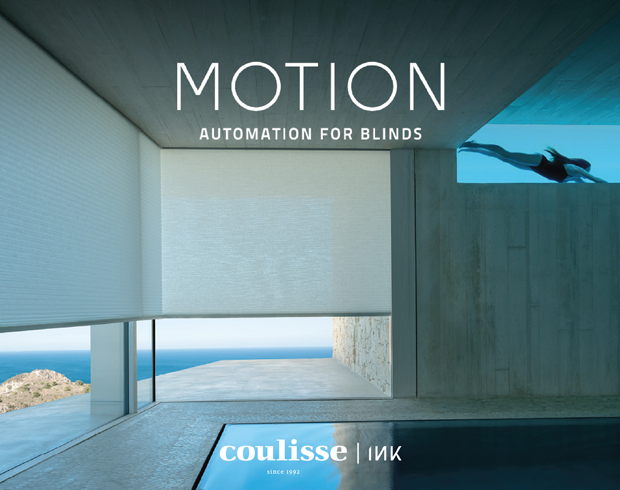 Presented by Coulisse | INK
The exhibition's bold and evocative scenography presents a fantasyscape of geometric volumes, sculptural archways and trippy trompe l'oeil effects in a moody palette of charcoal and bordeaux. A graphic mural peeks through the stand's Escher-like architectural cutouts, echoing the Visage collection's painterly face motifs. The result is a cool, club-like atmosphere enlivened by imaginitive flourishes and playful nods to the 1980s art and music scenes that informed many of Greg's new designs.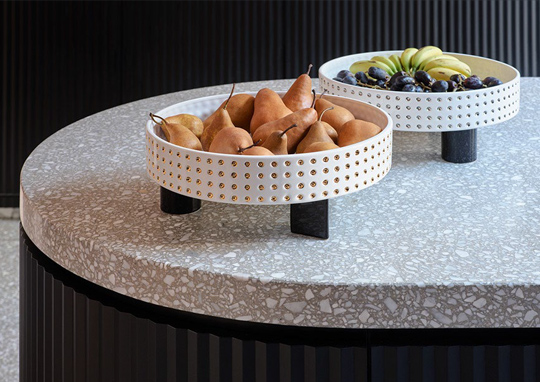 "I was inspired by the incredible intersection of art, fashion and music that emerged from the underground club scenes of the 1970s and 80s," says Greg. "Many of my new ceramics are named after the New Wave superstars of that era."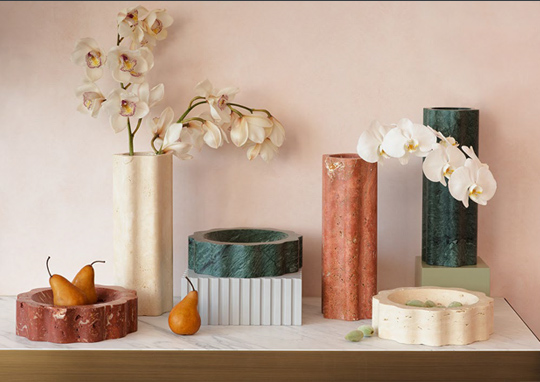 Fantaisie invites visitors to experience the Greg Natale universe through a series of distinct yet complementary stories. Enriching the existing collection and offering a masterclass in layering, the new pieces are finished in the designer's trademark materials— including exotic marble and travertine, ceramic, crystal and brass—balancing a sense of cool cohesion with dynamic variations in form, tonality and scale that make for appealing tableaux. Following the recent publication of Greg's third hardcover tome, The Layered Interior, with US art books publisher Rizzoli, the exhibition is a dazzling celebration of the designer's visionary style.