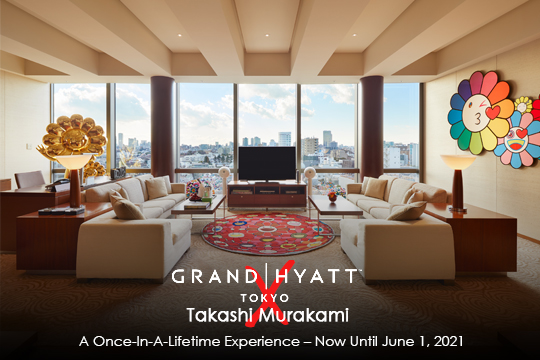 presented by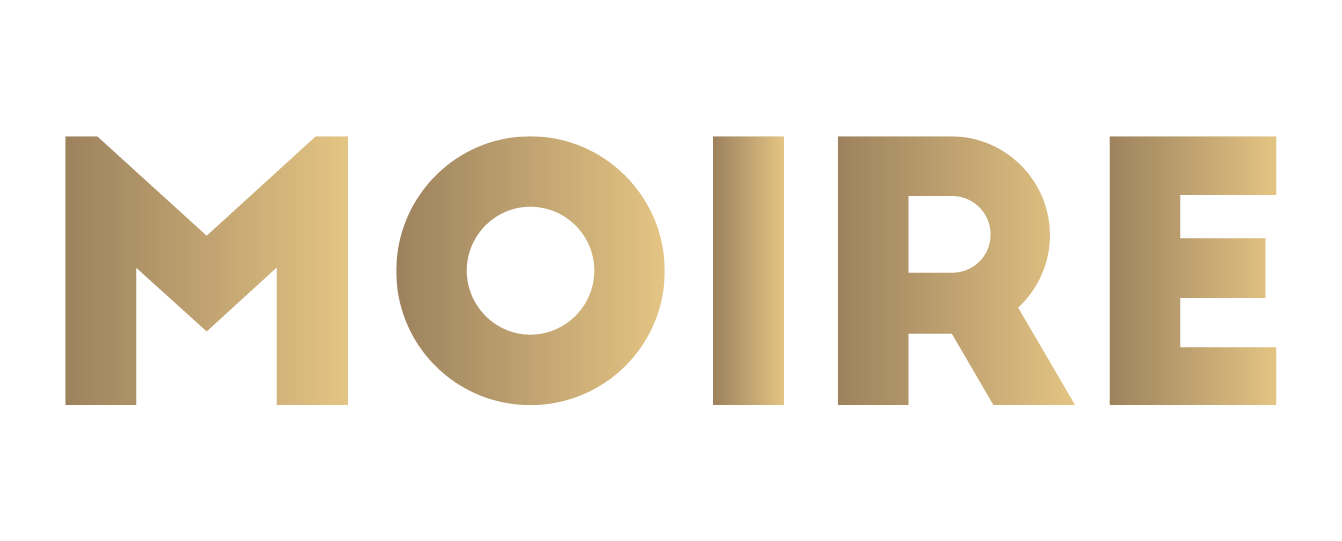 Grand Hyatt Tokyo x Takashi Murakami Flower Gallery Stay
Published by Sugar & Cream, Thursday 18 February 2021
Text by S&C, images courtesy of ©2021 Takashi Murakami/Kaikai Kiki Co., Ltd. All Rights Reserved.
A Once-In-A-Lifetime Experience – Now Until June 1, 2021
Masa pandemi ini mendorong manusia untuk terus berevolusi dengan gagasan kreatif luar biasa. Seperti yang ditawakan oleh Grand Hyatt Tokyo saat ini yaitu mengaburkan batas realitas, mimpi dan imaginer.

Living Room: Together with the Flower Parent and Child (Size: Height approx. 1,950 mm (inner pedestal 100 mm)
Tidak tanggung-tanggung menjadi pelopor pertama, hotel mewah ini menawarkan pengalaman menginap tak terlupakan seumur hidup di Suite Grand Hyatt Tokyo. Kamar Suite ini menjadi sangat istimewa karena didekor dengan 14 karya asli dan privat dari seniman ternama dunia Takashi Murakami.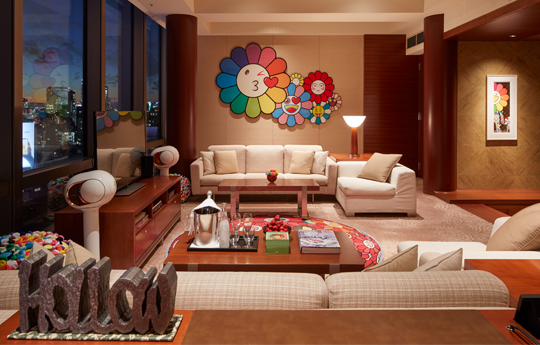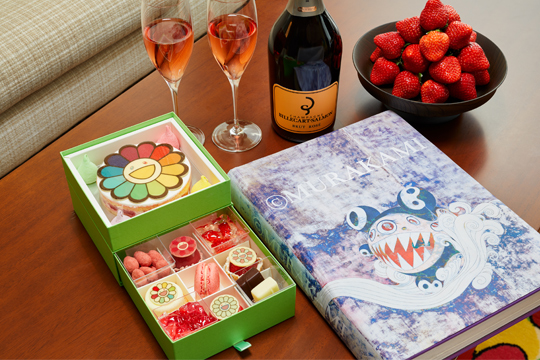 Original Flower sweets box, rosé Champagne, an autographed art book
14 karya asil yang dipajang dalam kamar suite tersebut termasuk sebuah patung ikonis 'Flower Parent and Child' berwarna emas berukuran 1.95 m.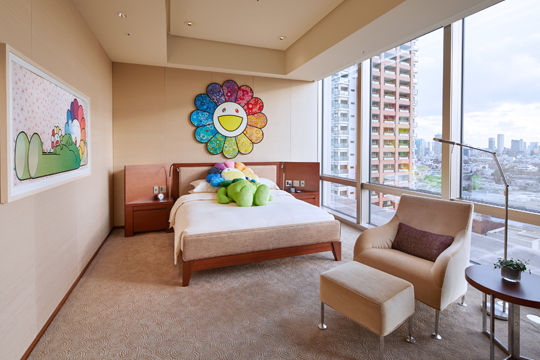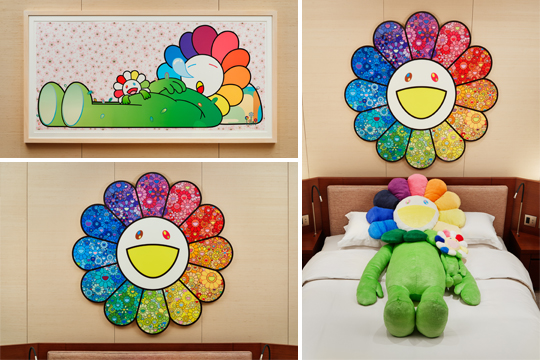 Kanan: Plush Flower Parent and Child (Size: Length 1,800 mm) / Bedroom "As you can see, it's a Flower Parent and Child stuffed animal."
Kiri Bawah: A Flower Forest
Pengalaman tidak terlupakan tidak hanya meliputi kepuasan visual dengan menikmati karya-karya menakjubkan dari seniman ternama dunia Takashi Murakami. Ada sajian-sajian dan souvenier tak terduga menambah pengalaman Anda terasa nan istimewa. Ada sajian dalam tema karya Takashi Murakami yaitu 'original Flower sweets box' dan satu bottle rosé Champagne menanti tamu istimewa dalam private suite gallery ini.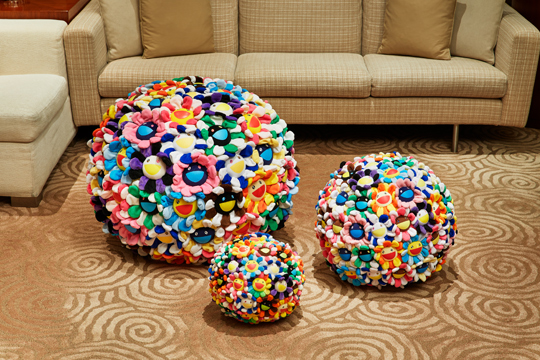 Next to TV: Plush Flowerball (600 mmφ / 400 mmφ / 280 mmφ)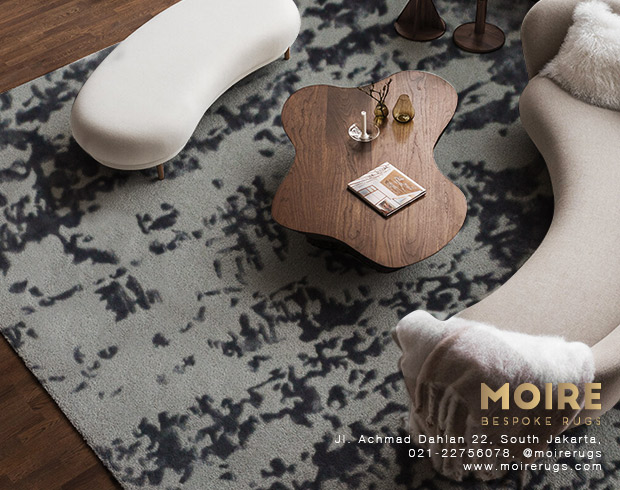 Presented by MOIRE Rugs
Sebagai pelengkap sempurna untuk menambah vocabulary artistik tamu mengenai karya-karya Takashi Murakami, sebuah buku Murakami bertanda tangan khusus seniman dan sebuah masker dan cangkir bermotif khas bunga Murakami turut menjadi hadiah tak terlupakan bagi para tamu. Kejutan tak terduga lainnya  ada opsi menghias kuku Anda dengan motif bunga tersebut.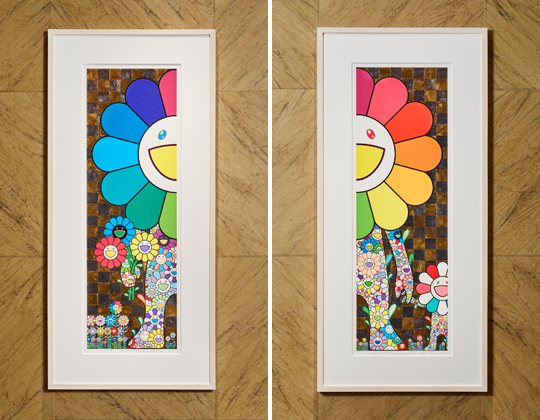 Entrance Walls : STAND UP & With Baby Flower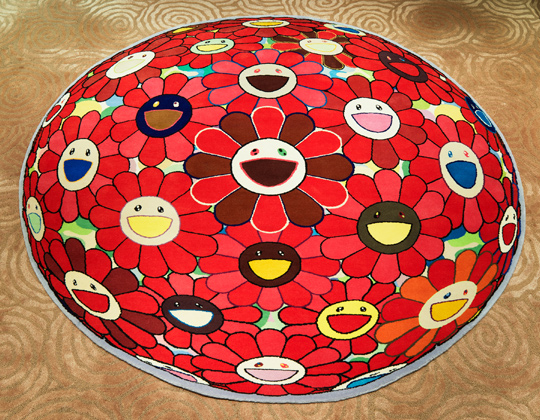 Living Room Floor: Flowerball Rug 
Tertarik dengan pengalaman tak terlupakan seumur hidup ini?  Reservasi segera melalui Grand Hyatt Tokyo.


Kiri Atas: HOLLOW (Size: Height 187 mm x Width 385 mm)
Kiri Bawah & Kanan: Flower Parent and Child
"This iconography was the first image of the Flower Parent and Child that came to me as an inspiration in my head."
"When I started to travel around the world and stay at hotels, I noticed that there were always works of art exhibited at Hyatt hotels, starting in the entrance area and all the way into individual guestrooms. I remember thinking, 'Oh, I see there is a need for art in this kind of context.' It was different from the context of art with which I was working so I was fascinated. I wanted to try dipping into such a world, but I couldn't find the entrance, and there was just no way in. So I am happy to have such a special opportunity to display my work in a hotel room, and make my long-held dream come true," Takashi Murakami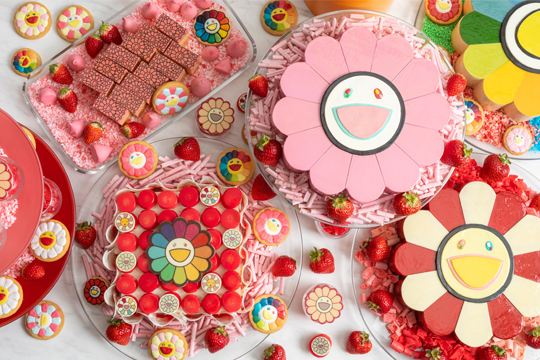 Takashi Murakami Flower Strawberry Afternoon Tea at. The French Kitchen
Kesempatan terbatas ini hanya berlaku hingga 1 Juni 2021 dan hotel hanya bisa menerima 1 reservasi perharinya.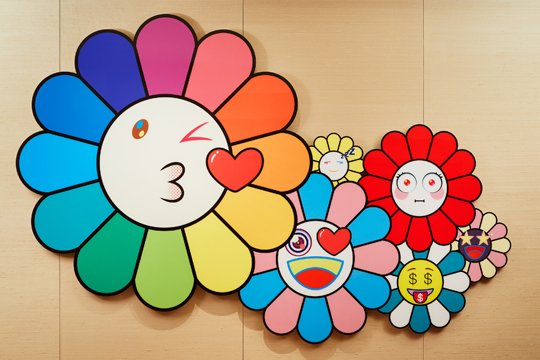 Living Room: Flower Emojis