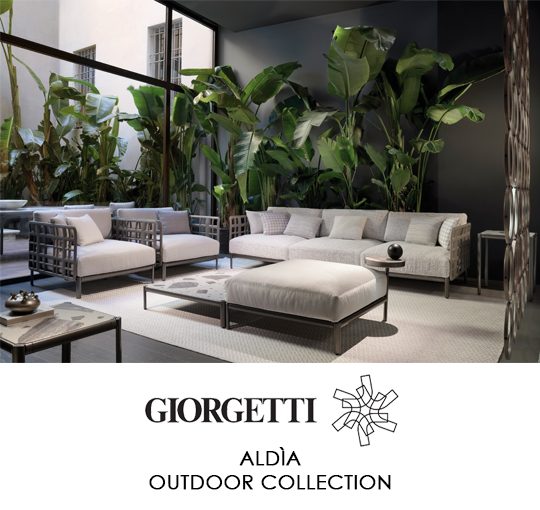 presented by

GIORGETTI PRESENTS ALDÌA OUTDOOR COLLECTION
Published by Sugar & Cream, Monday 21 March 2022
Images courtesy of Giorgetti
The Elegance of Interiors Conquers the Outdoor
There's a charm about spring because the atmosphere and ambiance are perfect for enjoying the outdoors! Dan, outdoor collection terbaru dari Giorgetti rancangan Carlo Calombo, memenuhi semua kriteria tersebut. Craftsmanship dan teknologi terkini bergabung dalam proses produksi demi menyempurnakan sistem furnitur pada Aldìa Collection ini yang bisa digunakan untuk indoor maupun outdoor.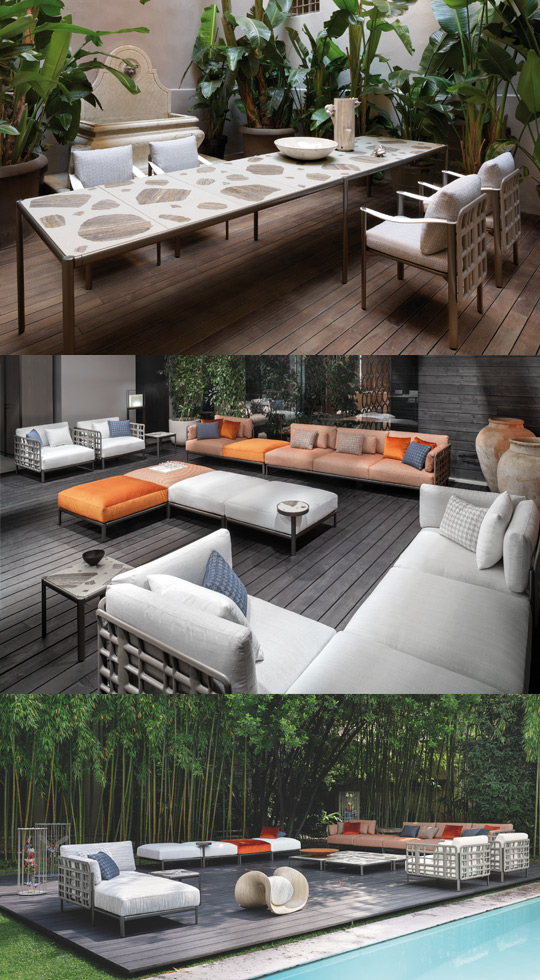 Rangkaian armchair, sofa modular, pouf, meja, dan coffee table menaklukkan ruang, mendefinisikan suasana dan memberi mereka pengalaman sensorik ketika "tinggal" di dalamnya. Sebuah permainan 'jendela' asimetris mencirikan sandaran di kayu lapis birch dari kursi dan sofa kecil, menerjemahkan ide arsitektur Carlo Colombo dalam skala mikro.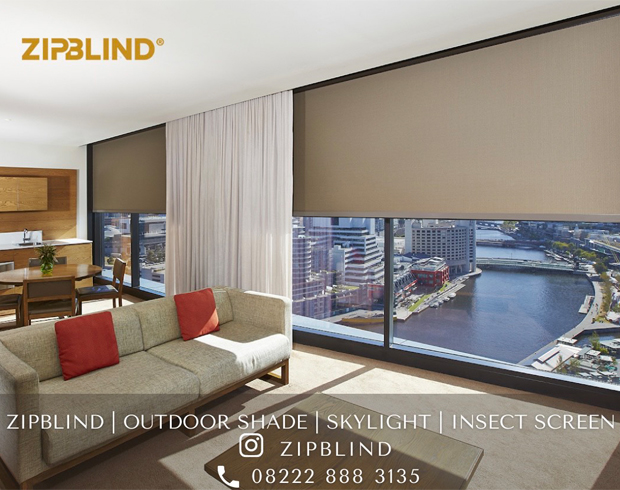 Presented by Zipblind
Lapisan kayu, dipantografikan dan kemudian dikerjakan secara manual, untuk membuat hasil akhir alami dan varian abu-abu muda yang halus, seakan tampak lembut oleh angin, dilengkapi penutup tekstil untuk 'menyebarkan' nuansa hangat matahari terbenam Karibia.  Dasar logam yang dilapisi timah ringan membuat kursi versatile sehingga cocok untuk ditempatkan dalam konteks yang paling beragam.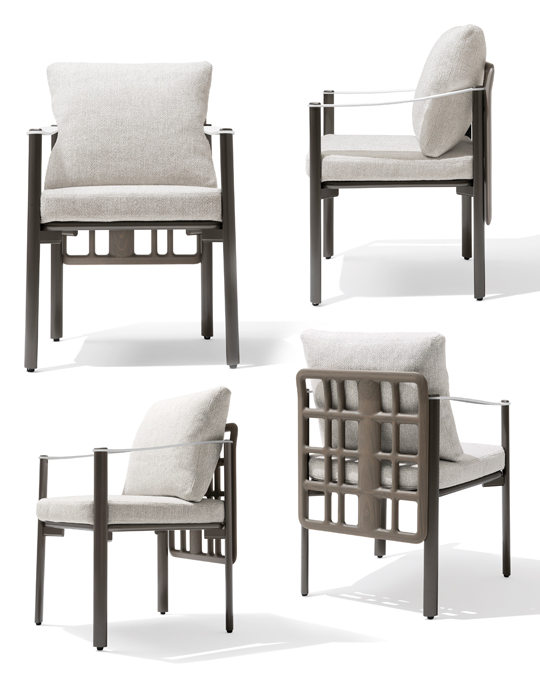 Armchair kecil dilengkapi sandaran tangan yang terbuat dari karet EVA, polimer anti air, ideal untuk penggunaan di luar ruangan, tersedia dalam warna putih, sand, cokelat tua, bata, biru pucat, abu-abu.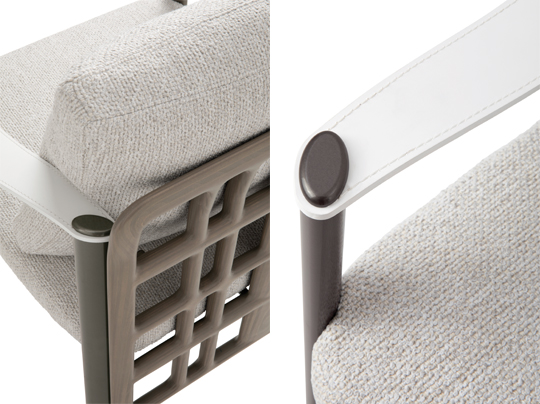 Aldìa Sofa dicirikan oleh modul yang berbeda, dengan dasar logam yang dicat, memungkinkan Anda untuk mengonfigurasinya untuk memberikan 'kehidupan' pada berbagai komposisi yang juga dapat diintegrasikan dengan elemen pendukung. Modul sofa juga dapat digunakan sebagai pouf, secara individual atau digabungkan dalam konfigurasi yang berbeda.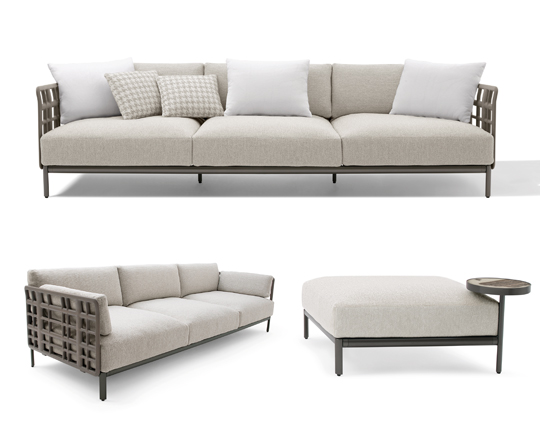 Meja dan coffee table dengan permukaan yang terbuat dari susunan pecahan marmer dan batu, mengingatkan kita pada alam leluhur. Struktur logam yang dicat dengan lapisan timah tipis membingkai bagian atas yang tersedia dalam versi Palladiana, terdiri dari fragmen marmer travertine dengan ukuran berbeda yang tertanam dalam butiran fine marble halus dan butiran halus dalam variasi tufa dan batu kapur.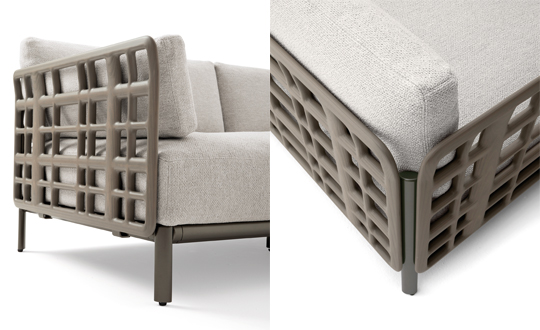 Sedangkan, Dining Table Aldìa dibentuk bentuk versi persegi panjang, dengan versi tiga panjang dan dua lebar yang berbeda, dan dalam versi persegi. Mereka juga tersedia dalam versi untuk indoor  dengan logam berlapis timah serta dengan marmer, abu, atau back-painted glass top. (DB)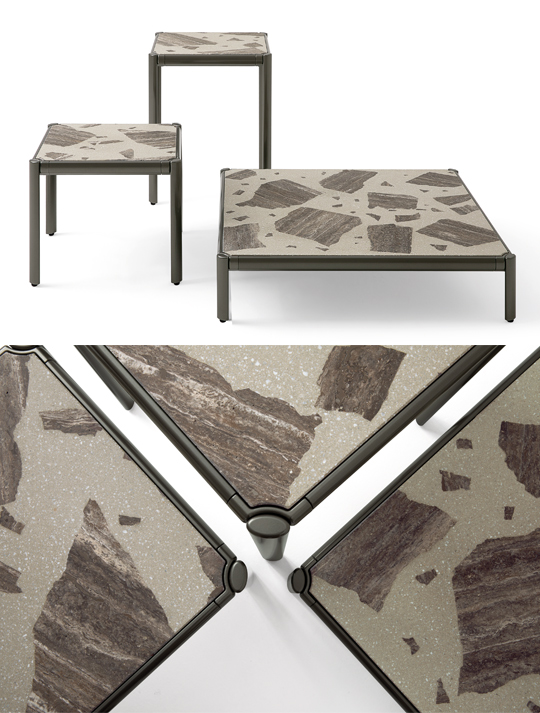 "The wood is so finely worked that it becomes irresistible to the touch: I would never stop feeling it because it gives a wonderful and sensual sensation of softness and sophisticated elegance" – Carlo Colombo –