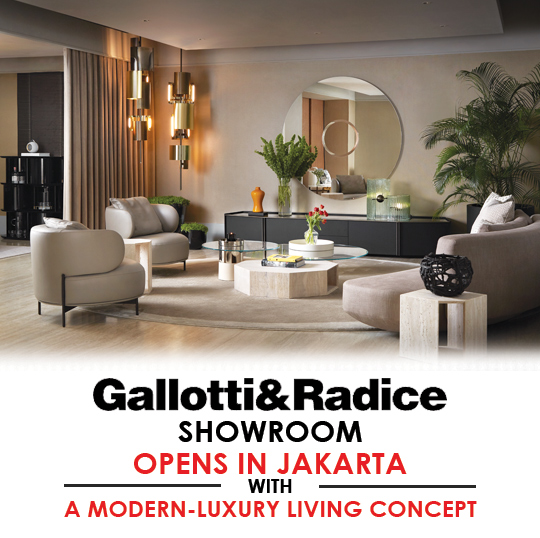 presented by

GALLOTTI&RADICE SHOWROOM OPENS IN JAKARTA WITH A MODERN-LUXURY LIVING CONCEPT
Published by Sugar & Cream, Wednesday 20 September 2023
Images courtesy of Prodotti Indonesia, photography by Melanie Tanusetiawan.
A "Made In Italy" – A Touch Of Modernity And Sophistication Brought By Prodotti Indonesia
Kualitas furnitur buatan Italia memang tidak diragukan lagi. Sering kali slogan "Made in Italy" menjadi nilai tambah tersendiri pada furnitur. Hal ini tidak lepas dari bagaimana industri mebel Italia sangat serius melakukan inovasi, pengembangan produk, dan juga teknologi baru. Seperti Gallotti&Radice yang sudah berdiri sejak tahun 1955 hingga kini tetap fokus menciptakan koleksi furnitur yang mengekspresikan cita rasa kehidupan kontemporer Italia. Bahkan Gallotti&Radice kian mendekatkan diri dengan pasar internasional, salah satunya di Indonesia dengan membuka showroom perdananya di Prodotti Indonesia, Jakarta Selatan.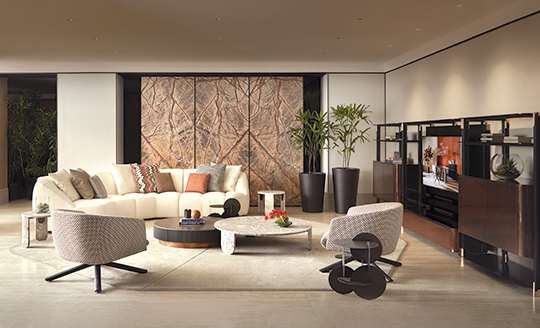 Gallotti&Radice is officially available at Prodotti Indonesia, Contact: 0811-8113-7333 (WA) or www.prodotti-id.com.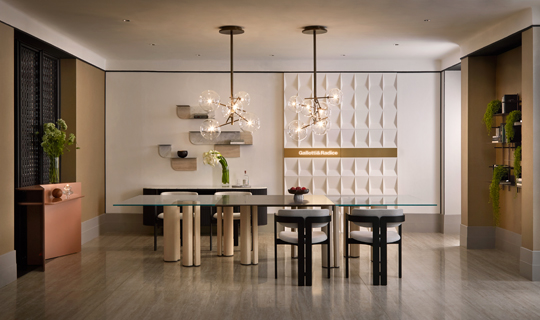 Berawal dari duo founder, Pierangelo Galloti dan Luigi Radice, mendedikasikan produksi Gallotti&Radice pada dekorasi berbahan kaca yang menjadi DNA-nya. Kemudian merambah ke produk lighting fixture, furnitur, dan cermin yang tidak hanya menggunakan kaca namun juga material berkualitas lainnya. Di tangan generasi kedua, Silvia Gallotti, jenama furnitur mewah ini terus mengikuti perkembangan trend dengan menonjolkan sisi feminin, subtleness, dan gentle attitude yang mampu membuat hunian menjadi sebuah homescape ideal dan sempurna.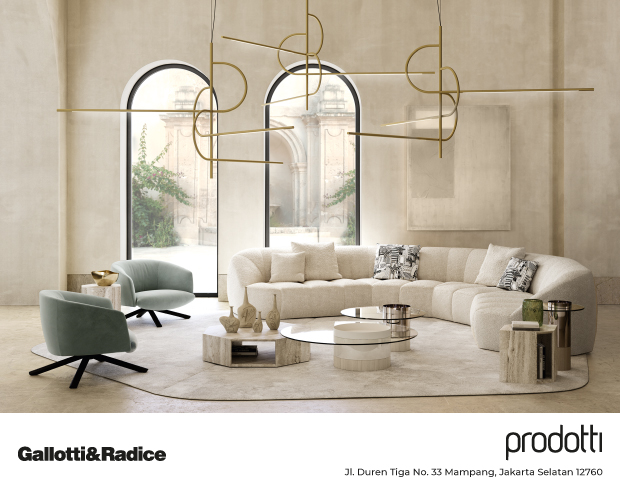 Presented by Prodotti Indonesia
"We are honored and very happy with the first Gallotti&Radice showroom in Jakarta, Prodotti represents the best brands in the luxury furniture market. We know their expertise and their excellent knowledge of the high-end furniture market, and they are obviously a reliable partner," Silvia Gallotti, CEO Gallotti&Radice. 

Showroom perdana Gallotti&Radice di Prodotti Indonesia menampilkan gabungan koleksi furnitur terbarunya dengan beberapa koleksi konis dengan desain clean elegance yang mengedepankan elevasi kenyamanan. Showroom seluas 200 m² ini terbagi menjadi lima bagian dengan konsep 'the true living'.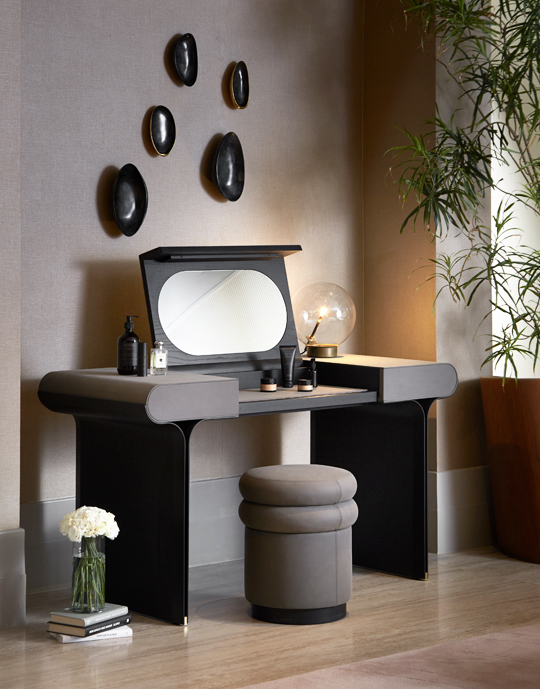 Dimulai dari ruang tamu diisi oleh sofa Cloud berbentuk puffy yang lembut dilengkapi TV cabinet besar dengan finishing glossy. Ditengah ruangan terdapat tiga kombinasi coffee table, yakni Nori, Clemo, dan Monete, dengan bentuk bulat kontemporer. Ruang ini memiliki garis-garis tegas yang membuat nuansa ruangan lebih formal.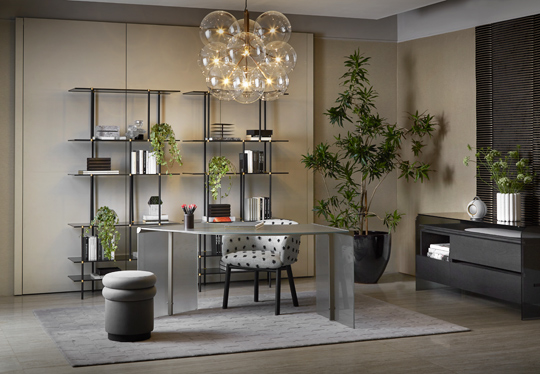 Beranjak ke dining room, terlihat meja makan Simpodio dengan material kaca sebagai top-nya dipasangkan dengan armchair 0414 berstruktur kayu. Armchair dengan desain melengkung ini merupakan best-selling product dari Gallotti&Radice. Item lain yang juga banyak diminati adalah series lampu Bolle yang tersedia dalam berbagai bentuk, ada hanging lamp, wall lamp, table lamp, hingga floor lamp. Lampu Bolle ini juga menghiasi area bed room yang memiliki tempat tidur Yuki dengan adjustable headboard dan dilengkapi USB charger.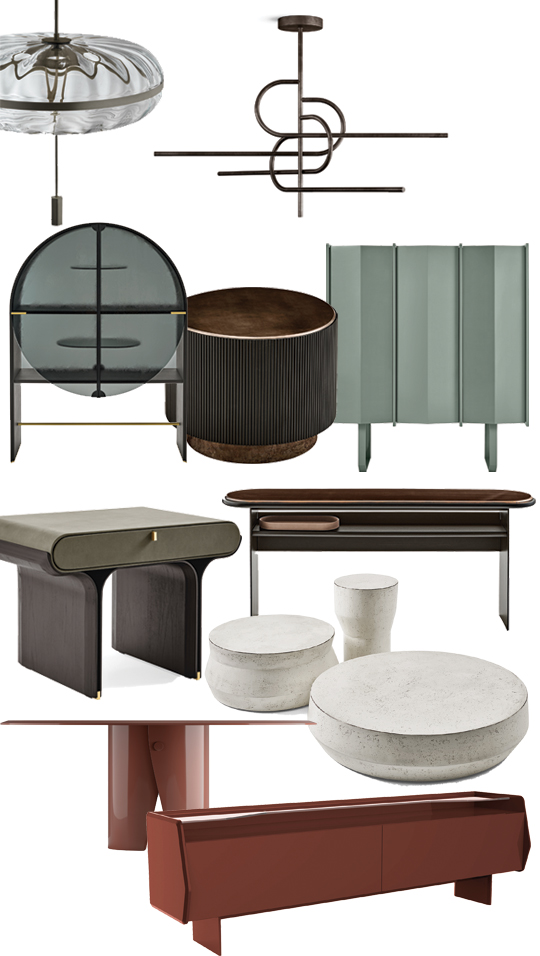 Jolie scura | Key to Heaven | Soda frontale | Nori | Diedro freestaning | Stami Night trequarti | Sensei Console | Drummers | Manto frontale Bordeaux-Etruria | Gastone Bordeaux-Etruria
Di sisi lain ada area living room yang didesain lebih santai dengan garis-garis lengkung yang fashionable. Seperti kehadiran sofa Audrey dengan dua bantalan sandaran nyaman yang dipasangkan dengan rangkaian coffee table Haumea yang estetis. Ditambah sideboard Hide&Seek berstruktur setengah lingkaran yang glossy membuat area ini semakin dinamis. Sedangkan work area dilengkapi oleh meja President dari material tempered glass super ringan dengan finishing "crisscross gold" yang terlihat mewah.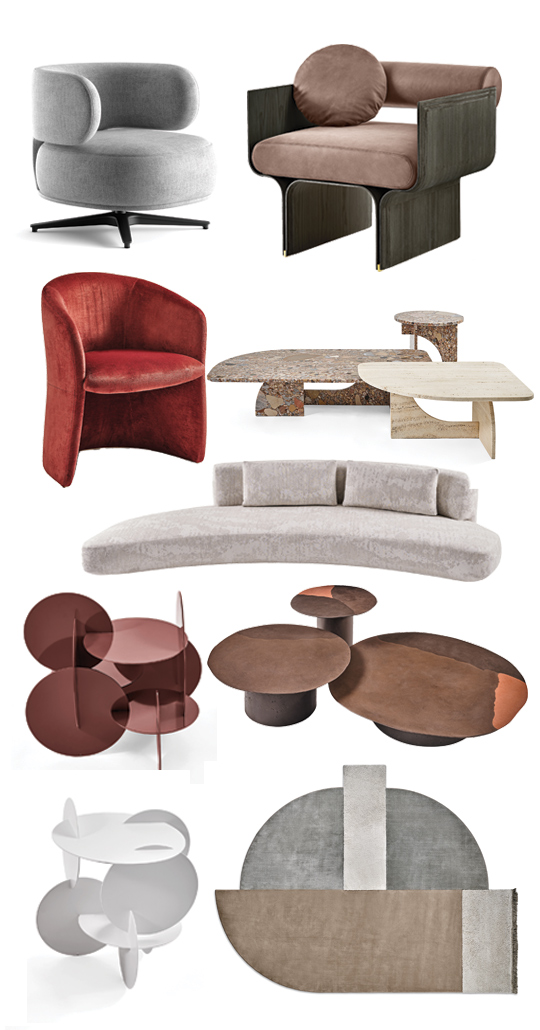 Akiko girevole | Stami Lounge trequarti | anette | Selce | Audrey | Monete | Re-verre | Metaphores
Kombinasi sempurna dari tradisi, craftsmanship, dan inovasi terknologi menciptakan koleksi Gallotti&Radice yang unik, subtle dan timeless. Galotti&Radice dirancang untuk memanjakan diri dalam kemewahan hidup yang lembut dipenuhi ritme emosi dan juga passion. Di mana kaca, kuningan, kayu, dan kain merupakan karakter sentral yang menyatu pada lanskap sekitar. Seluruhnya diadaptasi dan melebur menciptakan koleksi menarik, bernada elegan, mewah dan selaras dengan gaya hidup modern yang digaungkan label ini. (FE)