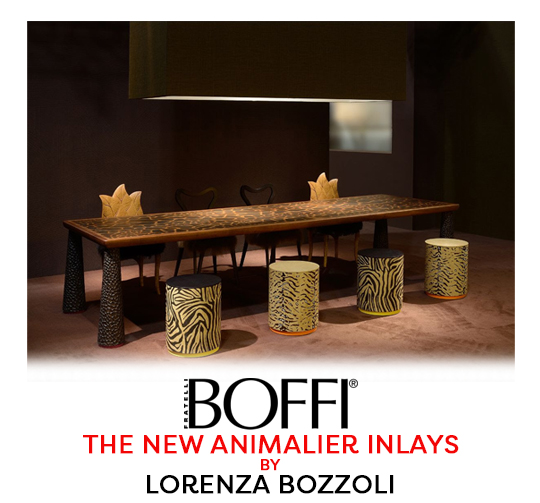 presented by

FRATELLI BOFFI – THE NEW ANIMALIER INLAYS BY LORENZA BOZZOLI
Published by Sugar & Cream, Monday 17 July 2023
Images courtesy of Fratelli Boffi
Masai Table, Kivu Mirror, Tribo Pouf, Wild Back Sofa, and Getir Coffee Table
Ethnic details and animalier decorations characterize the new collection designed by Lorenza Bozzoli where the absolute protagonist is the inlay.
Wild – sofas
Wild is a collection of unconventional-looking sofas with a soft shape, harmonious and slightly transgressive lines, whose hallmark is casual elegance.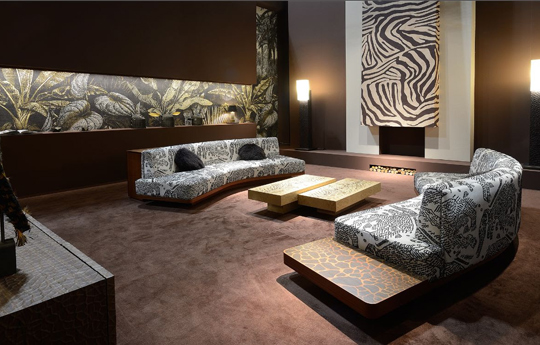 Wild is available in two different versions: Wild Side extends into the base to design a side table with a veneered top with a giraffe spotted inlay made of bois de rose and bois de violette. Wild Back instead, is complemented at the back by a geometric wooden storage cabinet with two hinged doors, both veneered superficially with the same incredible giraffe spotted inlay.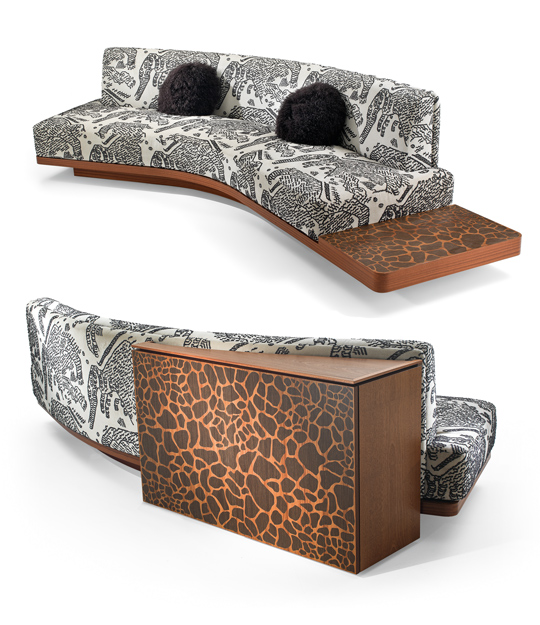 The upholstered elements are covered with a rich jacquard velvet that offers an enigmatic show in its decoration: midway between a depiction of tigers and a cartography of unknown places. The design is open to subjective interpretations and complements Wild sofas with a strong personality. Wild can be customized with all the inlays and coverings of the collection.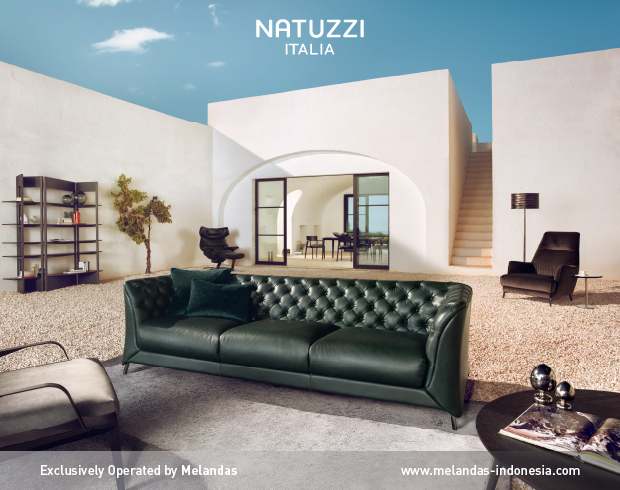 Presented by Melandas Indonesia
Masai  – table
Masai  is a wooden dining table with large dimensions, strong visual impact and very decorative. Reminiscences of the 1980s characterize the geometric design of this table where the rectangular top, decorated with an extraordinary inlay reproducing the spotted coat of a giraffe, is supported by four truncated cone-shaped legs finished with a a particular chiselled workmanship that accentuates its natural irregular appearance. Masai is a table that blends luxurious animalier decorations, a motif transcending fashions and eras, with deco workmanship typical of the 1930s. The table top, over 3 metres long, is inlaid with bois de rose and bois de violette essence and finished with a solid mahogany frame. The legs in Canaletto walnut, with a total dark color finish, end in a purple lacquered backstop that completes the natural tones of this unique table with a touch of irony and colour.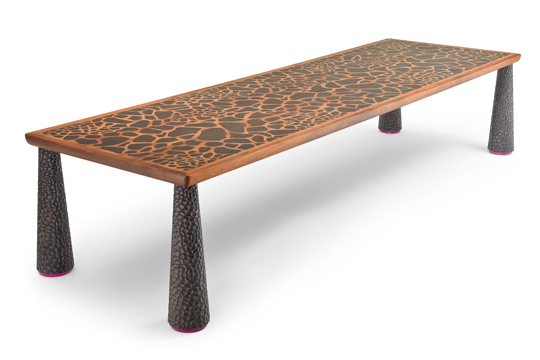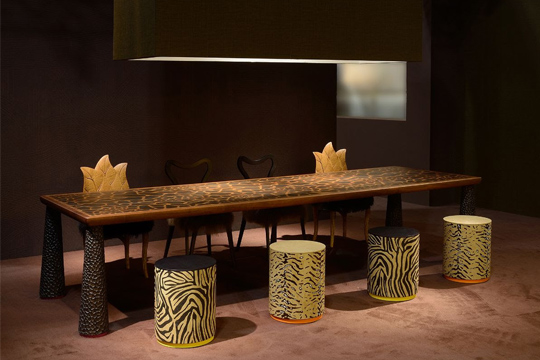 Triboo – stool
Triboo is a family of stools, extremely simple in their design but with a strong aesthetic impact. This pair of curved wooden stools is in fact entirely veneered with extravagant and eccentric animal decor inlays, in stark contrast to the linear geometry of the stem, designed as a cylinder, dry and discreet. The stool is offered with two different decorative themes: Triboo Tiger has an inlay that reproduces the mimetic coat of a tiger made of oak, bleached maple and fine madrona burl, an antique wood with a compact texture, and is complemented by vivid pastel orange lacquer details. Triboo Zebra is instead covered with an inlay inspired by the black and white striped zebra coat, made of black-stained carbalho wood and madrona burl, and completed with zinc yellow lacquered details.

Kivu – mirror
Kivu is a rectangular mirror with a massive and strongly decorative frame. Made of solid wood, Kivu's frame is in fact entirely veneered with inlay inspired by the black and white striped zebra coat, made of black-stained carbalho wood and madrona burl. Very geometric and linear in its form, Kivu excels in the refined inlay work applied to the solid wood frame with a meticulous 'folding' technique that wraps around the frame like a box, creating a precise continuity of design on all sides.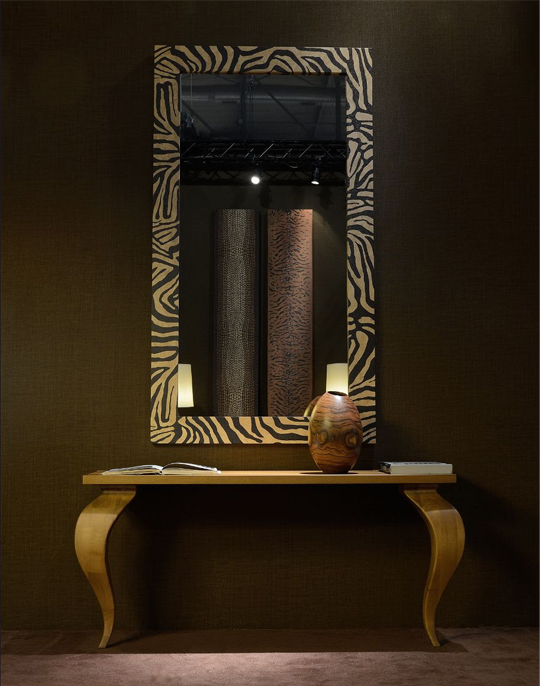 A bronzed mirror plate is mounted inside the frame to harmoniously accompany the colours of the inlay. Kivu is a fascinating object that finds a place in different environments, both in the living and sleeping areas, adding an impressive decorative touch.
Getir – coffee table
Getir is a rectangular coffee table in front of the sofa with a strong geometric component and strong volumes. Getir is a contemporary piece of furniture with a sleek design and a large storage surface, made of wood and entirely veneered. The top is decorated with an inlay reproducing the mimetic coat of a tiger made of oak, bleached maple and fine madrona burl, while the rest of the volume is clad in madrona burl. The recessed base lifts and lightens the strictness of the monolith. Getir is an informal coffee table in its design but highly decorative in its finish; it fits into the living environment by contrasting its sharp geometries with the soft curves of the Wild sofas.