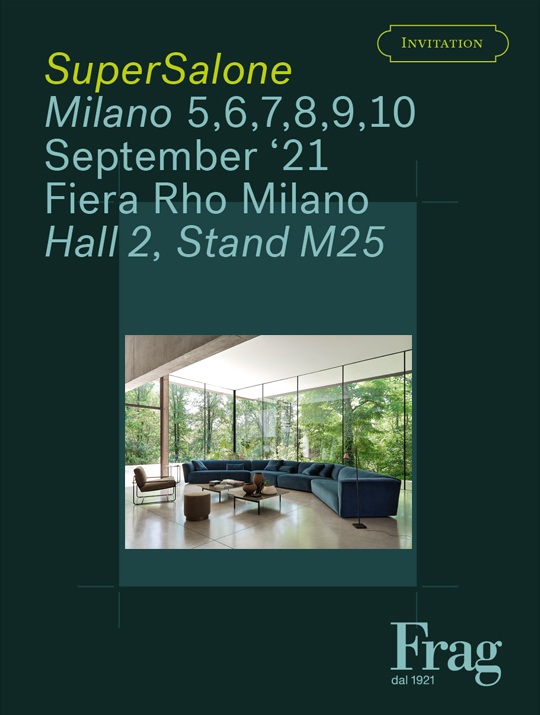 presented by

FRAG'S PREVIEW AT 'SUPERSALONE' (SALONE DEL MOBILE.MILANO 2021)
Published by Sugar & Cream, Monday 30 August 2021
Text & images courtesy of Frag
Gast Sofa, Quattro Family, Twin Mirrors
The introduction of the 2021 Collection will enter its third stage at the 2021 Salone del Mobile exhibition, this year known as Supersalone, with the official launch of the new modular version of the Gast sofa. Frag will participate in the event being staged in the Milan Rho Fiera pavilions by introducing new products included in the catalogue in recent months and revealing, for the first time, the modular version of the sofa conceived by the Guatemalan designer Luis Arrivillaga. The company is expanding its collection with a unique product that is notable for its expressive form and spatial articulation.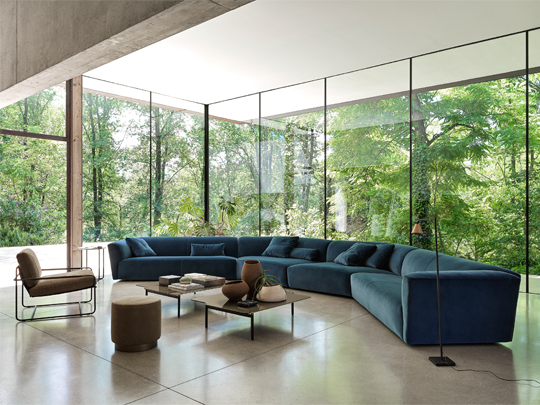 Frag – Gast – Luis Arrivillaga 
In 2020, Luis Arrivillaga designed the first Gast project, a sofa originally offered in two stand-alone versions that added further personality to the range of couches in the Frag catalogue. The warm and welcoming Gast sofa combines a spirit of classic inspiration, reminiscent of early 1900s sofas, with the ironic tone of 1960s upholstered furniture, reinterpreted in contemporary style. The new modular version of Gast strengthens the commitment to create a sofa of classic aesthetic appeal updated with highly contemporary modules and forms. The new modular elements of Gast transform it into a multifunctional object that is ideal for moments of conviviality and relaxation.
It offers the multiple possibilities demanded by the latest trends in interior design, which visualise the sofa as a complex and customisable compositional system in the landscape of interior space, whether residential or contract. Gast supports these trends by focusing on two principal features: sophisticated design and proportions, plus abundant compositional and geometric variability.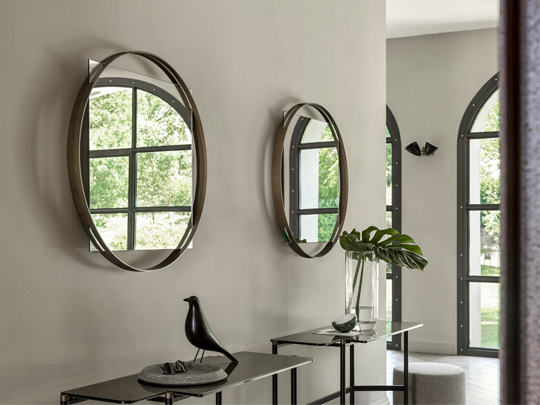 Frag – Twin by Michele di Fonzo + Arita consolle by Luis Arrivillaga
The number of elements available – linear end pieces, chaises longues, as well as special end modules with original trapezoid shapes, chaises longues with curved seats, and a special padded armrest that can be positioned centrally or laterally – create a flexible system from the compositional point of view: from the simple stand-alone linear sofa to more complex compositions with particular angular and asymmetrical geometries capable of breaking the typical linearity of sofas with strongly contemporary lines that impart a dynamic ambience.
The remarkably original compositional elements of Gast provide great potential for project planning, aggregation and versatility, offering dynamic and contemporary possibilities, with some modules conceived as stand-alone pieces. The trapezoidal end piece, for example, can be used independently as a dormeuse with a strong personality that can enhance its surroundings.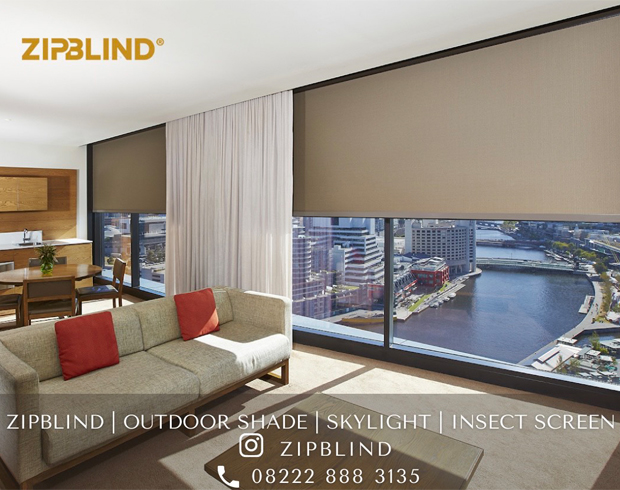 Presented by Zipblind
Both in the stand-alone linear version and the new modular version, each element of Gast has a single seat and back cushion, and can be upholstered in either leather or fabric. Refined and informal at the same time, its compact design gives it a distinct but unobtrusive sense of comfort that equips it for use in domestic and contract contexts.
In the first stage of the introduction of the new 2021 Collection, the principal role is taken by the Quattro family, designed by the Italian-Japanese Mist-o studio, a coordinated range of poufs and accent tables whose leitmotif is represented by the curved metal tubing of the base, which dialogues in balanced contrast with the seat cushion and support surfaces. Quattro pouf features a generously padded multi-layer seat that invites relaxation. The design of the padded seat gives it the appearance of a decorative cushion suspended in thin air on a light and minimal supporting structure of curved metal tubing. With a single-seat box cushion that can be upholstered in leather or fabric, Quattro pouf can serve perfectly as a stand-alone furniture item.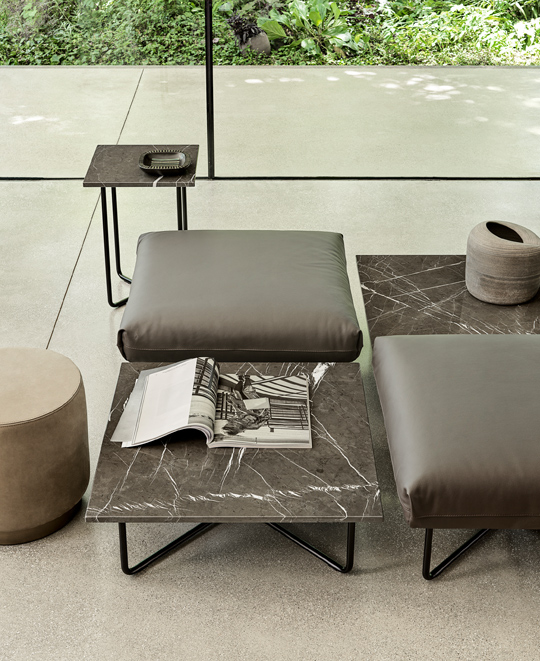 Frag – Quattro pouf and coffee table – Mist-o 8
To complement and enhance the pouf's personality, the two designers have also designed Quattro occasional table, a series of accent tables that feature the same tubular metal base as the pouf, supporting a simple and elegant top of marble or metal. Quattro occasional table is available in two versions with different table tops, with heights of 26 cm and 55 cm.
In the second stage, however, the leading role has been claimed by the Twin family of mirrors designed by Michele di Fonzo and brought to fruition in collaboration with Frag's Research and Development department.
The Twin family contains two mirrors of different designs and sizes that employ simple circular, oval and rectangular geometric shapes to embellish and update a traditional look with a sophisticated touch. This mirror collection has a stylishly delicate brass frame that offers graceful support to the mirrors and recalls the elegance of the 1950s. The frame design leaves space between itself and the mirror glass, creating a look of light and airy refinement.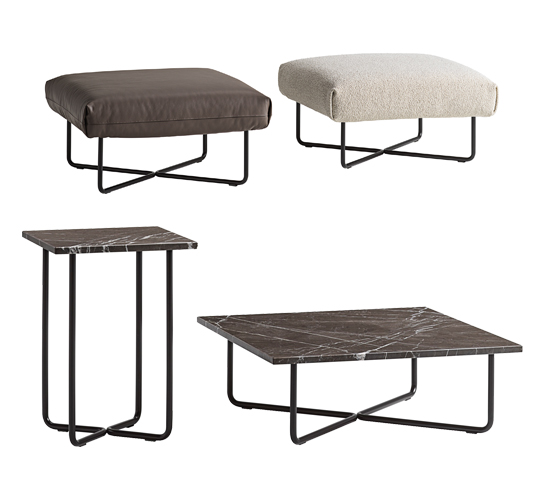 Frag – Quattro pouf and Quattro CT – Mist-o 8
Twin One is a wall mirror consisting of a round frame that encloses and supports the square-shaped reflective surface. The interplay of geometries defines the boundaries and functions of this frameless mirror. The 70 cm diameter Twin One mirror is designed to be capable of synergy with geometry, symmetry and joints.
Geometric interplay also characterises Twin Duo, in which a metallic oval profile frames the rectangular mirror. A full-length mirror that is an essential living area or bedroom accessory, designed and fashioned to adapt easily to domestic and contract environments alike.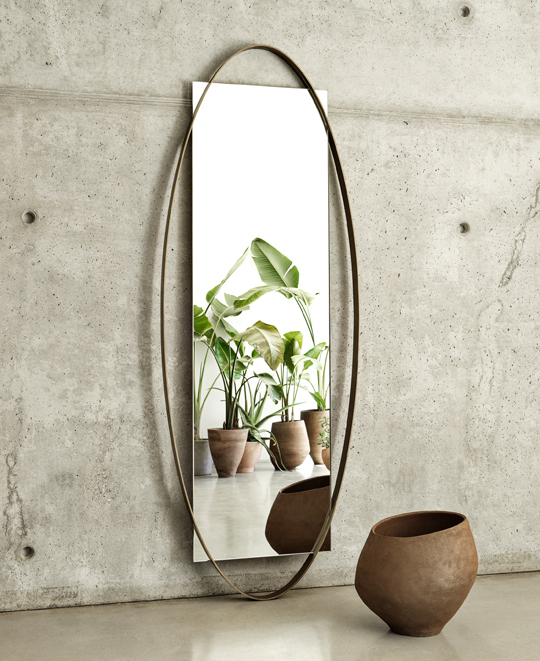 Frag – Twin – Michele di Fonzo 
The 2021 Collection illustrates the evolution and continuation of Frag's research into expanding and consolidating its coordinated range in order to offer its clients genuinely aesthetic ideas for creating an authentic living environment of contemporary refinement. The Friulian company has a hundred year history of passion and dedication – a family story of leatherworking skills handed down through the generations – and from its earliest days has succeeded in building a furnishings catalogue that clearly demonstrates the authenticity and quality of Italian know-how.