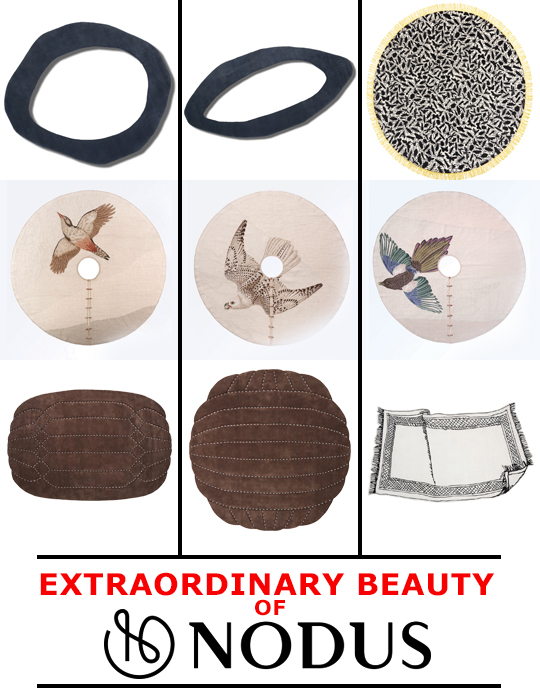 presented by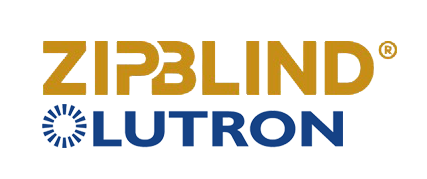 Extraordinary Beauty of Nodus Rugs
Published by Sugar & Cream, Tuesday 23 March 2021
Text by Dinda Bestari, Courtesy of Nodus Rug
Exclusive Handmade Collection
What happens when craftsmanship and beauty meet? Of course, an extraordinary design was born! Jika selama ini kita mengenal permadani/rugs dalam bentuk yang monoton, maka kali ini coba tengok elevasi estetis yang berbeda dengan Nodus. Jenama asal Italia ini, menyuguhkan koleksi desainer yang menginterpretasikan keindahan dan keunikan permadani ke tingkat berikutnya.
Berikut persembahan 5 koleksi permadani unik dan ikonis dari Nodus  demi mempercantik hunian Anda:
DREAM ISLAND COLLECTION by LUCA NICHETTO
Produksi permadani Dream Island Collection yang dirancang oleh Luca Nichetto desainer asal Italia ini, dibuat by request dan handmade. Diikat dengan tangan pada alat tenun di Nepal, menggunakan material wol dari dataran tinggi Tibet yang dicampur dengan wol Selandia Baru; atau juga dapat dibuat dari sutra 100%, atau dari wol 50% dan sutra 50%. Ukuran Dream Island 1: 400 x 200 cm, sedangkan Dream Island 2 : 235×270 cm.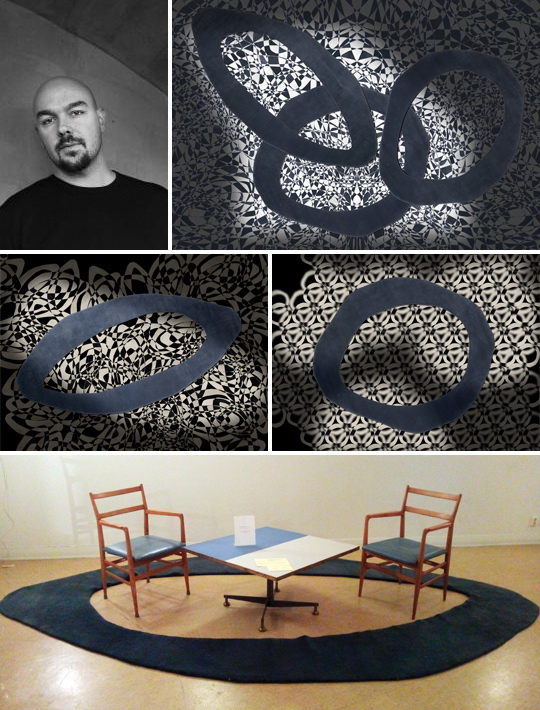 "Normally carpets go under the objects to highlight and emphasize them, so the concept here was to highlight the object through a delineated perimeter. As if we drew a line around it. A bit of fun and provocative concept from Nichetto Studio!"– Luca Nichetto
INSECTS RUGS by STUDIO JOB
Studio desain asal Belanda yang didirikan oleh dua desainer Job Smeets dan Nynke Tynagel ini, merancang permadani yang agak 'nyeleneh' untuk Nodus. Studio Job menciptakan Insects Rugs  menggunakan teknik rajutan tangan dari wol yang memikat, dan inspirasi desainnya dari kebiasaan serangga yang berkerumun.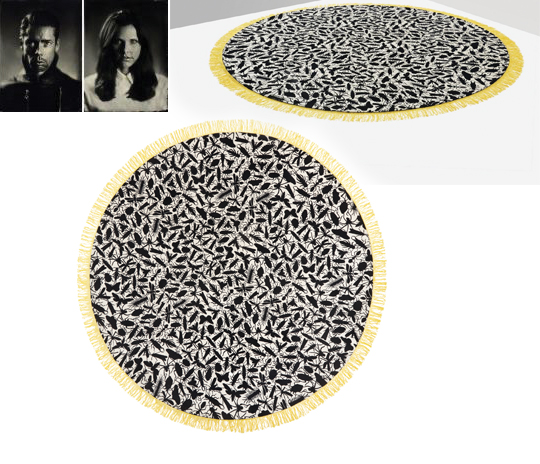 "Originally designed in 2003, the humorous and cartoonish 'Insects' pattern by Studio Job has been applied to a number of products and projects, including tea towels, fashion, jewelry, upholstery, pillows, wallpaper, tiles, cups, car wrapping, and bronze reliefs. For the first time, the iconic pattern is now presented as an ironic rug. Not just any rug, the softest, fluffiest, hand-knotted rug. There is no need to wear your shoes when standing on these insects."
– John Richards –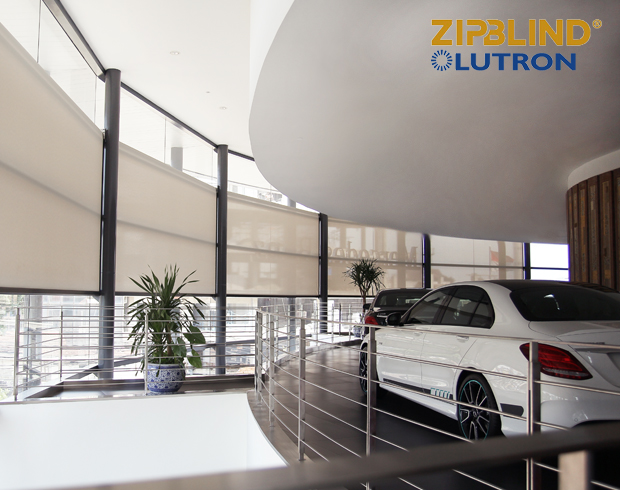 Presented by Zipblind
MIGRATION RUGS by FORMAFANTASMA
Andrea Trimarchi dan Simone Farresin membentuk Studio Formafantasma  –  dua desainer Italia yang berbasis di Eindhoven, Belanda  – menciptakan koleksi permadani yang anggun terinspirasi dari burung. Koleksi yang dinamakan Migration ini, menampilkan desain geometris dari tiga seri burung  – Elang, Magpie, dan Robin  –  yang seperti terjebak pada saat terbang di permukaan permadani. Permadani tersebut disusun sebagai ''rompi domestik'' berskala besar berbahan wol dengan finishing kancing dari kayu ek. Migration terlihat pada kekhasan teknik sulaman yang digunakan baik dengan produksi permadani sulaman tradisional Portugis di Arraiolos.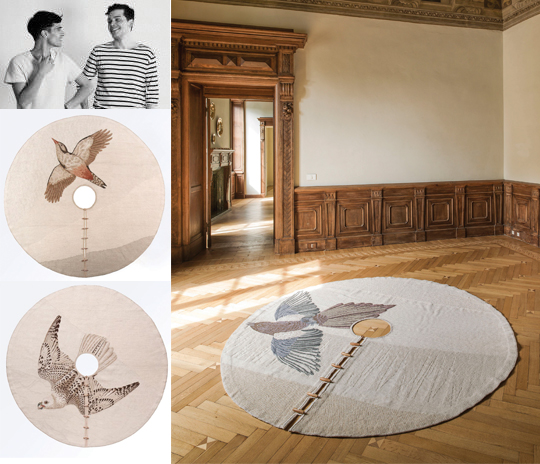 "With MIGRATION, Studio Formafantasma seems to suggest a new type of romanticism, more wild and liberating, expressing one of the most ancient of human desires: to migrate towards new and unknown places, maybe just laying down on beautifully embroidered feathers."– Studio Formafantasma
PADDED RUGS by FäRG & BLANCHE
Didesain oleh studio asal Swedia,  Färg & Blanche yang spesialis desain furnitur, merancang Padded Round  dan Padded 'Oval yang merupakan hasil pemikiran mereka dalam ''memanipulasi'' bahan. Dengan demikian, permukaan datar permadani ditonjolkan oleh detail jahitan yang lebar berwarna kontras. Eksperimen yang menyenangkan ini menciptakan efek quilting  serta menciptakan volume baru dengan orientasi yang diberikan pada teknik tailoring – nya. Koleksi ini juga hadir mewarnai Nodus Collection di Salone del Mobile 2019 lalu.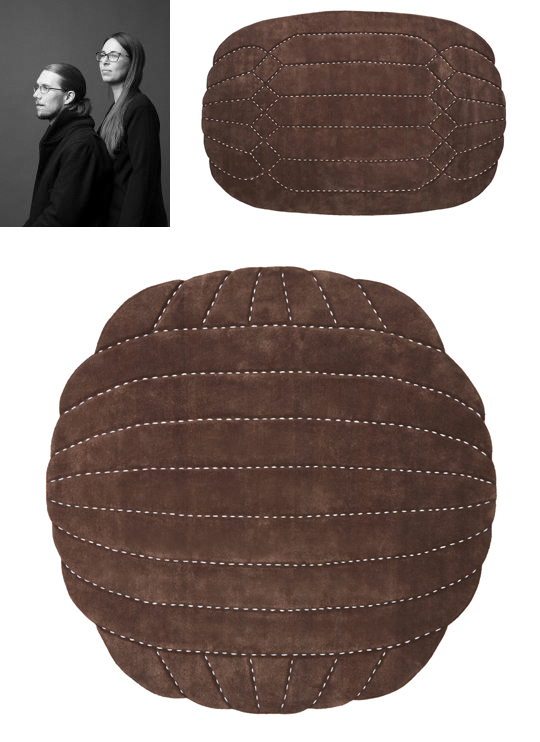 "The PADDED carpet comes in two shapes; the stitches allow to maintain the shape of the material and create a quilting effect. We wanted to have this play with volumes, like when we make furniture and the stitch creates a tension, pressing down the textile in the padding and revealing blown up area. We love to experiment with material in our studio we have a large workshop where we can work hands-on and make prototypes. Textiles have always been one of the materials we love the most to experiment with, it comes from our interest both in the craft of tailoring and fashion in general. In the beginning, the textile is a flat surface, but then when you begin to manipulate it, it takes form through stitching; quilting and volumes begin to take shape… and that is fascinating. During the years we also have been experimenting with what we call extreme stitching, using other flat material that is normally not made for it, like wood and metal. We have been pushing the boundaries of what is possible to make with stitches in an industrial way."– Färg & Blanche
SHADE RUGS by FRONT DESIGN
Permadani buatan tangan dari wol dengan desain jenaka dari Front Desain yang diproduksi di India ini menampilkan aksen jumbai yang menarik. Studio desain asal Swedia, dengan tiga desainer berbakat Sofia Lagerkvist, Charlotte von der Lancken, dan Anna Lindgren, merancang Shade Rugs dengan ilustrasi sketsa dari pena dan menghasilkan permainan visual tampak 2 D padahal merupakan 3 D.  Dengan dimensi : 300 x 170 cm, dengan opsi dimensi apapun – by request.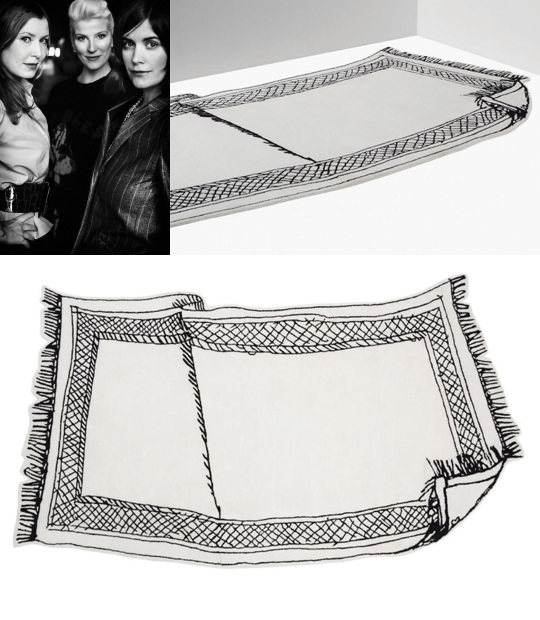 "The Shade rug is a hand-drawn carpet, that takes its shape like a materialized illustration on the floor."
– Front Design  —