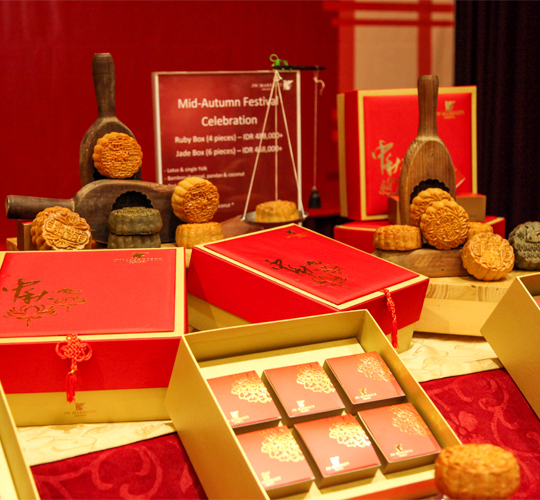 Exquisite Mooncakes – JW Marriott Jakarta
Published by Sugar & Cream, Monday 28 August 2017
Text by Auliya Putri, Images Courtesy of JW Marriott Jakarta
At Pearl Chinese Restaurant – 1 September -15 October 2017
Mooncakes atau kue bulan kembali menyapa Jakarta!. Anda bisa menikmati sensasi lezatnya mooncakes langsung dari JW Marriott Jakarta.
Merayakan tradisi kuno Autumn Festival dari masyarakat Tionghoa rasanya kurang lengkap tanpa kehadiran Kue Bulan yang dibuat sempurna untuk berbagi. Menikmatinya bersama keluarga, teman dekat ataupun kekasih rasanya akan sangat menyenangkan. Menyambut kecerian tradisi tersebut, JW Marriott menghadirkan Kue Bulan yang dibentuk dengan indah dalam enam pilihan rasa legendaris seperti White Lotus Paste with Single/Double Egg Yolk, Bamboo Charcoal with Pandan & Coconut, Red Bean, Pandan, Green Tea hingga rasa spesial Durian Snowskin.


Tersedia dari tanggal 1 September sampai 15 Oktober 2017, Anda bisa menikmati Kue Bulan ini dalam dua pilihat paket yaitu Ruby dengan harga Rp488.000++ menyediakan empat buah kue bulan besar, dan Jade yang terdapat enam buah kue bulan kecil. Kedua paket ini dikemas dalam kotak merah nan elegan yang bisa Anda temukan di Pearl Chinese Restaurant ataupun Mooncake Gallery yang terletak di area lobi hotel.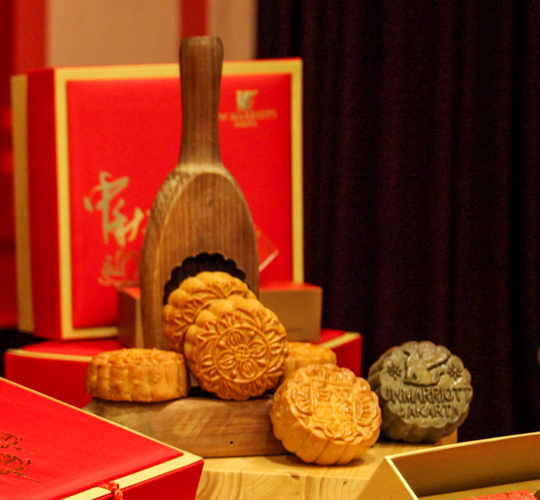 Mengingat keaslian rasa yang harus dijaga penuh, Chef Ken Choy membuat kue bulan ini dengan cara tradisional yang bebas dari pewarna makanan, perasa tidak alami, pemanis buatan ataupun pengawet makanan yang tidak baik bagi tubuh.
Sebagai pendamping lezatnya Kue Bulan, khusus di tahun ini, JW Marriott bekerjasama dengan salah satu produsen teh terbesar di Taiwan, Ten Ren's Tea. Menikmati Kue Bulan yang manis ditemani dengan teh hangat nikmat dianggap cocok sebagai padanan yang pas. Pastikan Anda tidak melewatkan penawaran menarik ini. Selamat menikmati!