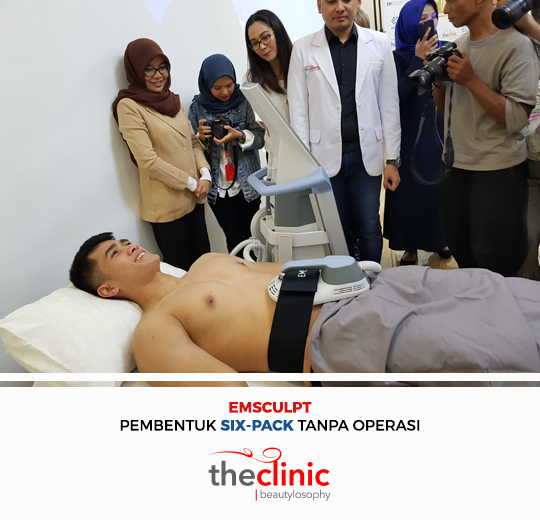 presented by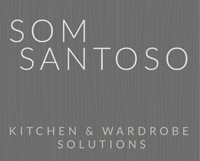 EMSCULPT: PEMBENTUK SIX-PACK TANPA OPERASI
Published by Sugar & Cream, Tuesday 02 October 2018
Text by Anggita D.S, images courtesy of Tim Muara Bagdja & S&C
The First in Indonesia Only at The Clinic Beautylosophy : EMSCULPT®
Definisi bentuk tubuh sempurna bukan sebatas impian lagi. Dengan teknologi terkini Anda bisa mewujudkan impian Anda. Ingin memiliki perut rata dan bokong yang kencang?
@theclinicid #emsculpt #sixpackabs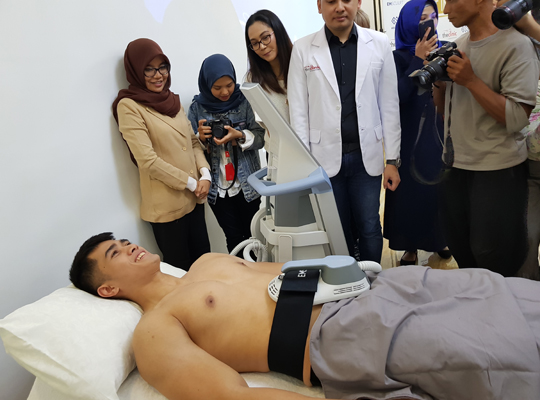 Well, there is promising news! Baru-baru ini, The Clinic Beautylosophy sebagai one-stop aesthetic nomor 1 di Indonesia, meluncurkan EMSCULPT®, sebuah alat berteknologi terdepan yang dapat membentuk otot abdomen, mengurangi lemak perut, serta membangun bokong yang kencang. Semuanya tanpa suntik, tanpa operasi, bahkan tanpa olahraga. Didistribusi oleh BTL Aesthetics dari Inggris, EMSCULPT® menawarkan prosedur perawatan yang memanfaatkan High-Intensity Focused Electromagnetic Field (HIFEM), yaitu gelombang elektromagnetik berintensitas tinggi yang mampu menembus hingga ke lapisan kulit terdalam, termasuk area 'membandel' yang tak dapat diraih dengan berolahraga.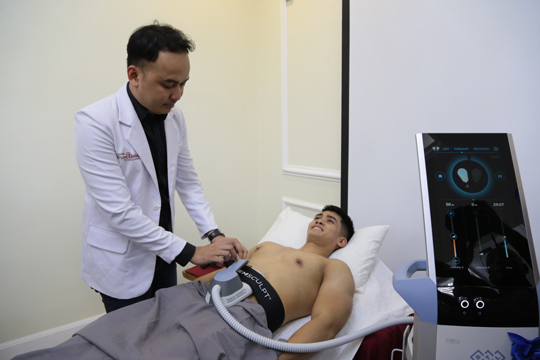 dr. Danu Mahandaru,Sp BP-RE dengan model Ryan Krisnand
Prosedurnya sendiri dilakukan dengan menempatkan semacam bantalan karet di area abdomen atau bokong pasien, yang kemudian akan melepaskan gelombang elektromagnetik dan menyebabkan kontraksi pada otot. Kontraksi ini sendiri memicu pelepasan asam lemak, memecah timbunan lemak serta meningkatkan tegangan otot. Jika prosedur ini terdengar familiar, ini karena prosesnya mirip saat Anda melakukan sit-up. Bedanya, sekali menjalankan terapi dengan EMSCULPT®, setara dengan melakukan 20.000 kali sit-up dalam 30 menit.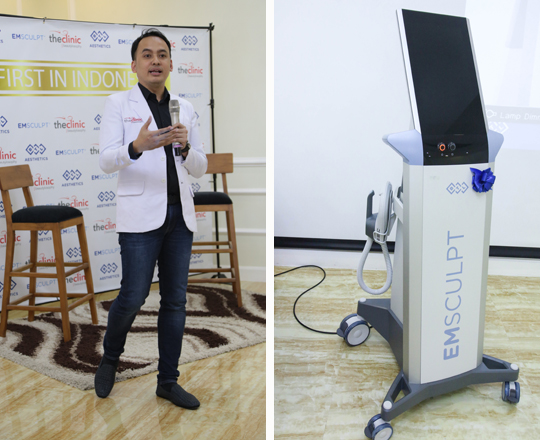 Dr. Danu Mahandaru, Sp BP-RE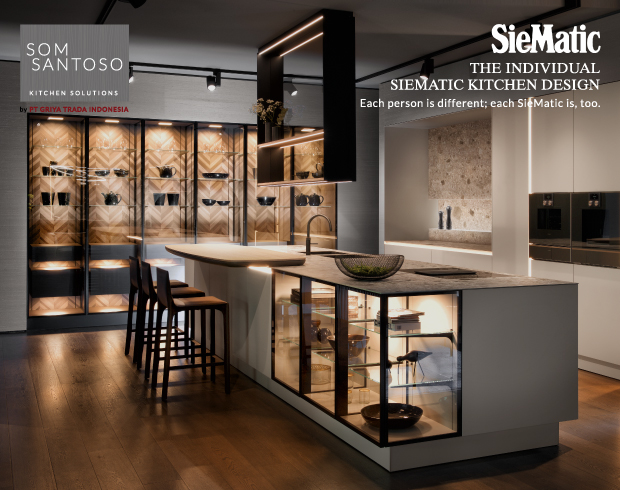 SOM SANTOSO, Kitchen & Wardrobe Solutions
Selesai menjalankan satu sesi terapi, biasanya pasien akan merasakan pengalaman pegal yang sama dengan ketika berolahraga. Dr. Danu Mahandaru, Sp BP-RE, salah satu dokter ahli yang berpraktek di The Clinic Beautylosophy menyatakan, "Pasien kami rekomendasikan untuk menjalankan empat kali prosedur EMSCULPT® masing-masing selama 30 menit, sebanyak dua kali dalam seminggu. Hasil terbaik akan terlihat setelah tiga bulan, dengan peningkatan berkelanjutan selama periode enam bulan."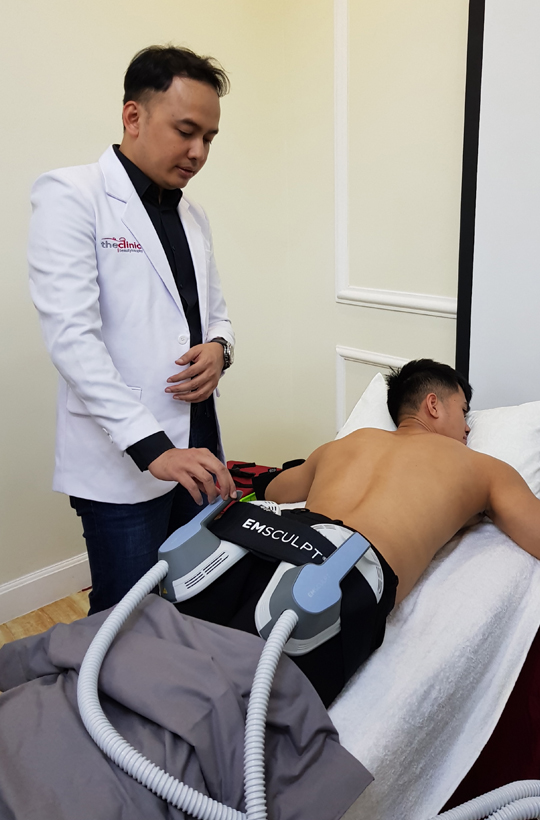 Istimewanya lagi, kehadiran EMSCULPT® membuat The Clinic Beautylosophy menjadi klinik pertama di Indonesia yang menawarkan prosedur pembentukan otot dalam waktu singkat tanpa operasi.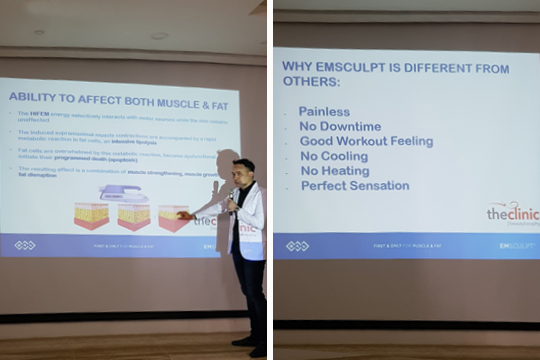 Tertarik? Silakan buat temu janji melalui pelayanan hotline 24 jam atau online chat di www.theclinicindonesia.com.
EMSCULPT® diperkenalkan pada tanggal 27 September 2018 dihadapan para media dan jurnalis. Pada peluncuran tidak lupa diperagakan langsung mengenai alat EMSCULPT® dengan seorang model. Diperlihatkan secara jelas kontraksi otot perut maupun bagian pantat yang terjadi. Sensasi pijat dari dalam seperti yang diungkapkan oleh model maupun seorang jurnalis yang mencobanya.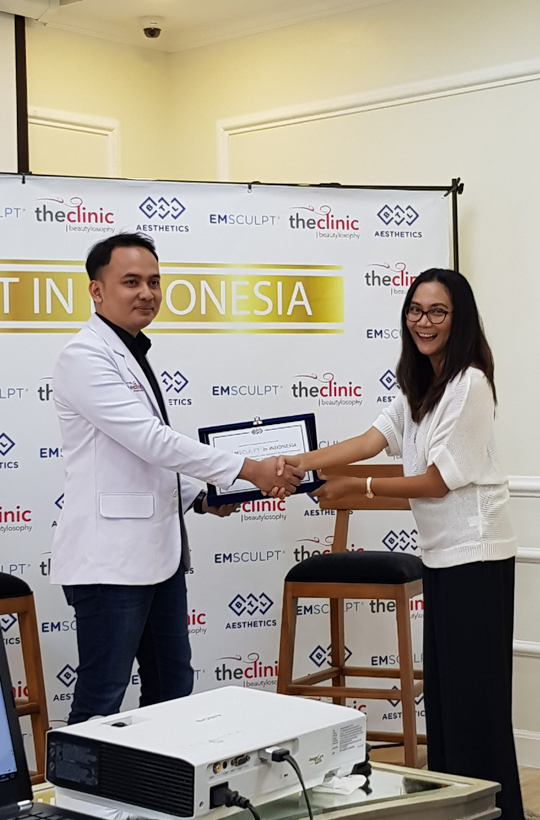 Berdasarkan uji klinis EMSCULPT® (rilis) secara konsisten berhasil membangun otot dan mereduksi lemak :
. Lemak perut turun hingga 19%
. Massa otot meningkat hingga 10%
. Garis pinggang berkurang hingga 5 cm