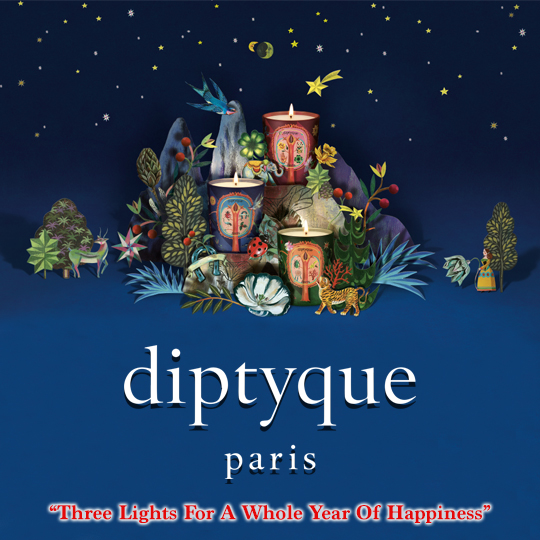 presented by

Diptyque's Year-End Festivities -Three Lights For A Whole Year Of Happiness
Published by Sugar & Cream, Thursday 28 November 2019
Text by S&C, images courtesy of Diptyque Paris
Three Lucky Wishes: Luck, Protection & Harmony
Perayaan akhir tahun selalu menjadi perhatian istimewa bagi Diptyque Paris yang terkenal dengan berbagai sensasi aroma  berkualitas premium.
Lucky Charms Collection
Menyambut transisi pergantian akhir tahun ini, Diptyque menawarkan kreasi tiga lilin aroma terapi terbarunya dengan harapan keberuntungan baru. Ya, new season, new hope and new luck. Tiga kreasi lilin dengan aroma berbeda diharapkan mampu menciptakan positive and happy mood untuk kebahagian satu tahun penuh.
Olaf Hajek
Pemberian nama setiap lilin pun mengarah para pesona keberuntungan yaitu Luck, Protection dan Harmony. Setiap komposisi mengacu pada seleksi tanaman dan bahan-bahan yang berkualitas premium dan bermanfaat tinggi.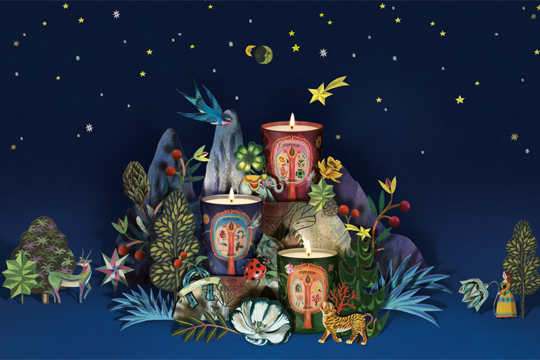 Penjelajahan mendalam dunia pesona keberuntungan ini adalah titik awal kolaborasi antara diptyque dan seniman Olaf Hajek. Hasilnya memperlihakan koleksi yang merayakan semangat festival yang menandai akhir tahun. Olaf Hajek mengajak kita kembali pada seni rakyat atau 'folk art'.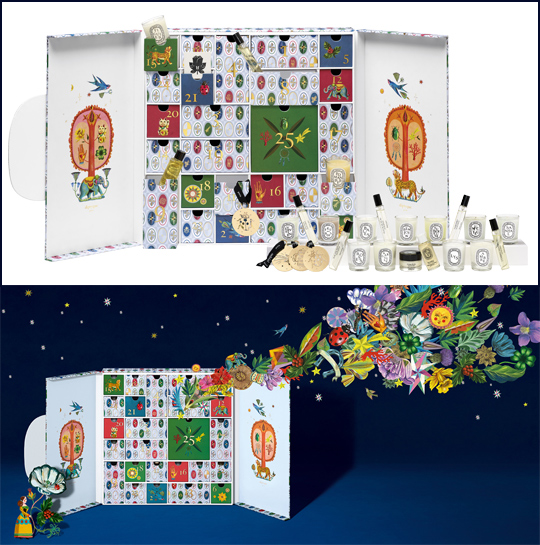 Advent Calendar with 25 little pleasures and some lucky charms
Pesona keberuntungan diterjemahkan dalam keceriaan melalui berbagai warna dan bunga yang cantik dan memesona. Bagi siapapun yang melihat kreasi seni Olaf akan merasakan keindahan, keselarasan dan semangat ceria atau positif.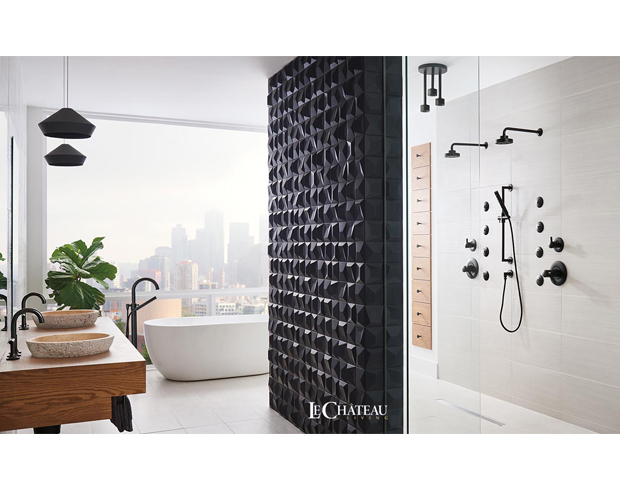 Presented by LeChateau Living
Luck : Lucky Flowers Candle
Lilin Lucky Flowers dikemas dengan gelas berwarna merah yang dipercaya membawa keberuntungan dan mendatangkan energi positif sekaligus memberikan serta meningkatkan ekstra kehidupan.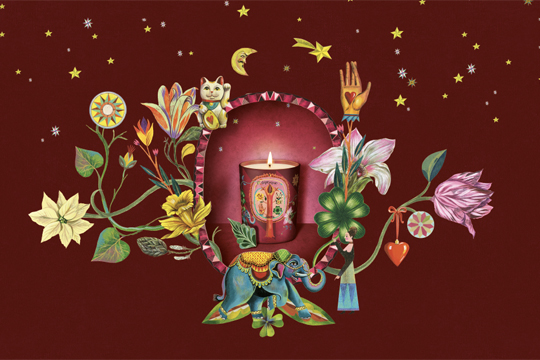 Lucky Flowers
Aroma utama dari lilin ini adalah bunga mawar, cengkeh dan adas manis (aniseed). Komposisi aroma ini siap mencerahkan tahun baru Anda
Protection : Protective Pine
Dikemas dalam gelas berwarna hijau yang identik dengan tanaman : menjanjikan pembaruan dan melambangkan harapan. Melambangkan sebuah tanda regenerasi spiritual, yang berarti tubuh dan roh akan terlindungi dengan baik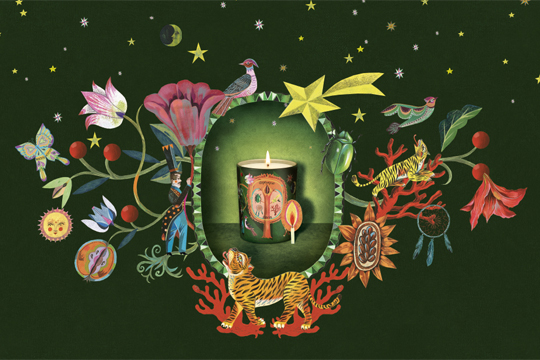 Protective Pine
Komposisi wangi lilin Protective Pine terdiri dari gabungan Siberian fir, balsam fir dan cedar ditambah aroma dua campuran rempah basil dan sage. Dua gabungan rempah yang dipercaya akan menyelimuti aura perlindungan bagi yang menyalakan lilin ini.
Harmony : Blissful Amber
Hadir dalam kemasan gelas berwarna biru atau warna langit yang kerap diasosiasikan dengan kebijaksanaan, kemurnian perasaan dan kesetiaan. Warna yang sempurna untuk merangkul kesan harmonis.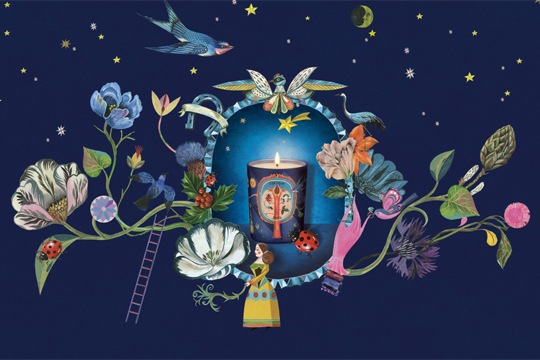 Blissful Amber
Komposisi utama adalah musk yang dalam dongeng dianggap sebagai parfum surga. Musk juga identik dengan segala keindahan dalam mimpi. Percikan aroma kayu berasal dari Amber yang membangkitkan fantasi seperti cerita seribu satu malam. Tambahan geranium dan lavender menguatkan perasaan relaksasi.
Time to light your three candles and make a wish – each bears a message of happiness!