Diptyque's Winter Collection – Smell the Mystical Scents
Published by Sugar & Cream, Wednesday 13 June 2018
Text by Hermawan K, Images courtesy of Papilion, Kemang
The first publication November 28, 2017 (revised and updated)
Diptyque X Philippe Baudeloque : The Winner 2018 Awards for HOME HOLIDAY/SEASONAL FRAGRANCE PRODUCT OF THE YEAR by THE FRAGRANCE FOUNDATION
The Fragrance Foundation #TFFAwards pada tanggal 12 June 2018 lalu mengumumkan bahwa DIPTYQUE Les Constellations by DIPTYQUE Paris memenangkan kategori HOME HOLIDAY/SEASONAL FRAGRANCE PRODUCT OF THE YEAR, 2018. Selamat !
Memasuki suasana penghujung tahun yang semarak, Diptyque melansir Winter Collection 2017 bertajuk Constellations yang berkolaborasi dengan seniman jalanan Prancis, Philippe Baudeloque. Rangkaian produk Diptyque tersedia di The Papilion Kemang dan The Papilion Duo Pacific Place.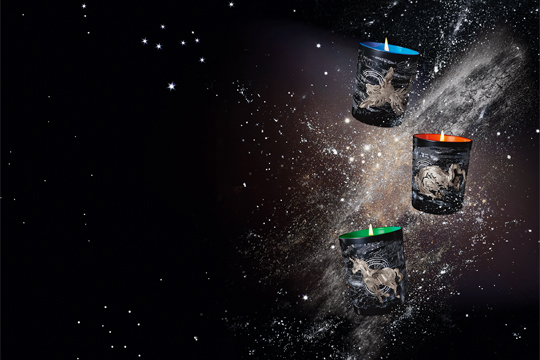 Incense Tears, Fiery Orange & Frosted Forest

Melalui koleksi ini, Diptyque mengajukan pertanyaan-pertanyaan yang menggelitik: apa yang sudah Anda lakukan untuk menggapai impian masa kecil? Apakah Anda sudah lupa untuk melamun sambil menatap taburan bintang di malam hari? Philippe Baudeloque menorehkan sentuhan artistiknya dalam wujud makhluk-makhluk mitologi; Unicorn, Dragon, Phoenix. Setiap makhluk tersebut membentuk konstelasinya sendiri, dan terepresentasikan melalui warna serta wewangian yang berbeda. Percikan emas yang menghiasi lilin kian menyempurnakan pengalaman relaksasi yang membangkitkan kembali berbagai impian.
Frosted Forest yang diwakili oleh Unicorn, menggiring imajinasi ke suasana hutan abad pertengahan dengan aroma pinus, kayu Hinoki, dan mint.


Frosted Forest 190g
Fiery Orange yang mengetengahkan Dragon, melepas wewangian beraroma kayu dengan sentuhan buah-buahan citrus Italia yang menyegarkan.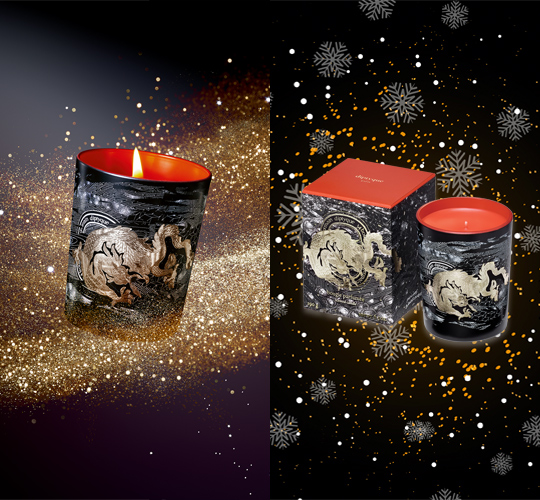 Fiery Orange
Incense Tears disimbolisasikan dengan Phoenix, yang mengombinasikan frankincense dan Myrrh yang terbalut dalam Cinnamon.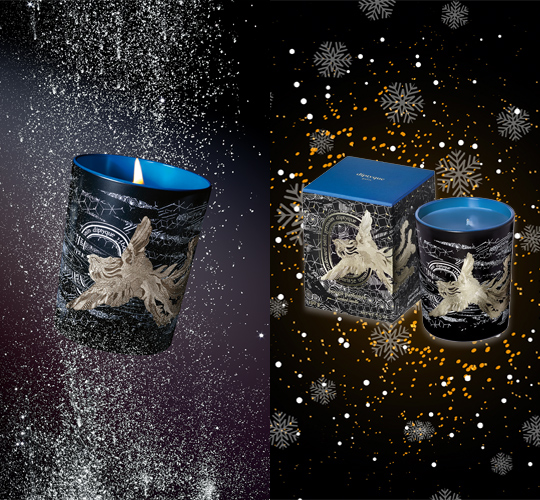 Incense Tears
Secara lengkap, Winter Collection 2017 dari Diptyque terdiri dari
Frosted Forest 190g
Fiery Orange 190g
Incense Tears 190g
3 set hadiah lilin, kalender advent, komedi putar konstelasi, dan lilin giant berries.
Sempurnakan hari-hari Anda dengan aroma yang membangkitkan pengalaman relaksasi dan fantasi di penghujung tahun ini.


Frosted Forest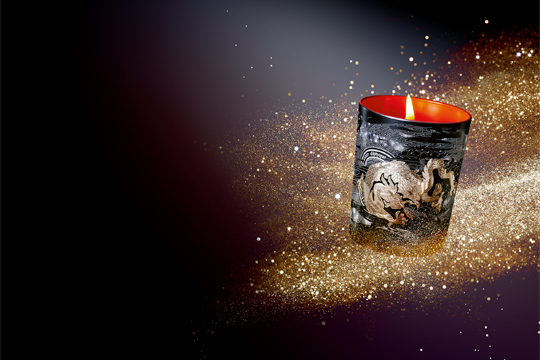 Fiery Orange


Incense Tears


3 Candles Gift set