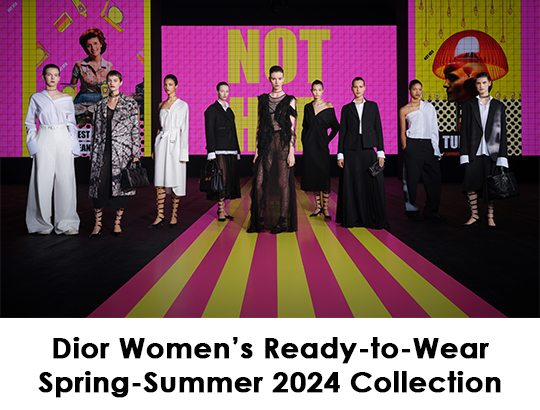 presented by
DIOR WOMEN'S READY-TO-WEAR SPRING-SUMMER 2024 COLLECTION
Published by Sugar & Cream, Thursday 12 October 2023
Images courtesy of Dior
The link between femininity and feminism.
Maria Grazia Chiuri menuangkan pemikirannya akan feminisme ke dalam koleksi ready-to-wear Dior Spring-Summer 2024 yang dipresentasikan pada 27 September lalu di ajang Paris Fashion Week. Ini bukan kali pertama Chiuri menggaungkan isu feminisme. Pada koleksi ini Chiuri berusaha mendobrak stigma perempuan yang kerap dipandang sebelah mata. Karenanya, kesan rebel dan empowering terpancar kuat pada 78 looks karya Chiuri yang tentunya dibalut kemewahan gaya khas Dior.
Rewatch here Dior Spring–Summer 2024:
Area panggung runway dilengkapi instalasi backdrop digital menampilkan quote-quote bernada body positivity dan peranan wanita dalam masyarakat. Instalasi karya Elena Bellentoni ini sukses menyuarakan semangat feminisme modern dengan paduan warna pink dan kuning neon. Tampak kontras dengan backdrop-nya, para model berjalan satu per satu mengenakan koleksi busana Dior Spring-Summer 2024 berpalet netral, seperti hitam, putih, krem, beige, abu-abu, serta denim.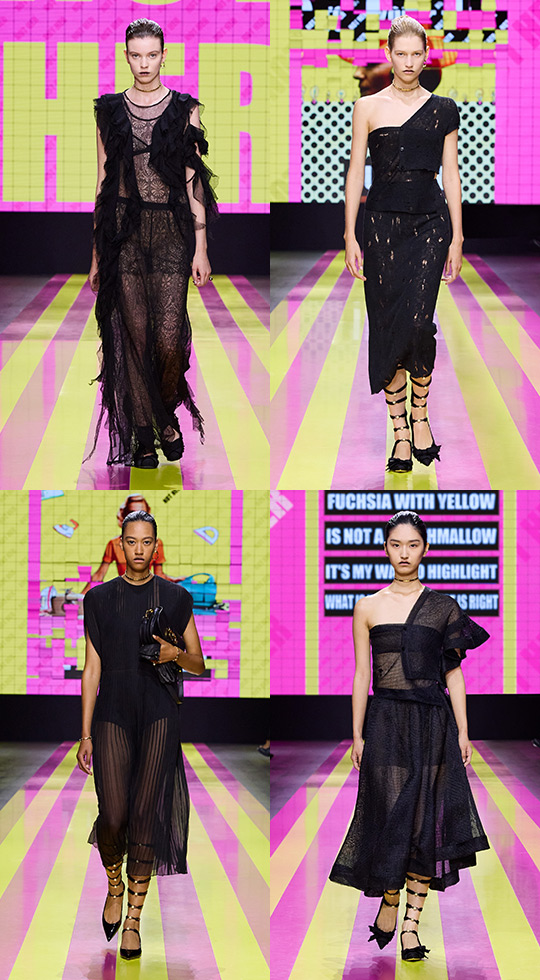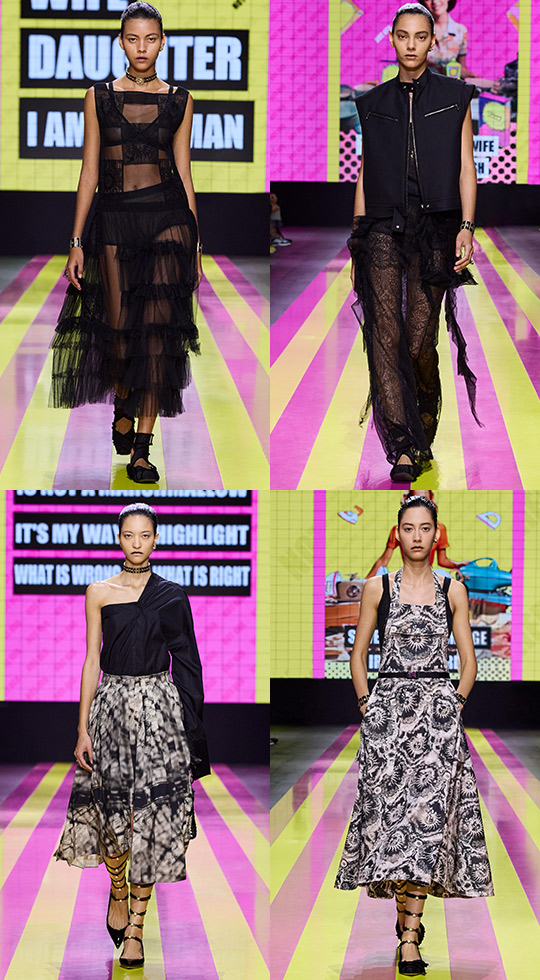 Meski banyak mengangkat kembali busana koleksi Dior yang lampau, Chiuri tetap memberi pembaruan dari segi siluet, detail, atau motif. Seperti gaya one-off-shoulder pada kemeja putih atau midi dress jaring-jaring transparan yang merujuk pada referensi siluet dress Dior bernama "Abandon" keluaran tahun 1948 silam. Bar jacket signature Dior dalam potongan oversized dipadankan dengan rok A-line transparan berbahan tulle.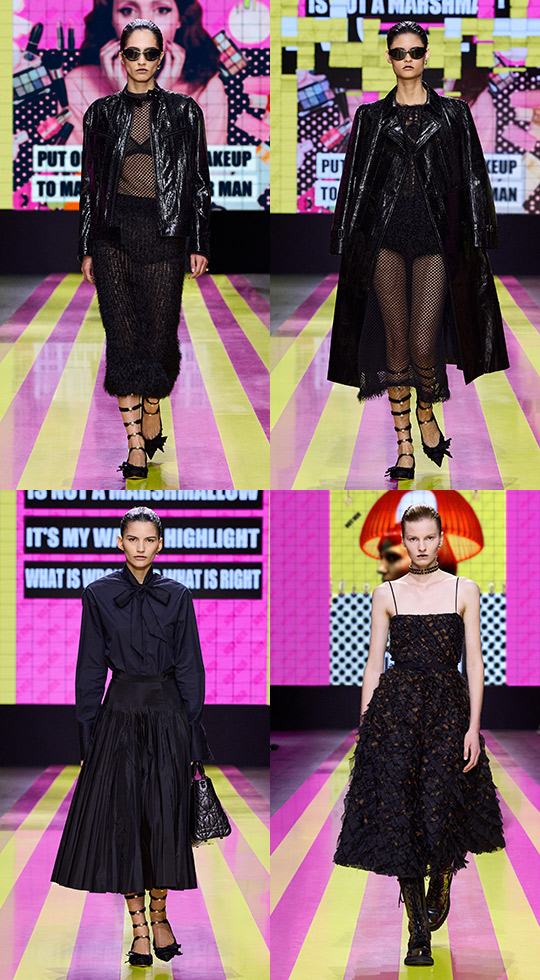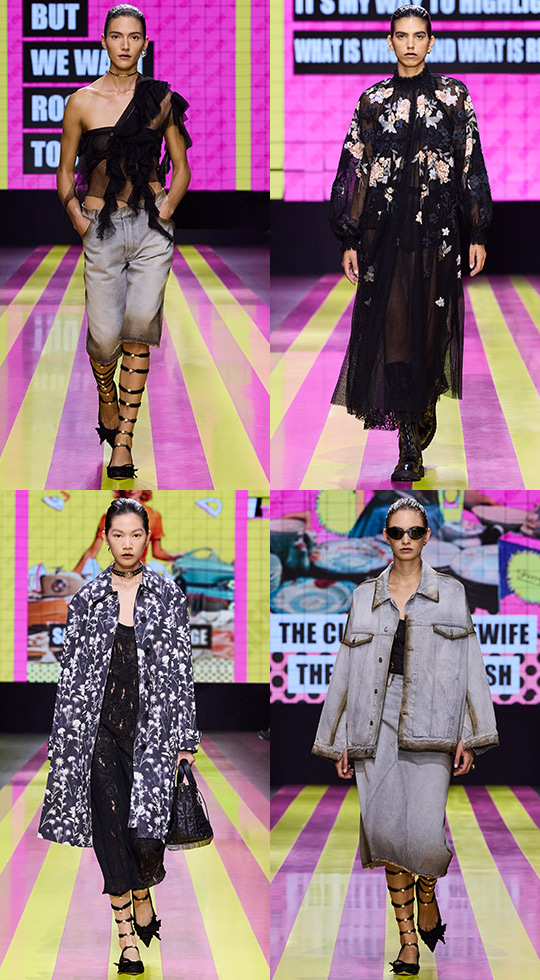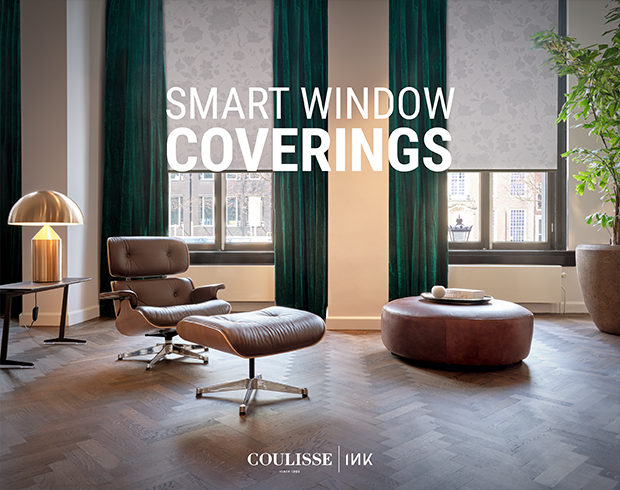 Presented by Coulisse | INK
Koleksi Dior Spring-Summer 2024 juga menawarkan gaun-gaun formal bermaterial transparan dengan aksen renda di bagian dada yang seductive. Ada pula gaun dengan potongan dada yang rendah serta lengan balon yang terkesan classy. Gaun hitam dengan detail ruffle dan fringe dipadankan dengan blazer berwarna sama terlihat sangat chic. Beberapa gaun motif menampilkan bentuk flora, fauna, bahkan peta kota Paris membuat kolesi ini semakin stylish.(FE)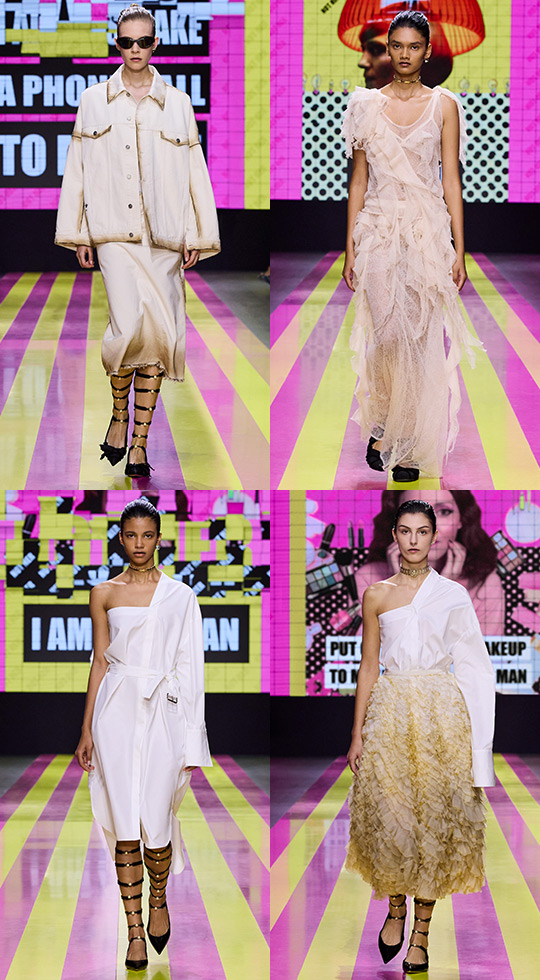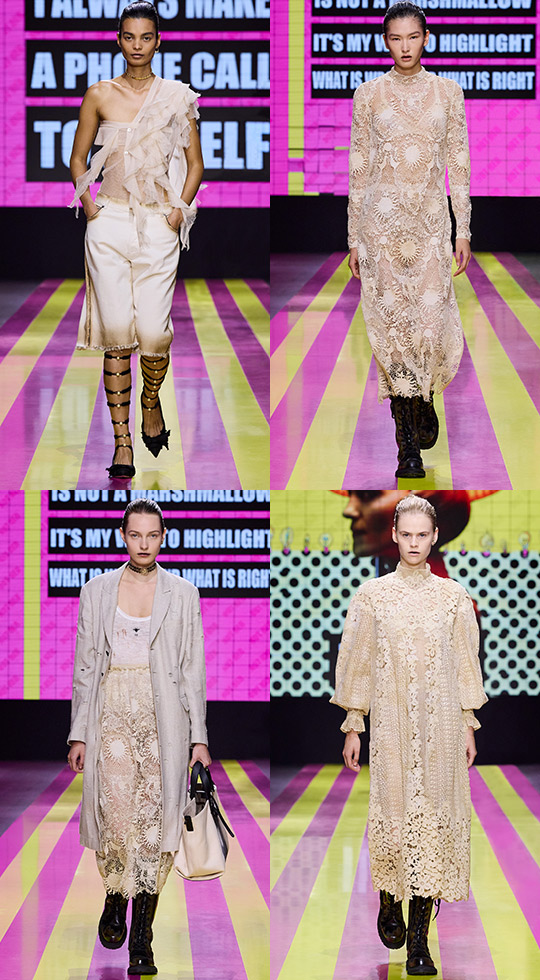 A number of guests at Dior Spring-Summer 2024, rewatch here: