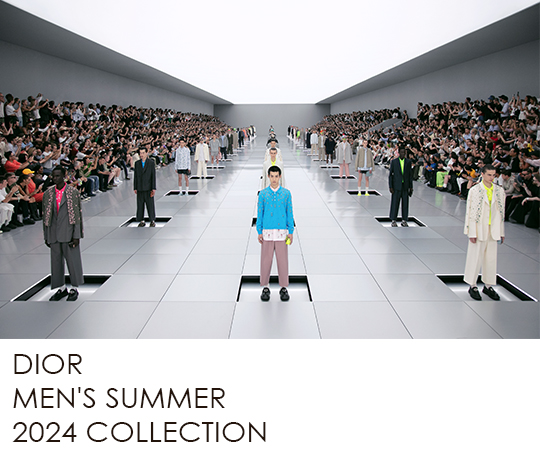 presented by

DIOR MEN'S SUMMER 2024 COLLECTION
Published by Sugar & Cream, Monday 10 July 2023
Images courtesy of Dior
A Passionate Dialogue Between Heritage And Reinventions.
Dior kembali memanjakan para pecinta fashion dengan koleksi busana pria Dior Summer 2024 yang menggabungkan dialog antara masa lalu dan masa depan. Untuk koleksi yang diluncurkan pada 22 Juni lalu di Paris ini, Kim Jones menafsirkan kembali desain siluet ciptaan Yves Saint Laurent, Gianfranco Ferré, dan Marc Bohan ke dalam bentuk yang lebih modern. Koleksi ini sekaligus merayakan perjalanan kreatif Kim Jones selama 5 tahun sebagai creative director untuk men collection.
Rewatch The Dior Men's Summer 2024 Show here :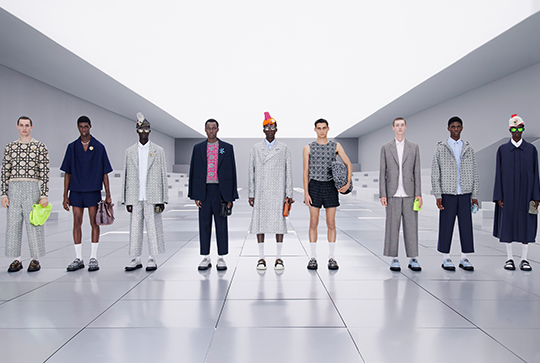 Panggung runway berwarna silver metalik menonjolkan kesan futuristik. Saat pertunjukan dimulai, lantai runway terbuka dan para model muncul dari bawah lantai secara bersamaan layaknya robot-robot masa depan. Kemudian satu per satu model berjalan di sisi panggung membawakan busana berpotongan tailoring terinspirasi dari desain Yves Saint Laurent. Dominasi warna monokromatik dengan sedikit sentuhan warna kuning, hijau, dan oranye terang membuat koleksi ini nampak kontras dan dinamis.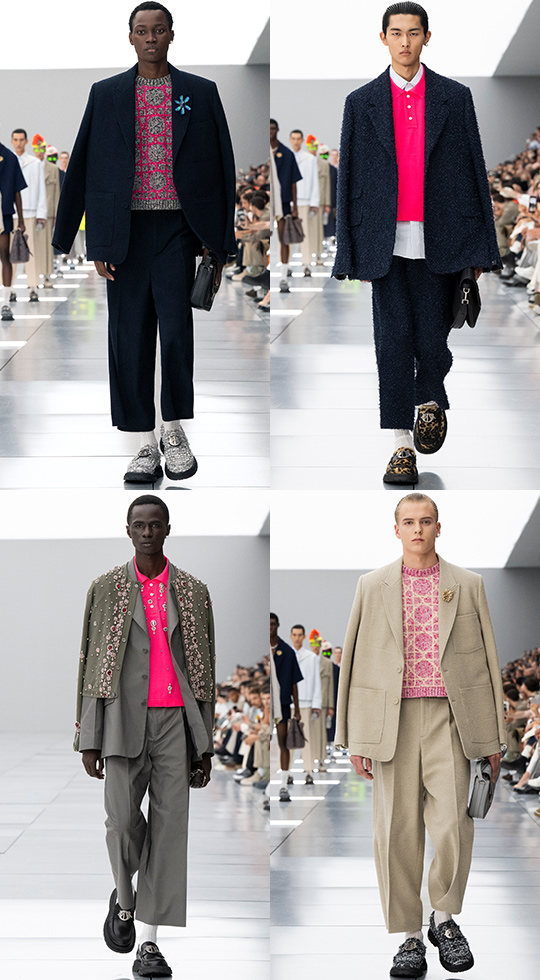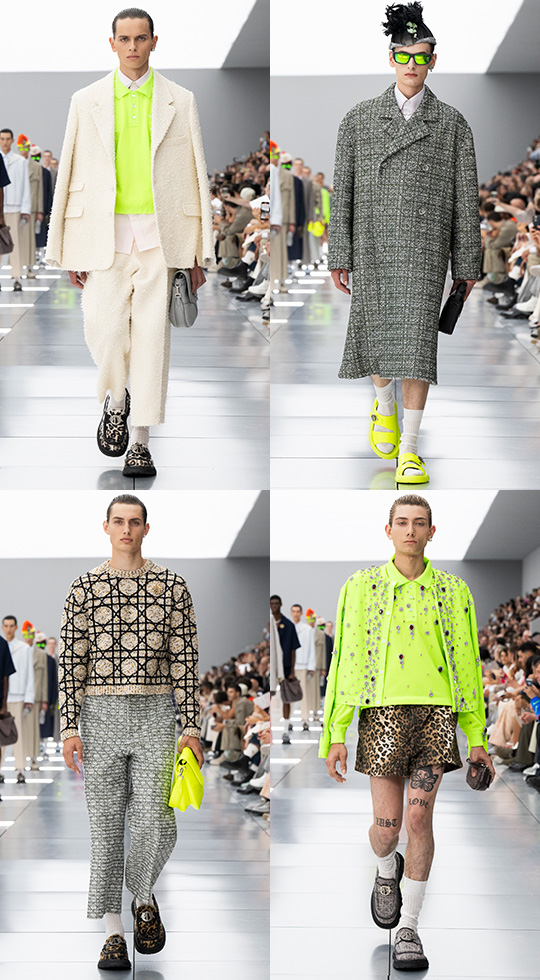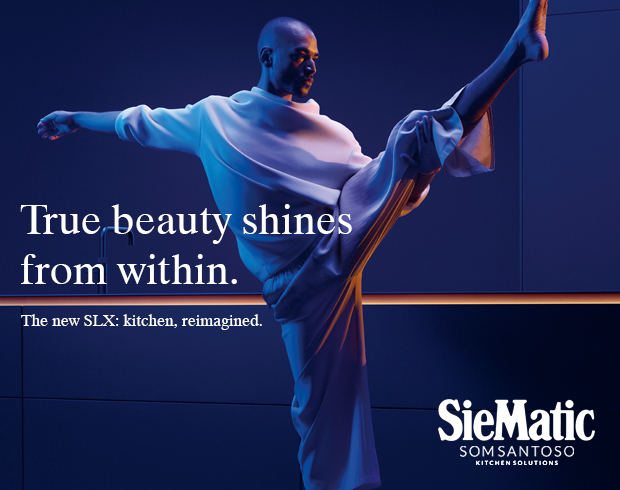 Presented by Som Santoso
Koleksi Dior Men's Summer 2024 menampilkan beragam menswear basic seperti jaket Harrington, kemeja, kaos polo, crewneck, serta kardigan dalam material tweed, rajut, kulit, dan katun poplin. Untuk menambah kesan glamor and mewah, Kim Jones mereinterpretasikan bordiran metalik dari masa Gianfranco Ferré, sementara tekstur lembut koleksi ini terpengaruh oleh desain Marc Bohan. Ada pula motif leopard yang terinspirasi oleh muse Dior, Mitzah Bricard, diproduksi dalam bentuk saddlebag, celana pendek, juga rompi sporty.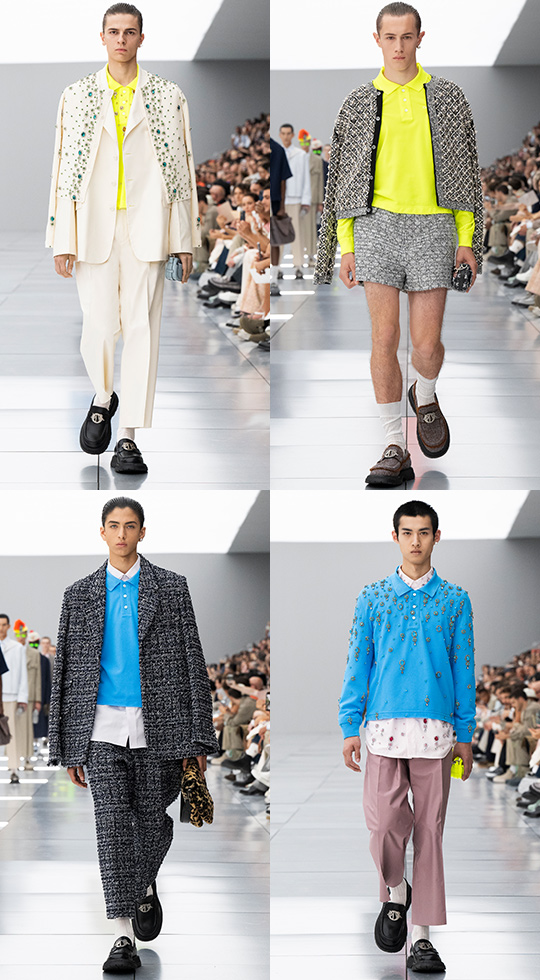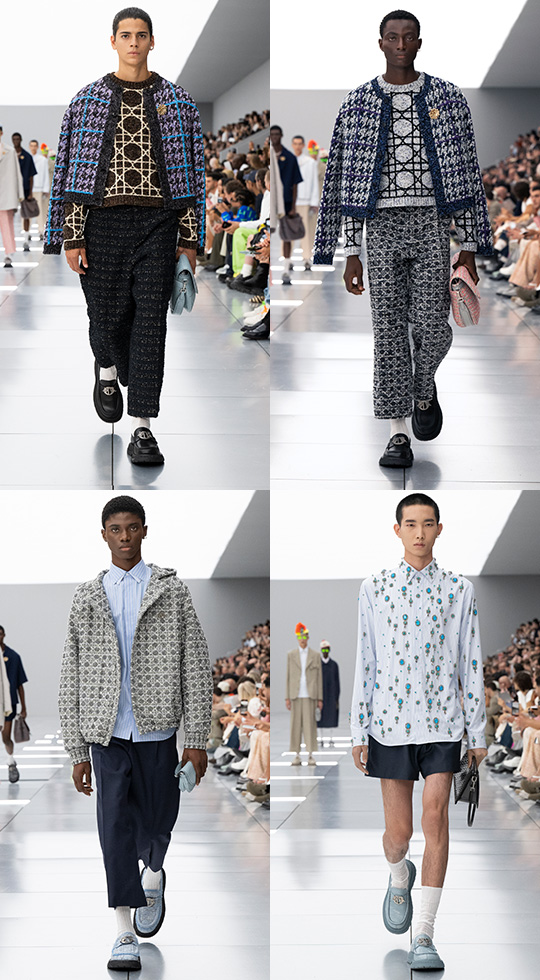 Perayaan perjalanan kreatif tahun ke-5 bersama Dior men's collection kali ini, Kim Jones berhasil membawa warisan Dior ke arah yang lebih futuristik. Mari kita nantikan karya extraordinary Kim Jones di tahun-tahun berikutnya. (FE)