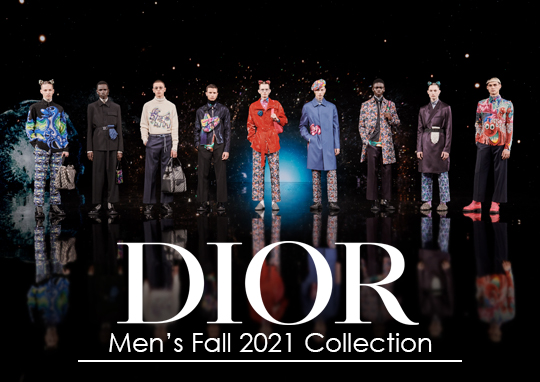 presented by

Dior Presents Men's Fall 2021 Collection
Published by Sugar & Cream, Friday 08 January 2021
Text by Dinda Bestari, Image courtesy by Dior
A Dialogue Between Heritage and Technology
Still, in the atmosphere of a globalizing pandemic, the world of fashion constantly surprises us in its development. Hal ini terjadi pada rumah mode ternama Dior yang meluncurkan koleksi menswear terbarunya Men's Fall 2021 Collection.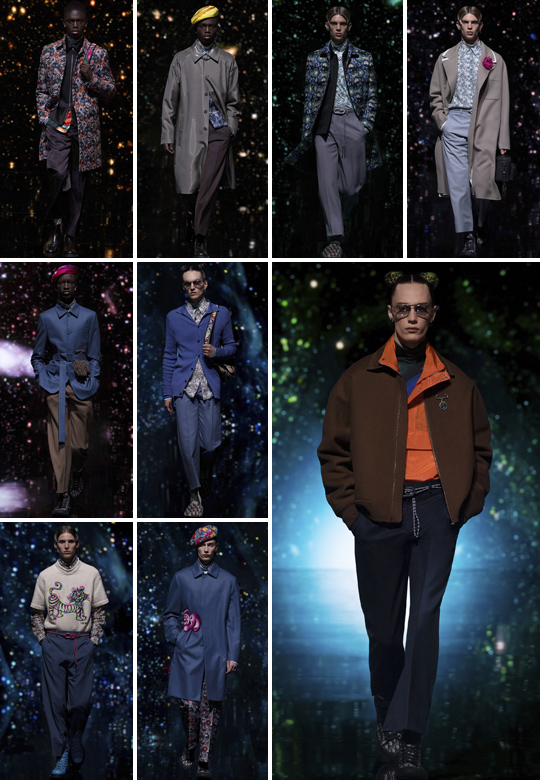 Mengacu kepada hypercolored, hyperreal, yang menampilkan dialog antara warisan dan teknologi, serta investigasi pertemuan antara ruang virtual dan realitas.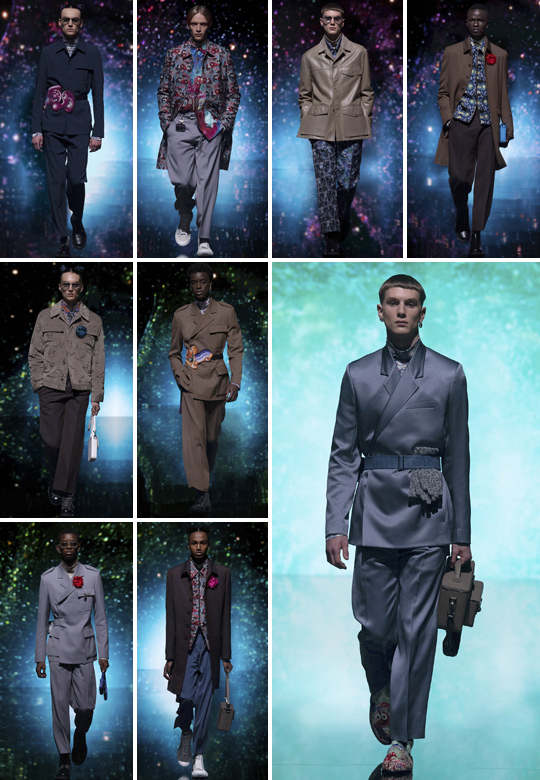 Dan untuk Fall 2021 Collection, Direktur Artistik Dior Men's, Kim Jones, memadukan tradisi dengan inovasi digital, sebuah ideologi yang bergema dalam presentasi koleksi – sebuah pertunjukan yang dipentaskan secara virtual, untuk dipamerkan secara global – dalam desain itu sendiri. Ini mencerminkan evolusi rumah couture di abad ke-21 – sinkronisitasnya antara realitas mode saat ini, impian sejarah, dan kemungkinan optimis di masa depan.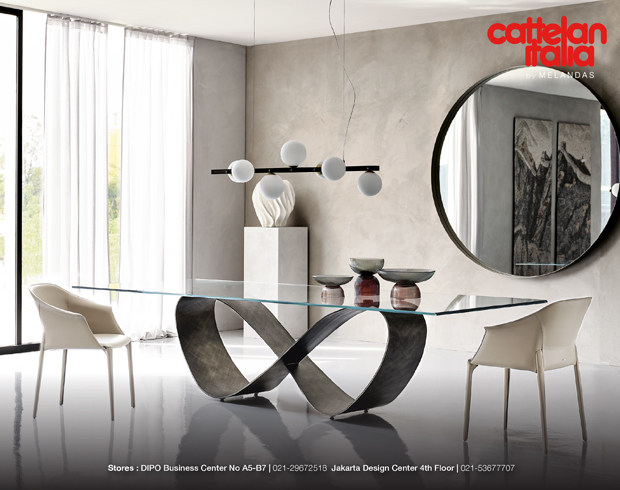 Presented by Melandas Indonesia
Membangun tradisi baru Dior yang berkolaborasi tokoh seni kontemporer dari seluruh dunia, seniman Amerika Kenny Scharf. Penuh dengan energi yang menggembirakan, terinspirasi oleh vitalitas warna asam dari alam semesta Kenny Scharf, koleksi Kim Jones pada Dior Men's Fall 2021 Collection kali ini merayakan lebih dari sebelumnya dengan pluralitas bahasa artistik, dari keunggulan keahlian khas Tiongkok hingga kode Dior dan hasrat kreatif untuk menjahit kembali  – menampilkan ilustrasi karakter hewan dari zodiak Tiongkok.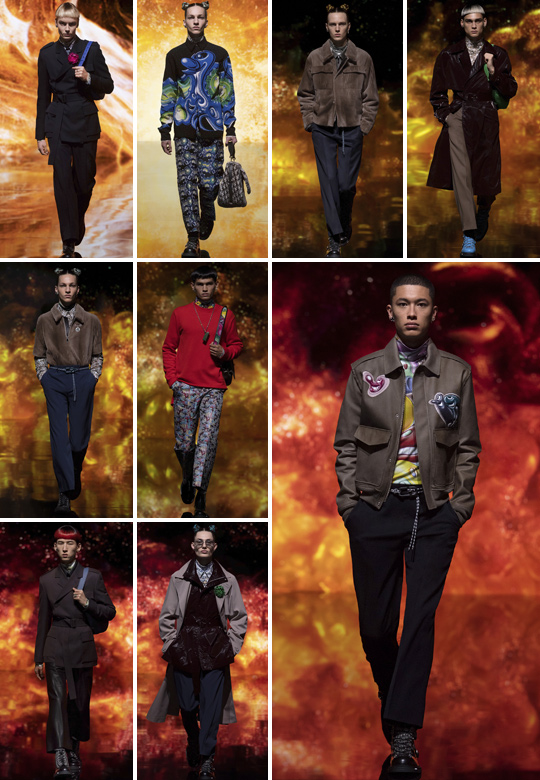 Ciri khas rumah mode Dior  –  "tailoring'' –  adalah fondasinya, yang menggarisbawahi suasana dandanan yang tinggi. Tailleur oblique, tailored coats, dan slender single-breasted jackets yang dipakai santai, dan diikat di pinggang sebagai penghormatan pada bar jacket. Sebuah evolusi tampilan terbaru yang revolusioner dengan ikon Dior yang mendasar. Inspirasi diambil dari negara Tiongkok: sumber pengaruh pada desain Christian Dior sendiri, dan pusat kreativitas serta craftmanship selama berabad-abad. Menekankan sifat seni global, teknik, dan materi tradisional Tiongkok yang diterjemahkan ke dalam idiom rumah couture Prancis. Perhiasan modern dari Yoon Ahn yang menggunakan batu giok dan lapis, serta koleksi Maison menciptakan ''bunga krisan'' yang mekar sebagai boutonnieres. Baret ala rebana karya Stephen Jones juga menonjolkan penampilan.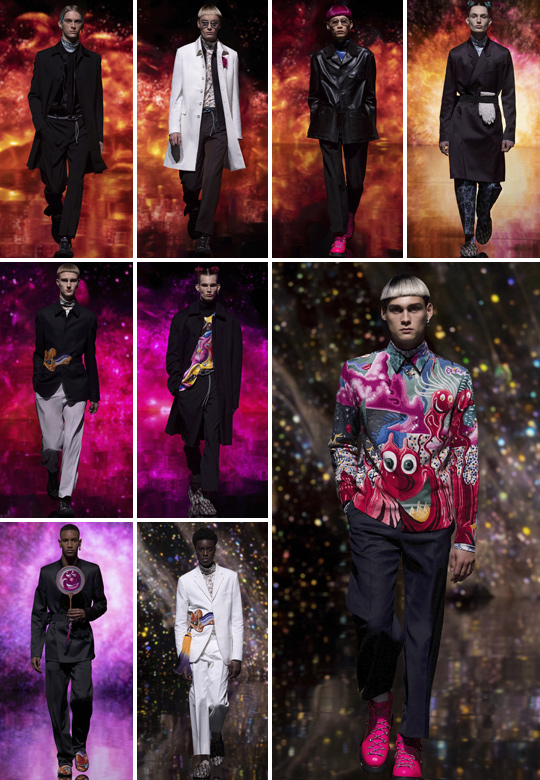 Dior tidak mengenal batas. Dior Men's Fall 2021 Collection dipamerkan melalui video eksklusif antara dialog artistik menawan antara Kim Jones dan Kenny Scharf; yang diterjemahkan oleh sutrada ternama asal Prancis, Thomas Vanz. Seperti perjalanan kosmik yang imersif melalui ruang dan waktudalam konteks global tertentu ini.