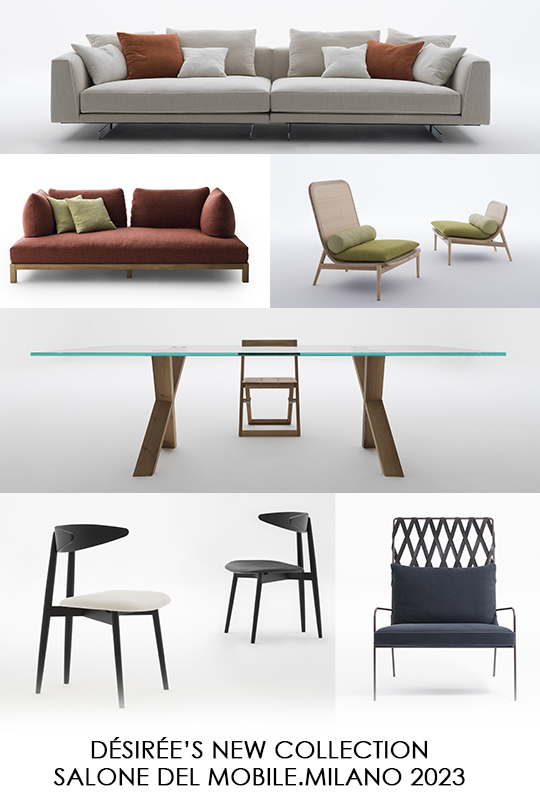 presented by
DÉSIRÉE'S NEW COLLECTION AT SALONE DEL MOBILE.MILANO 2023
Published by Sugar & Cream, Wednesday 07 June 2023
Images and Text Courtesy of Désirée
The Heterogeneity of Désirée's New Collection
Salone del Mobile.Milano, now in its 61st edition and to be held this year from 18th to 23rd of April, will see the presence of the Désirée brand, part of Gruppo Euromobil, a leading manufacturer of exceptional upholstered furniture.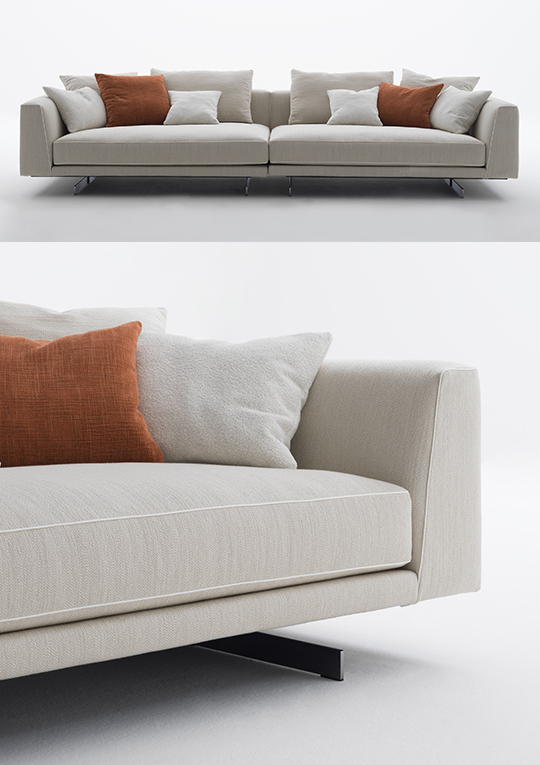 Sheridan Divano
Design. Innovation. Tradition. Family. Four words, four constants for a company that for over fifty years has never ceased to feed its curiosity through a perennial tension towards the new, towards the future. This is thanks to the three great brands that make it up, Euromobil, Zalf and Désirée, and thanks to the desire to propose to its customers an offer that combines industrial know-how with the handcrafted quality of made in Italy.


Haneda divano
Acquired in 1995, Désirée immediately distinguished itself as the brand able to best combine the concepts of tailoring and technological innovation, design and functionality. Specialised in the production of upholstered furniture, such as sofas, armchairs and beds, the latest addition to Gruppo Euromobil advances proposals every year that are increasingly capable of interpreting the needs of the public. The rich parterre of designers who have accompanied Désirée over the years has also made the company stand out for its heterogeneity and capacity for differentiation. From multiple design sensitivities to diametrically opposed generations, from geographic areas of origin to different tastes and propensities; Roberto Gobbo, Setsu & Shinobu Ito, Jai Jalan, Marc Sadler, Matteo Thun & Antonio Rodriguez, all designers who identify with specific professional inclinations, emphasised by their personal experiences, and are at the same time able to perfectly  coexist with the company's philosophy and make the brand's offer credible. This year, the company  presents its first collection signed by Tobia Scarpa, one of the most important Italian architects and designers, and kicks off a collaboration that promises to be even more composite.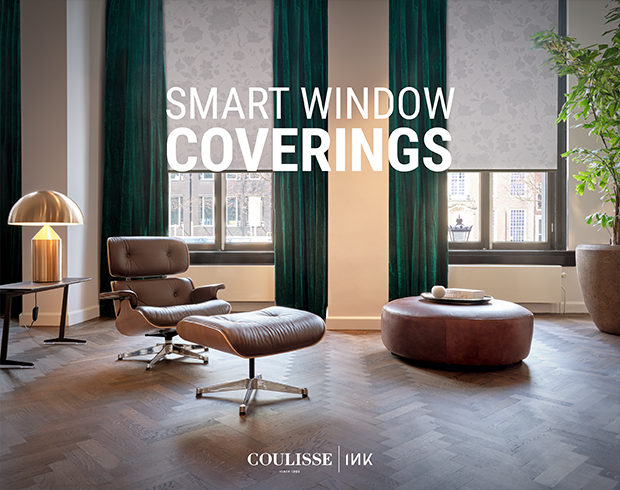 Presented by Coulisse | INK
Paying homage to its own intrinsic heterogeneity, Désirée's 2023 collection will focus on four great designers who have collaborated with the company to create pieces with a unique character. While maintaining upholstery as its core business, Désirée has chosen to give its products a different accent this year. The leitmotif of this collection is the concept of living, which expands globally to encompass all areas of contemporary "living". This idea is therefore interpreted by four designers according to their most personal vocations.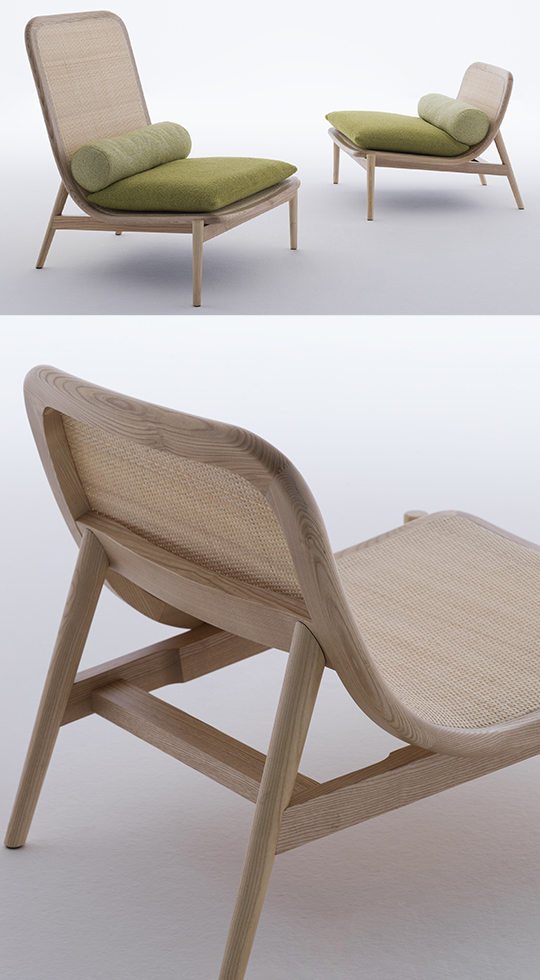 Eben Poltrona
From his collaboration with Désirée, architect Tobia Scarpa proposes two new products: a chair and a table named Ciàcola. Created to coexist in unison, but also perfect individually, the two products share common characteristics. The folding chair has a walnut frame with steel joints and is identified by its strong lines. Straight lines meet and collide to form a seat with simple joints. The different wood grains give an appearance of three-dimensionality that makes each chair unique and different from the others. The table, with a thick (19 mm) transparent glass top, also has a walnut wood base and legs that intersect by means of metal joints to form an X.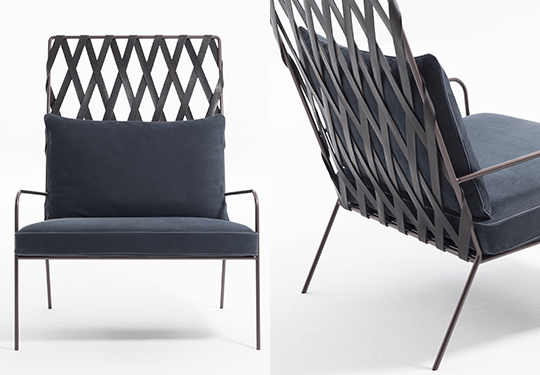 Alix poltrona
The partnership between Matteo Thun & Antonio Rodriguez and Désirée has resulted in three important new products. The company's soul has been preserved in the Sheridan sofa, which with its clear, symmetrical lines permeates rooms with stability and proportion. A trapezoidal backrest and armrest, covered in removable fabric or leather, combine with a seat with customisable  cushioning. The Eben armchair represents a real novelty for Désirée, which for this year took up the challenge of using a different material from the range usually offered, namely woven wicker. A simple rounded backrest, available in two versions, high and low, accommodates the seat and gives the effect of a hinted parenthesis, which, however, is not intended to invade personal space too much, but simply to accompany it. Solid frames and legs in light natural ash wood firmly rooted to the ground contribute to a feeling of stability and strength. Finally, the Alix armchair. The gaze necessarily rests on the backrest, which rises upwards through a striking interlacing of leather strips. The weave is inspired by the diamond pattern that adorned many of Milan's entrances at the beginning of the 20th century. The capitonné effect has thus been reworked and interpreted to create a modern, lighter and more delicate piece of furniture. A thin metal frame supports a self-supporting seat cushion and a soft back cushion in fabric or leather. Alix comes to life as a sophisticated piece with a timeless appearance, reminiscent of the typical bourgeois style of the last century.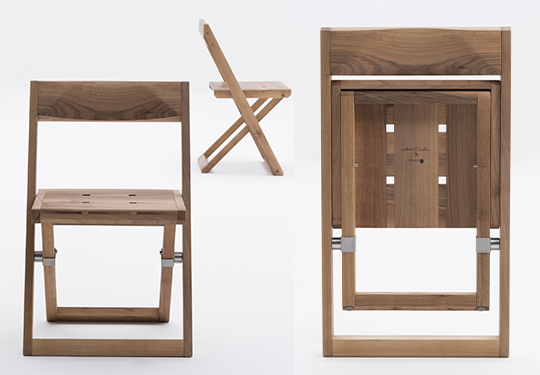 Ciàcola sedia
Setsu & Shinobu Ito have designed the Tè chair for Désirée. Light, compact and characterised by a few essential elements with an organic design, the chair is available in two different finishes, natural or charcoal-stained ash. The two Japanese designers thus convey their international experience by introducing elements reminiscent of their origins, the Orient. Attention to detail, natural materials, soft shapes and essential design.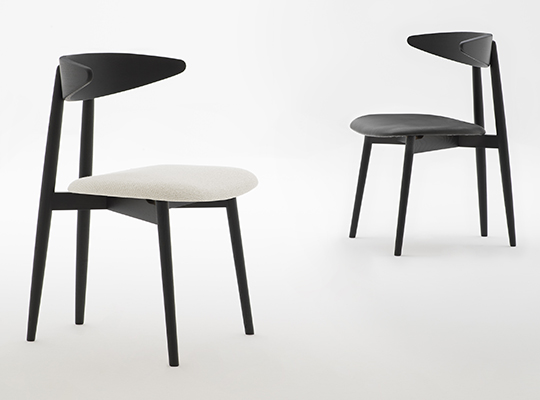 Tè sedia
Among Désirée's proposals is the historic collaborator Marc Sadler, from whose pencil was born Haneda, a seating system inspired by tatami that stands out for its total flexibility and infinite combinations. From a two-seater sofa to a system capable of accommodating several people, Haneda allows for the use of space and a continuous change of perspective. With its new structure in painted stainless steel and solid iroko wood, the in&out version is ideal for furnishing terraces and covered verandas.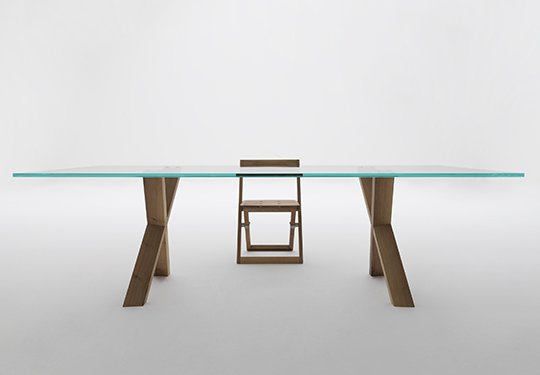 Ciàcola tavolo e sedia
With the introduction of new chairs, armchairs and tables, Désirée thus demonstrates its tendency to experiment, to offer its customers products that can be used in the various rooms of the home. To experience every space. For modern, international and timeless living, integrated into today's living.
The concept of living is also expressed in the space at the Salone del Mobile.Milano, where the company set up a stand inspired by Villa Barbaro, in Maser in the Veneto region, based on design, pictorial and colour values in Palladian style, reinterpreted in a contemporary key.