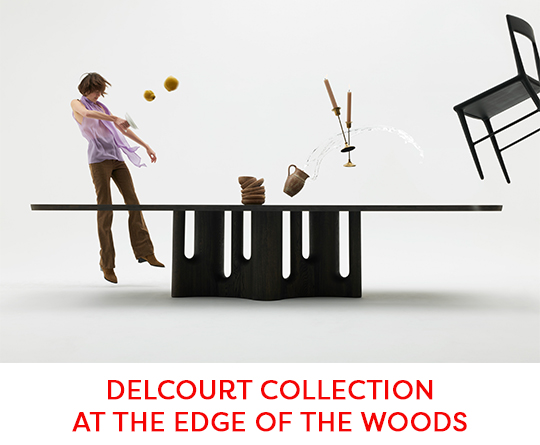 presented by

DELCOURT COLLECTION: AT THE EDGE OF THE WOODS
Published by Sugar & Cream, Friday 23 June 2023
Images courtesy of Delcourt
Oud, Pez, Zae, and Nin
In more than 25 years of existence Delcourt Collection has never deviated from its needs and its foundations. But the line frees itself: initially refined, it acquires expression, dares to become more eclectic, draws inspiration from an architectural element, a work of art, a material or an assembly technique. Without ever losing sight of the fact that the furniture is above all an element of enhancement of the interiors, an expression of comfort and testimony of an era.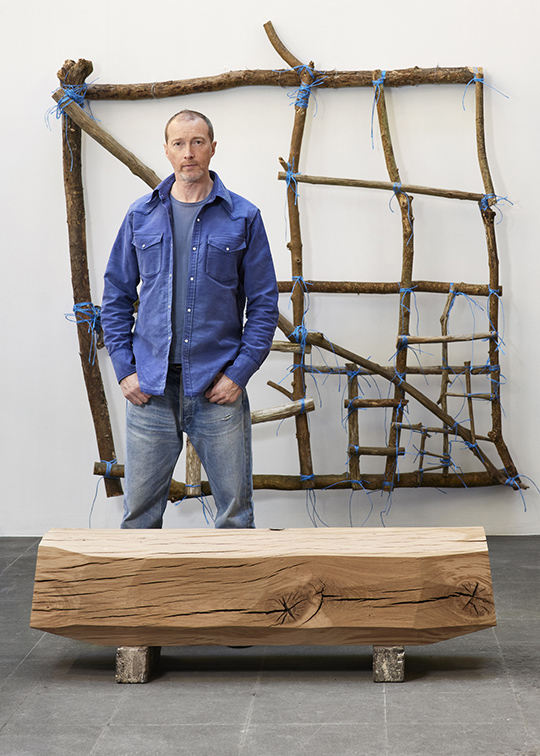 Christophe Delcourt
This new installation, held at the Fondazione Mudima in Milan, is fueled by Christophe Delcourt's love for his favorite material: wood. Sculptural dining tables, consoles, or low tables, to quote only a few, reflect the shapes and verticality of trees. While sofas, armchairs and dining chairs, upholstered in exclusive fabrics o#er the welcomed vision of a comfortable and always elegant home.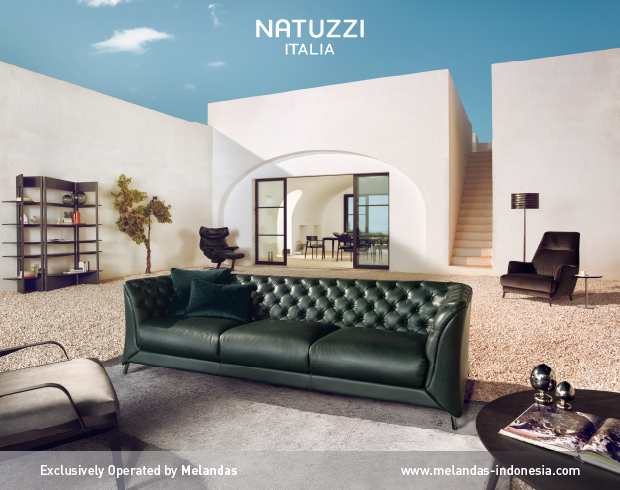 Presented by Melandasa Indonesia
OUD
Bridge, in black oak and leather
Design Christophe Delcourt
L 60 x D 54 x H 77 cm
An emblematic Delcourt Collection piece, the OUD chair projects its contours. Highly perched, this little black chair is to interiors what little black dresses are to a femme fatale. Indispensable. Its thin black oak frame, almost frail in appearance, redefines space with a deep, clean line, like charcoal on a blank page. The sensual grain of the leather melts into the veins of the wood. The two materials, whose assembly remains invisible, become one. Launched in Milan, the bridge o#ers generous proportions and armrests for entirely renewed comfort.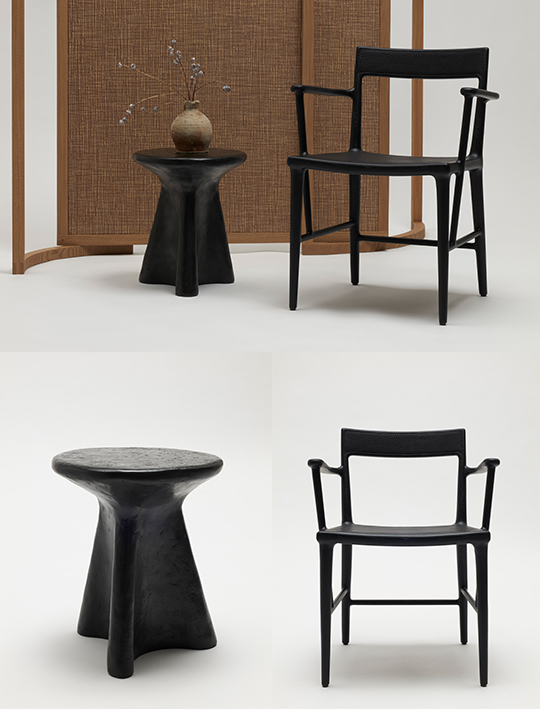 PEZ pedestal table, OUD chair
PEZ
Pedestal Table or Stool, in black-patinated bronze
Design Christophe Delcourt
ø 41 x H 45 cm
Christophe Delcourt likes to make opposites cohabit, always seeking new ways to bring rhythm to his pieces. In his pursuit of fluid lines, confronting them with solid materials has become one of his favorite challenges. The PEZ pedestal table and stool are perfect illustrations of that research. In its black-patinated bronze version, PEZ seems to capture the matter in fusion in a new, undetermined state. Between a rebellious incandescent liquid and a solid casted bourgeois stature. While in stone, its curves and counter-curves re-instill life into each and every molecule of this millennial material.
ZAE
Sofa, in ENDERS by Delcourt Textiles, with black brushed oak legs
Design Christophe Delcourt
L 260 x D 98 x H 75 cm
When Christophe Delcourt started to imagine a new sofa for 2023, he wanted to bring something new to the table. At first glance, with its straight lines, the ZAE sofa seems solemn. But when the eye lingers, the generous, enveloping details reveal themselves. Everywhere, a striking softness is displayed. In the softness of the backrest, the gentle curve of the armrest, and the openness of the ear, ZAE as a sophisticated embodiment of comfort. A sofa that allows for an elegant posture in a formal setting but most certainly one that can be adapted to more selfish uses. These characteristics are ideally underlined by the loops of the ENDERS fabric by Delcourt Textiles it is upholstered in and its undulating solid wood legs. Qualities that become even more evident in the new panoramic version of ZAE. With only three modules –  an end unit with an armrest, a corner, and a center unit –  there are many combinations to try. A world of possibilities. A new scale for even the most ambitious projects.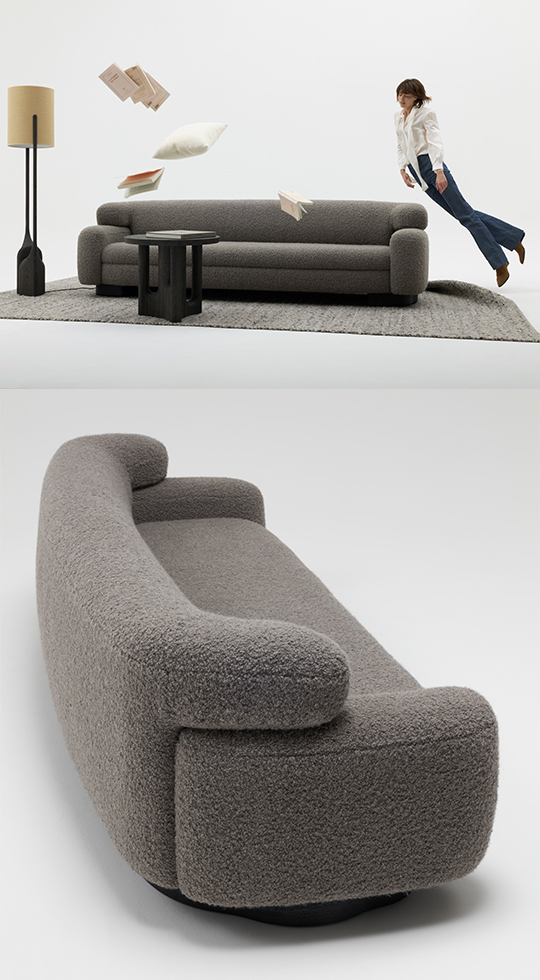 ZAE sofa
NIN
Console and Tables, in tinted brushed oak
Design Christophe Delcourt
L 280 x D 60 x H 85 cm
The story of the NIN series begins with the discovery of a group of trees. Not just any trees, of course, but cedars, located a few steps from Christophe Delcourt's house. Two trees were voluntarily planted so close to each other that their trunks ended up merging. This alignment directly inspired the base of NIN: an undulating line, like a wave… of solid wood. Known for his emphasis on table bases and his quest for fluid lines, the designer here pushes the physical limits of the material. The cathedral base of the NIN table and console unfolds, revealing an assembly of wood where full and hollow figures, curved and straight lines alternate. While bringing rhythm to the composition, they highlight the craftsmen's work. Seamlessly, the shapes are rearranged to create a round table and elements of more modest proportions, such as the low and side tables. The result is a series of spectacular, contemporary, and sculptural pieces, each a tribute to the quality of Delcourt Collection's Ateliers' craft. Timeless pieces of today, new classics for tomorrow.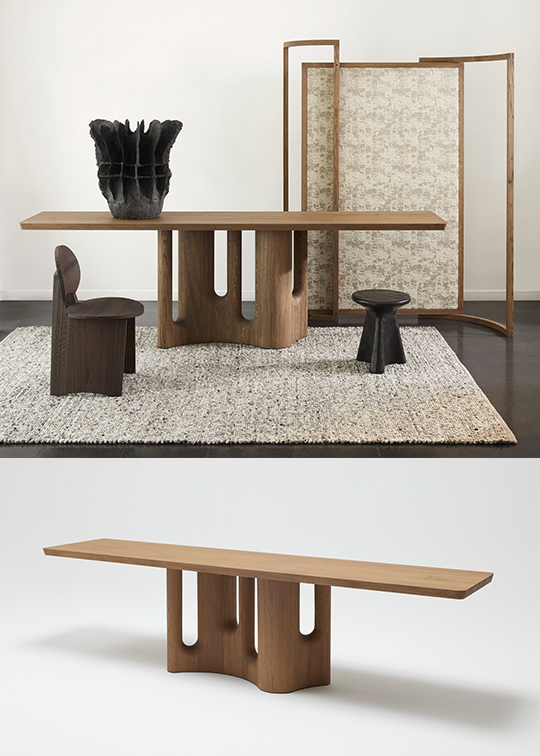 NIN Console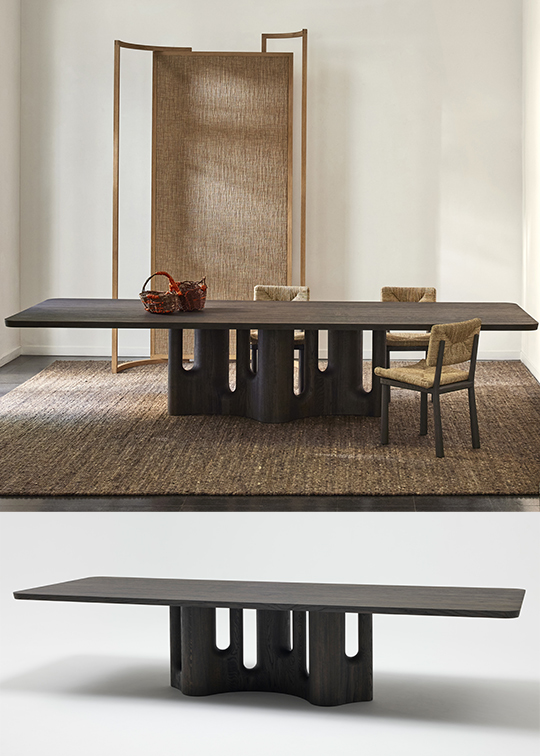 NIN table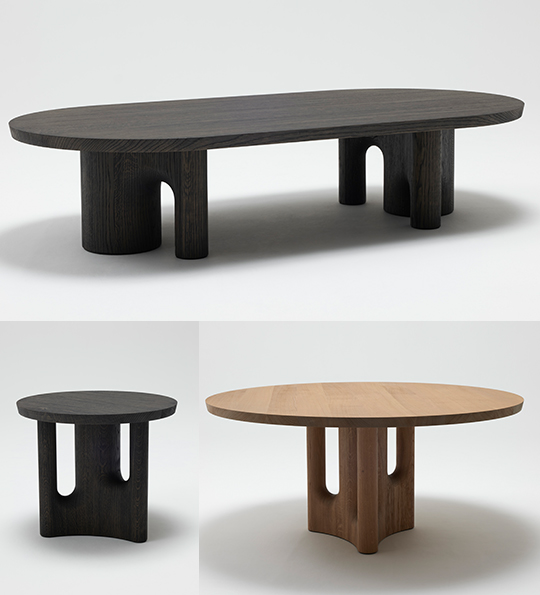 NIN low table, NIN side table, NIN round table