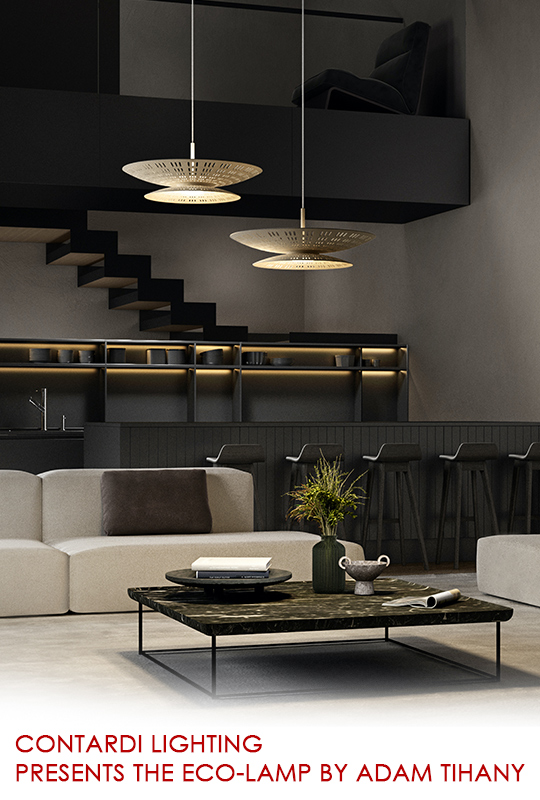 presented by

CONTARDI LIGHTING PRESENTS THE ECO-LAMP BY ADAM TIHANY
Published by Sugar & Cream, Thursday 09 March 2023
Images courtesy of Contardi Lighting
Design, Innovation, and Recyclability: New Frontiers for Greener Lighting
Contardi Lighting merupakan jenama internasional asal Italia yang terkenal pengembangan solusi pencahayaan kustom skala besar; proyeknya di sektor luks dan hospitality  dari beberapa firma arsitektur paling bergengsi di dunia. Contardi meliris Air, hasil kolaborasi yang menarik dan ecology-conscious bersama desainer Adam Tihany.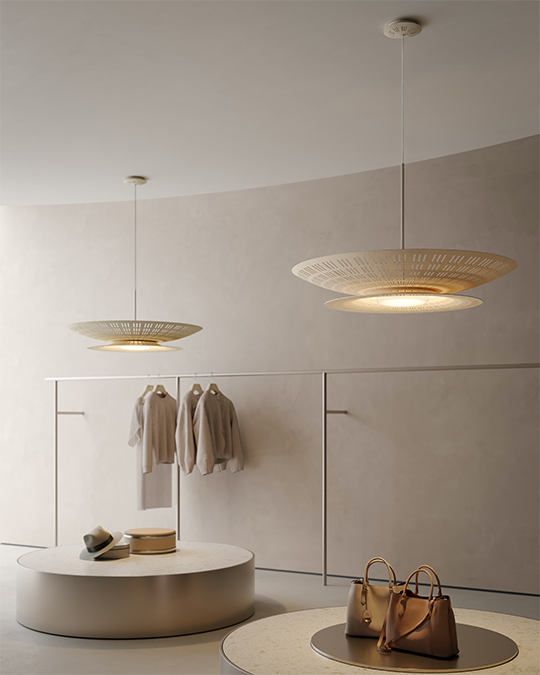 Air menggabungkan kualitas desain, teknologi mutakhir, dan filosofi hijau yang belum pernah ada sebelumnya  mencakup setiap komponen produk, yang bertujuan untuk mengeksplorasi ide pencahayaan sadar secara mendalam.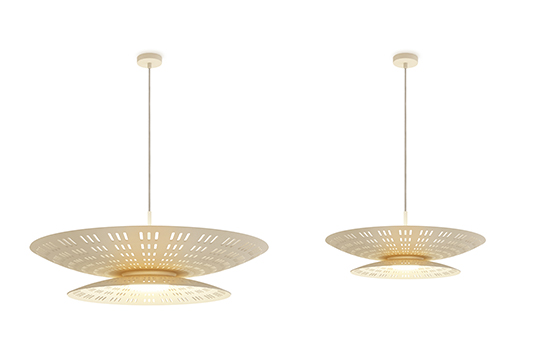 "Air, as inspiration for the design of a product, is a vast and elusive concept. Invisible, light, and substantial at the same time, air is an absolutely essential element for life on the planet. Air, made of 100% recyclable material, allows the surrounding air to flow freely through its artistic cuts. The light sources evoke the perception of floating both upwards and downwards, reminding us that light is perhaps the only material that escapes the gravitational laws." –  Adam Tihany, Designer –

Presented by Interni Cipta Selaras
Lampu suspensi dengan garis kontemporer, Air menonjol karena desainnya yang sederhana dan halus. Adam Tihany. mengapresiasi pendekatan busana Contardi, dengan archi-decorative functional-aesthetic code yang perhatian terhadap  pada tema keberlanjutan, serta  pengetahuan teknis jenama luar biasa.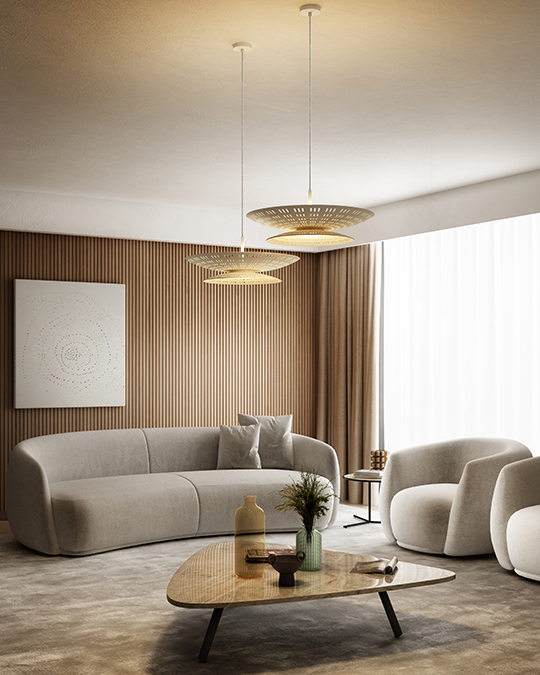 "The definition of ecological lighting does not necessarily relate to a specific product or a solution, but rather represents the set of characteristics that allow the lamp to contribute to reducing the negative effects on the planet, thanks to properties that it must necessarily possess, such as respect for energy efficiency standards, choice of sustainable energy sources, and selection of materials used. This is the preliminary reflection underlying the design of Air, a concept that transcends product categories and solutions, to favour a holistic interpretation of sustainability, in which every aspect concerning the life of the product, from the production process to the packaging, contributes to reducing its impact on the planet." –  Massimo Brigandì, General Manager of Contardi Lighting –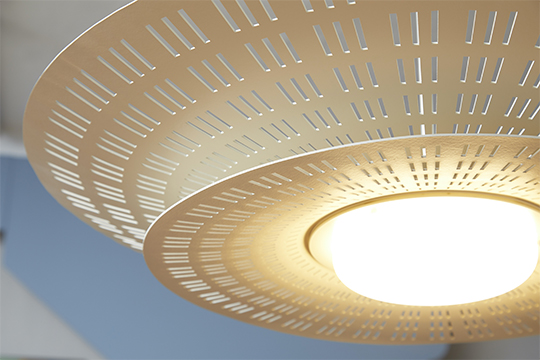 Air menggunakan sumber cahaya hemat energi, ditempatkan dalam kerangka material yang inovatif dan berkelanjutan. Badan Air yang ditangguhkan terbuat dari Green Cast®, bahan akrilik 100% daur ulang dan dapat didaur ulang yang diperoleh dari produk akhir masa pakainya dan limbah pemrosesan industri, digunakan kembali melalui proses melingkar. Green Cast® dapat digunakan kembali berkali-kali dan tidak pernah kehilangan kualitas estetika, mekanis, dan termalnya.
Pada Air dilengkapi dukungan untuk diffuser dan dua kap lampu, dengan struktur parabolanya mewujudkan keinginan Contardi untuk mengubah bodi bercahaya menjadi perabot yang fungsional, elegan, dan dekoratif, dibuat dengan secara drastis mengurangi jumlah bahan baku dalam proses produksi. Selain itu, finishing berwarna krem ​​ditambahkan saat membuat struktur itu sendiri, untuk lebih mengurangi dampak lingkungan yang biasanya dihasilkan oleh fase pernis: menghasilkan dekorasi konstruksi yang benar-benar ramah lingkungan.
Cahaya memancar melalui jalinan tenunan padat potongan laser yang terukir di kap lampu, memproyeksikan permainan cahaya dan bayangan yang memukau ke permukaan sekitarnya. Berkat sistem emanasi ganda – lampu atas dan bawah – sumber LED memancarkan cahaya yang hangat dan menyelimuti.
Air mengungkapkan dalam esensinya yang paling murni kualitas archi-decorative dari lampu Conardit, dipadukan dengan dorongan jenama terhadap inovasi produk dan proses – melalui komitmen untuk mengurangi pemborosan bahan melalui pencahayaan berintensitas tinggi, kecerdikan kreatif, serta dampak lingkungan yang rendah.