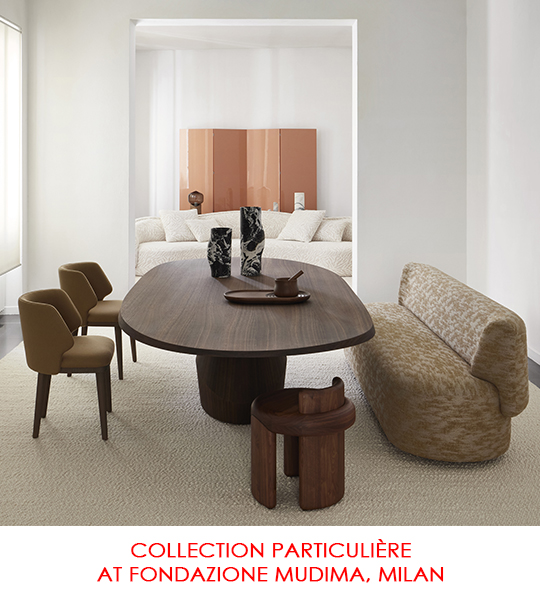 presented by

COLLECTION PARTICULIÈRE AT FONDAZIONE MUDIMA, MILAN
Published by Sugar & Cream, Friday 30 June 2023
Images Courtesy of Collection Particulière
Canopy, Halo, Pommel, Lum, Orb, Ube, Pia, Bao
On the occasion of the Milano Design Week 2023, Collection Particulière is exhibiting a new series of furniture and objects inspired by the materials and craftsmanship of artisans at Fondazione Mudima, Via Tadino 26 in Milan.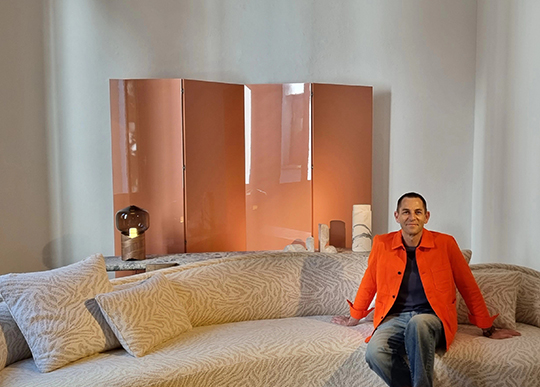 Carved marble, leather, sculpted wood, textured bronze… each in their own way, designers Christophe Delcourt, Mathieu Delacroix and Dan Yeffet have imagined new pieces with an unmistakable style for Collection Particulière, as many challenges to materials and tributes to craftsmanship.
A sculptural bench and stool, a totem candlestick, a monolithic coffee table, an architectural sofa: each piece presented by Collection Particulière at Fondazione Mudima stands out for its character and reflects a personal formal research freed from the aesthetics of the moment.

Presented by Interni Cipta Selaras
The leather work evokes the crafts of saddlery and leather goods. Wood oscillates between haute cabinet-making and Brutalist aesthetics.
Bronze becomes sculpture and jewellery, using the codes of gouged wood, a technique dear to Collection Particulière. Marble, finally, is exposed in its own mass, taking on a telluric and original presence.
A new collection that draws more inspiration than ever from gesture to translate a transversal vision, on the borderline between disciplines: craftsmanship, design, decorative arts and fashion.
Bowls « CANOPY»
Design Dan Yeffet
Fior di Pesco marble; Roman beige Travertine (unfilled); Rosso Levanto marble
Like a forest of stone, with designs that evoke the stable and massive form of the bottle tree or the tapered plate resting on a mighty base, the CANOPY series of bowls plays with the roughness of the material. Organicistic, contrasting and minimalist pieces that transform the simple presentation container into the art of offering.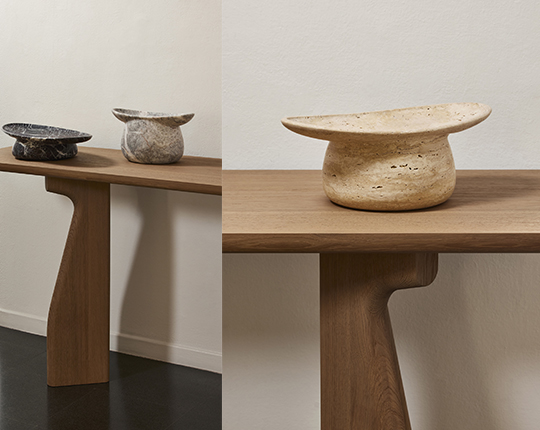 CANOPY
Candlesticks « HALO»
Design Mathieu Delacroix
Blackened and textured patinated bronze
The HALO candlestick celebrates light as well as the savoir-faire of the bronzesmith. The material modelled and sculpted by the master craftsman responds to the work of chiselling, the 'signature' gesture of Collection Particulière. This new collaboration with designer Mathieu Delacroix concretises a common feeling for timeless design that enhances craftsmanship.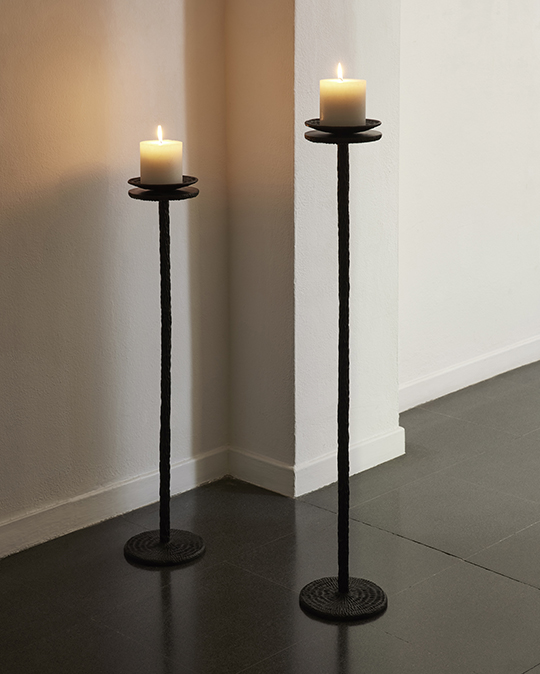 HALO
Stool « POMMEL»
Design Dan Yeffet
Leather
An animated, expressive and nomadic object, the POMMEL stool is inspired by the work of car furniture upholstery, as well as by an imagery of apparatus. Like a leather sculpture, it is characterised by sensual, taut yet rounded lines. The refined work of stitching embellishes and signs this emblematic piece of the collaboration between Dan Yeffet and Collection Particulière.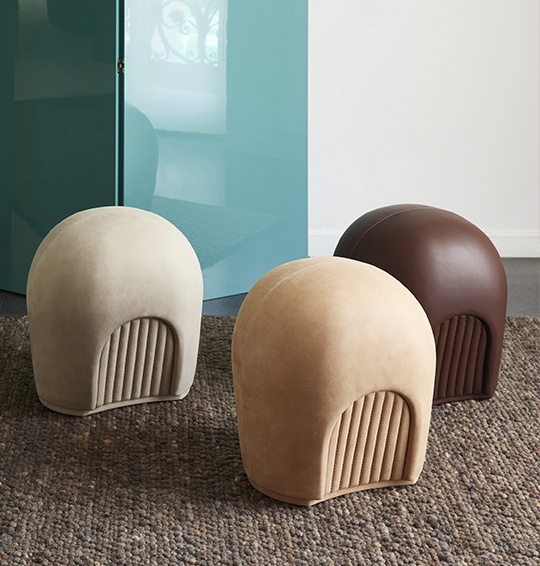 POMMEL
Bridge chair « LUM »
Design Christophe Delcourt
Fabric
A true little black dress, the LUM chair has quickly established itself as one of Collection Particulière's iconic pieces. A success it owes to its graceful curves, the accuracy of its design and the comfort of its upholstered seat. Now available in a bridge chair version, it takes on compact dimensions that emphasise its elegance and beautiful presence.
Bench « ORB »
Design Christophe Delcourt
Cedar and Brown Emperador marble; Oak and Brown Emperador marble
At first glance, it is a log of wood just stripped of its bark. That moment when the material begins a new life cycle, long before the tree becomes furniture. Brutalist, the ORB bench is nevertheless a true demonstration of know-how and a questioning of the very notion of refinement. The hand intervenes here simply to emphasise and preserve the raw material, as if trying above all to erase its intervention. Emperador marble base. Limited edition of 25 pieces for each of the two variants.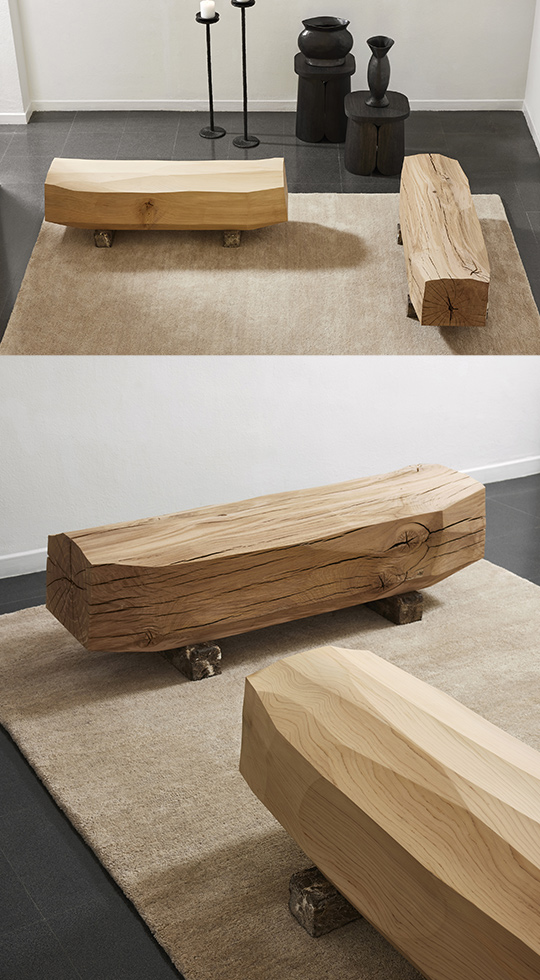 ORB
Sofa « UBE »
Design Christophe Delcourt
Six modules, infinite possibilities… this could be the definition of UBE, our first modular sofa programme. Designed for an island layout, it is first and foremost the result of extensive research into the arrangement and circulation within a given space. It multiplies the configuration possibilities and choices in terms of comfort and architecture of a room (straight, swivel, corner, sundial, etc.). An art of living in itself.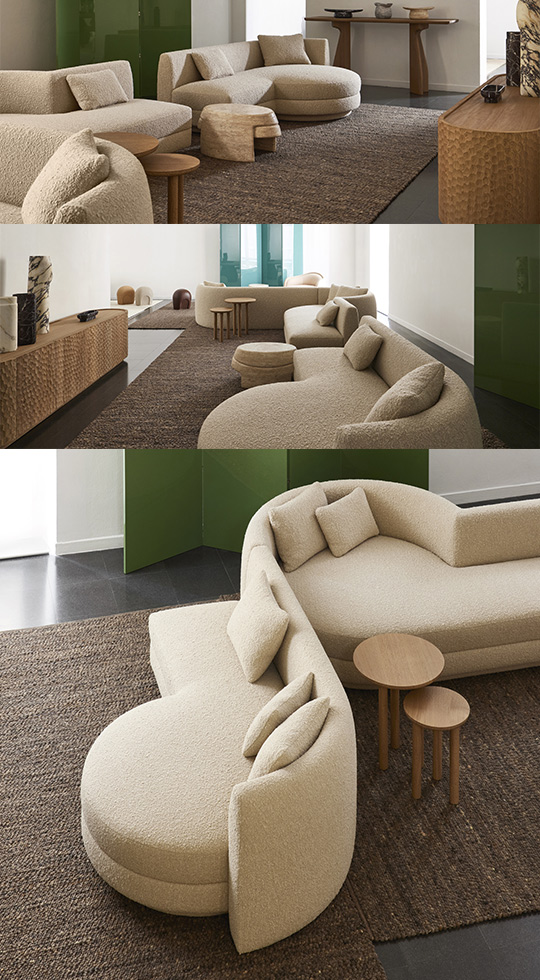 UBE
Sofa « PIA »
Design Christophe Delcourt
A tribute to the golden age of French decorators, the PIA sofa and armchair combine elegant, classic lines with contemporary comfort. On the occasion of Milano Design Week, the sofa is enriched with an XL version: a reinterpretation of the boomerang model combined with a generous seat depth. The armchair is in a swivel version, in a delicate nude shade.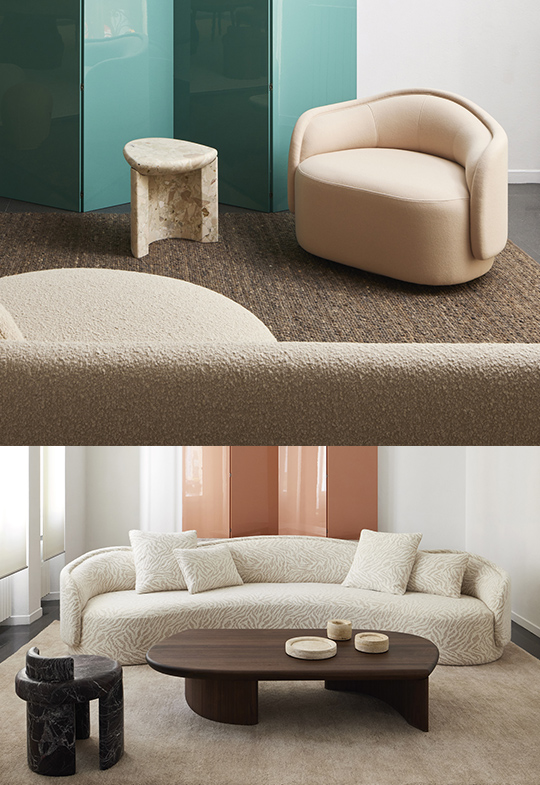 PIA
Coffee table « BAO »
Design Christophe Delcourt
Roman beige Travertine (unfilled)
Monolithic, kinetic, enigmatic… the BAO coffee table is a block of material cut from a single piece that reveals a powerful, sculptural, almost telluric silhouette. A piece of furniture that, conceived as a game of construction, plays on the illusion of an interweaving of stones and sounds like a return to the essential, to primitive matter.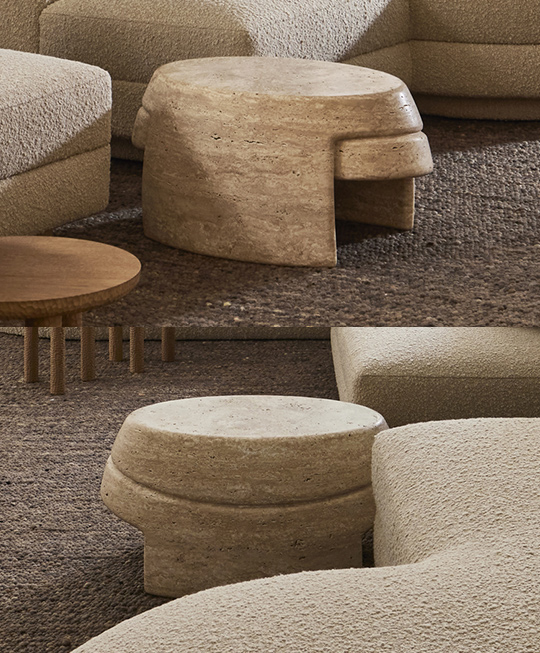 BAO