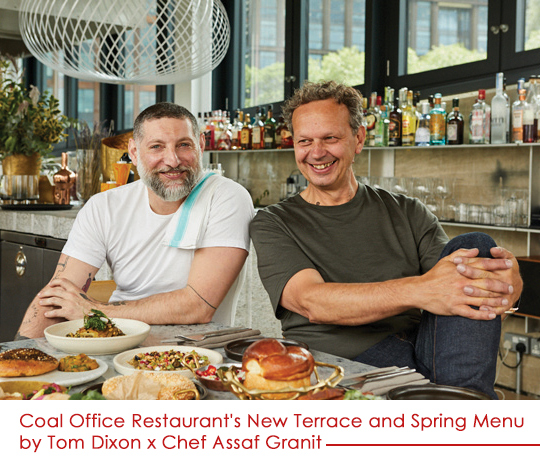 presented by

Coal Office Restaurant's New Terrace & Spring Menu by Tom Dixon x Chef Assaf Granit
Published by Sugar & Cream, Monday 07 June 2021
Text by Dinda Bestari, Image courtesy of Tom Dixon
Food and Design Playground – Rich in Material, Style, and Flavor
Surely you can imagine when a famous designer and Michelin Star chef collaborated? Yes, it sure makes it an iconic place! Dan, Anda akan terpesona dengan Coal Office Restaurant yang memiliki lokasi strategis, karena letaknya di pintu masuk tujuan belanja dan hot -spot foodie Coal Drops Yard, Kings Cross London dengan menawarkan dua area outdoor yang indah.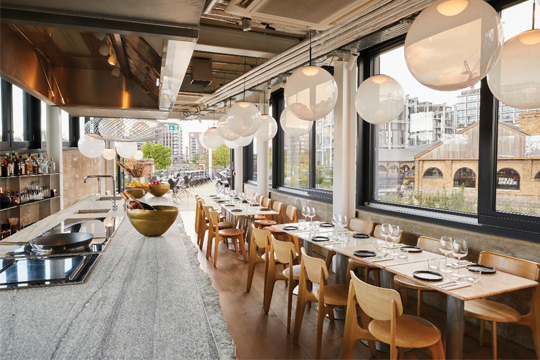 The top floor terrace of Coal Office restaurant
Coal Office Restaurant  merupakan 'playground' makanan dan desain hasil kolaborasi Chef Assaf Granit berbintang Michelin dan desainer asal Inggris yang terkenal, Tom Dixon. Restoran ini menawarkan Middle Eastern Cuisine kelas satu, dengan area outdoor terbaru sehingga Coal Office Restaurant  menjadi salah satu tujuan destinasi kuliner al fresco terbaik di London.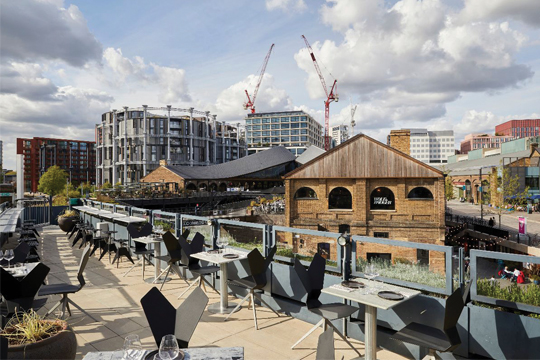 The balcony on the top floor of the restaurant has views of the Coal Drops Yard.
Sejak dibuka pada 2018, Coal Office Restaurant dengan cepat menjadi destinasi utama ketika para wisatawan domestik maupun internasional ke London demi menikmati Middle Eastern Cuisine. Ditemani dengan rasanya yang lezat, suasana yang semarak, serta interiornya yang menawan, all under one roof.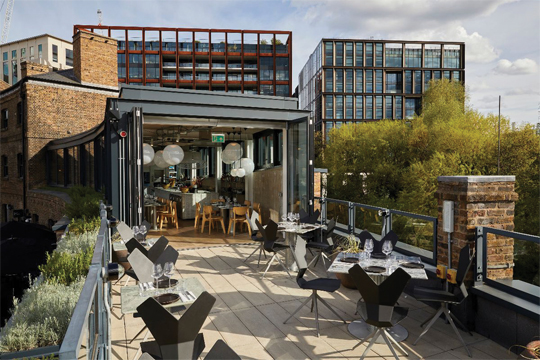 The top floor balcony has views of King's Cross and Regent's Canal.

Ground terrace sepanjang 45 meter yang tertutup sepenuhnya menjadi tempat yang tepat untuk mengamati suasana karena menghadap ke Granary Square yang ramai. Didesain oleh Design Research Studio Tom Dixon, area outdoor terbaru ini dilengkapi dengan 'payung' besar, pemanas, meja dengan Testi Marble Tops yang diimpor dari Italia, serta kursi Omstak, desain Inggris klasik oleh Rodney Kinsman. 'Dek' baru – yang dapat menampung hingga 80 pengunjung –  terbuat dari bahan daur ulang.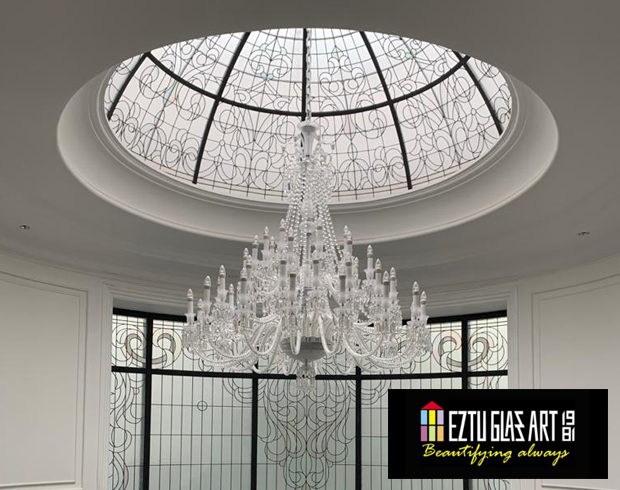 Presented by Eztu Glass
Fusion cuisine dari cita rasa Modern Jerusalem milik Coal Office sama memikatnya seperti hidangan – hidangan restoran ini sebelumnya. Hidangan musim panas baru telah ditambahkan ke menu seperti, Shkedia (Kingfish Tartar), Morris Challah Bruschetta (sweet bread with lamb and herbs), dan Shula's Calzones (Bonfire Potato, feta, percorino ravioli and yogurt).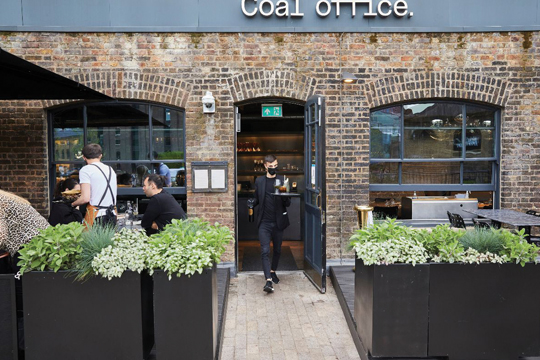 The new 45m ground floor terrace.

Hidangan klasik Coal Office juga menjadi highlight, seperti Kubalah (Soft Yemeni Brioche served with Tahini, Grated Tomato, Schug), Josperized Aubergine (Green Tahini, Black Tahini, Yogurt, Pomegranate, Mint, Berries, Duka), Machneyuda's Polenta (Asparagus, Truffle, Mushroom Ragout, Parmesan), Octopus al Lachuh (Yemeni Pancake, Truffle Harissa Sauce, Pomegranate, Herbs), dan Shikshukit 3.0 (Lamb & Beef, Green Tahini, Chickpeas, Aubergine, Shallot, Herbs, Kurdish Dips).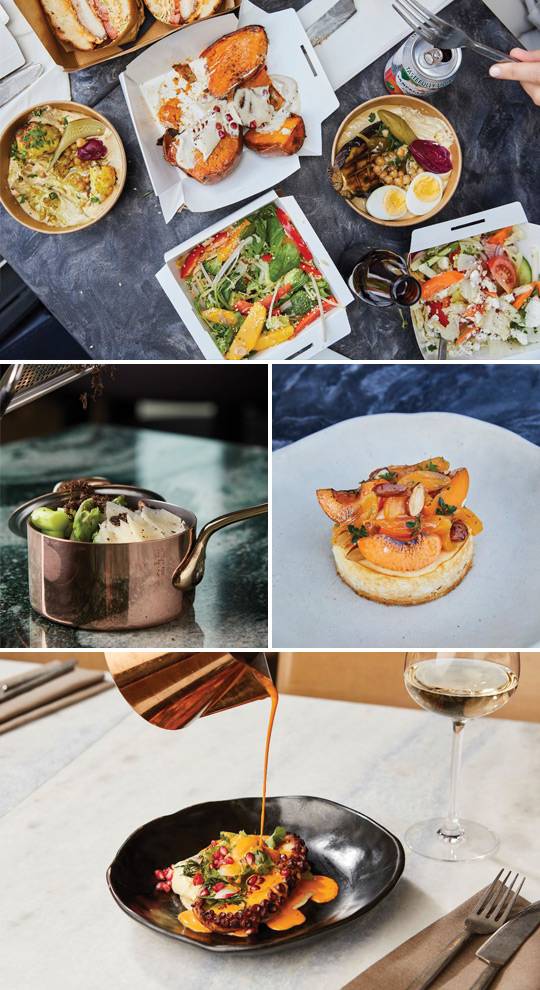 Coal Office's little sister Coal Office Industry serves salads, roasted vegetables, sandwiches, dips, and more | Machneyuda's Polenta (Asparagus, Truffle, Mushroom Ragout, Parmesan) | Ricotta baked cheesecake seasoned with mahleb (cherry seeds), compressed loquat, apricots, caramelized almonds, and fresh thyme | Octopus al Lachuh (Yemeni Pancake, Truffle Harissa Sauce, Pomegranate, Herbs)

Sister company dari Coal Office, Coal Office Industry, yang terletak di pintu masuk gerai Tom Dixon buka setiap hari dan menawarkan stew dan sup yang lezat serta roti yang baru dipanggang, yang semuanya merupakan hasil bumi lokal.  Kubalah, roti lapis dengan sentuhan Timur Tengah,  menjadi pilihan populer di antara banyak pelanggan karena roti brioche  lembut, isian melimpah, dan ukurannya yang murah hati. Take-away and delivery tersedia dan tempat duduk outdoor yang ditawarkan untuk para tamu.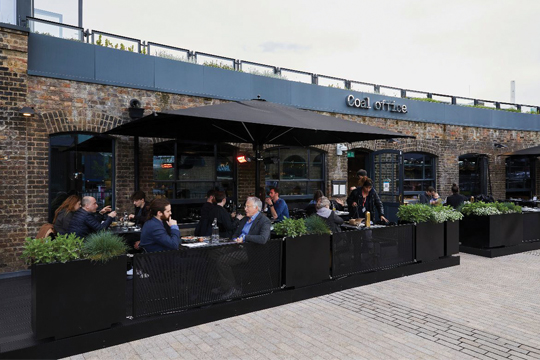 Guests can choose from outside dining on the ground floor and top floor balcony.