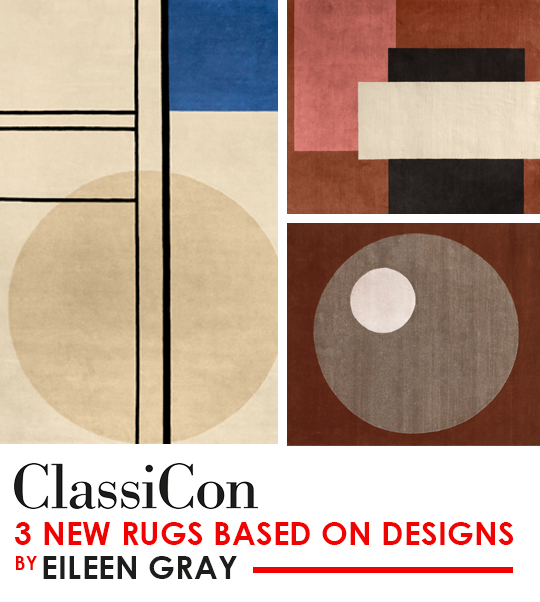 presented by
CLASSICON – 3 NEW RUGS BASED ON DESIGNS BY EILEEN GRAY
Published by Sugar & Cream, Thursday 26 October 2023
Images Courtesy of ClassiCon
Hand-Knotted Wool: De Stijl, Cassis and La Lune Rugs
Eileen Gray not only created some of the most famous and significant furniture classics of the 20th century, but also ran a studio where rugs were produced according to her designs. Many of these are already part of the ClassiCon collection. Now, three new designs, which are based on gouaches by the qualified artist and versatile designer, are also available: the De Stijl, Cassis and La Lune rugs. They are masterpieces of abstract textile art, made of 100% New Zealand virgin wool, hand-knotted at a density of 124,000 knots per square metre, and produced under environmentally and socially sustainable conditions.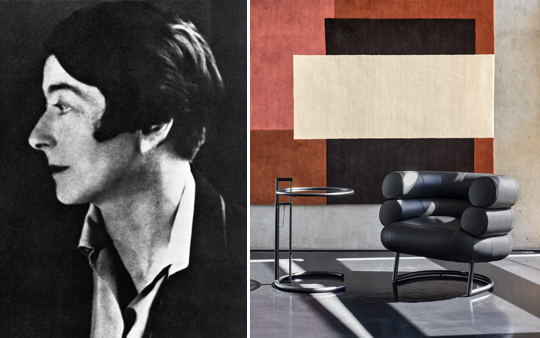 During the 2023 Milan Design Week, ClassiCon celebrated the life and work of Eileen Gray with a highly acclaimed exhibition of original gouaches and collages by the legendary Irish designer. For this show, inspired by artworks from a private collection, certain examples of her lifelong artistic work were transformed into hand-knotted rugs made of 100% hand-spun New Zealand virgin wool. Three of these will now go into production, expanding ClassiCon's extensive collection of rugs based on Eileen Gray's designs. Great care was taken to ensure that the artistic templates were transferred to the De Stijl, Cassis and La Lune rugs in order to do justice to Eileen Gray's designs in every way. The rugs are hand-knotted using the ancient art of Tibetan knotting, a technique that creates a particularly soft and silky feel. The knotting density is 80 knots per square inch, the equivalent of approximately 124,000 knots per square metre. All designs are dyed with environmentally friendly pigments, tested according to the OEKO-TEX® STANDARD 100. As with all ClassiCon rugs, the three new designs are produced in close partnership with the fair-trade organisation Label STEP in the artisan villages of the Sarlahi region of Nepal. Label STEP guarantees good working and living conditions for the people in the production areas, as well as the use of only environmentally friendly processes.
De Stijl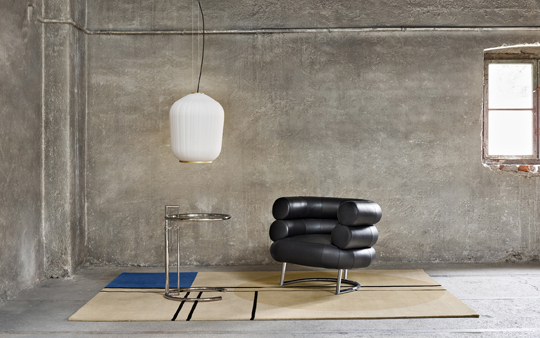 In 1922, Eileen Gray presented her De Stijl side table at an exhibition of French art in Amsterdam. With its multi-level surfaces and alignments, the black and white table has the appearance of a stand-alone piece of architecture. Today, it is also part of the ClassiCon portfolio. Its sculptural quality, use of colour and logical construction reference the design philosophy of the pioneering Dutch architectural group De Stijl, which had many things in common with the German Bauhaus – and also provided inspiration to other designs by Eileen Gray. The De Stijl rug, which is new in the ClassiCon portfolio, transfers a gouache created in the 1920s into an abstract textile work of art made of 100% hand-spun New Zealand virgin wool. Its geometric beige-navy blue design features a grid of black lines and a circular motif and harmonises with the most diverse interiors. The new De Stijl rug is available in standard sizes of 220 x 300 cm or 250 x 345 cm, or can be made to measure.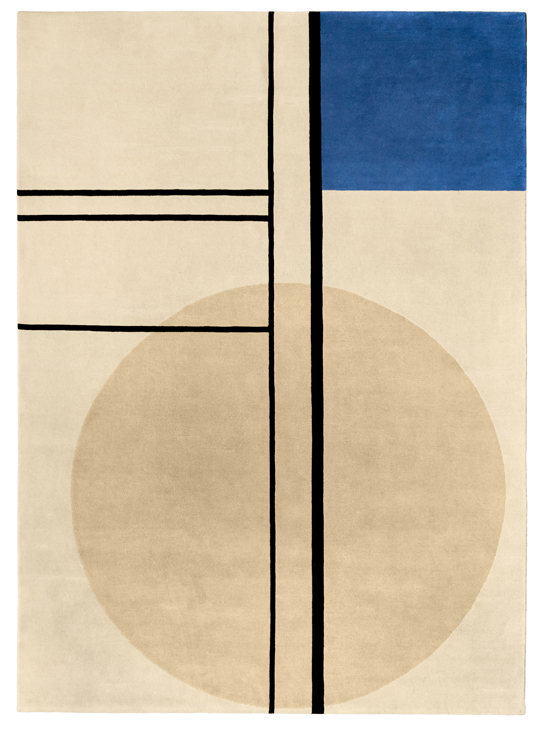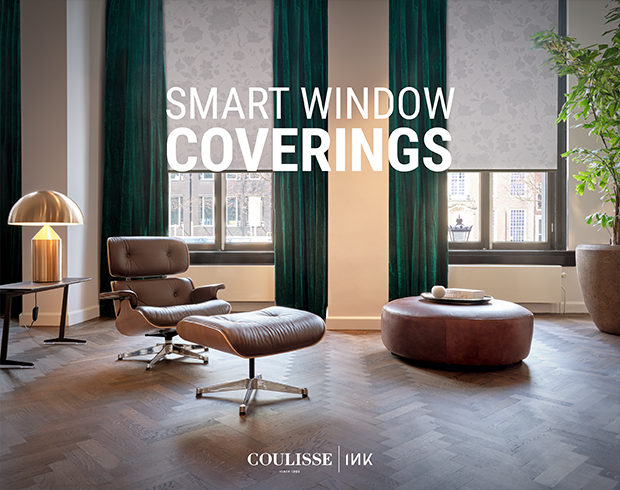 Presented by Coulisse | INK
Cassis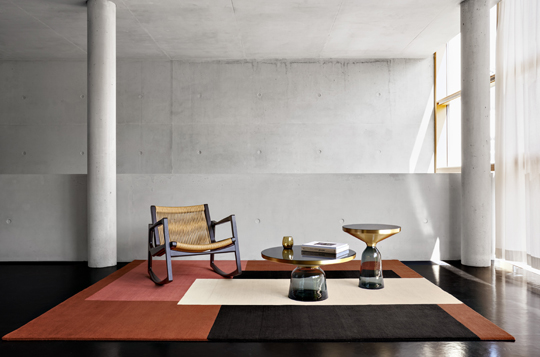 Named after the picturesque coastal town in the Provence-Alpes-Côte d'Azur region of southern France, where Eileen Gray spent significant periods of her life (in 1929 she completed her E1027 villa in this region, which is now considered her most iconic work of art), the colour scheme of this rug is reminiscent of the blackcurrant fruit of the same name. Made of 100% hand-spun New Zealand virgin wool, it combines deep terracotta and fresh strawberry red with geometric white and dark brown surfaces. In the Milan exhibition, Cassis attracted admiring glances – the bold reds and earthy tones of this textile artwork lend warmth and vibrancy to any room without being too loud or obtrusive. Cassis comes in a standard size of either 240 x 200 cm or 300 x 250 cm, or in individual, customized sizes.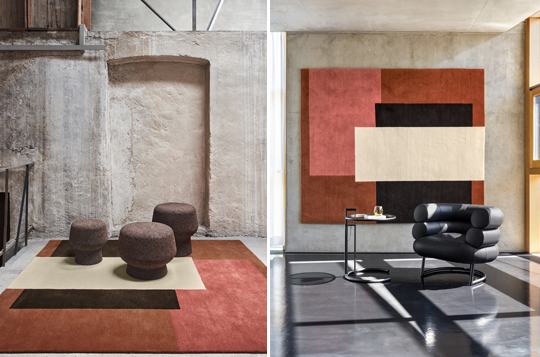 La Lune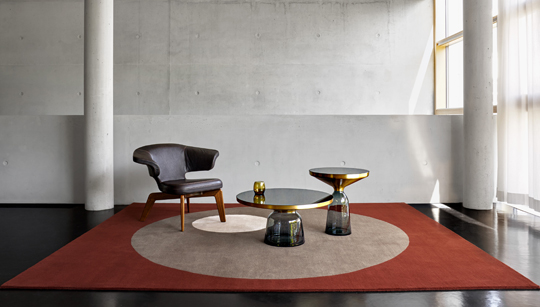 In Eileen Gray's gouache that served as a template for the new La Lune rug, the moon is a shimmering silver disc on a taupe-coloured circular surface set against a dark red night sky. The qualified artist, who never gave up drawing, collaging and painting throughout her life, perfectly coordinated the proportions and colours of the asymmetrically arranged surfaces. ClassiCon has translated the shiny lunar surface of the pattern into luxurious, silvery-shimmering silk; in contrast, a material mixture of cotton and wool lends the surrounding circular surface a look of matt depth. The dark red background surface of the rug, which measures either 200 x 175 cm or 300 x 250 cm or can be made to measure, is made of 100% hand-spun New Zealand virgin wool. Hand-knotted and manufactured in Nepal to the highest standards, La Lune is another impressive design by Eileen Gray in the ClassiCon rug collection, which brings into focus the artistic work of this outstanding designer.