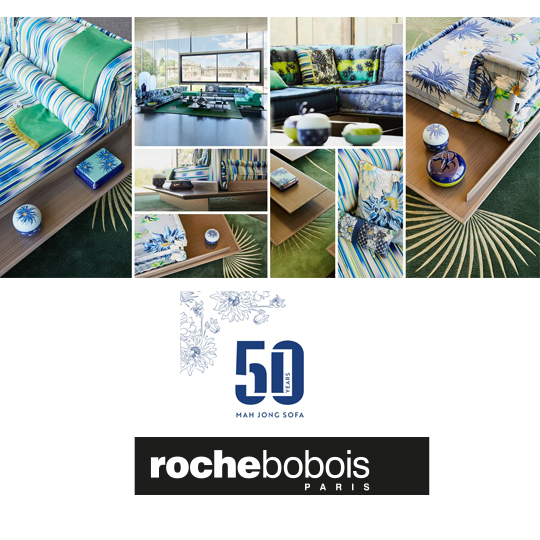 presented by

CELEBRATING 50 YEARS OF THE ICONIC MAH JONG SOFA BY ROCHE BOBOIS
Published by Sugar & Cream, Thursday 21 October 2021
Text by Dinda Bestari, Image courtesy of Roche Bobois
Mah Jong Sofa Dressed By Kenzo Takada, Jean Paul Gaultier & Missoni Home
Who would have thought that the traditional Chinese game, Mah Jong, was the inspiration for such iconic furniture? Di tangan desainer Hans Hopfer dan Co – founder Roche Bobois, Philippe Roche berkolaborasi untuk menghasilkan salah satu furnitur terlaris untuk jenama Prancis ini, Mah Jong Sofa. 
Tahun ini, Roche Bobois merayakan 50 tahun Mah Jong Sofa dan untuk menandai tonggak sejarah ini, Mah Jong 'mengenakan' tekstil terbaru dari desainer ternama seperti Kenzo Takada, Jean Paul Gaultier, dan perusahaan tekstil asal Italia, Missoni Home yang dipasang di atas platform elegan, sehingga mengelevasi siluet sofa serta membuatnya terlihat semakin nyaman. Desain avant-garde pada saat pembuatannya menjadikan sofa ultra-modular ini adalah bagian furnitur ikonis hingga saat ini.
Pada 1971, Hans Hopfer menciptakan Mah Jong, sofa modular yang mengelevasi 'kebebasan' total dari bentuk dan fungsi. Dimulai dengan tiga elemen penting yang dapat digabungkan atau ditumpuk bersama, Mah Jong memungkinkan pilihan harmoni tanpa batas, mulai dari yang sederhana hingga yang sangat kompleks: armchair, sofa, lounge chair, tempat tidur, atau tempat duduk ruang tamu. Semua ini memungkinkan untuk semua posisi dan penggunaan, mencerminkan antusiasme dan vitalitas era dari mana sofa ini berasal.
Simak serunya perhelatan 50 tahun Mah Jong di sini 
MAH JONG UMI:  Designed by Hans Hopfer with fabrics by Kenzo Takada
Bebas dan berani dalam pendekatannya Kenzo Takada – "the most Parisian of Japanese designers"– telah merancang koleksi tekstil yang luar biasa untuk melapisi Mah Jong. Kreasinya mencerminkan ciri grafis dan budaya dari gayanya: Timur bertemu Barat (East Meet West), penguasaan warna, serta pola halus untuk harmoni yang lebih orisinal dan elegan.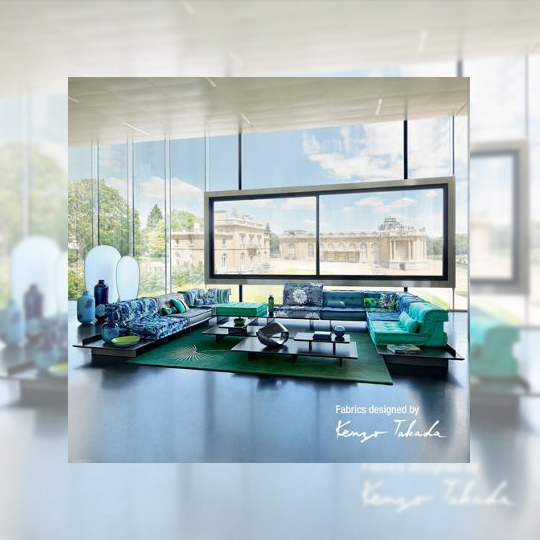 Mah Jong Umi by Kenzo Takada
Dominasi warna biru dan hijau menghadirkan kesegaran musim semi, "Umi" (laut dalam bahasa Jepang), menampilkan perpaduan warna yang membangkitkan 'samudra', langit yang penuh badai, atau Laut Mediteranian, dengan menggabungkan beberapa desain bunga dan geometris melalui variasi dari tekstur dan bahan.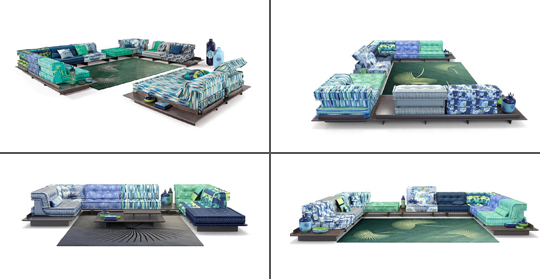 Mah Jong Umi by Kenzo Takada
MAH JONG MISSONI HOME: Designed by Hans Hopfer with fabrics by Missoni Home
Missoni Home menjadi ikon fashion Italia yang paling elegan dan menawan. Motif zigzag ikonis dari jenama ini, bahan kain halus, serta pola bunga dan grafis, menggambarkan sekaligus memberi energi pada setiap bantal Mah Jong. Sesuai dengan gayanya, rumah mode Missoni Home ini menggabungkan kain dengan warna serta bahan yang rumit. seperti Jacquard, dengan motif impresionis, desain bunga, serta kain semi – polos dengan motif chevron kecil yang 'membingkas' satu sama lain, disempurnakan dengan walnut tones.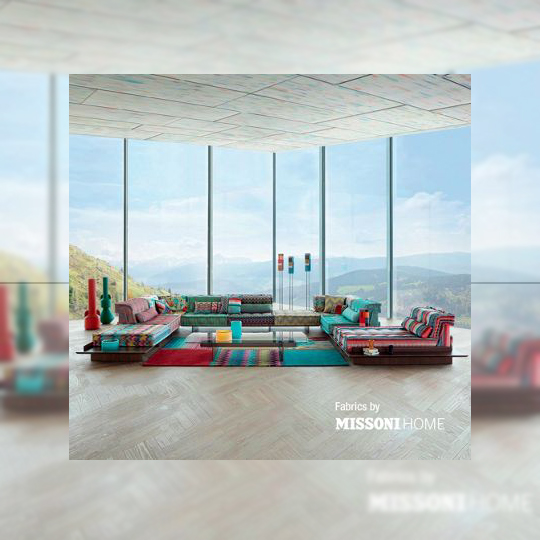 Mah Jong Missoni Home by Hans Hopfer with fabrics by Missoni Home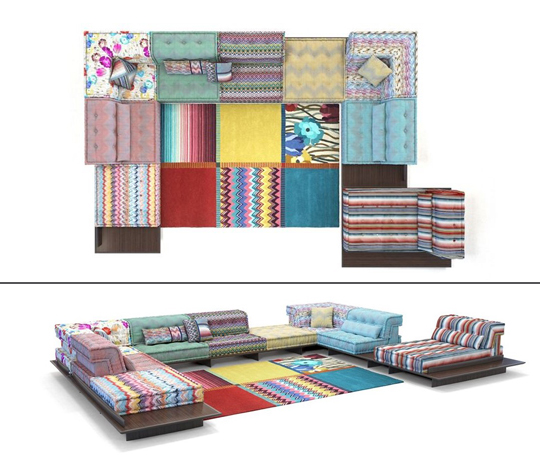 Mah Jong Missoni Home by Hans Hopfer with fabrics by Missoni Home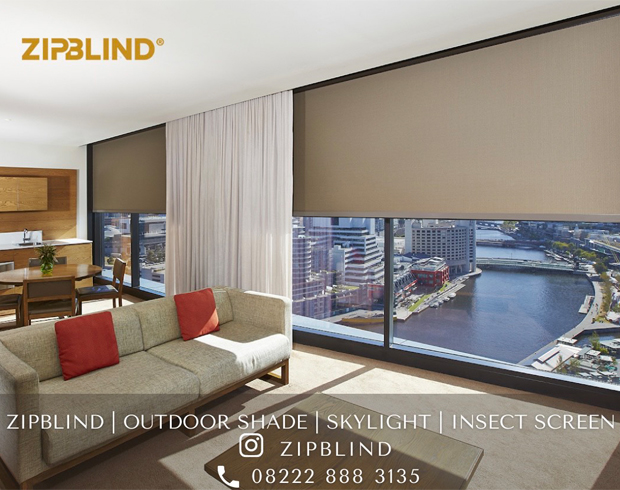 Presented by Zipblind
MAH JONG JEAN PAUL GAULTIER: Designed by Hans Hopfer with fabrics by Jean Paul Gaultier for Roche Bobois

Ketika visi Jean Paul Gaultier bertemu dengan savoir–faire kreatif Roche Bobois, memunculkan interpretasi yang sangat pribadi tentang Mah Jong, dengan menghasilkan tampilan sofa yang begitu menawan. Perancang asal Prancis ini menginterpretasi serta mengubah trademark–nya, menjadi koleksi sofa ikonis yang puitis, sophisticated, namun 'sedikit berbeda' yang dengan mudahnya menghubungkan dunia mode dan desain.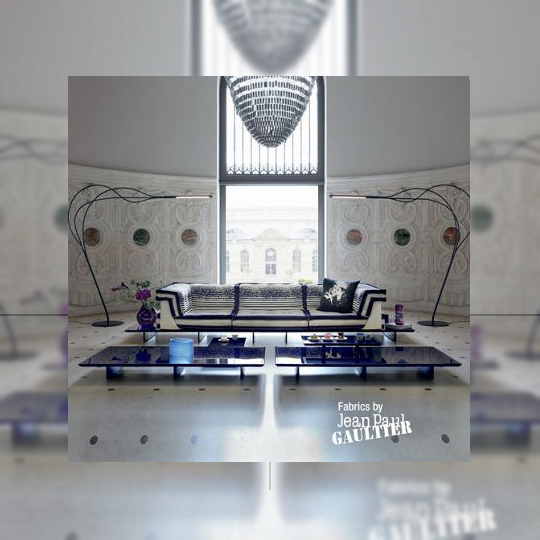 Mah Jong Jean Paul Gaultier by Hans Hopfer with fabrics by Jean Paul Gaultier
Setelah melapisi Mah Jong dengan garis-garis nautical yang ikonis, Jean Paul Gaultier mengadaptasi ciri khas motif ini dengan kain/tekstil yang baru. Kemudian, diaplikasikan pada blue ink lacquered base, sehingga Mah Jong Sofa dielevasi sekali lagi dengan "melanggar" konvensi dengan cara yang elegan dan menarik.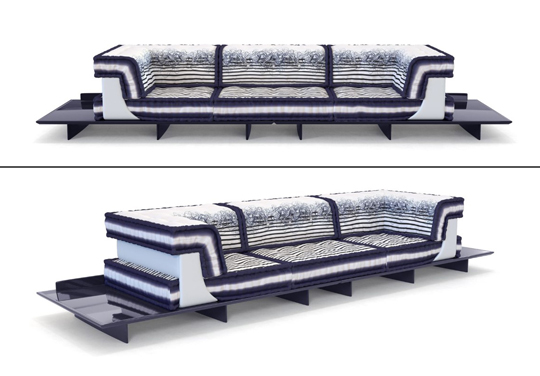 Mah Jong Jean Paul Gaultier by Hans Hopfer with fabrics by Jean Paul Gaultier