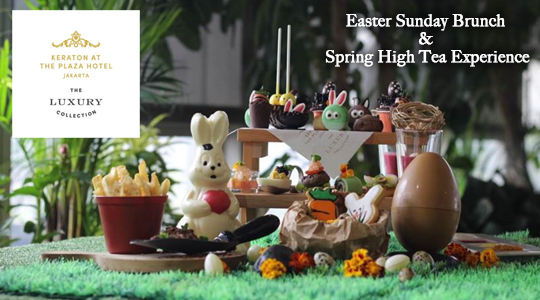 Celebrate Easter with Keraton at The Plaza
Published by Sugar & Cream, Monday 26 March 2018
Text by Astrid L, Images courtesy of Keraton at The Plaza
Eastervaganza and The Spring Time
Keraton at The Plaza mengundang Anda untuk merayakan Paskah dengan pengalaman Easter Dining yang mewah, sekaligus menyambut musim semi sambil ber-high tea. Let's have an extra Eastervaganza!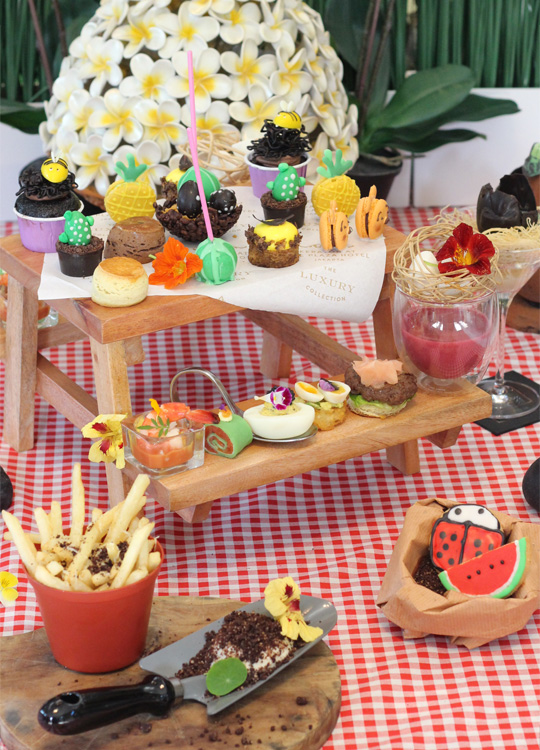 Sila melakukan reservasi dengan menghubungi nomor telepon (021) 5030 2993 atau melalui e-mail ke bengawan.keratonattheplaza@luxurycollection.com
Menyambut Paskah atau Easter, Chef Rafael Fernandes Gil, Director of Culinary Keraton at The Plaza, menyiapkan serangkaian acara yang terinspirasi dari acara piknik di tengah kebun indah yang sedang menyambut datangnya musim semi. Ceria dan menyenangkan.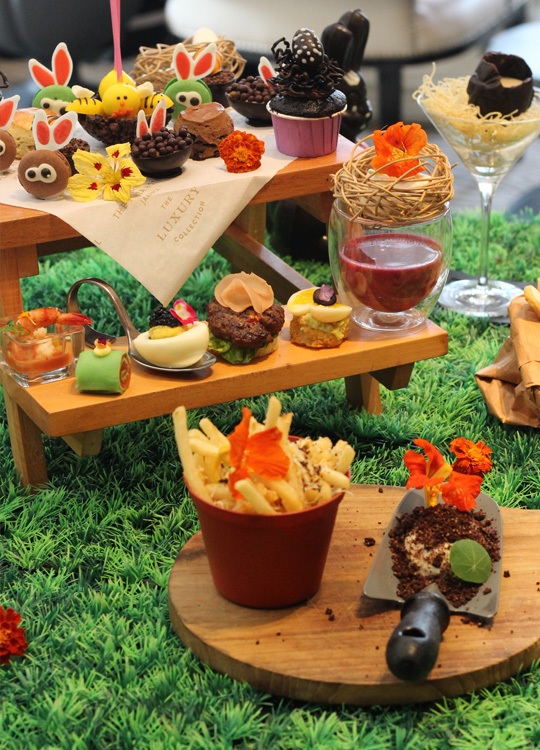 Chef Rafa Gil dan timnya menawarkan pengalaman ini lewat Easter Sunday Brunch di Bengawan, serta Easter High Tea and Picnic di Spring High Tea di Keraton Lounge, lengkap dengan beragam pilihan desserts yang menggugah selera.
Untuk pencinta buffet, silakan memanjakan lidah Anda lewat Easter Sunday Brunch, yang akan disajikan di Bengawan Restaurant tanggal 1 April 2018 mulai pk 12 siang hingga 3 sore. Buffet mewah ini akan berlimpah pilihan seafood mulai dari oysters, lobster, Alaskan king crab, hingga menu premium seperti Kobe beef. Yang juga istimewa adalah dessert station yang dilengkapi oleh dekorasi kebun dengan rumput hijau serta ornamen Paskah dan tentunya kue-kue lezat. Nikmati buffet ini dengan IDR 955,000 nett per orang termasuk minuman non-alcohol, atau IDR 1,600,000 hingga IDR 1,950,000 termasuk minuman alkohol.
Penawaran tak kalah menarik datang lewat Easter High Tea, untuk pengalaman sensasi manis termasuk Chocolate macaroon, Manjari carrot in basket, Toraja coffee chocolate truffle, hingga Egg tiramisu. Sedangkan sensasi savory hadir melalui Mini burger with red ginger pickle, Devil egg with caviar, hingga Gravlax salmon wasabi roulette with Ikura. High tea ini disajikan mulai 26 Maret hingga 8 April 2018 pk 12 siang hingga malam hari.
Satu lagi yang tak boleh dilewatkan: Picnic in Spring High Tea, yang menunya juga bervariasi, termasuk Bear macaroon, Cactus basket, Cassis soup, character cookies, serta Avocado & quail egg tea sandwich, dan Pached prawn with sweet & chili sauce. Tersedia selama bulan April 2018 mulai pk 12 siang hingga malam hari.
Easter High Tea and Picnic in Spring High Tea bisa dinikmati dengan IDR 428,000 ++ untuk dua orang, termasuk teh atau kopi.