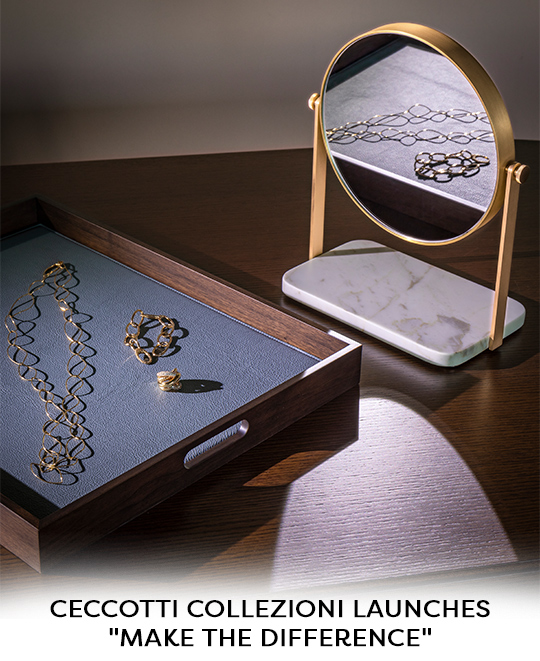 presented by
CECCOTTI COLLEZIONI LAUNCHES "MAKE THE DIFFERENCE"
Published by Sugar & Cream, Monday 21 August 2023
Images courtesy of Ceccotti Collezioni
The Brand's First Line of Decorative Objects for The Home
Ceccotti Collezioni presents a new line of accessories encapsulating the firm's artisanal excellence and research into quality raw materials such as wood, leather, and metals.
The line was created in response to a growing spontaneous request from the same partners and clients of the company. Design objects originating from the craftsmanship knowledge of luxury that contribute and show off the personality, the character, the uniqueness in each of us. Items that contain within them the specific characteristics of the master craftsmanship of Ceccotti Collezioni  and the quality of the raw materials like wood, leather and metals. Exclusive items, personal, almost intimate, that tell the story within the story, aspects combine the excellence of the Ceccotti Collezioni  world with the quality of life within the home.
The first collection includes a set of boxes conceived for various uses with customised interiors according to what they hold (watches, jewellery, eyeglasses, pens, cigars, make up), a shoe set, a mirror, as well as a series of trays in different sizes and combinations of finishes to satisfy a refined and demanding taste. Perfect as gift ideas, clients can also purchase them along with the Ceccotti Collezioni furnishings.
BOXES
A series of boxes in American walnut veneered poplar plywood, upholstered in Poltrona Frau SC leather and nubuck and available in a choice of colours, designed for storing our favourite things, such as pens, watches, eyewear, as well as jewellery. In the Humidor version – with integrated humidification system for long-term cigar storage – and in the set designed for shoes and makeup, the internal surfaces are in Lebanese cedar.

Each box has been attentively designed down to the smallest detail, with removable trays and different compartments for an optimal organization of its contents. Exquisite finishes and meticulously designed details make these accessories particularly elegant and refined.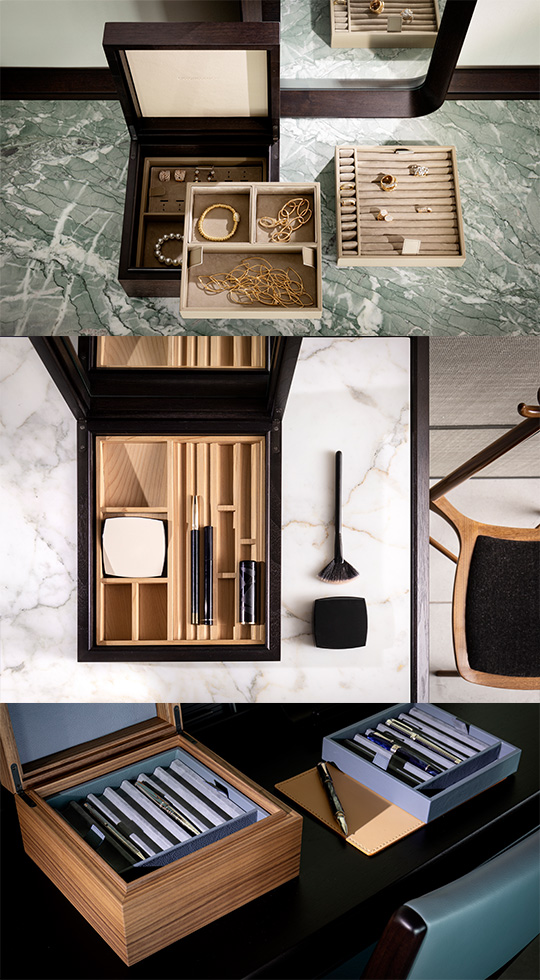 REGARDE-MOI
The classical dressing table mirror has been reinterpreted by Giuseppe Casarosa in a more modern version and sculptural shape. Regarde-moi marries the elegance of marble defining the mirror base with the brass of its structure and frame, to create a timeless object of refined design.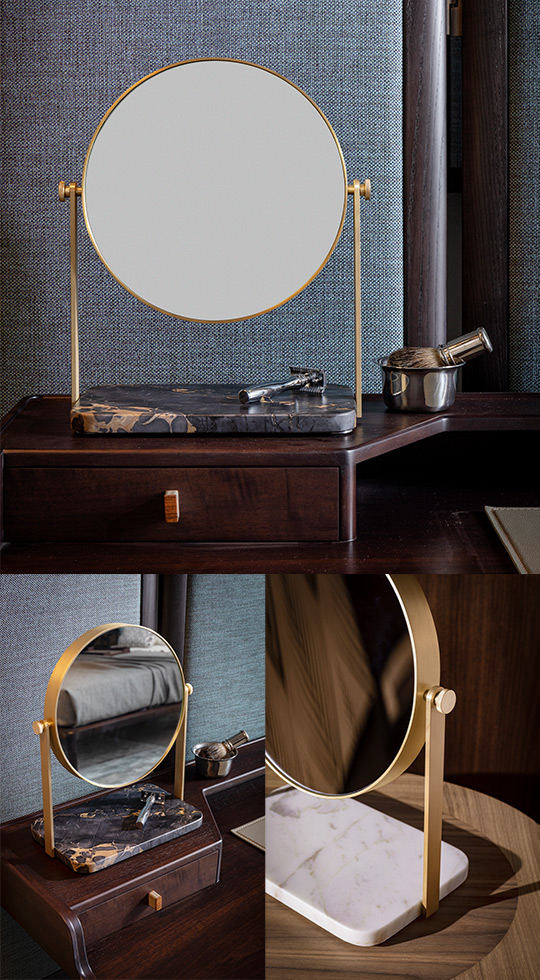 TRAYS
Asola, Guscia and Quartabuono are three different sets of trays in various sizes and finishes designed for holding or carrying objects of many types. Elegant and versatile, their exquisite details make them unique and unmistakeable.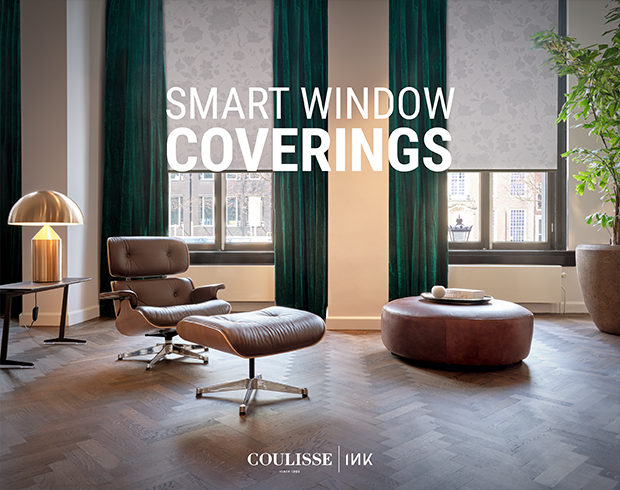 Presented by Coulisse | INK
Asola
A set of trays in solid American walnut available in the variants of natural, dark, mocha, and brown, as well as in three different sizes with a flat surface in coloured glass, leather, or wood. The practical ovoid holes positioned on opposite sides of the structure act as easy-grip handles, enabling its use as a serving tray or as an elegant catchall for knickknacks.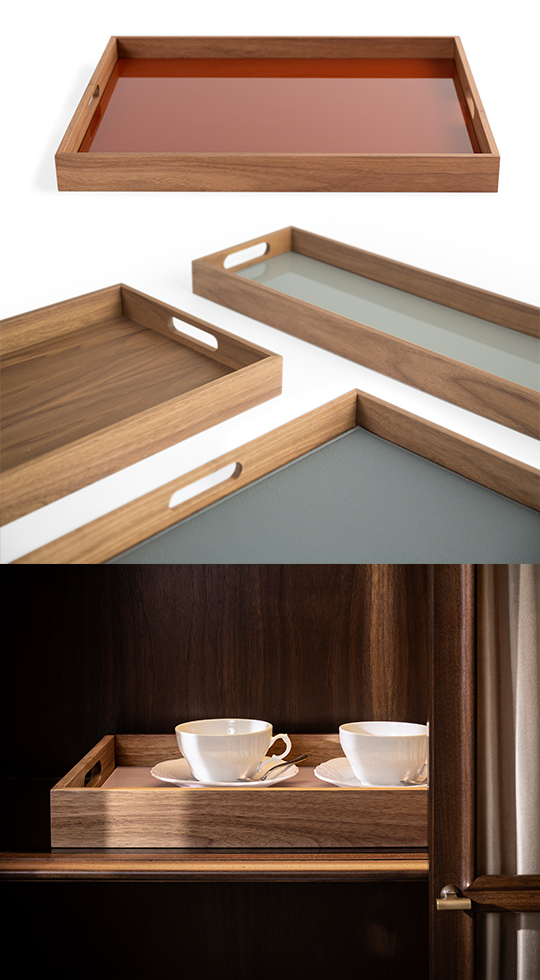 Guscia
A set of trays in three different sizes whose flat surface is available in coloured glass, leather, or wood. The structure in solid American walnut (available in the variants of natural, dark, mocha, and brown) has a lower section cut out of two opposite sides of the rim to enable an easy grip. These trays can be used to contain various types of objects, while conferring a touch of class and elegance to any table or social gathering.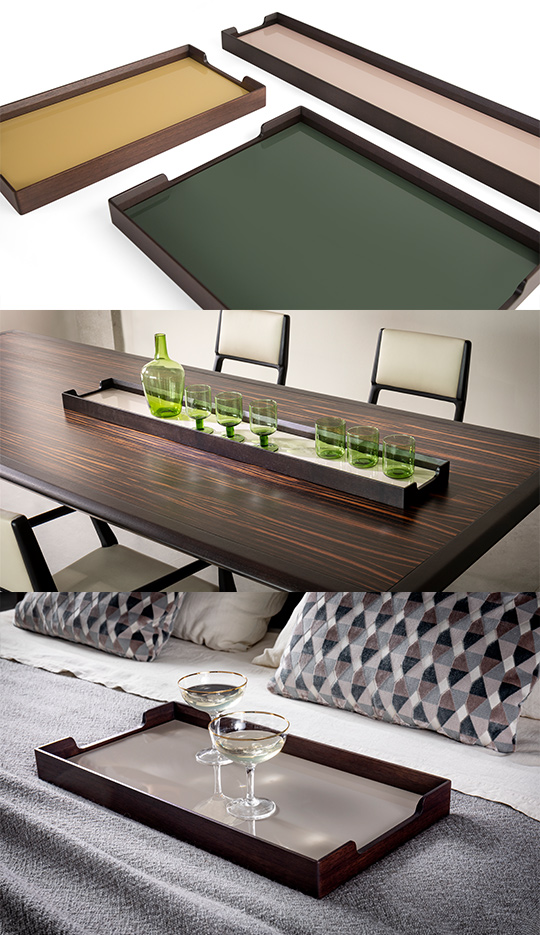 Quartabuono
A set of serving trays in three different sizes, available in ebony or rosewood. The distinctive feature of these trays consists in a type of joint (known as "a quartabuono" in fact) between the three elements making up the structure, whose ends are cut at a 45° angle. This produces a perfectly flat rest surface, framed only on the two shorter sides by two elements which enable an easy grip and form a right angle with the base. An exquisite and refined detail for a timeless design.