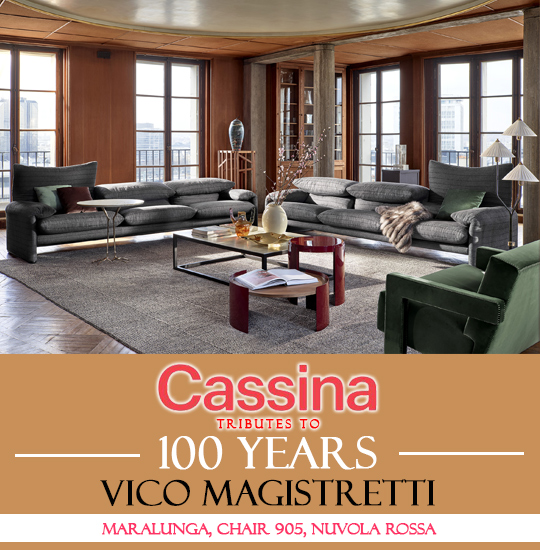 Cassina Tributes to 100 years of Vico Magistretti : Maralunga, Chair 905, Nuvola Rossa
Published by Sugar & Cream, Friday 14 August 2020
Text by S&C, images courtesy of Cassina
The Greatest Advocates of Timeless Design
Tahun 2020 adalah perayaan 100 tahun nama besar desainer Vico Magistretti. Pada kesempatan ini Cassina menampilkan kembali 3 desain ikonis bagian dari Cassina I Contemporanei Collection yaitu Maralunga, Chair 905, Nuvola Rossa.  Hubungan dan kolaborasi Cassina dengan Vico berawal dari tahun 1960-an dimana Cassina memperkenalkan kursi Carimate kreasi Vico Magistretti. Ke tiga produk tersebut hingga saat ini masih diproduksi oleh Cassina.


Maralunga Sofa
Yang menarik dari sofa maralunga terbaru khusus dalam perayaan 100 tahun ini menampilkan kembali (menghidupkan kembali) pattern/motif yang asli seperti tahun 1970 (tahun dimana sofa tersebut diluncurkan pertama kalinya). Fabric terbaru ini dibuat secara eksklusif oleh Kvadrat yang ternama. Karakter kain beludru mewah dan lembut yang elastis terlihat membungkus sempurna lekukan-lekukan dari sofa ini.  Salah satu keunikan desain dari sofa ini adalah bagian sandaran yang bisa ditekuk atau diluruskan.
Sedangkan kursi 905, sebuah kursi modern dengan bayangan warisan masa lampau memperlihatkan kombinasi sempurna antara kulit sebagai alas bangku dengan kerangka/struktur kayu memiliki kaki berbentuk silinder. Kursi ini pertama kali diluncurkan pada tahun 1964 dan terus diproduksi hingga tahun 2000. Tahun 2018, kursi ini diproduksi kembali  hingga sekarang dengan penyempurnaan lapisan warna.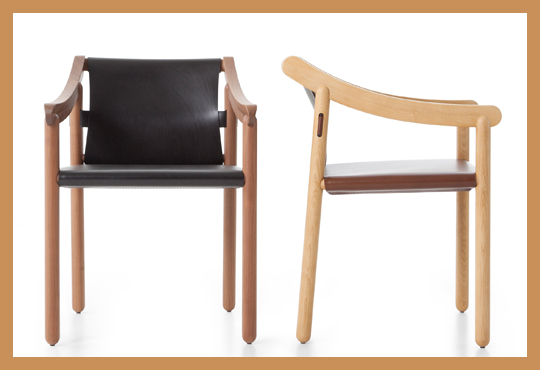 Kursi 905
Sedangkan Nuvola Rossa adalah sebuah rak buku memperlihatkan revolusioner struktur yang mengesankan untuk sebuah rak buku. Yang paling signifikan adalah bentuk struktur kerangkanya. Nuvola Rossa pertama kali diluncurkan pada tahun 1977 memperlihatkan sebuah terobosan inovatif melalui kerangka rak yang tidak biasa.
Vico Magistretti adalah salah satu arsitek Italia yang dihormati dalam dunia arsitektur maupun desain. Menciptakan produk-produk inovatif yang tak tergerus oleh waktu dan dijadikan referensi desain bagi para desainer-desainer sekarang. Salah satu pernyataannya yang menonjol mengenai desain dan menjadi kenyataan adalah "good design should never have an end but continue to repeat itself over a long period of time and remain even after 100 years".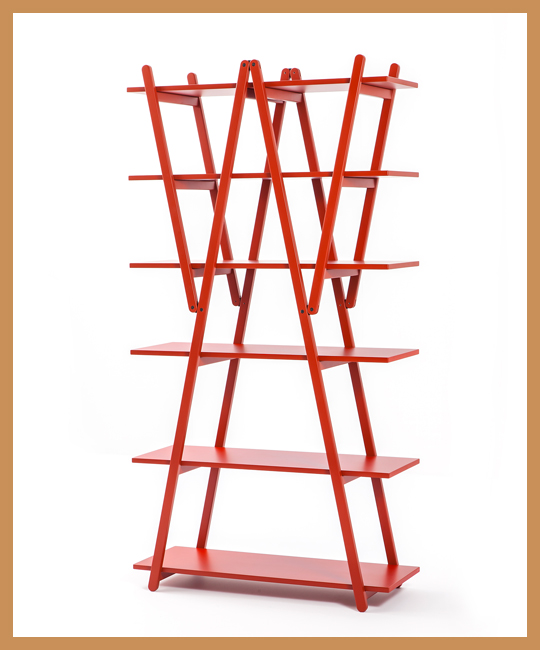 Nuvola Rossa