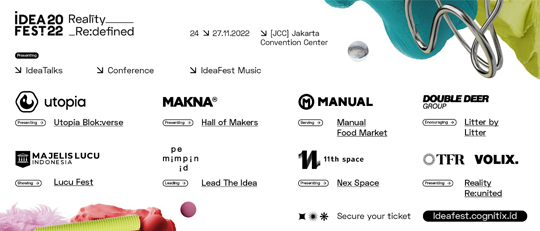 presented by

CAN'T WAIT TO SEE THE IDEAFEST 2022!
Published by Sugar & Cream, Thursday 20 October 2022
Images courtesy of IdeaFest
Creative Collaboration with Diverse Communities
Di 2022 terutama di akhir pertengahan tahun, seakan menjadi 'pelampiasan' bagi para industri kreatif untuk mengadakan berbagai festival, mulai dari festival musik, film, dan masih banyak lagi. Karena sepertinya kita 'haus' kan persembahan yang menarik, terutama kreatif di masa yang dibilang pasca pandemi ini.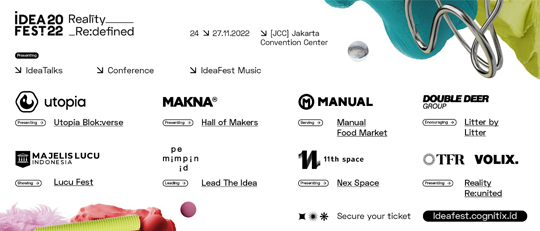 Maka dari itu, IdeaFest 2022 kembali hadir dalam segala rangkaian program dengan menggandeng berbagai komunitas yang tentunya atraktif, yang mengangkat tema "Reality Re:defined".  IdeaFest 2022 merupakan festival kreatif akbar yang telah diselenggarakan selama 11 tahun akan kembali pada November 2022 ini. Dengan mengusung semangat pertumbuhan industri kreatif Indonesia melalui partisipasi dan kolaborasi dari seluruh lapisan industri kreatif tanah air. IdeaFest 2022 memfasilitasi terciptanya sinergi positif antara berbagai pelaku industri kreatif yang beragam dalam menghadapi tantangan pasca pandemi, dan bertujuan menjadi wadah bagi para komunitas, jenama, serta industry players lainnya demi terus mengembangkan karya dan inovasi terbaik.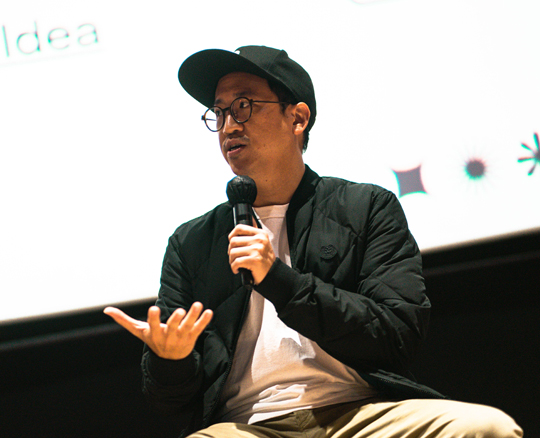 Ben Soebiakto, Co-Chairman IdeaFest 2022
IdeaFest 2022 secara  resmi mengumumkan pelaksanaannya pada 24 – 27 November 2022 di Jakarta Convention Center (JCC). Melalui partisipasi pada IdeaFest 2022 yang untuk kali pertamanya akan dilaksanakan secara offline setelah dua tahun masa pandemi, pelaku industri kreatif diajak untuk bisa re:connected, re:introduced, re:established, re:live, dan re:create dalam upaya bersiap kembali ke realita kehidupan setelah melewati masa pandemi.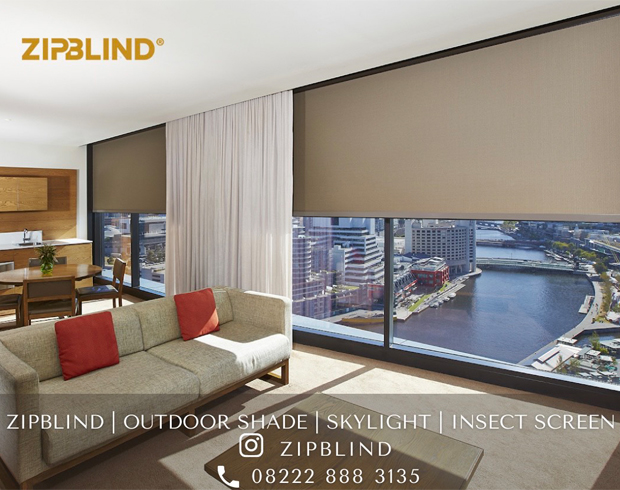 Presented by Zipblind
"Masa pandemi yang telah kita sama-sama lalui 2 tahun ini membuat pengalaman menghadiri on-ground event menjadi sesuatu yang kian ditunggu-tunggu oleh masyarakat. Menjadi tahun yang spesial, pada gelaran IdeaFest 2022 kami akan menyulap hampir seluruh hall JCC menjadi sebuah collaborative hub yang mampu mengakomodir diskusi dan interaksi antar pelaku kreatif. IdeaFest telah merangkul lebih dari 1500 ideation dengan mengajak kolaborasi pemateri dari berbagai macam bidang industri kreatif. Kami sangat antusias untuk terus melihat proses yang dibangun para insan kreatif dalam membentuk industri yang powerful ini. Partisipasi puluhan komunitas dan subsektor industri kreatif akan semakin masif dilibatkan pada IdeaFest 2022. Hal ini harapannya dapat mengundang pengunjung untuk berkumpul, berdialog, dan menumbuhkan semangat kolaborasi yang positif ," ujar Ben Soebiakto, Co-Chairman IdeaFest 2022.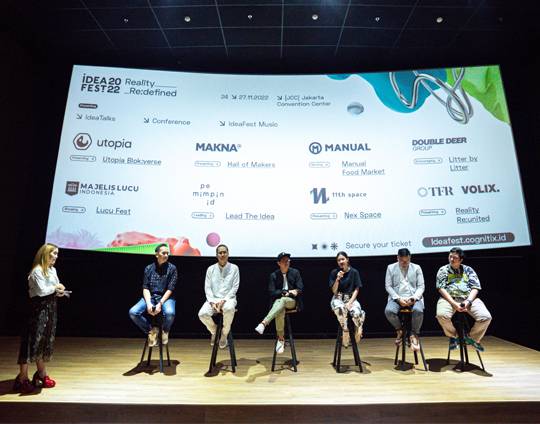 Edwin Nazir, Adjie Santosoputro, Ben Soebiakto, Lalitia Apsari, Patrick Effendy, Aji Pratomo

Keseluruhan rangkaian acara maupun agenda kegiatan IdeaFest 2022 telah dikurasi oleh jajaran tim Braintrust yang merupakan ahli dari berbagai bidang, seperti Edwin Nazir, Ketua APROFI, Direktur Festival Seni & Desain Kontemporer Indonesia, Lalitia, Head of Program and Communication at Transition Team of Indonesian Museum and Cultural Heritage Public Service Agency, dan Adjie Santosoputro, Wellness Practitioner. Selain tiga nama besar tersebut, IdeaFest 2022 juga memiliki jajaran tim Braintrust lainnya yang secara khusus mengkurasi berbagai isu dan fenomena spesifik, seperti Art, Women Interest, Fashion & Streetwear, Media & Advertising, Content, Urban & Culture, Wellness, Entrepreneurship, Music, Activism & ESG, Lifestyle, dan Design.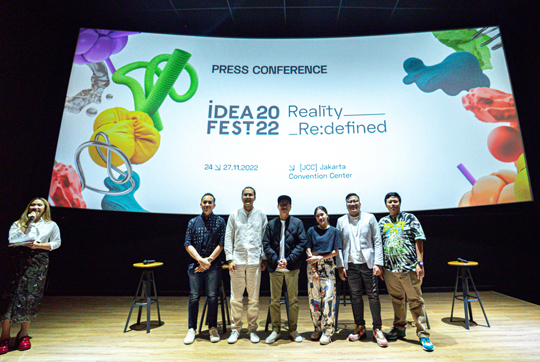 Edwin Nazir, Adjie Santosoputro, Ben Soebiakto, Lalitia Apsari, Patrick Effendy, Aji Pratomo

Festival ini melibatkan berbagai partner komunitas kenamaan dalam upaya menciptakan serangkaian kolaborasi yang berdampak positif. IdeaFest 2022 menggandeng sejumlah partner antara lain Makna, Manual Jakarta, Majelis Lucu Indonesia, Pemimpin.id, Double Deer Group, Utopia, 11th Space dan berbagai partner lainnya. Bersama para partner, IdeaFest 2022 akan menghadirkan beragam program seperti IdeaTalks, Conference, IdeaFest Music, Hall of Makers, Manual Food  Market, Lucu Fest, Lead The Idea, Litter by Litter, Utopia Blok:verse, Reality Re:united, dan Nex Space.
Untuk pembelian tiket dan informasi lebih lanjut mengenai IdeaFest 2022, kunjungi situs www.ideafest.id, serta akun media sosial resmi @ideafestid.