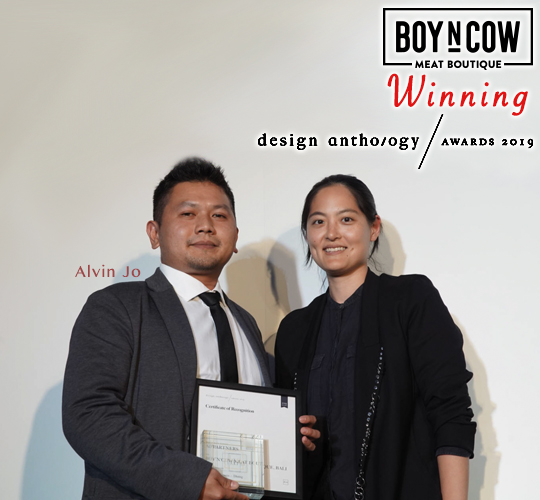 presented by

BOY'N'COW WINNING HOSPITALITY SPACES-DINING, DESIGN ANTHOLOGY AWARDS 2019
Published by Sugar & Cream, Friday 22 March 2019
Text by Sunthy Sunowo, Images courtesy of A&Partner & Design Anthology
DESIGN ANTHOLOGY AWARD 2019 FOR BOY'N'COW by A&Partner
Pergelaran Design Anthology Award 2019 telah menghasilkan para pemenang di beragam kategori. Penghargaan desain yang diinisiasi oleh majalah Design Anthology ini memberikan penekanan pada wujud apresiasi bagi originalitas dan esensi desain dari karya para desainer dan arsitek di Asia dan sekitarnya. Tiga kategori, 'People', 'Places', dan 'Product' dengan 21 penghargaan merupakan apresiasi tertinggi yang diberikan oleh Design Anthology bagi pelaku kreatif dalam industri desain secara regional.
Salah satu kategori penghargaan adalah 'Hospitality Spaces-Dining' yang dianugrahkan kepada Boy'N'Cow Meat Boutique karya firma desain A&Partners dari Indonesia. Proyek yang terletak di Area Seminyak Bali ini mengalahkan dua proyek lain yaitu, Origin karya A Work Of Substance dan Ta-Ke karya Steve Leung Design Group. Alvin Jo, Principal Designer dari A&Partner menerima penghargaan ini di The Murray Hotel, Hong Kong pada malam penghargaan tanggal 22 February 2019 lalu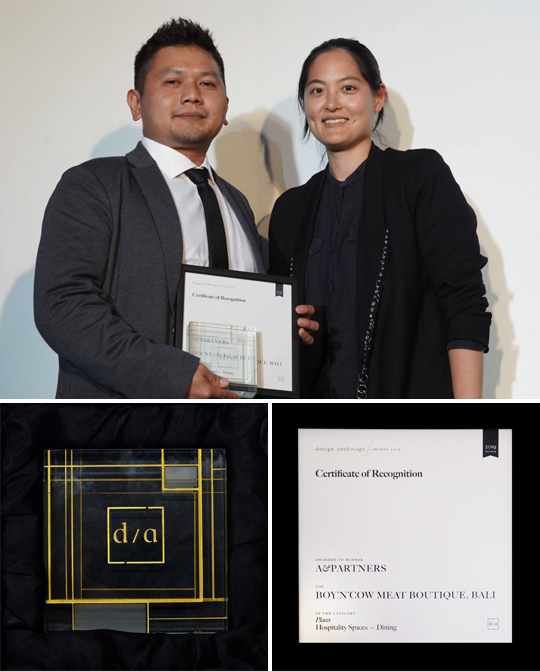 Alvin Jo
Keberhasilan mewujudkan korelasi selaras antara desain dengan makanan dan minuman yang disajikan mendapatkan apresiasi tertinggi melalui penghargaan ini. Ruang tidak lagi hanya wadah beraktivitas, tetapi memberikan cerita, nuansa, dan kesan mendalam secara visual mendukung pengalaman bersantap di Boy'N'Cow Meat Boutique.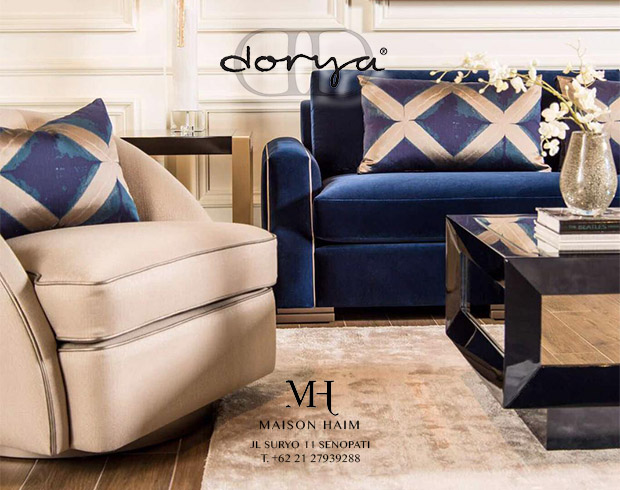 Presented by Maison Haim
Simak tatan interior Boy'N'Cow Meat Boutique dengan penampilan industrial dan dramatis di sini.