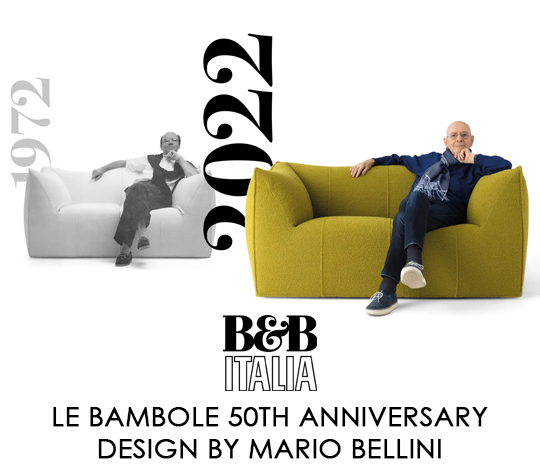 presented by

B&B UNVEILS LE BAMBOLE 50TH ANNIVERSARY DESIGN BY MARIO BELLINI
Published by Sugar & Cream, Thursday 12 May 2022
Images courtesy of B&B Italia
Evolving to A New Design
Jenama asal Italia, B&B Italia merayakan lima puluh tahun terciptanya furnitur ikonis, Le Bambole oleh Mario Bellini. Le Bambole kini hadir dalam versi diperbarui secara radikal. Furnitur ini berkembang berkat pilihan desain baru sehingga terlihat kian nyaman dan berkelanjutan.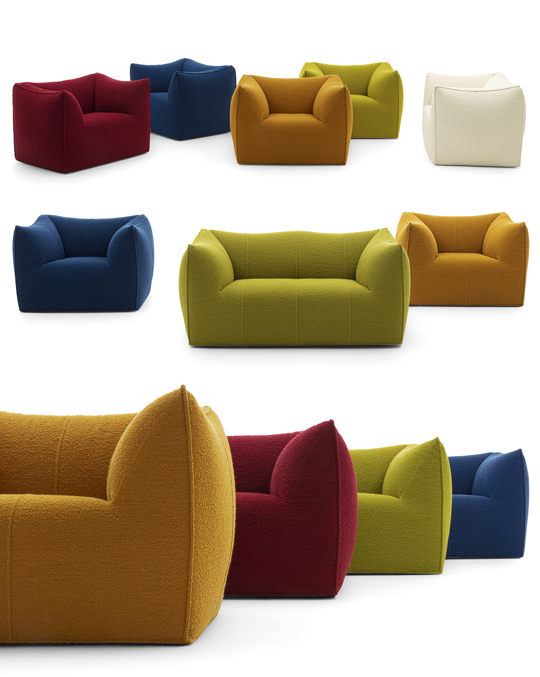 Bambole
"I feel the pleasure of revisiting this family again, because it confirms to me that it is anything but aged; on the contrary, it is enjoying a thriving and promising second life, a rebirth done in a big way, done with enthusiasm, with breadth, with decorations and with the original flourishes. We have recovered its charm, its sumptuous floridity, its softness. The variation of this fabric, when in contact with your hands, your arms, your body, empathises with your skin and is extremely pleasant" –  Mario Bellini –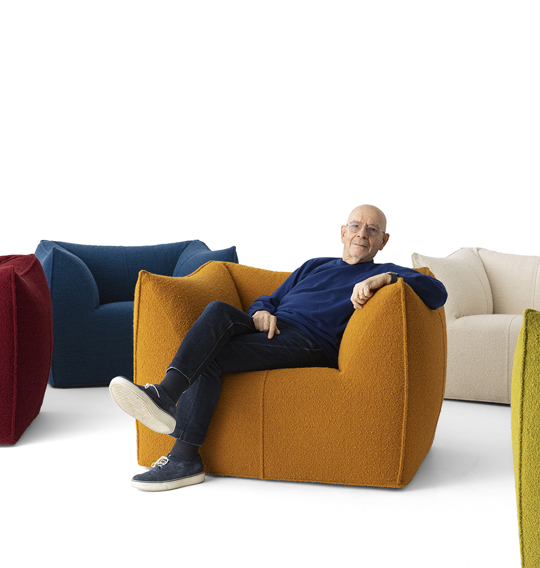 Mario Bellini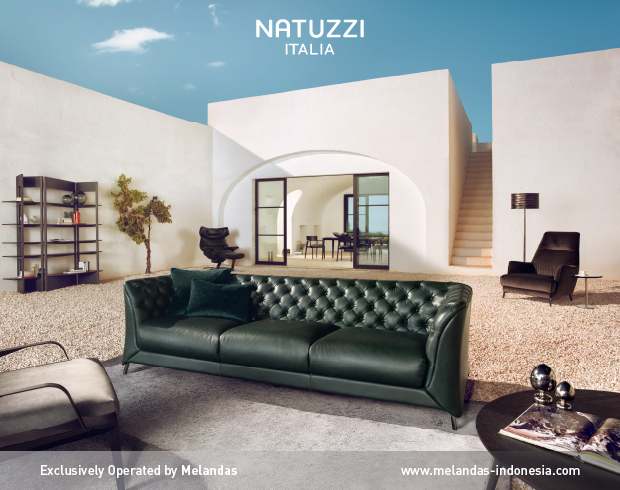 Presented by Melandas Indonesia
Kehadiran konstan dalam katalog B&B Italia selama 50 tahun, Le Bambole berkembang,  menjadi lebih kontemporer. Versi yang diubah 'menangkap' kembali esensi tampilan yang terasa lebih mirip dengan aslinya:  bentuk yang lebih feminin, melengkung, dan lebih banyak.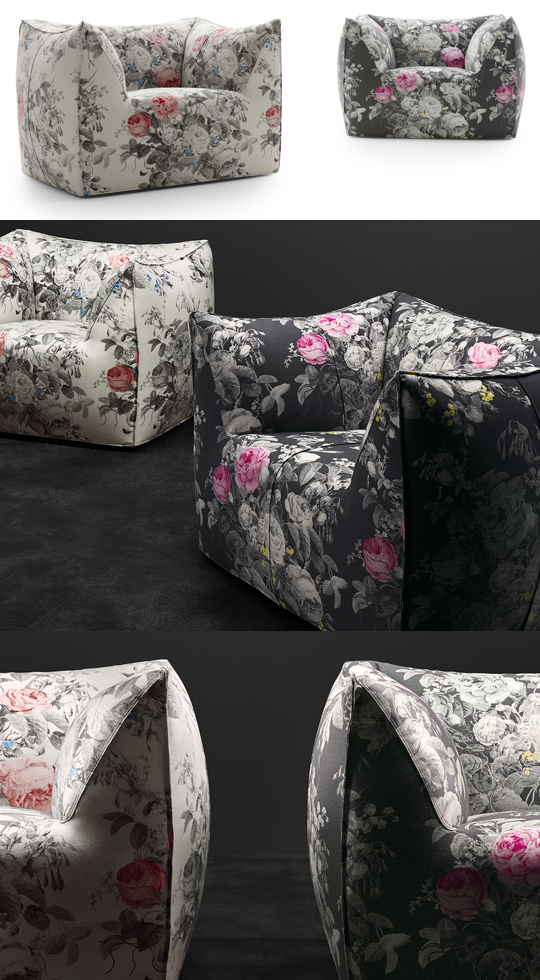 Bambola
Rangkaian baru ini melihat sebuah 'konfirmasi' dan elemen terbaru, untuk koleksi yang dimulai kembali dari elemen dasar: Bambola Armchair, Bibambola Two-seater Sofa, dan Bamboletto Double Bed. Selain itu, three-seater sofa telah diperbarui untuk memenuhi kebutuhan saat ini, dengan tempat duduk yang lebih dalam yang diberi nama Granbambola. Sepanjang sejarahnya, Le Bambole telah mengalami sedikit perubahan bentuk, membuktikan bahwa mereka selalu mampu mengikuti perkembangan zaman. Selain penampilan, kenyamanan adalah elemen kunci dari desain. Sekali lagi, kelembutan dijamin oleh serangkaian langkah konstruksi yang cerdas meskipun jumlah poliuretan yang digunakan minimal. Di mana konstruksi aslinya didasarkan pada struktur logam yang tertanam dalam poliuretan, sekarang bahan yang digunakan adalah generasi terbaru. Polietilena daur ulang memberikan struktur; elemen dalam busa poliuretan dan elastomer termoplastik ditambahkan untuk membentuk geometri dan menentukan kenyamanan dan kemudahan bernapas, semua dilapisi oleh penutup yang berasal dari PET daur ulang. Pilihan desain ini berarti bahwa setiap item dalam koleksi Le Bambole baru benar-benar dibongkar dan karenanya mudah didaur ulang.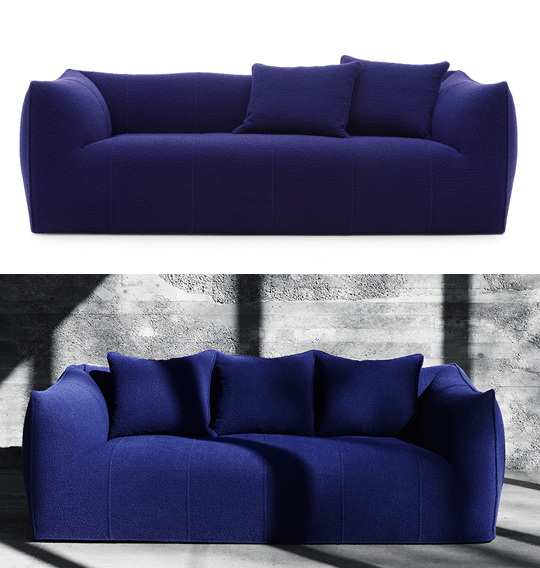 Granbambola
Pembaruan dari koleksi ini membawa serta "sampul" baru. Kain sablé baru (Sila) tersedia dalam delapan warna. Sifat tiga dimensinya yang tidak teratur dan menyenangkan menutupi efek ortogonal dari lungsin dan pakan, memperkuat efek kelembutan melalui ketidakteraturan yang dipelajari yang tampaknya mengingatkan pada permukaan spontan yang alami. Sensasi ini dimulai dengan penglihatan dan diakhiri dengan sentuhan. Tambahan baru yang menarik lainnya adalah floral print fabric yang dreamy dan jenaka (Manila) ditandai dengan gambar mawar besar dengan nuansa klasik, kontras yang tidak biasa yang mampu memberi setiap "pakaian" Bambola yang tak terduga. Limited edition fabric ini tersedia dengan warna dasar putih atau hitam. Le Bambole juga dapat dilapisi dengan kulit berkualitas tinggi(Kasia), kulit yang sangat lembut dan alami. Di sini Anda juga,  merasakan sentuhan dan penglihatan sama-sama memuaskan, memberikan setiap Bambola penampilan lebih elegan dan halus. (DB)


Bamboletto